As public anger toward the military regime intensifies following the junta's lethal crackdown on anti-coup protesters, Myanmar people have started publicly shaming prominent members of military families on social media.
Tech-savvy pro-democracy supporters have launched a website and set up a page on Facebook revealing almost 160 people who are linked with the leaders of the Feb.1 coup and the junta's cabinet members.
Most are the adult children of senior junta figures, including cabinet members, who have studied abroad and then settled in foreign countries, especially in the US and UK. Until recently, people in Myanmar were not interested in them, despite them sharing their lavish lifestyles on Facebook. They use private jets, commute to and from Myanmar for leisure, buy expensive luxury cars and spend thousands of dollars on designer clothes and handbags.
Many of these children of senior officers or retired generals run companies including wholesale markets and retail businesses, health care services, logistics, travel, jewelry, manufacturing, art and entertainment firms in Myanmar. Now, they are being targeted by pro-democracy supporters as part of the strategy to overthrow the military dictatorship.
One of the first people to be shamed on social media is Nan Lin Lae Oo, a student at Tokyo University in Japan. She is the daughter of lieutenant general Kyaw Swar Lin, commander of the Myanmar military's Central Command. He is accused of ordering soldiers to open fire on anti-regime protesters in Mandalay, leaving many dead. Now many Myanmar residents, as well as students in Japan, have submitted a letter to the Japanese government asking them to revoke his daughter's visa. They said that a democratic country like Japan has no reason to accept the daughter of a general involved in the killing of peaceful pro-democracy supporters in Myanmar. Activists have also put up posters in front of Tokyo University, demanding that she be expelled. Myanmar students in Tokyo have also announced that they will cut all communication with Nan Lin Lae Oo.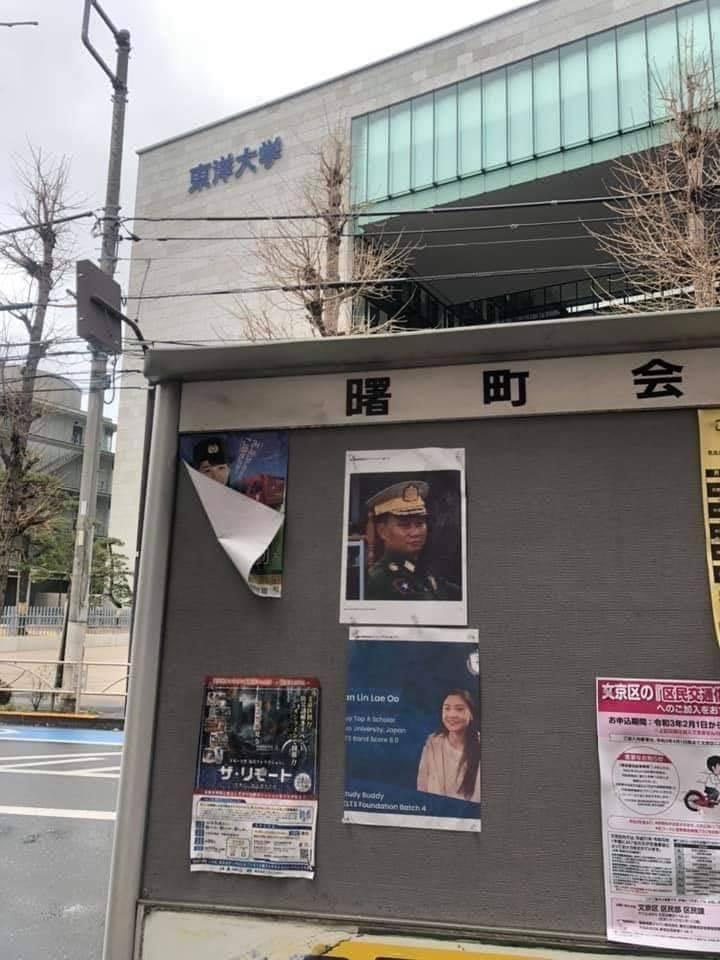 Ma Khaing Zaw Thwin, a Myanmar student in Tokyo, told The Irrawaddy via signal that Nan Lin Lae Oo has threatened students and residents in Tokyo who have participated in the social media punishment campaign against her.
"She told us, you all have to shut up your mouths if you care about the safety of family in Myanmar. Is she a human being? What kind of response is this? If I were her, I would be ashamed of myself being the daughter of a murderer," Ma Khaing Zaw Thwin said.
"I personally do not like social media punishment. But this time… they are enjoying their lavish lifestyles while Myanmar people are being brutally killed and oppressed by their associates for fighting for democracy in our country. This is not fair, we must isolate them from our society," she added.
Student unions from a number of universities in Myanmar have also announced that they have expelled the children of generals from their groups. Alumni groups also announced that they will not be invited to future events.
People have already called for a boycott of all the businesses owned by two adult sons and a daughter of junta leader Senior General Min Aung Hlaing. His grandchildren have also not been spared by the social media punishment movement. Parents of their classmates at an international school sent letters of complaint to the head of the school, demanding that they expel them from the school. Parents have warned that their children would quit classes if the school continues to allow them to attend. Later, the school announced that it will put on hold all classes, without responding to the parents' requests.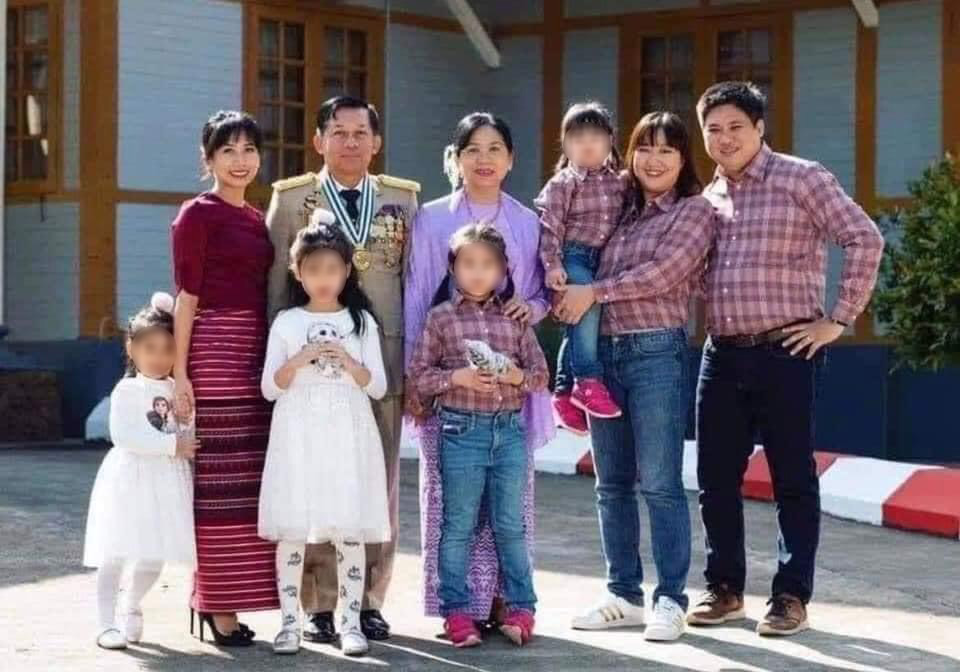 "We will keep submitting the letter until the school expels them from class. We won't let our children be in the same class as the grandchildren of a murderer," one mother whose child is a classmate of Senior General Min Aung Hlaing's grandchildren told The Irrawaddy. The mother asked not to be named.
Vice-Senior General Soe Win, the deputy commander-in-chief of the military who is also vice chairman of the State Administration Council (SAC) has also been added to the social media punishment list. Activists leading the campaign revealed details of all his family connections and businesses on Facebook.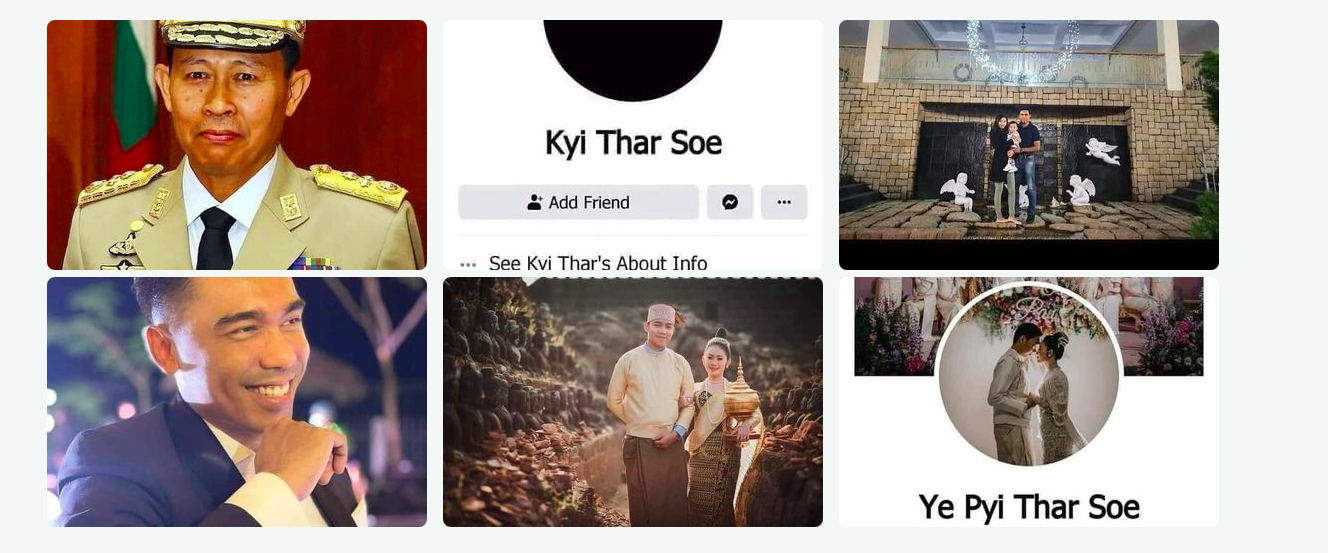 The activists have also revealed the family members of Lieutenant General Aung Lin Dway and their business activities. The general is the secretary of the SAC and pro-democracy supporters have urged people to boycott a construction company, Aung Myint Mo Lin, run by his son, Phyo Akar Aung.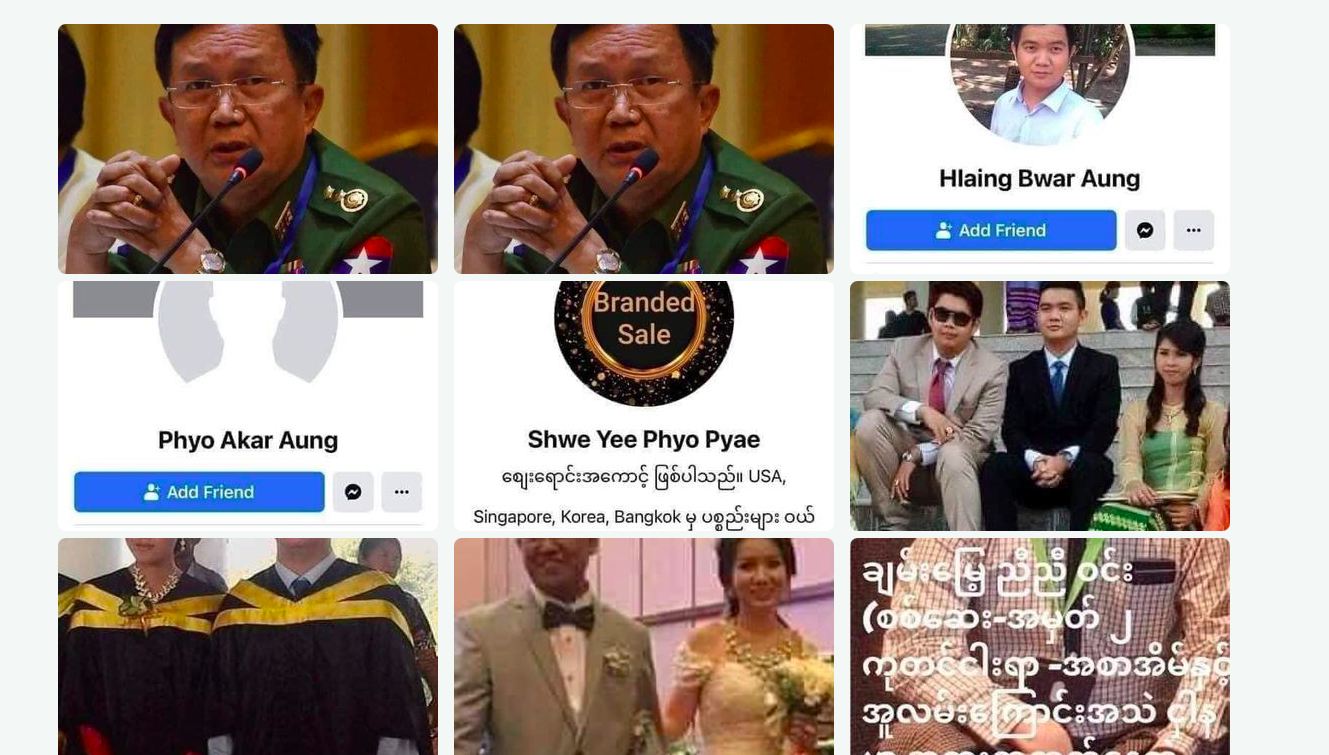 Home Affairs minister Lieutenant General Soe Htut, one of the coup leaders who has been responsible for the lethal crackdowns on anti-coup protesters, has also been severely criticized on social media. Photos of his family members have been widely shared as part of the public shaming campaign. The travel and tour company, Cherry Chapter Myanmar Company Limited, owned by the general's sons, U Min Than Htut, U Si Thu Htut and U Soe Min Htut, has also been added to the public sanctions list.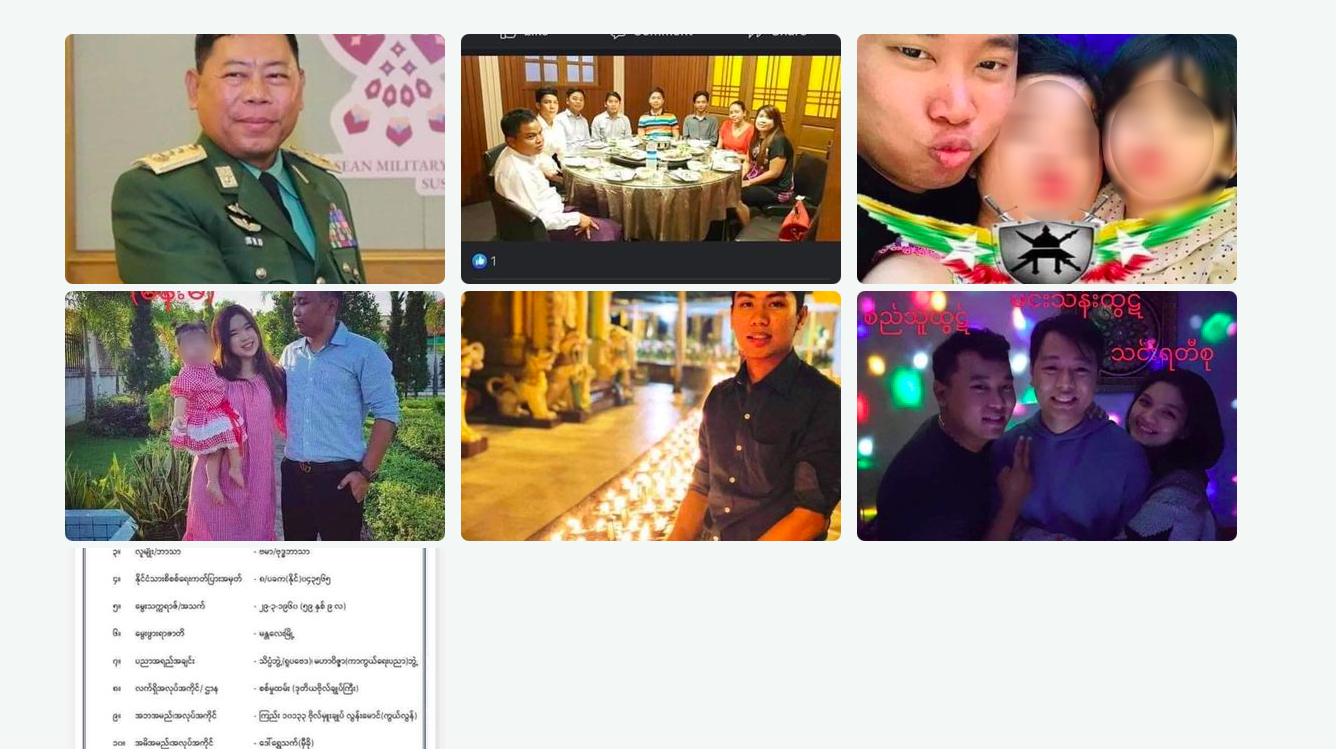 Retired military officer U Aung Naing Oo, once well-known as a reformer under the civilian government, has also been targeted by the shaming campaign after he took a position as the head of the Ministry of Investment and Foreign Economic Relations (MIFER). Previously he served as the permanent sectary of MIFER under the ousted National League for Democracy-led government.  People are also boycotting the restaurants Kaung Lun Lote and Monster Cheese Cake which are run by his daughter. After social media users in Myanmar posted thousands of comments on the Facebook pages of the businesses, users could no longer find the Monster Cheese Cake page on Facebook. Moreover, the Kaung Lun Lote page appears to have been temporarily shut down.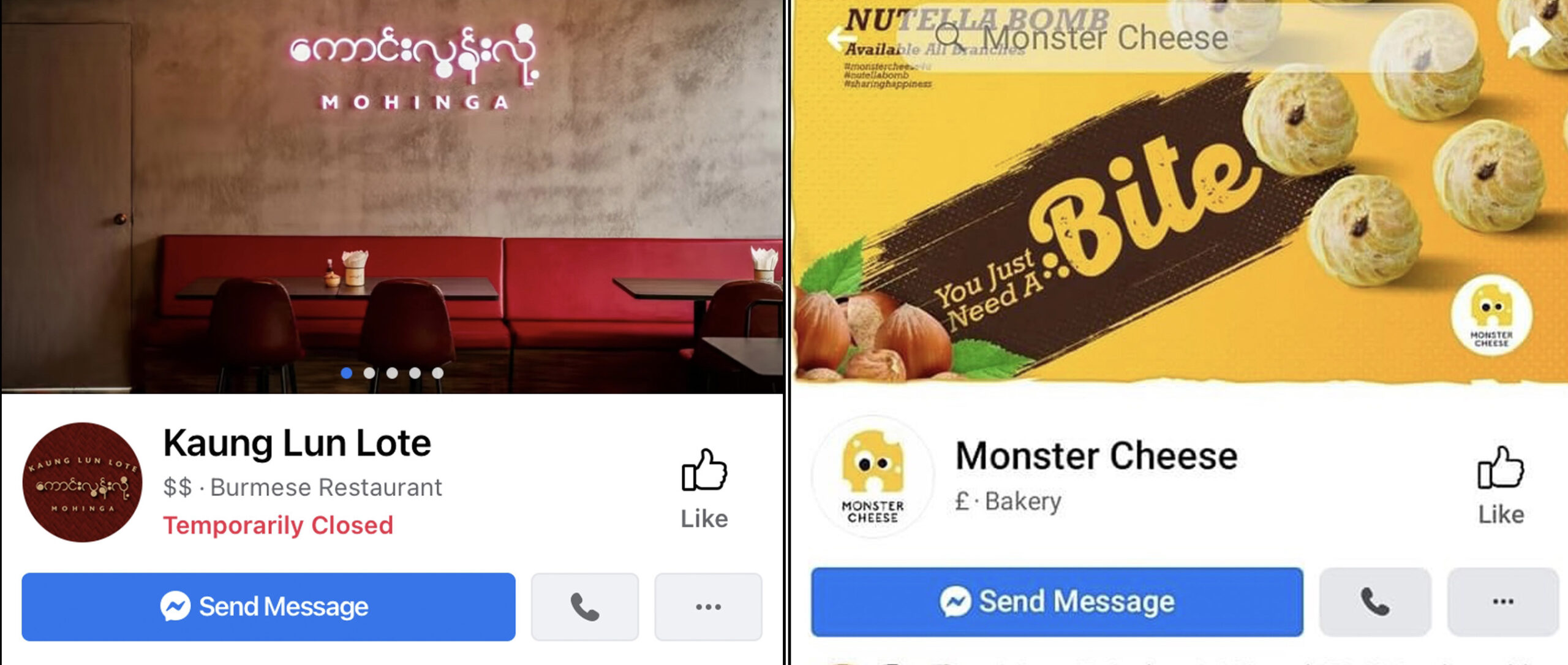 Anti-coup supporters have also targeted the family of U Wunna Maung Lwin, who is currently serving as foreign minister in the regime's cabinet. After documents revealed that his daughter Daw Lynn Malar Lwin is working as a counsellor at the Myanmar Embassy in Rome, Italy, activists have demanded that the Italian government remove her visa and deport her. The mining and construction companies, Lynn Thiha Mining Co. Ltd., Lynn Thiha Construction Co. Ltd and Lynn Thiha Electric and General Services Co. Ltd, run by his son, U Lynn Min Maung Lwin have also been added to the public sanctions list.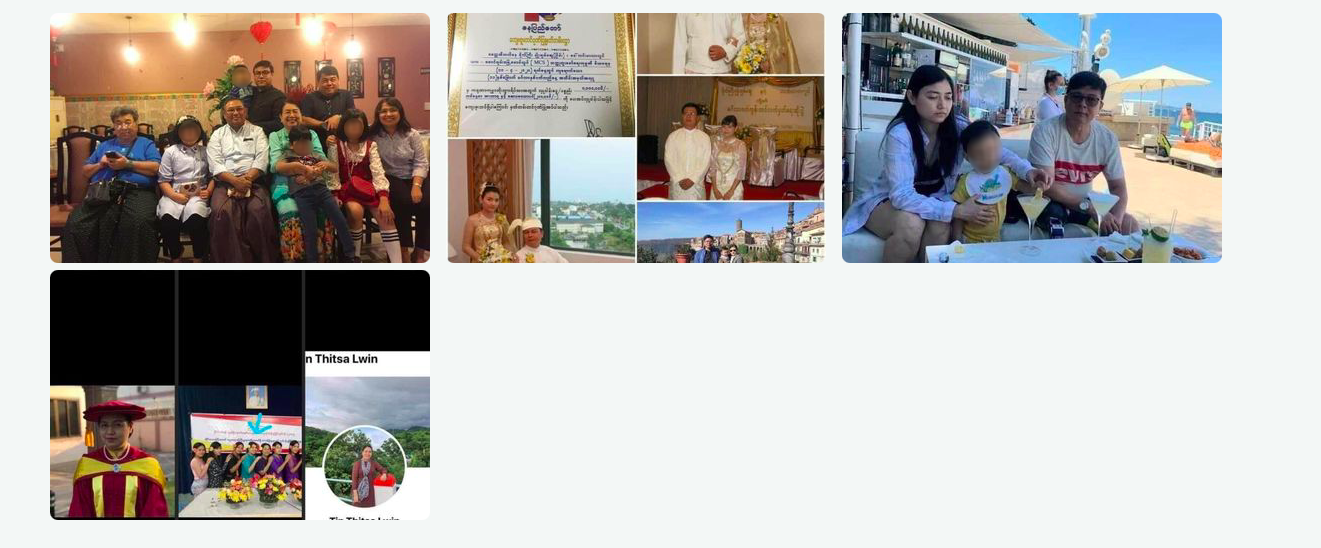 Following the Feb.1 coup, U Chit Naing, a former military officer and a writer under the name Chit Naing (psychology), took the reins at the military-controlled propaganda information ministry. His daughter, Daw Naing Naing Aye, is working as a national project officer for UNESCO's Myanmar Office. She has responsibility for focusing on media legislation, access to information, journalists' safety, sustainable development of community media as well as the promotion of media and information literacy.
 But following U Chit Naing's crackdown on Myanmar media, which has seen five local news outlets banned in the country, activists and journalists have demanded that UNESCO fire her. UNESCO has now reportedly temporarily suspended her from her job.
Daw Khine Ngwe Hnin Zaw, a social influencer who run a cosmetics business, Khinez Organics, in Pennsylvania, US has also been targeted by anti-regime supporters living abroad. Her Father, Dr. Kan Zaw, is serving as Myanmar's Auditor General for the regime. Dr. Kan Zaw was minister for National Planning and Economic Development under the U Thein Sein administration. Myanmar residents in the U.S have demanded a boycott of her company's products and any business related to her because of her father's work for the junta.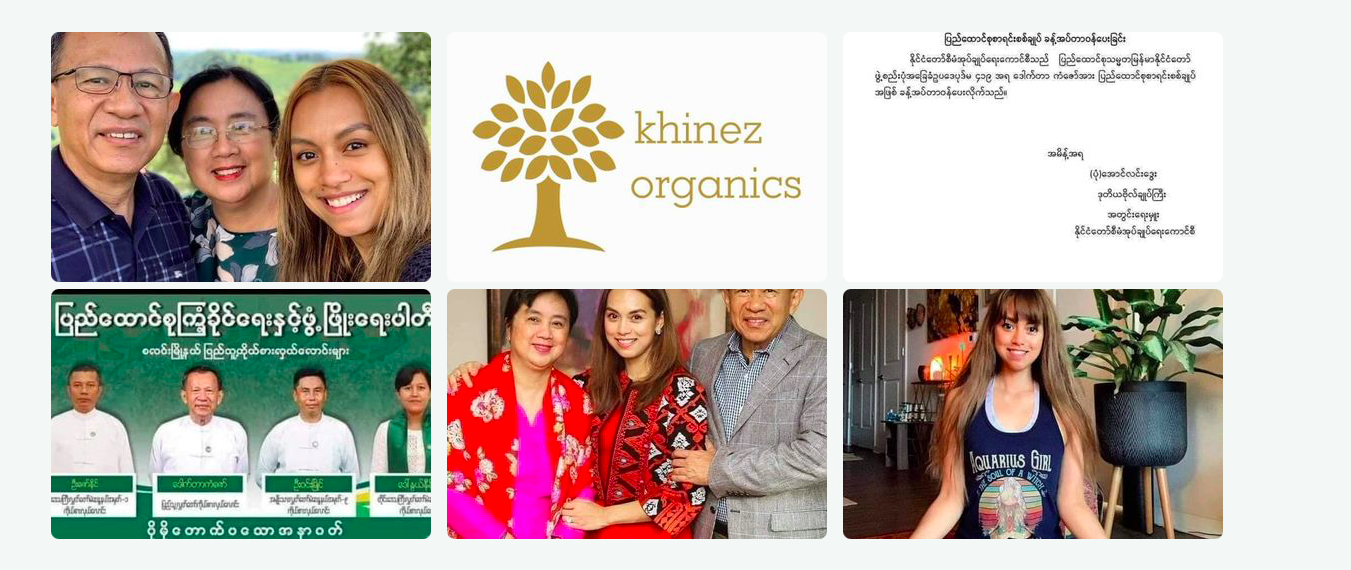 "While they [military] are killing children who are fighting for democracy, the junta's children are enjoying a privileged life in democratic countries. It is unacceptable," U Naing Min Tun, a resident in Pennsylvania, US, told The Irrawaddy.
"We are demanding that the U.S government not give visas to the children of generals. If they are U.S citizen, we demand that the US remove their citizenship status," he said.
Among the families of former generals who have been shamed in the social media punishment campaign is that of late Lieutenant Colonel U Aung Thaung. He was the one of the most influential figures in the military-supporting Union Solidarity and Development Party (USDP) and was also one of Myanmar's richest men, with interests in energy, banking, agriculture, hotel groups, internet services and infrastructure development businesses. Activists have called for these businesses to be boycotted and that their bank accounts be closed, as the wealth stems from his privileged position in the military.
Facing severe condemnation from the public, almost all of the family members of coup leaders, regime cabinet members and other senior military figures involved in the crackdown have deactivated the accounts on social media they once used to show off their wealth. The ones who are social influencers, models and beauty pageants winners have now lost millions of followers following the coup.
One beauty blogger, Nay Chi Oo, a daughter of a former officer, deactivated her Facebook account and pages which have more than two million followers after she repeatedly received criticism from her followers. She was popular on social media for her extravagant lifestyle, often showing off her wardrobe filled with designer bags, clothes and shoes. She received especially severe criticism after she posted on Instagram about her new shoes worth more than US$12,000 just days after security forces used lethal force against anti-coup protesters.

A number of companies once associated with her no longer use her as their brand ambassador, including Vivo Myanmar and Rexona Myanmar. Bioderma, a skincare brand, Milo Myanmar and other companies have also announced that Nay Chi Oo does not represent their brand officially, saying that she only appeared in some advertisements previously. Some advertisers have removed all the advertisements that she has appeared in recently.
As the social media punishment campaign gains momentum, newspapers controlled by the military have announced almost every day that any citizen can contact them if they have been bullied or punished on social media.
"The results seem to show that we are winning this fight. We don't have guns to fight back. Social media punishment is surely hurting them the most. We will gear up all the movements that can hurt them," said a pro-democracy supporter who is helping on the social media punishment website.
You may also like these stories:
When Myanmar's Police Joined Civil Disobedience Movement 75 Years Ago
Myanmar Regime Troops Shoot Eight People Dead in Mandalay Night Raid
Firmly on the Regime's Enemies List, Myanmar Journalists Continue to Document Its Atrocities