Singapore's military chief told his Myanmar counterpart that he had "grave concern" over Myanmar security forces' deadly crackdowns on unarmed civilians who have been staging protests against military rule in the country, and urged him to refrain from using lethal force against them.
The city state's Chief of Defense Force Lieutenant-General Melvyn Ong made the comments while participating in the 18th ASEAN Chiefs of Defense Forces Meeting (ACDFM), which was held virtually on Thursday.
Myanmar military chief Senior General Min Aung Hlaing joined the meeting along with other leaders of armed forces in the ASEAN region. He ousted the country's democratically elected National League for Democracy government in a coup last month, detaining the country's President U Win Myint and State Counselor Daw Aung San Suu Kyi. Since the coup, nationwide protests against the regime have erupted, calling for the release of the country's leaders and others detained by the junta. The security forces have responded with lethal force, killing more than 200 people so far.
In a post on its Facebook page on Thursday, Singapore's Ministry of Defense said that "during the meeting, [Lt-Gen] Ong also expressed grave concern over the situation in Myanmar, urged for the military authorities to exercise utmost restraint, and to refrain from the use of lethal force against unarmed civilians."
ASEAN member states seldom comment on other members' internal issues due to the bloc's non-interference policy.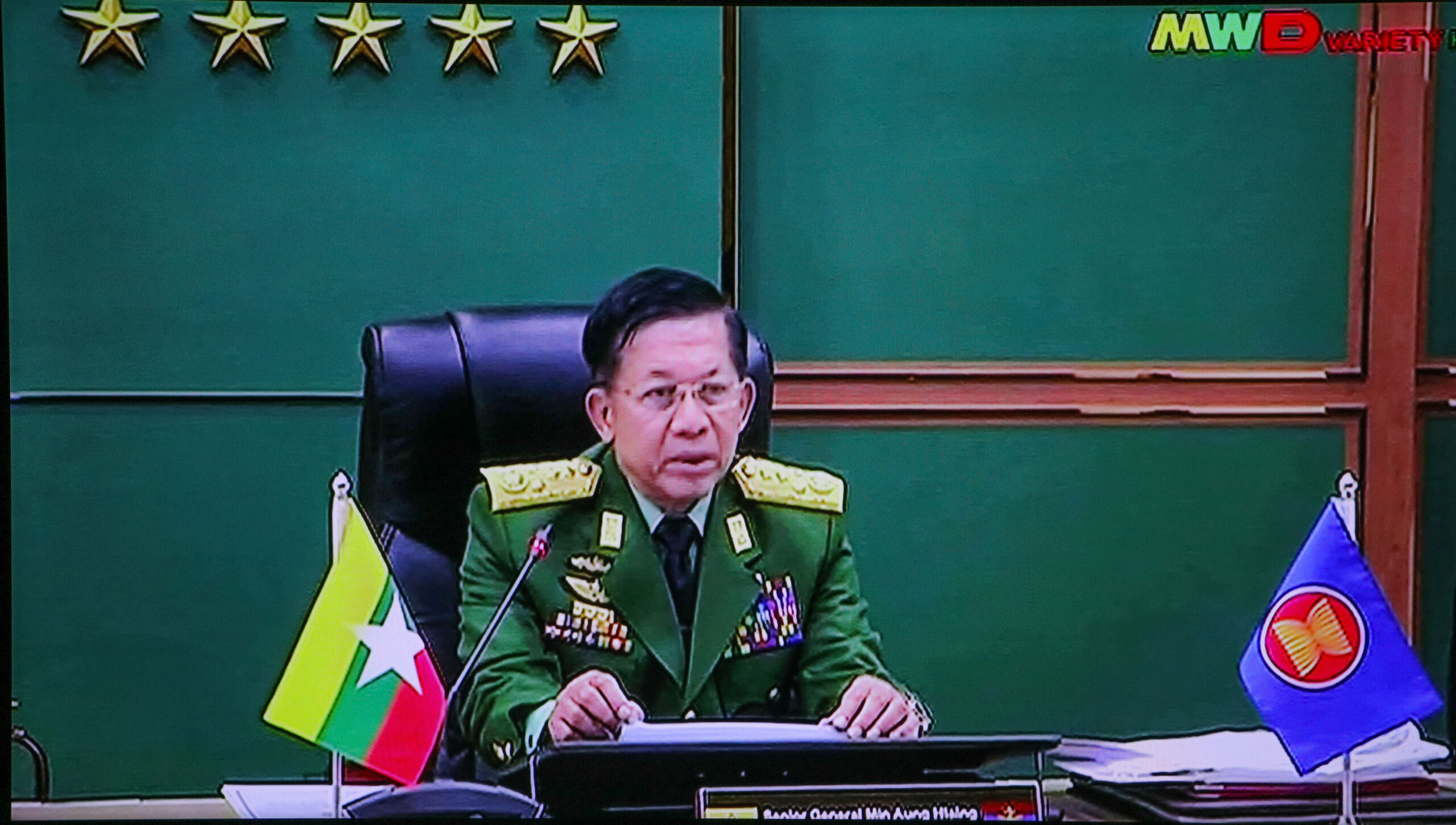 It's not clear how the Myanmar military chief responded to Lt-Gen Ong's comments or if any other participants expressed similar concerns. Reporting on the meeting, the Myanmar military-owned Myawaddy Television channel simply said the senior general discussed the global impact of COVID-19, its aftermath and the participation of the armed forces of the relevant countries in COVID-19 response teams and committees to alleviate the consequences of the global pandemic and to prevent and control the virus.
Early this month, Singapore Prime Minister Lee Hsien Loong said in an interview with the BBC that "to use lethal force against civilians and unarmed demonstrators, I think it is just not acceptable. That is disastrous not just internationally, but disastrous domestically."
The country's Foreign Minister Vivian Balakrishnan also said the release of Daw Aung San Suu Kyi was key to achieving a "long-term peaceful political solution" to the country's current unrest.
Malaysian Foreign Minister Hishammuddin Hussein has called for the immediate release of Daw Aung San Suu Kyi and other detainees, adding that if the situation worsened, it would be a setback for regional peace, stability and prosperity.

You may also like these stories:
KIA Uses Artillery on Myanmar Police in Jade-Mining Hub
Can China Prevent Further Bloodshed in Myanmar?
Myanmar Regime Charges Rival Vice-President with High Treason