Yangon – Ten human rights groups have called on Myanmar's government to free at least 36 students who organized protests over alleged human rights violations in Rakhine and Chin states.
Athan, Assistance Association for Political Prisoners (AAPP), Civil Rights Defenders, Fortify Rights, Human Rights Watch, Amnesty International, Access Now, Forum Asia, Burma Human Rights Network and Article 19 issued a joint statement on Monday calling for criminal proceedings against student protesters to be dropped.
Since the second week of September, rights activists from Yangon, Mandalay, Sittwe, Loikaw and elsewhere have faced prosecution for organizing anti-government protests over restricted internet access and violence in Rakhine and Chin states.
The AAPP told The Irrawaddy on Tuesday that 36 students have been detained for organizing the protests.
Eleven of the students have been jailed for up to seven years and others are in hiding.
The three students from Sittwe – Ko Toe Toe Aung, Ko Kyaw Naing Htay and Ko On Than Naing – are being prosecuted under Article 19 of the Peaceful Assembly and Peaceful Procession Law for protesting against internet restrictions on Sept. 9.
Charges under the Natural Disaster Management Law against the students were later dropped.
Following their arrest in Sittwe, fellow students organized a sticker campaign in Yangon and Mandalay to protest about human rights abuses in Rakhine State.
The protests then spread to Meiktila, Monywa, Pyay and Loikaw and Mandalay.
Numerous students and other activists now face lawsuits under the Penal Code, Natural Disaster Management Law and Peaceful Assembly Law.
Student activists Ko Kyaw Thiha Ye Kyaw and Ko Soe Hla Naing were convicted by four courts in Mandalay in October.
Two of the students have been sentenced to more than seven years' imprisonment for organizing the campaigns.
Ko Aung Myo Kyaw, an executive member of the AAPP, told The Irrawaddy on Tuesday that the students were using their rights under the 2008 Constitution and the Universal Declaration of Human Rights to draw attention to the situation in Rakhine State.
He said: "Such heavy imprisonment should not be used on students who are only practicing their human rights."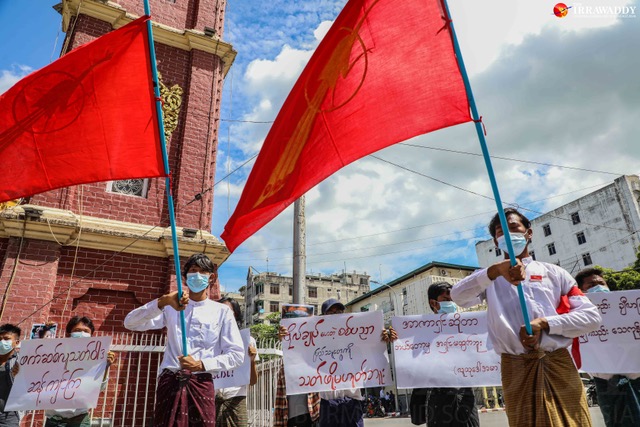 Ko Wai Yan Phyo Moe, vice-chairman of the All Burma Federation of Student Unions, said the charges facing the students are incompatible with democracy and restrict basic freedoms of expression.
"We want the government to withdraw all charges, cease all arrests and cancel warrants against anyone who demanded a ceasefire in Rakhine and Chin states," he said.
In June 2019, the authorities blocked internet access on security grounds in nine townships in Rakhine State – Ponnagyun, Rathedaung, Mrauk-U, Kyauktaw, Minbya, Myebon, Maungdaw and Buthidaung – and in Paletwa Township in Chin State.
The internet bans were lifted in five townships in late August 2019 only to be reinstated in February.
In August this year, the government reintroduced 2G access to all townships affected by the order. However, phone users say the connection speeds are too slow to load webpages or use apps.
You may also like these stories:
Myanmar Condemns UN Rohingya Resolution
Myanmar's Decentralization Will Boost National Reconciliation: SNLD Spokesman
Three Die in Landmine Blast in Myanmar's Rakhine State