Myanmar could not celebrate Thingyan in 2020 and 2021 because of COVID-19 and military rule but this year the regime is trying to bring the Burmese new year festival back to life. 
Despite ongoing violence and airstrikes across the country, the regime is trying to create an impression of stability. 
The regime announced that it will allow the public to set up pavilions upon request and is meeting on Wednesday to adopt guidelines for commercial pavilions. 
Interviewees told The Irrawaddy they are in no mood to take part in what is traditionally the country's largest celebration amid violence and rising prices. 
The regime is trying to organize Thingyan events in Naypyitaw, Yangon and Mandalay and some major towns. 
Thingyan events will follow COVID-19 regulations in Mandalay, reported the Mandalay Daily and the Yangon City Development Committee (YCDC) met last week to organize events.
Construction of Yangon's mayor Thingyan pavilion, which is traditionally the city's central pavilion, began last week. No commercial pavilions have been erected in Yangon but the junta-controlled Myanma Alin reported that a splash walk will be organized. 
A YCDC official told The Irrawaddy: "The government has relaxed [COVID-19] restrictions and is organizing a lively Thingyan festival so people can relax and relieve their distress from COVID-19." 
Thingyan preparation meetings were held in Bago Region and Kachin State last week, according to junta-controlled newspapers. 
The Yangon event is likely to feature dance shows with junta newspapers inviting applications from schools, government departments, amateur and traditional dance groups. 
The YCDC official said no singer and band has yet been hired to perform. Thingyan is normally a source of income for performers.
A musician, who asked for anonymity, said he would not perform at any junta-organized Thingyan event.
"If [the regime] wants to make the people happy, it should release the detainees," he said. 
Most of the electronic dance music pavilion organizers said they would not work with the junta. Dance music is becoming increasingly popular at Thingyan. 
"No organizers have plans to set up pavilions. The risk is very high. And many are aware that it is not appropriate to run pavilions at this time," said a music source. 
Singapore-based DJs Rave Republic recently canceled a performance at a junta-organized Thingyan event in Naypyitaw after complaints from Myanmar. 
Yangon has been hit by frequent bomb blasts and the regime has stepped up arrests of young people it accuses of anti-regime activities. 
Most young Yangon residents told The Irrawaddy they had no interest in any Thingyan event organized by the regime.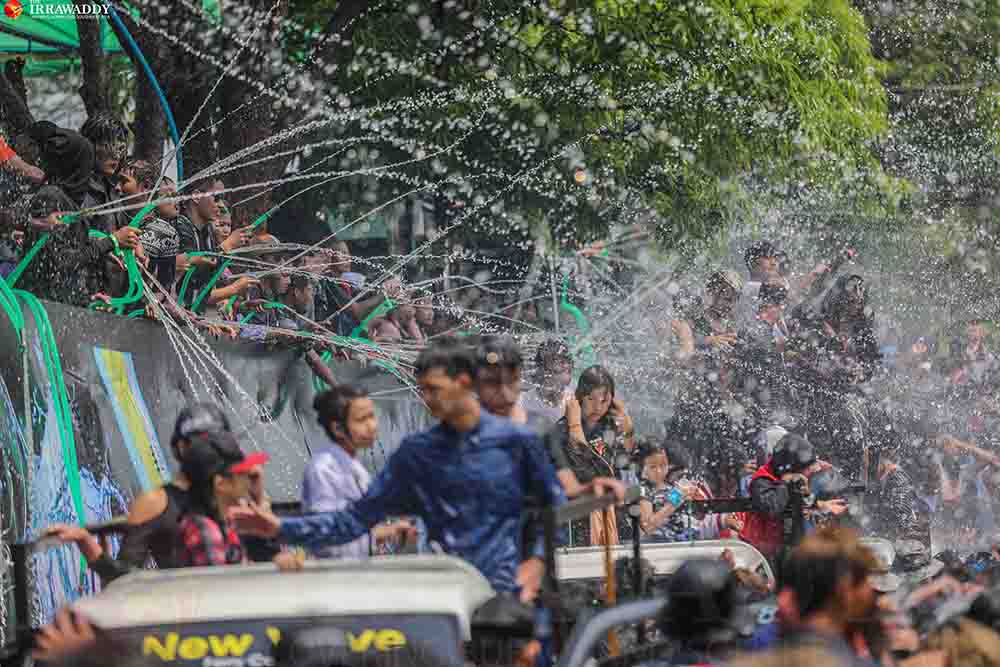 "They want to give a false impression that the country is peaceful. Everyone knows it is not. We denounce it. It is risky to participate in this festival. Anything could happen. We will not participate," said a Yangon resident. 
Thingyan events were canceled in mid-April 2020 because of COVID-19 and last year the military seized power in February meaning people stayed at home.
Revolutionary forces are urging people to boycott junta Thingyan events next month. 
Fierce clashes continue in Chin, Karen and Kayah states and Magwe and Sagaing regions, while guerilla attacks continue in Yangon, Mandalay, Naypyitaw and other cities. 
The United Nations Office for the Coordination of Humanitarian Affairs Myanmar said on March 23 that 502,600 people have been displaced by the fighting since last year's coup. 
You may also like these stories:
Myanmar Junta Troops Kill Villagers; Hold Schoolkids Hostage
Myanmar Democracy Activists Hold Rallies in Support of Ukraine
Ukraine Vows 'No Capitulation' at Talks; Putin Orders Nuclear Alert