Two people were shot dead by police in Yangon on Friday night and in the early hours of
Saturday, and another who was in critical condition after being shot in the head died later on Saturday, as thousands of city residents launched night-time protests against the regime together with their counterparts in other parts of the country.
Defying the military's unjust rule, which includes an 8pm-4am curfew order and a ban on assembly, thousands of people in major cities took to the streets on Friday night, right after the beginning of stay-at-home hours.
Two men in Yangon's Thaketa Township were shot dead on the spot at around 12.30am while besieging a police station as people demanded the security forces release three men detained by police after a sit-in protest on Friday night.
Along with the protests on Friday night, candlelight vigils for those killed by police and soldiers in violent assaults on anti-regime protesters over the past month were held in major cities across Myanmar, including Yangon, Mandalay, Bagan, Sagaing, Magwe, Myitkyina, Hpakant, Mawlamyaing, Dawei and Myeik.
In Yangon, candlelight vigils and nighttime protests were also held in Thaketa, Kamaryut (Hledan), Bahan, San Chaung, Kyimyindaing, Insein, Thingangyun, North Oakkala, South Oakkala, North Dagon, Hlaing Thar Yar and Shwepyithar townships.
In a video that went viral on Friday night, three young men were taken from a home in Thaketa and beaten by a dozen police, before being arrested. After the incident, residents poured onto the streets and marched to the police station, calling for the men's release. However, police responded with live rounds.
Ko Sithu, 37, suffered a fatal head shot and Ko Aung Aung Zaw, 41, was shot between the neck and shoulder, according to a Thaketa resident.
According to his uncle, Ko Sithu, a trishaw driver, actively participated in the campaign ahead of the 2020 general election for the NLD. Convoys of the three-wheeled passenger bikes, which are popular in Yangon, were a hallmark of the NLD's election campaign. With other trishaw drivers in his neighborhood, the young man staged anti-coup protests after the military regime overthrew the elected NLD-led government on Feb. 1.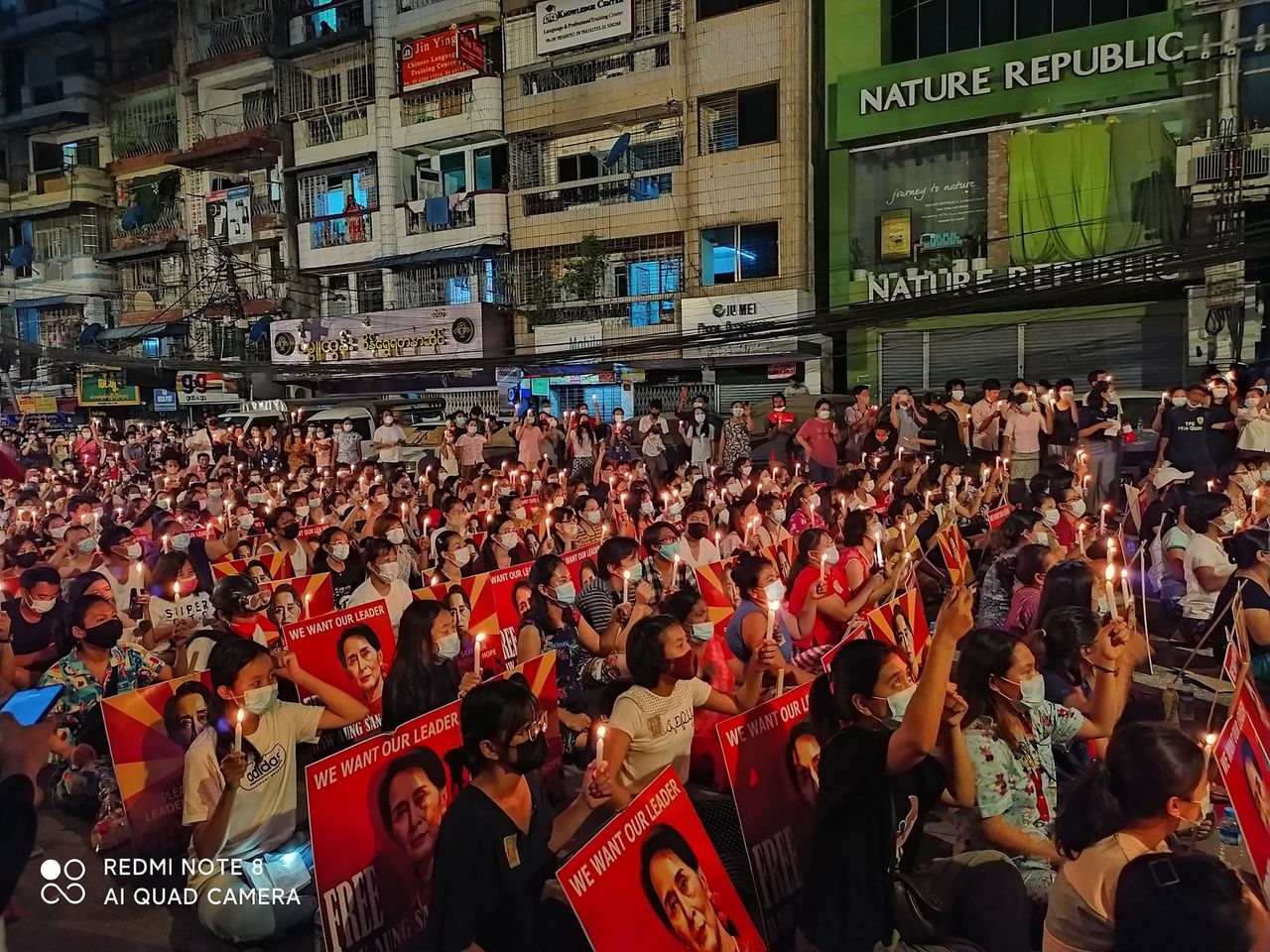 "We are unarmed civilians but are bullied and abused by those armed with weapons. Everyone has a family. I wish to see no more families suffer like us. My wish is they will stop shooting people," he said.
Three protesters in Hlaing Township were also injured in shootings by security forces when residents protested in response to police raids on the homes of elected members of Parliament in the constituency.
The three injured include a young man who was shot in the head and is in critical condition, according to the National League for Democracy's Hlaing Township Information Committee. The party's township branch said security forces raided an NLD ward office and the home of an Upper House parliamentarian, breaking down doors. They then raided the home of a regional parliamentarian in Hlaing.
Since the Feb. 1 coup, millions of Myanmar people have protested against the military regime. Riot police and soldiers have fired on the crowds with live rounds, killing at least 75 people across the country.
You may also like these stories:
Can 'Friendly Persuasion' Bring an End to Myanmar's Deadly Stalemate?
Myanmar Military Regime Sues The Irrawaddy
UK Asks Citizens to Leave Military-Ruled Myanmar