Myanmar regime administration offices, police stations and other locations are being targeted as resistance forces step up their offensive attacks aimed at disrupting the military junta's ability to govern the country.
The attacks are a sign that the military regime is still struggling to bring the country under its control and thwart the people's armed revolution.
Until recently, People's Defense Force (PDF) groups limited their actions to defensive operations, ambushing military detachments and convoys that were on their way to raid resistance camps or villages.
More recently, the PDFs and ethnic armed organizations (EAOs) have stepped up their armed revolution, conducting aerial bombardments, artillery strikes and surprise raids and attacks on junta-controlled government administration offices, police stations and military bases across the country.
On Aug. 15, PDF groups and the Karen National Liberation Army, the armed wing of the Karen National Union (KNU), jointly raided police stations, administration offices and a court in the town of Kawkareik in Karen State.
The resistance forces raided district and township police stations and attacked regime forces guarding a bank in the town.
The KNU said on Saturday that three police officers including a police major died on the spot and five of eight wounded police later died in hospital. During the firefight, six weapons were seized.
It said KNU troops burned down the town's General Administration Department office, court and police station.
"We launched the raid to threaten the junta's administrative mechanism," Ko Thein Hngyut, an official of the PDF group White Dragon Battalion, which was involved in the raid, told The Irrawaddy on Thursday.
He added, "There will be many urban raids in the future, because we have chosen armed revolution to fight back against the military regime."
After the raid, regime forces based in Kawkareik town randomly shelled two nearby villages. In the junta's artillery strikes, a 2-year-old child was killed and four other villagers including a child were injured, the KNU said.
On Aug. 21, two resistance groups raided a police station in Monywa Township, Sagaing Region, according to the resistance group Myanmar's Royal Dragon Army (MRDA), which coordinated the attack.
Resistance fighters on a vehicle attacked regime forces at a police station after stopping their vehicle in front of an office building.
In the attack, seven junta police officers and soldiers were killed while two resistance fighters suffered minor injuries, Bo Nagar, the head of the MRDA, told The Irrawaddy on Monday.
All resistance fighters had to retreat from the area after the regime brought in reinforcements. The police captain was reportedly hospitalized after being shot in her chest.
"It was a successful raid as we managed to threaten the regime forces. We were able to send them [the regime forces] a message that they will face more intensive raids by PDFs in the future," said Bo Nagar of the MRDA, who has become one of the country's most popular resistance fighters for his armed revolutionary activities against junta forces.
He added that PDF groups have managed to launch offensive actions against regime forces and military bases since late last year, when they began to receive automatic weapons.
Currently, many areas of the region are under the control of PDF forces, as resistance fighters with firearms can move around freely, while regime forces don't dare to go outside.
"They [regime forces] become very agitated and feel insecure when they go outside. They don't dare to move freely," Bo Nagar said.
Explaining the resistance forces' domination of the region, he said, "The important thing is that PDF fighters have fully won the hearts and minds of the people as their beloved, loyal and respected revolutionary soldiers protecting them from the undisciplined regime forces, whom they hate."
Meanwhile, resistance groups based in Sagaing and Magwe regions and Kayah State conducted offensive attacks—including aerial strikes using drones—on regime bases in several townships last week.
The Myaung People's Defense Force-TGR claimed to have killed four regime personnel, including three members of a pro-regime Pyu Saw Htee militia, and injured five others during their aerial bombardment of a military camp at Kangyi Gone Village in Sagaing's Chaung-U Township on Saturday.
A video shows a compound of houses being targeted with improvised bombs dropped by the PDF's drones.
On the same day, a shootout erupted between local resistance forces and 10 regime troops performing sentry duty near Ma Daung Hla Village in Sagaing's Khin-U Township. In the 30-minute firefight, five regime soldiers were killed, said Khin-U resistance groups.
Meanwhile, resistance forces also bombed a military camp in the village using drones and improvised bomb launchers. However, the number of military casualties was unknown.
Two other resistance groups attacked regime forces who were burning houses in three villages in which they were deployed in Yinmabin Township, Sagaing Region on Saturday. In the attacks, two soldiers were reportedly killed and another injured by PDF snipers.
The Myaung Special People's Defense Force (MSPDF) also claimed to have injured four regime soldiers including an army captain when their combined resistance forces bombed a military force deployed at Min Ywa Village in Yesagyo Township, Magwe Region last Friday using drones.
The PDF group's video shows a drone dropping an improvised bomb.
Last Thursday, a 30-minute firefight broke out in Pakokku Town in Magwe Region when a combined force of 10 resistance groups raided regime forces deployed at a hall in the township's industrial zone.
Young Force-UG, a resistance group that joined the raid, said six regime personnel were killed in the raid. They were unable to seize military weapons as regime reinforcements were called in, the PDF group said.
A video shows a fierce clash that erupted after resistance fighters raided the regime forces.
A military outpost in Shadaw Township, Kayah State was seized and burned down by resistance forces after the Karenni Nationalities Defense Force (KNDF) and Karenni Army, the armed wing of the Karenni National Progressive Party, launched an offensive attack on the military camp on Saturday.
The KNDF said that regime forces abandoned their outpost after coming under attack from resistance forces. On Aug. 15, one junta soldier was killed and another injured when a combined force raided another military camp near Pon Chaung Village in the same township.
On that morning, combined Karenni forces also bombed two military infantry battalions in Hpruso Township, Kayah State using heavy weapons, the KNDF said.
It said the two battalions had attacked civilian targets using artillery shells.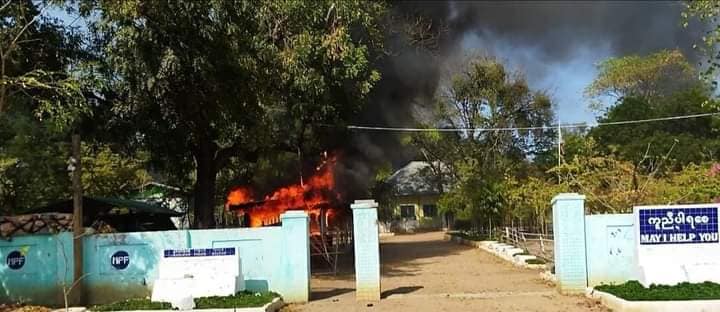 Firefights between regime forces and Karenni resistance forces also broke out in Demoso and Loikaw townships in Kayah State over the past week, said the KNDF.
Urban attacks in Yangon
The military regime is also struggling to contain armed resistance against its rule in the commercial capital Yangon, where it has been facing a series of assassinations of its administrators and blasts and attacks by PDF groups nearly every day.
Since March last year, administration offices in villages, wards and townships have been torched and bombed by resistance fighters seeking to prevent the regime from governing the country.
On Monday, six regime-appointed village administrators were shot dead along with a driver while they were returning to Zeephyu Gone Village in Yangon's Twante Township in a vehicle after attending a meeting at the township administration department.
Urban Guerilla Force Twante claimed responsibility for the assassinations. The resistance group said the administrators cooperated with the military regime in arresting and torturing civilians and anti-regime demonstrators as well as in seizing the properties of anti-coup protesters in the village.
On Saturday, a regime-appointed ward administration member was shot dead at North Okkalapa Township, Yangon.
Meanwhile, two people accused of being junta informants were shot dead by underground resistance forces in Shwepyithar and Thanlyin townships in recent days.
Several resistance groups based in Yangon have repeatedly warned all junta-appointed administrators and alleged junta informants to stop working for the military regime.