Myanmar groups have continued to report intense firefights over new year as People's Defense Forces (PDFs) attacked regime forces, including in Yangon.
On Friday evening, a junta police captain was reportedly killed and a soldier wounded when an unknown group attacked the police station in North Okkalapa Township, Yangon. Some civilians were killed and two vehicles damaged when regime forces randomly opened fire.
A combined force from Mayangone and Insein claimed to have killed four junta-appointed ward administrators and injured two soldiers when they bombed a ward administration office in Shwepyithar Township, Yangon. Some pedestrians and a resistance fighter were injured by junta gunfire, the group said.
More than 150 regime troops were reportedly killed and others wounded over five days in PDFs attacks in Sagaing and Magwe regions and Kayah State.
The Irrawaddy could not independently verify any of the reports.
A resistance group said it used drones to bomb a junta convoy in Sagaing.
On Friday, a firefight broke out at Demoso Township, Kayah State, when PDFs, the Karenni Nationalities Defense Force (KNDF) and Karenni Army (KA), the armed wing of the Karenni National Progressive Party, attacked the township's police station, where troops were deployed.
After sustaining losses, the regime used two jet fighters to attack resistance forces to help its ground troops.
"Junta jet fighters used both machine guns and bombs," the Demoso PDF told The Irrawaddy.
Around 30 regime troops, including a colonel, and two resistance fighters were reportedly killed.
The remaining regime forces fled the scene.
Five regime troops were reportedly killed in Demoso in clashes between junta reinforcements and resistance forces and the KA in the township on Saturday and Sunday.
On Friday, three junta soldiers were killed when the KNDF and KA attacked regime forces in Hpruso Township, Kayah State, according to the KNDF.
Another three regime troops were killed and five others wounded when combined resistance forces attacked the administration office in Loikaw, the capital of Kayah State, on Saturday, according to the defense ministry of the parallel National Unity Government.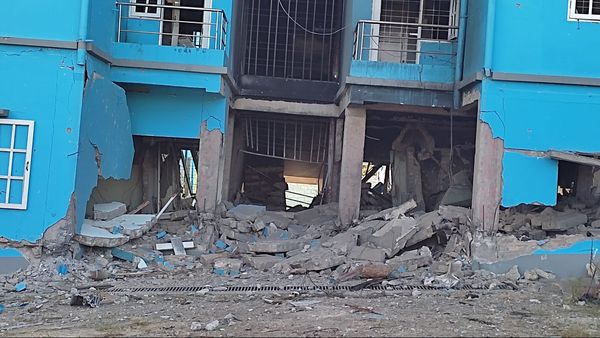 Around 40 junta troops were reportedly killed by the Wetlet PDF in Wetlet Township, Sagaing Region, on Friday and Saturday.
On Friday, 12 regime troops were reportedly killed when Wetlet PDF attacked 70 regime forces at a village in the township.
The next morning, clashes continued as junta troops torched village houses.
After suffering about 30 casualties, the junta forces fled the village, the Wetlet PDF claimed.
Regime forces used two Russian Mi-35 helicopters to attack the resistance fighters chasing and attacking the fleeing soldiers.
A resistance fighter was killed in junta airstrikes, said the Wetlet PDF.
Another 53 junta soldiers were reportedly killed during ambushes, including bombing from the air, by PDFs in several Sagaing townships, Ye-U, Tabayin, Pale, Myohla and Salingyi, over five days.
On Sunday, resistance forces attacked regime troops flying a white flag at an abandoned police station in Nyaungpingyi village in Salingyi.
Ten junta soldiers, including a captain, and a resistance fighter were killed, said Salingyi Generation-Z, a PDF that collaborated in the attack.
Aung San Force, a resistance group, said it attacked a convoy carrying around 150 troops from Gangaw in Magwe Region to Pale using drones to drop bombs on the convoy.
The group said it conducted six airstrikes on the convoy and seven soldiers were killed and many others wounded.
An aerial video shows the convoy being attacked with homemade bombs dropped by drones.
Another 16 troops in the convoy were killed in two ambushes with landmines by two other resistance groups in Pale.
On Monday, the Eagles Army, a PDF based in Tigyaing Township, attacked two military ships on the Ayeyarwady river using mines and explosives.
Around 20 regime soldiers were killed and two PDFs fighters suffered minor injuries from artillery from the ships, the group claimed. One of the ships was damaged, the PDF said.
Regime atrocities continue, including torture, arbitrary killings, burning alive, massacres, using civilians as human shields, using hostages, bombarding residential areas, looting and burning houses and sexual violence, especially in Magwe and Sagaing regions and Chin, Shan, Kayah and Karen states.

You may also like these stories:
Myanmar People Greet New Year With Shouts of 'Our Revolution Must Prevail!'
Suu Kyi's Female Bodyguard Sentenced to Jail by Myanmar Junta
Junta Watch: New Submarines; Junta Massacres Civilians in Southeast Myanmar; Regime Uses Christians for Propaganda and More