Myanmar's junta is forming and arming pro-regime militia groups in the resistance strongholds of Mandalay, Magwe and Sagaing Regions.
The fact that the military regime is providing weapons to junta supporters and ex-soldiers highlights the regime's struggle to crack down on armed resistance in those regions, as well as its inability to find new recruits for the Myanmar military, which has suffered heavy casualties since last year's coup.
On Saturday in Mandalay, the regime-controlled General Administration Department, which falls under the Ministry of Home Affairs, organized a militia in Maha Aung Myay Township "to act for the township's security", according to pro-regime channels on Telegram social media.
Ten guns and 70 bullets were provided for some of the group's 65 members.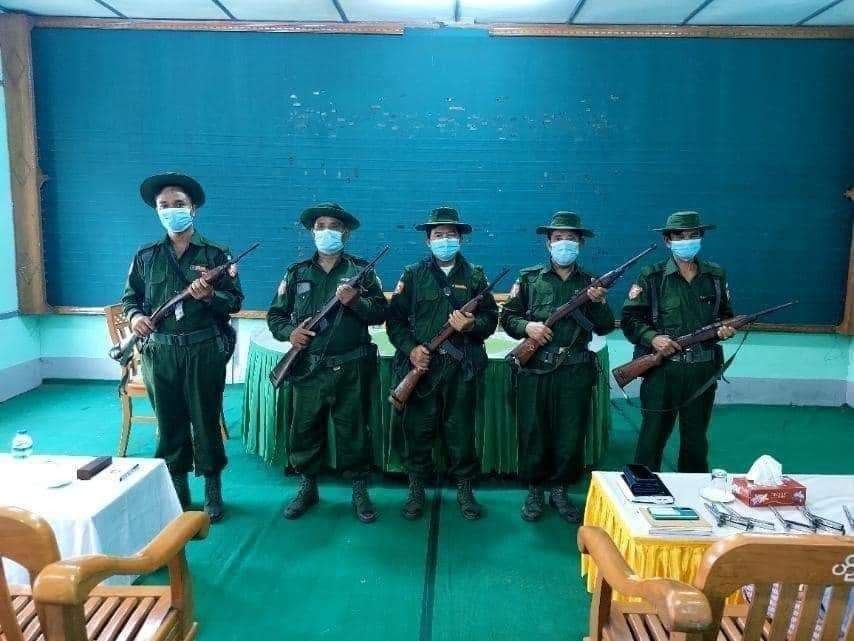 Maha Aung Myay Township is one of Mandalay's anti-regime strongholds, with active underground groups which have been targeting junta informants. The township is also a hotbed for pro-regime supporters and nationalists.
"The formation of a militia in the country's second-biggest city shows the regime is struggling hard to overcome the resistance," said a Mandalay resident.
Also on Saturday in neighboring Magwe Region, the junta handed out over 50 rifles to retired soldiers in Magwe City's Aung Yadanar Ward to organize local militias under what the regime calls the "public security system". Pro-junta Telegram channels showed photos of the ceremony in which dozens of militia members were seen in the same olive green uniforms worn by the Myanmar military.
The regime has organized militias in many regions and states, including Pyu Saw Htee units and groups made up of retired soldiers, fire fighters, informers and ward officials.
Junta forces are also providing food and financial support worth 300 million kyats (US$8.2 million) to militia members and their families in Sagaing Region's Kantbalu, Taze and Kyunhla townships.
Regime spokesperson Major General Zaw Min Tun told junta-controlled media in Naypyitaw on April 27 that the regime is implementing a "public security system", and will strengthen the militias with regime supporters, the army and police to eliminate "terrorist" forces.
"We will support them with manpower and equipment", said the junta spokesperson.
Bo Ngagar, commander of the Myanmar Royal Dragon Army, a prominent anti-regime resistance force in Sagaing Region, told The Irrawaddy that the forming of more pro-junta militias won't impact them.
"There are thousands of anti-junta villages in Sagaing, while there are only a handful – four or five – Pyu Saw Htee villages. So they don't have an impact on us," he said.