An ethnic Chin journalist was tortured by Myanmar junta forces, before being killed along with nine other civilians, including a child, in Matupi Township, Chin State, according to resistance group Chinland Defense Force-Matupi (CDF-Matupi) and local media.
Amid intensifying clashes between CDF-Matupi and military regime forces since the New Year, 11 civilians were detained on January 6 and 7 near Kihlun and Longhlaw villages on the Matupi-Hakha road.
The civilians were then used as human shields while the junta soldiers were travelling from one village to another.
On January 7, local residents discovered eight corpses including a 13-year-old boy named Pa Le Naing near Longhlaw Village. Two more bodies were discovered at a location between Kihlun and Kace villages on the same day, according to the Chin Human Rights Organization (CHRO).
Among those massacred was Pu Tui Dim, 55, a co-founder and editor-in-chief of local news agency Khonumthung Media Group. He previously worked for the CHRO for many years.
From witness and photographic evidence, a CDF-Matupi official told The Irrawaddy on Thursday that Pu Tui Dim had suffered the worst torture of all those murdered. His tongue, lower lip, chin and fingers had been cut off by junta soldiers. Both the journalist's arms were found to be broken.
According to sources and photos, eight of the victims. including Pu Tui Dim and Pa Le Naing, the teenage boy, had had their throats slashed. All had been blindfolded and tied up.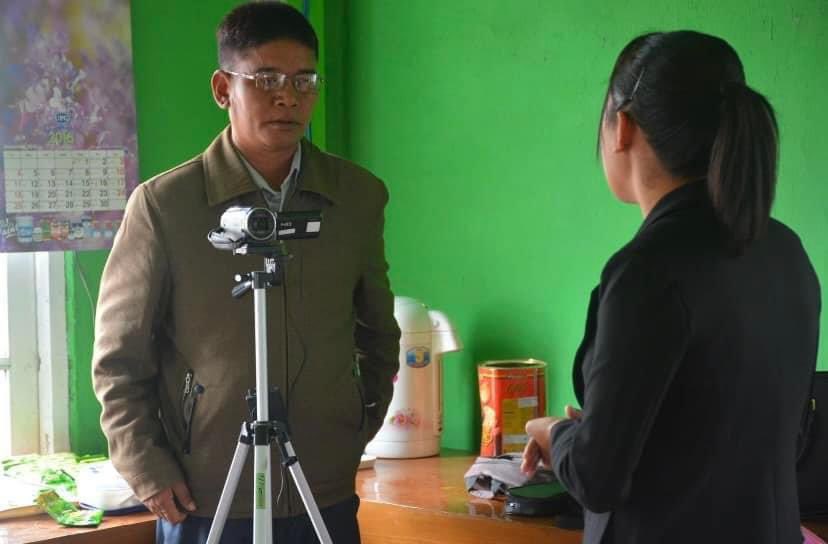 CDF-Matupi said also that the bodies had bruises and injuries consistent with them being struck with rifle butts, as well as gunshots to their bodies.
A photo reveals that one of the victims was stabbed in his stomach and chest many times.
The Khonumthung Media Group has condemned the junta's atrocities against innocent civilians and asked the regime to stop its extra-judicial killings and inhuman acts.
The Chin Human Rights Organization claimed that the massacre of the civilians was committed by junta soldiers from infantry battalion 140 based in Matupi. It said that it will seek accountability and pursue justice for the victims.
CDF-Matupi said that it is compiling a list of murders committed by junta forces and collecting evidence so that the perpetrators can be brought to trial at the International Criminal Court.
"Arresting, torturing and murdering innocent civilians is totally unacceptable. We, the whole Chin national community, condemn such inhuman acts by the junta," said the CDF-Matupi official.
He added: "We don't want the international community to neglect such crimes in our country. We want effective investigations and action against those responsible for the crimes".
In mid-December, a freelance photojournalist was reportedly tortured to death by regime forces after he was detained while covering the nationwide Silent Day Strike in Yangon. Over 100 journalists have been arrested by the junta since last year's February 1 coup. At least 46 are still being held by the military regime.
The Myanmar military is currently facing increasingly intense daily attacks from People's Defense Forces and ethnic armed groups across the country.
Regime forces are also continuing their atrocities including arrests, torture, massacres, arbitrary killings, using civilians as human shields, shelling residential areas, looting and burning houses and committing acts of sexual violence, especially in Sagaing and Magwe regions and Chin, Shan, Kayah and Karen States.

You may also like these stories:

Karen Armed Group Commander Sacked Over Execution of Alleged Myanmar Junta Spies
Myanmar Regime's Reliance on Air Power a Sign of Weakness: US Security Expert
Myanmar Professor Jailed for Three Years for Leading Anti-Coup Protest