Even she herself has no idea where she is being detained.
It has been more than seven months since the regime placed Myanmar's popular leader Daw Aung San Suu Kyi under house arrest following February's coup against the country's democratically elected National League for Democracy government, which she led.
Her captors haven't disclosed where the 76-year-old is being detained. The ousted leader even confessed to her lawyers that she doesn't know where she is now staying.
"She could not tell where she is and neither can we," said U Khin Maung Zaw, one of her lawyers.
Campaigners and lawyers said Myanmar's military regime is breaching the human rights of the country's popular leader by keeping her in an unknown location.
Furthermore, the mystery surrounding the whereabouts of Daw Aung San Suu Kyi, who has been Myanmar's most popular political leader since she became involved in the country's democracy movement in 1988, has left the public concerned for her welfare, especially her health and, most importantly, her physical safety, as she is now in the hands of the military rulers who have long disliked her for her popularity at home and abroad—which they could never hope to achieve— and her attempts to push them out of the country's politics.
U Aung Myo Min, a human rights campaigner and the minister for human rights in Myanmar's shadow National Unity Government (NUG), said detainees have a right to know where they are being kept. So do their families and lawyers.
"It's crucial because only when you know where they are detained are you able to determine whether they are under just or unjust custody," he said.
"If they have no idea where they are being kept, their right to know [the details of] their custody is breached. That's exactly what has happened to Daw Aung San Suu Kyi," he added.
Under house arrest again
Soldiers appeared at Daw Aung San Suu Kyi's residence at No. 33 (A) Myananbonthar Street in Zeyatheikdi Ward in Naypyitaw early on the morning of Feb. 1. Soon after, she found herself along with some of her aides under house arrest there. It had been 11 years since she walked free from her previous house arrest.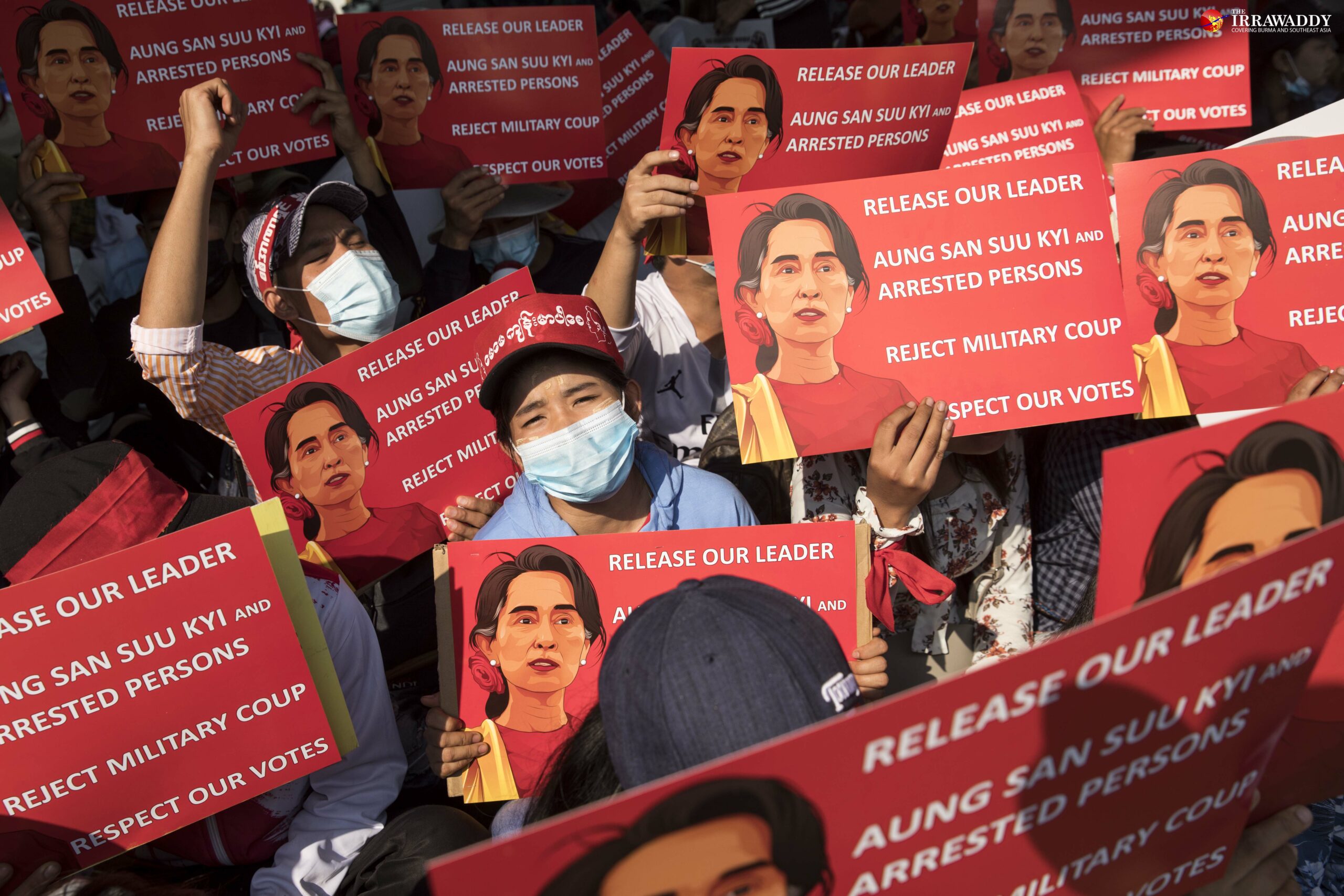 Later she was moved to an "unknown place." This is believed to have happened on May 23, as she told her lawyers about it the next day when she made her first in-person appearance at a special court in Naypyitaw and held her first meeting with her legal team. The regime has filed 10 cases against her. Her lawyers have become go-betweens for Daw Aung San Suu Kyi and the public, as they are the only outsiders she is allowed to see, meeting with them for a few minutes shortly before her weekly trial hearings.
During her previous 15 years of intermittent house arrest from July 1989 to her most recent release in November 2010, the world knew exactly where Daw Aung San Suu Kyi was; she was detained at her home on Yangon's University Avenue Road in Bahan Township. Her captors at the time were the predecessors of her current jailer, coup leader Senior General Min Aung Hlaing.
This time things are very different, as even Daw Aung San Suu Kyi herself has no idea where she is being detained, let alone the public. In August a junta official in Naypyitaw told The Irrawaddy that the former State Counselor's residence had been vacated, with all state-owned furnishings removed and along with her personal belongings. It's not known where her things are being stored now.
However, rumors have circulated that she is now being kept at the residence of the deputy chief of the Naypyitaw Regional Command, which is inside the command's compound.
U Khin Maung Zaw, one of Daw Aung San Suu Kyi's lawyers who is also a former political prisoner, said keeping political detainees' whereabouts is not uncommon in Myanmar, which was controlled by military regimes from the 1960s to early 2010 and again starting this year.
He said it is not strange in Myanmar "as it happens to other political detainees, including Daw Aung San Suu Kyi this time."
President U Win Myint, cabinet members and other senior figures of the NLD were also detained on the day of the coup.
"It is not in line with the Universal Declaration of Human Rights," he said.
Legal adviser U Khin Maung Myint said the accused have the right to know their whereabouts as well as to contact their families.
"Their families also have the right to ask where he or she is being detained. If that's not the case, the accused's rights are simply being violated," he said.
Daw Aung San Suu Kyi's unknown location also has implications for her health and safety.
The legal advisor pointed out that the secrecy the regime is exercising in Daw Aung San Suu Kyi's case would be a cause for concern for anyone.
"What if her health deteriorates in their secret custody? What if she faces something dangerous that could threaten her life? If it happens, there will be very serious consequences," he warned.
Early this week, Daw Aung San Suu Kyi had to skip a trial hearing as she was sick. When the news went viral, there was a public frenzy about her well-being. People asked what if something bad happened to her in a place no one knew. (The next day she felt well enough to appear in court.)
U Aung Myo Min, the NUG human rights minister, said isolating the former state counselor from people and the world could give her captors, the regime, an upper hand.
"There is a possible scenario that if you do something bad to me, we can do the same to her, because she is now in their hands, totally out of public sight," he said. Currently, the junta is facing a growing and deadly civilian armed resistance while the country's shadow government, formed largely by elected lawmakers from Daw Aung San Suu Kyi's party, has declared war against the junta. At the UN, the regime's nomination for the country's representative has been put on hold and the current ambassador, who is loyal to Daw Aung San Suu Kyi's government, is still in place.
"We are worried the regime has such bad intentions in placing Daw Aung San Suu Kyi in an unknown location," he said.
The NUG human rights minister has a right to be concerned, given the previous military regime's attempts to attack Daw Aung San Suu Kyi physically in 1996 and 2003. She narrowly escaped in both bloody incidents.
U Nay Phone Latt, a former NLD lawmaker, still remembers what the now junta leader Min Aung Hlaing said prior to the 2020 election. During his meeting with political parties who sought his assurance that they could count on his help if the voting turned unfair, the military chief said "there's nothing I don't dare to do."
"We are really concerned about everyone who is now in the hands of the regime, whose leader speaks like a thug," he said.
As of Thursday, a total of 6,572 people, including Daw Aung San Suu Kyi, had been detained by the junta, according to the Assistance Association of Political Prisoners (Burma).

You may also like these stories: