The Myanmar junta has announced it plans to prosecute Dr. Aye Nyein Thu, better known as A Nyein, who has been aiding and providing healthcare treatment to internally displaced persons (IDPs) in Chin State's Mindat Township, for allegedly supporting local People's Defense Force (PDF) groups.
Last week, junta forces arrested three volunteers delivering medical supplies to the doctor in the remote mountain town, which saw an exodus of thousands of residents after regime troops attacked civilian targets with artillery and engaged in random shooting throughout the town following clashes with PDF fighters.
On Thursday night, the junta announced in its state-controlled media the arrests of the three volunteers—Ko Kyaw Htay and Ko Zaw Naing Win from Pauk Township, Magwe Region; and Ko Kyaw Kyaw Tun from Pakokku Township, Magwe Region—and the seizure of medical equipment including one portable X-ray machine, one anesthesia machine, an oximeter and medicines intended for delivery to Mindat.
The report stated that the three had delivered "weapons, ammunition, money, medicines and medical equipment to main suspect Dr. Aye Nyein Thu, who provides the Chinland Defense Force [CDF] with these supplies". It also claimed that Dr. Aye Nyein Thu provided assistance to members of the CDF on the orders of Dr. Zaw Wai Soe, the health minister in the shadow National Unity Government, for whom the junta has issued an arrest warrant.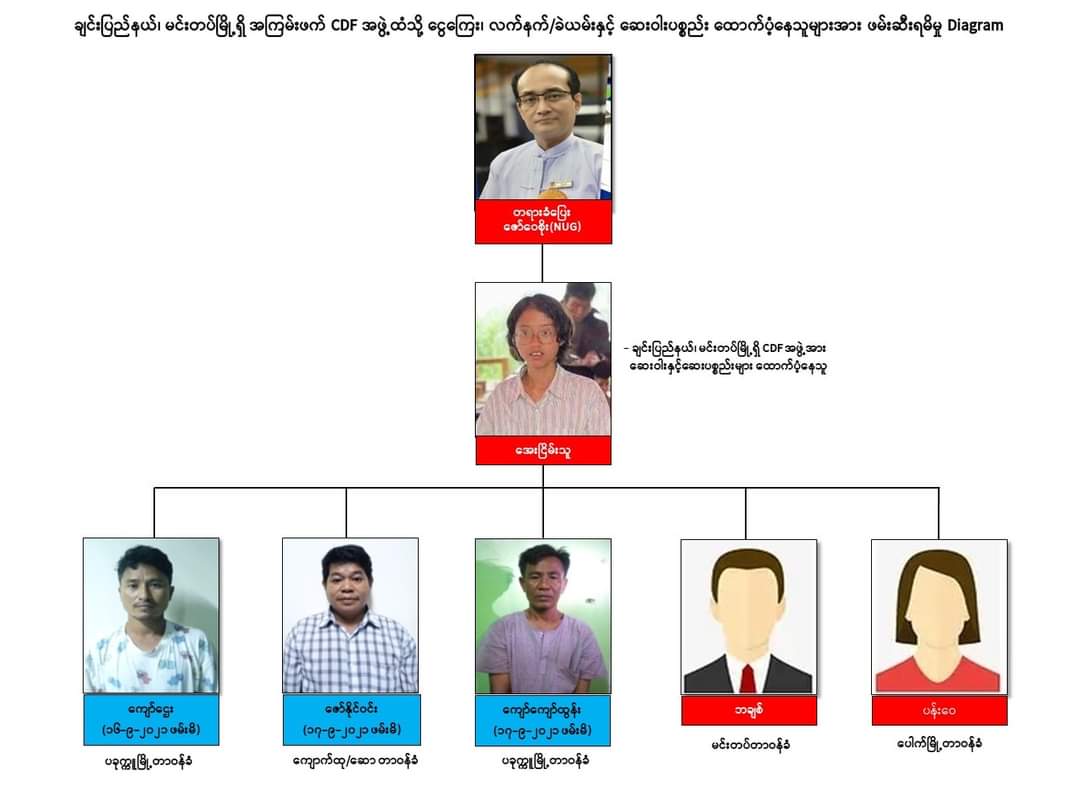 The report added that regime officials would take action against the detainees and called on the public to work together to secure the arrest of Dr. Aye Nyein Thu and associated suspects.
After the junta launched bloody crackdowns on anti-coup protests in February, Dr. Aye Nyein Thu joined a team of volunteer healthcare professionals that provided emergency services in Mandalay and treated wounded civilians.
When thousands of Mindat residents had to flee junta forces in May, leaving them without access to healthcare, she went there to help assist in the camps.
According to the Mindat IDP camp management committee, around 25,000 to 30,000 people from Mindat and nearby villages have sought shelter in the temporary camps.
"This proves how cruel they are. Seizing medicines and medical supplies for IDPs is the same as preventing the saving of lives," said a member of the Mindat People's Administration Team, a local administrative group formed by local residents in the weeks following the Feb. 1 coup.
"The military arrests those who are working to help the IDPs and deliver supplies, and brings nonsense charges against them," he added.
He said that recently, three other people working to provide food, medicines and other supplies to IDPs in Mindat were also arrested and charged.

You may also like these stories:
Woman Hospitalized After Being Beaten by Myanmar Junta Forces
Fears of More Atrocities as Myanmar Junta Blocks Internet in Parts of Chin, Magwe
UN Human Rights Chief Calls for Urgent Action on 'Catastrophe' in Myanmar