An innocent man was killed when junta forces raided the wrong house in the town of New Bagan, part of the Bagan UNESCO World Heritage Site, in Mandalay Region on Sunday morning.
Police were searching for a man suspected of possessing arms, but later admitted that they had searched the wrong house after being given false information by a military collaborator.
The victim, Ko Moe Myint Aung, 27, was married and his widow is three months pregnant. Junta forces detained three people from the house, including Ko Moe Myint Aung's two brothers, aged 23 and 16, and his brother-in-law, said the victim's cousin.
Junta forces raided the house around 12.30am on Sunday to search for weapons, after an informant's tip.
"Two of his younger brothers were sleeping in the anteroom. Junta forces came in and asked them to get up, kicking and swearing at them. They then tied the two up," said the victim's cousin.
"My cousin was sleeping in the bedroom with his wife who is three months pregnant. He shut the door so that she didn't get scared. Junta troops kicked open the door and fired two shots. One hit him in his stomach.
"The soldiers said they had heard that my cousins had weapons and that they had arrested the leaders of my cousins. They asked them where the weapons were, tied them up, threw them onto the ground and stepped on their throats. One of my cousins was hit with a rifle butt and knocked out," said the cousin.
Junta forces took away Ko Moe Myint Aung, who was reportedly dying, along with three others. Family members were later told to collect the body of Ko Moe Myint Aung at Nyaung-U Hospital on Monday. Over a thousand people attended his funeral on Monday.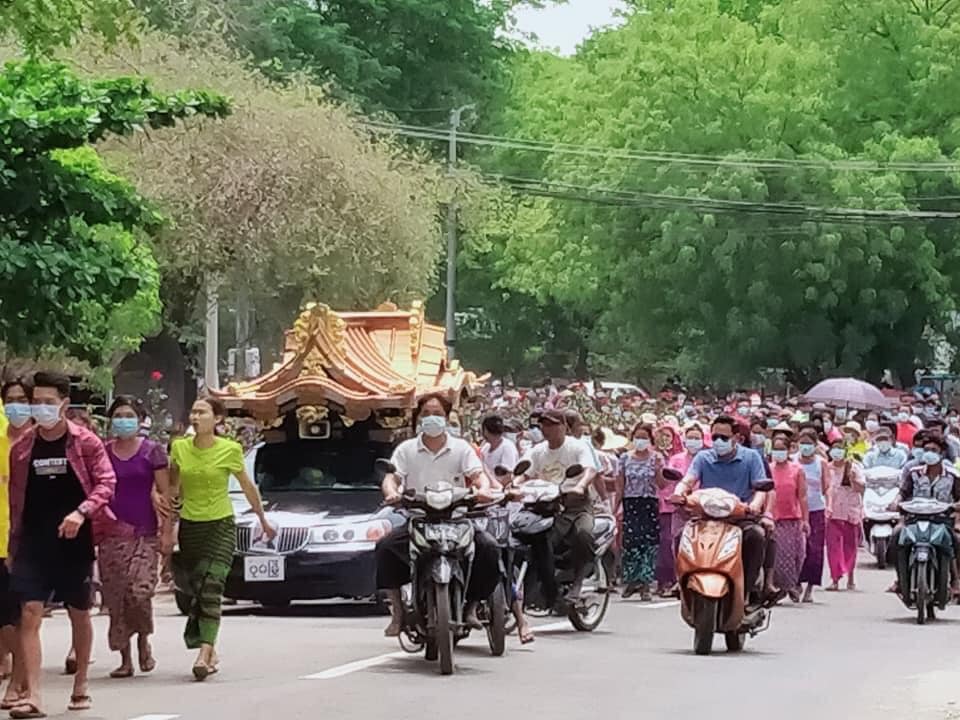 The three others were briefly detained at Bagan police station, before being released. Junta troops said they searched the wrong house due to being given false information by informants.
"It is not fair. I wouldn't complain if they had found even so much as a bottle of petrol at his house. The family are struggling to feed themselves. It is too late to say they were wrongly arrested, because one man has already lost his life," said another of Ko Moe Mying Aung's cousins.
Local residents said Ko Moe Myint Aung and his brothers earn a living by collecting scrap to sell to scrap dealers.
"Junta forces were searching in Nyaung-U in response to information they received from informants. They did not find any weapons [at Ko Moe Myint Aung's house]. In fact, the brothers were not making weapons. The military can search houses and make enquiries, but they don't need to harm people especially when nothing (suspicious) is found," said one Bagan resident.
Gunfire was also heard in the historic part of Bagan on Sunday at noon, said locals.
At least 837 people have been killed since the junta's coup, while 5,487 people have been detained and arrest warrants issued for another 1,881 people, according to the Assistance Association for Political Prisoners.

You may also like these stories:
Myanmar Daily Post-Coup Update: May 29-30
Ethnic Shanni Military Leader Assassinated by Junta: Group Claims
Myanmar Catholic Bishops Urge Warring Parties to Spare Places of Worship