On his 66th birthday, Myanmar regime chief Min Aung Hlaing officially opened a new religious building funded mainly from donations by an aide of the country's former dictator.
The opening ceremony at Dhammacakka Yeiktha Buddhist Monastery on Kaba Aye Pagoda Road in Yangon on Sunday was also joined by Min Aung Hlaing's wife Daw Kyu Kyu Hla, son Aung Pyae Sone and daughter-in-law Myo Yadanar Htike.
The main donors for the 1-billion-kyat (approximately US$540,000) five-story monastery were Dr. Tha Yin Myat, his family and families associated with Four River Myanmar Co Ltd American Company, regime news outlets reported.
Though it's not stated in the news, it's likely that the opening ceremony was also aimed at making merit for Min Aung Hlaing's 66th birthday. On the same day, anti-regime protesters across the country held protests, praying for his death for his atrocities against his own people since his coup in February last year.
Who is Dr. Tha Yin Myat?
A son of the late Air Force Major Tha Din Gyi, Dr. Tha Yin Myat is an ex-army medical doctor.
In his biography of former Myanmar dictator Than Shwe, Benedict Rogers writes that Dr. Tha Yin Myat was also an arms broker—similar to Tay Za—to the country's former regime, which ruled Myanmar from 1988 to early 2011.
"In addition to Tay Za, Than Shwe's other principal arms broker is Dr. Tha Yin Myat, born into one of the wealthiest families in Burma. Tha Yin Myat served as an army medical doctor, and through his father's contacts he began to assist in the purchase of air force jets from China and arms from other countries," he writes in "Than Shwe: Unmasking Burma's Tyrant."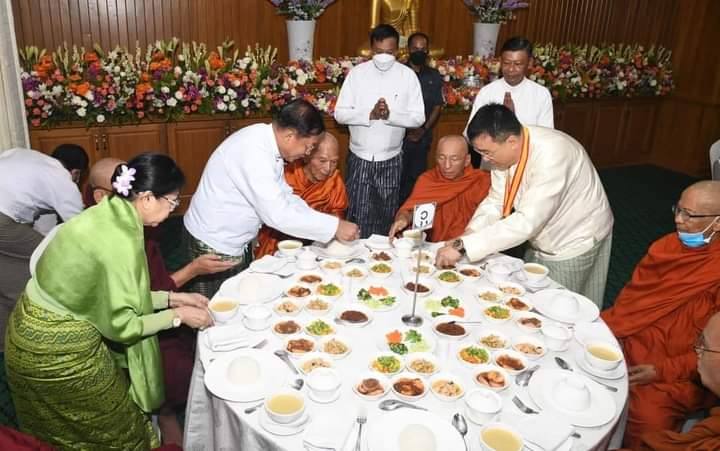 "'Since then he has become Than Shwe's handyman,' says a defector. Tay Za and Tha Yin Myat have also helped Than Shwe's wife Kyaing Kyaing undertake shopping trips to Singapore, and have transferred funds from her Singapore bank account to a new
account in Dubai," Rogers writes in the book.
According to old newspaper reports, under the previous regime, Dr. Tha Yin Myat made donations together with military spy chief General Khin Nyunt, who is now suffering from Alzheimer's.
Dr Tha Yin Myat also ran a company under the name of AWE in the early 2010s. But it was liquidated in 2020.
The nature of the relationship between Dr. Tha Yin Myat and Four River Myanmar Co Ltd American Company, which made donations to the newly opened monastery along with his family, is unclear. The company name can't be found on Myanmar's official company registration list.
The ex-army doctor also made donations with military leaders throughout the time of U Thein Sein's quasi-civilian government, which came to power in 2011.
During U Thein Sein's administration, Dr. Tha Yin Myat was awarded the Agga Maha Sirisudhamma Manijotadhara, a title given to those who have made substantial donations to a Buddhist order. His wife Daw Nwe Nwe Aye was awarded the Thiha Thudhamma Theingi title for her social welfare work.
The family drew online ire on Facebook as they were reportedly elated when Min Aung Hlaing staged the coup in February last year, prompting a boycott of their daughter Chaw Su Myat's Chaw Chaw Silk and Luxury Fashion store in Yangon.
Furthermore, the family are devoted followers of Ashin Chekinda, who recently became the rector of the International Theravada Buddhist Missionary University in Yangon due to his loyalty to Min Aung Hlaing.
On Sunday, Dr. Tha Yin Myat was seen sitting together with Min Aung Hlaing's son Aung Pyae Sone, and the doctor's wife Daw Nwe Nwe Aye sat side-by-side with Daw Kyu Kyu Hla as they attended the opening ceremony of the religious building.
You may also like these stories:
Top China Official Reaffirms Beijing's Support for Myanmar Junta
Myanmar Junta Airstrikes Continue in Kayah State
Hell Hounds Are Loose in Myanmar; Who Can Stop Them?