Myanmar's junta chief Min Aung Hlaing handed out decorations to honor his predecessors and ultranationalist Buddhist monk U Wirathu on New Year's Day.
He honored the first post-independence dictator General Ne Win and his successors General Sein Lwin and Senior General Saw Maung last year and Daw Khin Sandar Win, Ne Win's daughter, accepted the decorations for her father on Sunday.
Ne Win seized power in the March 2, 1962, coup and oversaw the country's descent into the list of least-developed countries.
The children of Sein Lwin and Saw Maung also accepted decorations on the behalf of their fathers. Ne Win loyalist Sein Lwin was responsible for brutal crackdowns on student protesters and was dubbed the butcher of Rangoon during the pro-democracy uprising in 1988.
Saw Maung was also responsible for the brutal crackdown on the uprising as the military chief. He also ensured a fresh military takeover at the instruction of Ne Win to perpetuate military rule.
Min Aung Hlaing has handed honorary titles and medals to around 3,700 people over the past year.
Marking the 75th anniversary of Independence Day on Wednesday, Min Aung Hlaing credited Daw Aung San Suu Kyiv's father General Aung San with gaining independence from the UK.
But he seized power from the elected 77-year-old leader, who has been given 33 years in prison on 19 charges.
A junta court sentenced Daw Aung San Suu Kyi to a further seven years in prison on December 30.
Among those receiving awards in Naypyitaw were the children of Ne Win loyalist, San Yu, president of Ne Win's Burma Socialist Program Party, and former prime minister U Nu.
Also honored were U Kyaw Nyin and U Ba Swe, colleagues of Gen. Aung San, and post-independence political leaders.
The junta's newspapers on New Year's Day showed Min Aung Hlaing and his wife greeting Ne Win's daughter Daw Khin Sandar Win and his grandson Kyaw Ne Win.
Daw Khin Sandar Win attended Armed Forces Day last year and Kyaw Ne Win's Omni Focus Co Ltd is involved in junta plans to bring electric buses to Myanmar.
Daw Yin Yin Oo, an adviser to Min Aung Hlaing's advisory body, received decorations on behalf of her father, Dr. Maung Maung, another Ne Win loyalist.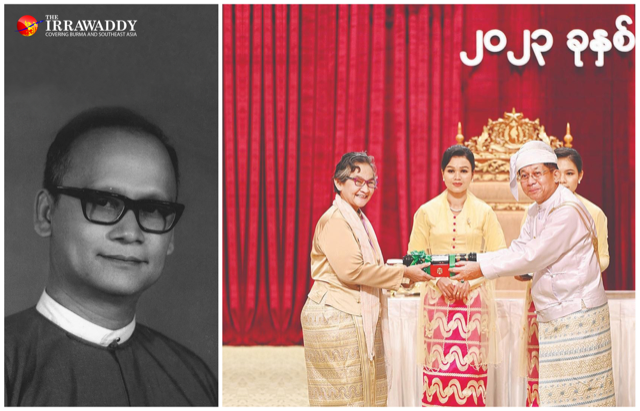 On Tuesday Min Aung Hlaing handed over the Thiri Pyanchi title to ultranationalist monk U Wirathu, who was dubbed the Buddhist Bin Laden in the early 2010s for his racial and religious hate speech. U Wirathu's title honors his cooperation with the regime's "peace, development and prosperity" program.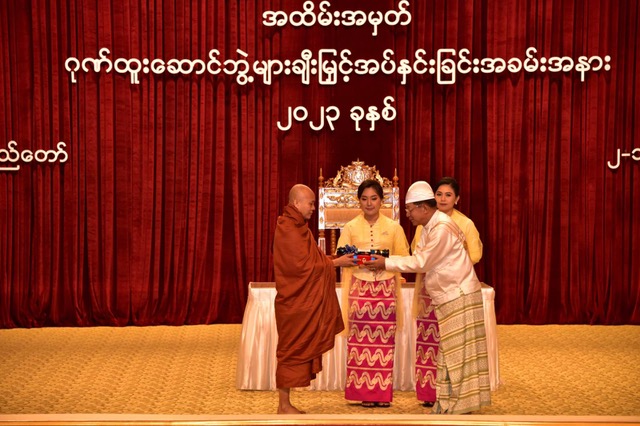 Last year, Min Aung Hlaing handed out 1,290 titles and medals on Independence Day, 877 on Armed Forces Day on March 27, 146 for Myanmar's New Year on April 1 and thousands more in November and December, totaling nearly 3,700.
The golden medals cost more than 7 billion kyats (around US$33.3 million) of public funds.