Myanmar's junta has conducted arson attacks and airstrikes on more than 20 villages in Sagaing and Magwe regions within nine days since the United Nations special envoy Noeleen Heyzer demanded an end to attacks on civilian targets.
At least 12 civilians, including a child and pregnant woman, were killed and an estimated 20,000 residents have fled their homes.
On August 17, Heyzer asked regime leader Min Aung Hlaing to stop aerial bombing and the burning of civilian homes.
The special envoy also called for an end to all forms of violence, full respect for human rights and the rule of law and full and safe humanitarian access to those in need.
Within hours of the meeting, troops burned down almost 600 houses in Ngatayaw village, Yesagyo Township, Magwe Region, according to the residents.
The arson attack came after an ambush by resistance forces outside the village, a resistance fighter told The Irrawaddy last week.
On August 18 and 19, around 150 regime troops raided and burned houses in four villages in northern Pauk Township, Magwe.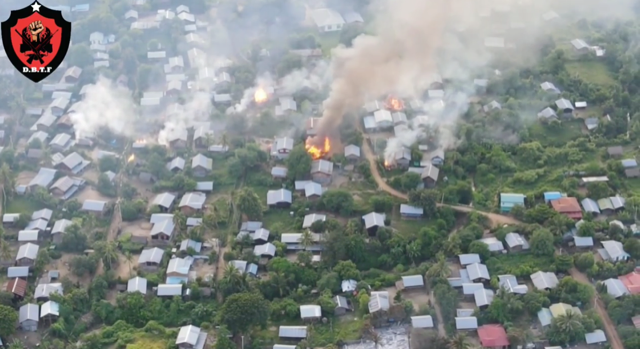 Around 150 houses were reportedly burned down when regime forces raided and torched houses in seven villages in the township, according to media reports.
On Tuesday, regime forces also burned houses in two villages in Myaing Township, Magwe, and burned alive a resistance fighter who was captured during a shootout, Myaing's Hero Generation (MHG), a resistance group, said on Friday.
A video showed resistance fighters extinguishing a fire in a village.
MHG said four shootouts with resistance groups broke out near the village. It said six resistance fighters and three regime troops were killed.
On Monday, 15 junta troops were killed in an ambush by six resistance groups in the area, MHG said.
On Tuesday, four civilians, including a six-year-old boy and nine-month-pregnant woman, were killed when three jets bombed a village in Kawlin Township, Sagaing Region.
The bombardment came after nearly 40 soldiers were reportedly killed and three army captains were captured along with more than 20 firearms and ammunition by the Kantbalu People's Defense Force during an ambush in neighboring Kantbalu Township.
Before the ambush, the troops had burned houses in Nyaung Kone village, Kantbalu, on Monday.
On Thursday, regime forces burned down houses in nearby Aung Chan Thar village in Kawlin Township, Sagaing, according to Kawlin Revolution, a media partner of the township's resistance groups.
Meanwhile, junta helicopters launched airstrikes on five villages in neighboring Kyunhla Township, Sagaing, including a village sheltering 200 displaced people from Aung Chan Thar village in Kawlin Township, said the Kyunhla Activist Group.
A civilian was killed in a junta helicopter attack while two others were injured, the activist group said.
On Friday morning, regime forces torched houses in Konesee village in the township, the group said.
Six civilians were killed and over 7,000 residents fled their homes in Yinmabin Township, Sagaing Region, between August 18 and 21 when regime forces raided and burned down three villages.
The Institute for Strategy and Policy in Myanmar that monitors regime arson attacks, reported that by July 15 more than 28,000 buildings had been burned down by junta forces in the country.
Sagaing Region suffered the most with 20,400 houses burned down, followed by Magwe Region with 5,700.
Amid near-daily attacks from resistance groups and ethnic armed organizations, the regime forces have continued to conduct atrocities, including arbitrary torture and killing of civilians, burning people alive, massacres, extrajudicial executions of resistance detainees, using civilian detainees as human shields, artillery and airstrikes on civilian areas, looting and burning houses and acts of sexual violence.