YANGON—Myanmar and Japan are discussing expansion of Japanese investment in Myanmar during the upcoming second term of the civilian government led by the National League for Democracy (NLD). The two countries also discussed to promote military-to-military relations, during a visit to Myanmar by the chairman of the Japan-Myanmar Association.
Watanabe Hideo, a chairman of Japan-Myanmar Association (JMA) who is also a former member of the House of Councilors of Japan, met Myanmar State Counselor Daw Aung San Suu Kyi, Commander-in-Chief of Defense Services Senior General Min Aung Hlaing and other high-level officials in Naypyitaw on Monday and Tuesday.
The Myanmar State Counselor office and the Ministry of Investment and Foreign Economic Relations (MIFER) said that they discussed with Watanabe ways to enhance economic and investment cooperation in Myanmar in coming years.
The Myanmar State Counselor office said that Daw Aung San Suu Kyi and Watanabe had a frank negotiation on further expansion of Japanese investments in Myanmar during the NLD's upcoming term.
Japan's continued support for socio-economic development assistance, including in the education and health sectors, was also discussed, the state counselor's office said.
During the period from the 2016-2017 fiscal year to the 2020-2021 fiscal year, Japan was the fifth-largest investor in Myanmar, with a total of 37 permitted enterprises. It has invested more than US $1.3 billion under the NLD administration, according to the Myanmar's Directorate of Investment and Company Administration (DICA).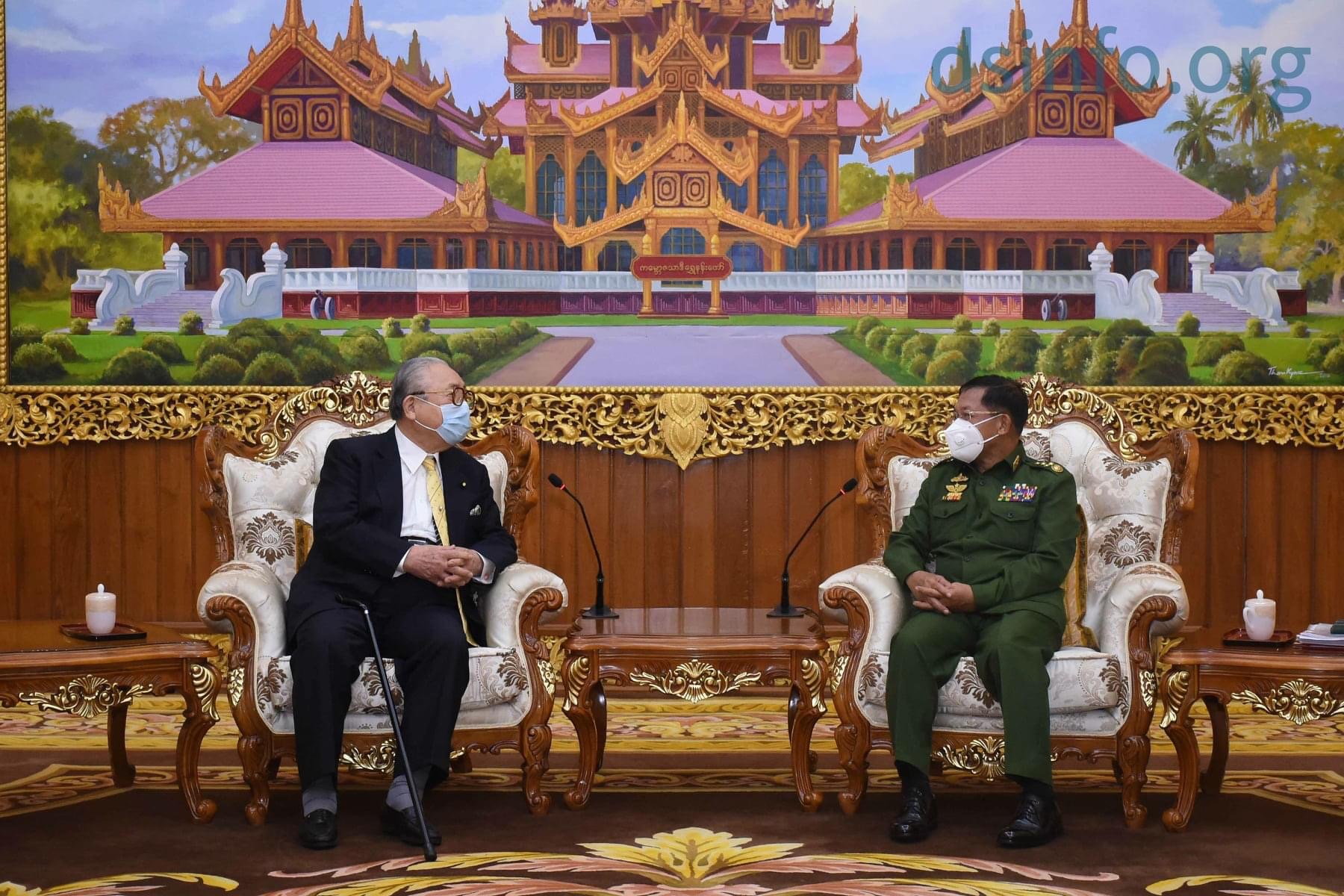 DICA said that Japan invested more than $60 million in 2016-2017, $384 million in 2017-2018, $176 million in 2018-2019 and $768 million in 2019-2020.
The Tatmadaw (military) True News Information Team said that both sides discussed the promotion of relations between the Japanese and Myanmar military during the meeting between Snr-Gen Min Aung Hlaing and Watanabe.
Watanabe visited Myanmar a number of times under the former military regime. He has made frequent visits to Myanmar since 2008. Last year in March, he visited Naypyitaw and met with Daw Aung San Suu Kyi, others senior economic ministers and commander-in-chief of defence services Senior General Min Aung Hlaing to discuss the promotion of Japanese investment in Myanmar and assistances to peace process.
JMA plays a private institutional role to promote private sector investment promotion, trade expansion, technology cooperation between Myanmar and Japan. A number of the largest Japanese business firms are members of JMA.
You may also like these stories:
Myanmar Terminates Thai-Led Consortium's Involvement in Dawei Mega Project
Kirin to Continue Profit Denial to Myanmar Military Conglomerate