A 2019 ASEAN Business Award has gone to Myanmar's Genius Coffee, also known as Aung Nay Lin Htun, said the firm's founder U Ngwe Tun.
Aung Nay Lin Htun Co. Ltd, which processes Myanmar's specialty coffee, including the specialty grade Genius Shan Highlands Coffee and Blue Pond Specialty Coffee, for the second year running won the ASEAN Business Award (ABA) for the Sustainable Social Enterprise on Saturday in the Thai capital, Bangkok.
U Ngwe Tun told The Irrawaddy on Tuesday that the award allowed the Genius Shan Highlands Coffee brand to be "further recognized" beyond Myanmar.
The ABA was initiated by the ASEAN-BAC (Business Advisory Council) in 2007 to annually recognize outstanding social enterprises that are innovative and have made significant, sustained contributions to help the disadvantaged.
Categories include small- and medium-sized enterprises excellence, corporate social responsibility, employment, growth and innovation, family businesses, young entrepreneurs, sustainability, green enterprise and female entrepreneur.
Daw Khine Zaw from Earth Tamura Electronic Myanmar Co. Ltd was also honored in the Women Entrepreneur category and Dr. Htet Zan Lin from OnDoctor Co. Ltd won the Startup and Innovative Driven Entrepreneur Award.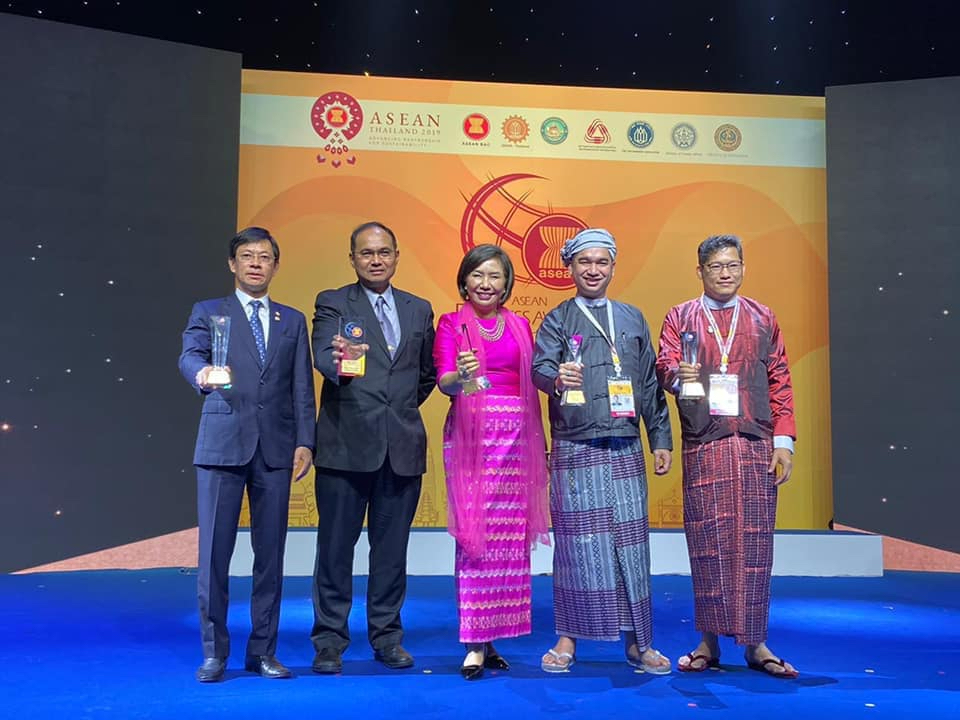 Founded in 2012 by U Ngwe Tun, a technology entrepreneur, Genius Shan Highlands Coffee started processing and roasting coffee beans in Ywar Ngan in southern Shan State.
It came on sale in 2014 with three products. Later it expanded into growing raw coffee beans and currently works with more than 25,000 farmers in southern Shan and Kayah states and set a production target of 300 tons this year. The company now plans to start producing in Magwe Region and Chin State.
In 2016, it received organic certification from the United States Department of Agriculture and the European Union.
Genius Coffee said it was expanding its range to 18 products. It added that 85 percent of its goods were sold domestically, dominating the market with a 35 percent share. It exports to other Asian countries, Europe and North America.
U Ngwe Tun said: "We hope to expand our specialty coffee production across the Mekong region to Thailand, Vietnam, Cambodia and Laos, which produce coffee. We are starting with Cambodia. Instead of producing a large quantity of coffee, we focus on specialty aromas, flavors and a rich taste."
Because of its highlands, Myanmar's coffee producers could grow high-quality beans for the international market, he said.
"The mountains help our coffee plantations and we are trying to improve by producing better coffee," U Ngwe Tun said.
The company pays farmers higher prices for the best beans and educates them in techniques to produce higher grades, he said. U Ngwe Tun added that the firm used 10 per cent of the revenue to support education, health care and environmental conservation where the beans are grown.
In July this year, the firm started its Genius Mobile Café franchises and 10 branches are already in operation across Myanmar.
The firm aims to set up 100 Genius Mobile Café franchises next year, said U Ngwe Tun.
It is also participating in the China International Import Expo in Shanghai, which ends on Nov. 10, together with three tea companies.
"We are showcasing all of our products in the expo at Myanmar's pavilion," he added.