YANGON—Malaysia has begun deporting more than 900 Myanmar migrants who have been held in its immigration detention centers for several months, with hundreds landing in Myanmar on charter flights over the weekend and the rest due later this week, according to the Myanmar Embassy in Kuala Lumpur.
The Malaysian government plans to complete the deportation of a total of 960 Myanmar migrant detainees this week, as its detention centers are overcrowded with foreigners, according to a Myanmar Embassy official.
U Aung Zaw Min, labor attaché at the Myanmar Embassy in Kuala Lumpur, told The Irrawaddy on Tuesday that the Malaysian government is providing charter flights to transport the deported migrants.
In Malaysia, undocumented foreigners apprehended by the authorities are typically jailed for several weeks to six months under the country's immigration laws for staying and working in the country illegally. After serving their prison terms, they are held in immigration detention centers until their identities and citizenship can be confirmed by their respective embassies.
More than 3,000 people who describe themselves as Myanmar nationals are being detained in 13 immigration detention centers across the country, according to the embassy official.
The embassy official said the 960 detainees who are being deported had been confirmed as Myanmar citizens and were being provided with the certificate of identification (CI) needed to return home.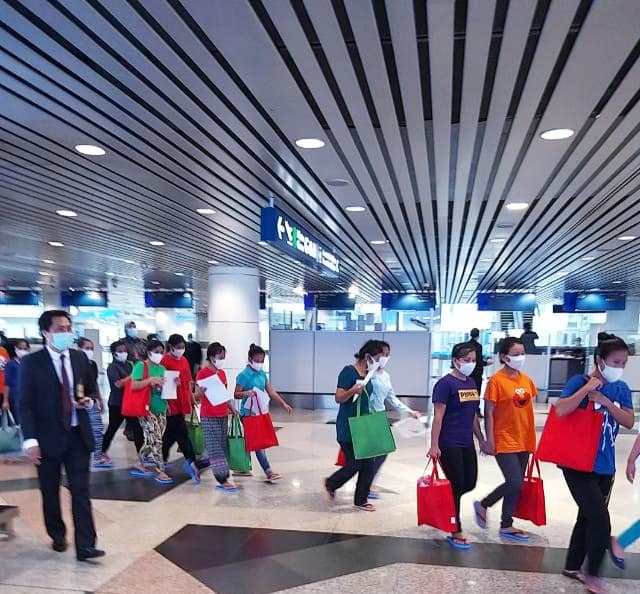 Those detainees must take COVID-19 tests before leaving Malaysia and must also be quarantined when they arrive in Yangon.
Some 280 of the 960 Myanmar detainees were flown back home on Sunday and the remaining 680 will be deported on Malaysian chartered flights on Thursday, U Aung Zaw Min said.
The labor attaché said the Myanmar detainees had been forced to stay at the immigration detention centers for up to eight months, despite having been sentenced for just weeks to several months.
"The Malaysian government had to open more detention centers as the existing centers were crowded with foreign detainees. The government urgently needs to send the detainees to their respective countries" U Aung Zaw Min said.
On May 11, the Malaysian government sent 391 detainees home to Myanmar on two chartered flights.
Since then, it has been seeking to deport more than 3,000 people currently held in its immigration detention centers to Myanmar after hundreds of detainees tested positive for COVID-19.
U Aung Zaw Min said that since early May, Myanmar has organized 22 repatriation flights brining home nearly 4,000 Myanmar nationals stranded in Malaysia due to flight suspensions and COVID-19 lockdowns.
Additionally, around 10,000 undocumented Myanmar workers in Malaysia have registered at the embassy requesting assistance to return home.
You may also like these stories:
Myanmar Military Blames Govt, Ethnic Armies for Pre-Election 'Irregularities'
Myanmar Party Poll Monitors Complain of Election Law Violations During Early Voting
Myanmar's Ultranationalist Monk U Wirathu Turns Himself In After a Year in Hiding