YANGON—Leaders of Myanmar's various religious communities on Tuesday expressed support for State Counselor and Foreign Affairs Minister Daw Aung San Suu Kyi as she leads the legal defense team contesting a genocide case filed against the country at the International Court of Justice (ICJ).
As the ICJ began its first hearing in the case in The Hague on Tuesday, tens of thousands of people marched and gathered in downtown Yangon holding posters reading "We Stand with Daw Aung San Suu Kyi." The event was also attended by the Yangon Region chief minister and cabinet members.
During the event, leaders of the Christian, Bahai, Hindu, Muslim and Buddhist communities read statements in support of Daw Aung San Suu Kyi.
The statements mainly contained expressions of support and appreciation for Daw Aung San Suu Kyi's decision to show accountability and her courage in leading the Myanmar delegation at the ICJ in pursuit of justice and truth.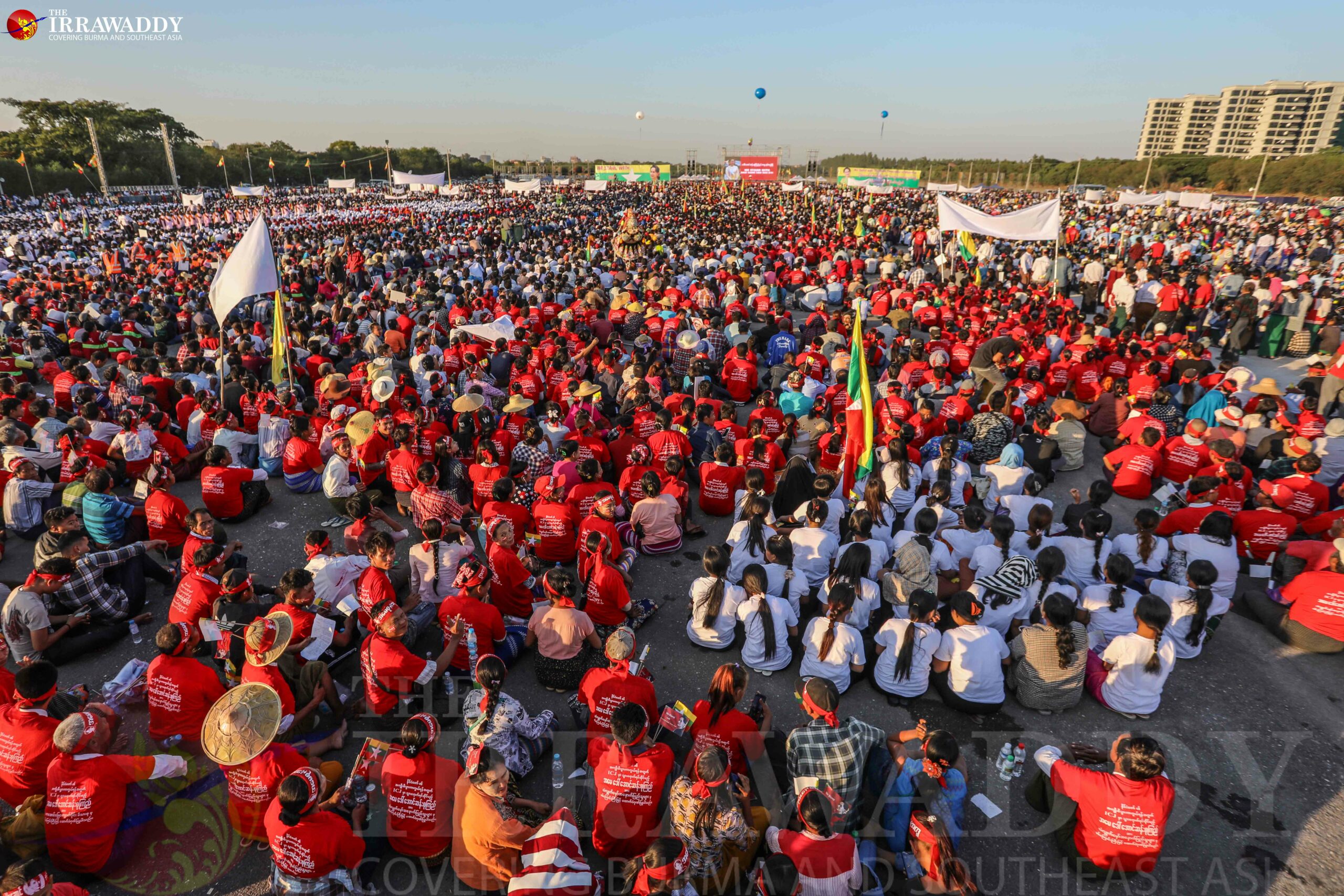 Leaders of Myanmar's Muslim community said they also sought justice and truth for the country. They urged continued efforts on behalf of social harmony between Myanmar's different religions and faiths, which they said were all working to build the nation. They added that they will pass on their love of their country to future generations.
Signs spelling out the rally's objectives—including to seek justice and truth and to pass on for posterity a civilized society with the values of humanity and a dignified state—were posted and distributed at the venue.
Buddhist monk U Arriyawuntha, the abbot also known as Myawaddy Sayadaw, told the audience that it is important to work to be dutiful citizens who respect and abide by humane values and oppose inhumanity.
"From here, we will let the world know that Myanmar citizens are working to fulfill their duties with full accountability and also that all citizens unanimously support the state leader [Daw Aung San Suu Kyi in proving that Myanmar is a dignified state]."
Similar events were held on Tuesday across the country including in Mandalay and Sagaing regions and Shan State.
The Gambia filed the case on behalf of the Organization of Islamic Cooperation at the World Court last month, accusing Myanmar of genocide against Rohingya Muslims.
The ICJ hearings on the case will run through Thursday. Representatives from both countries will appear before the court.
More than 700,000 Rohingya fled Myanmar to neighboring Bangladesh in late 2017 after the government's security forces launched clearance operations in northern Rakhine State in response to a series of attacks by the Arakan Rohingya Salvation Army on police outposts in the area. UN investigators said the operations had "genocidal intent". Both the Myanmar government and military have denied the accusations.
You may also like these stories:
A Black Swan for Nobel Peace Laureate Daw Aung San Suu Kyi
Clashes Over Charter Change Grow Fiercer Than Ever in Myanmar Parliament
Rallies Draw Thousands Nationwide in Support of State Counselor's Defense of Myanmar at ICJ
Myanmar State Counselor Arrives in Netherlands to Lead Rohingya Genocide Defense