Once a soldier, always a soldier. But not this time, please!
"The Myanmar War Veterans Organization is the reserve force of the Tatmadaw. As it is formed by former military personnel, it is a reliable organization for the Tatmadaw," coup leader Senior General Min Aung Hlaing said in his speech to the Myanmar War Veterans Organization Conference on Nov. 26 in Naypyitaw. The Tatmadaw is Myanmar's military.
Ordinarily, former soldiers would be happy to receive such praise. But the warm words from the coup leader at this particular time are certainly not a good omen for the old pensioners. Some might even be wondering if there is a hidden meaning in his words, which come at a time when the regime is facing armed resistance in many parts of the country and feeling vulnerable to attacks by People's Defense Force (PDF) groups.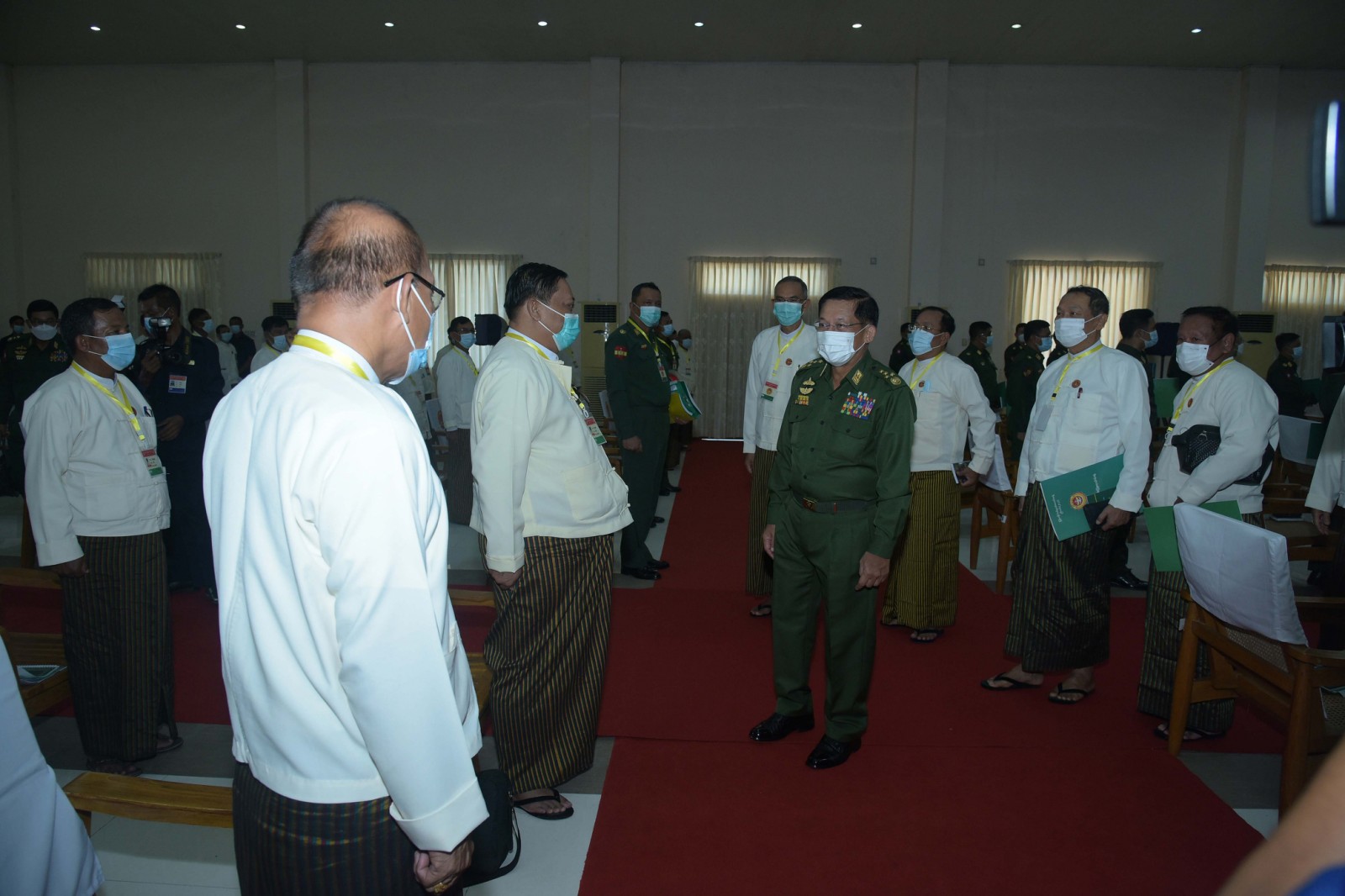 Despite using helicopters and gunships to quash the revolt by People's Defense Force groups and ethnic armed organizations, the military has suffered heavy casualties, while thousands of its personnel have defected. Badly in need of manpower, it is reportedly recalling former service members to military duty.
Former dictator seeks merit
Former military dictator Senior General Than Shwe, his wife Daw Kyaing Kyaing and their families offered meals to senior Buddhist monks who attended a meeting of the 47-member State Sangha Maha Nayaka Committee, the highest Buddhist authority in Myanmar, on Nov. 26, the junta-controlled newspapers reported. Though he did not personally attend the event, it was the latest activity of the former dictator to be made public. It's also noteworthy that he distanced himself from such activities over the past five years under the NLD government. Now he has resumed them with his handpicked successor Min Aung Hlaing in power, signaling there's still a warm relationship between them.
The 88-year-old military strongman has rarely been seen in public since he stepped down in 2011 to make way for Min Aung Hlaing. The last time he was in the public eye was when he and his wife sought medical treatment for COVID-19 at a Naypyitaw hospital some three months ago.
Under his leadership, the previous military regime in 2007 carried out a brutal crackdown on Buddhist monks leading a mass anti-regime protest movement known as the Saffron Revolution.
Then-police chief Khin Yi, who ordered the bloody crackdown on protesters, later became Immigration Minister in U Thein Sein's quasi-civilian government and again in the current regime's cabinet.
The usual strong condemnation
On Nov. 27, the junta's Ministry of Foreign Affairs strongly objected to a joint statement from the United States, Britain, Australia, Canada, New Zealand, Norway and South Korea accusing the regime of disproportionately harming civilians.
Even as the regime called the statement "biased" and "groundless", it launched airstrikes in Sagaing Region's Tabayin Township that left two civilians dead and 18 others missing. At the same time, at least 50 houses caught fire in Chin State's Thantlang due to the junta's artillery strikes and arson attacks.
Defaming Suu Kyi, editorially
Apparently not content with filing 11 charges against the detained State Counselor, the military regime, through its mouthpiece Myawady Daily, attempted to further smear Daw Aung San Suu Kyi in an editorial published on Nov. 29.
The editorial compared the ongoing armed revolution against the junta to the armed rebellion staged by Thakhin Than Tun, the first chairman of the Communist Party of Burma (CPB), and tried to portray his family ties to Daw Aung San Suu Kyi as significant. The CPB rebellion marked the beginning of Myanmar's civil war.
Thakhin Than Tun was the husband of Daw Khin Khin Gyi, the elder sister of Daw Aung San Suu Kyi's mother Daw Khin Kyi.
The editorial claimed that Thakhin Than Tun and Daw Aung San Suu Kyi's father General Aung San were brothers-in-law, because their spouses were sisters. Therefore, it claimed, the NLD leader is the niece of Thakhin Than Tun—a man who, inspired by China's Cultural Revolution, executed senior CPB leaders and many party members in his own purge.
The editorial argued that the shadow National Unity Government, its legislative body, the CRPH, and its armed wing, the PDF—which were born out of Daw Aung San Suu Kyi's NLD—are "far worse" than the CPB, accusing them of causing young people to become addicted to drugs and instigating them to commit violence, murders, bank robberies and mine attacks.
Successive military regimes have persecuted Daw Aung San Suu Kyi and the NLD, and referred to her as "Kalar's wife" (Kalar is a racial slur for foreigners) due to her marriage to British national Michael Aris, who died in 1999.
Let the people curse
Since coup leader Min Aung Hlaing staged his coup d'état, rarely a day has gone by that the Myanmar people haven't found some way to curse him for the sufferings he has inflicted on them. His wife also comes in for her share of public criticism, most recently on Nov. 29 when junta-controlled media reported that Daw Kyu Kyu Hla, whose husband seized power from a democratically elected government and whose regime has killed nearly 2,000 anti-coup protesters, led families from the Office of the Commander-in-Chief of Defense Services to chant Pahtan, the seventh text of the Theravada Buddhism philosophy, to pray for peace and for Myanmar to overcome catastrophes.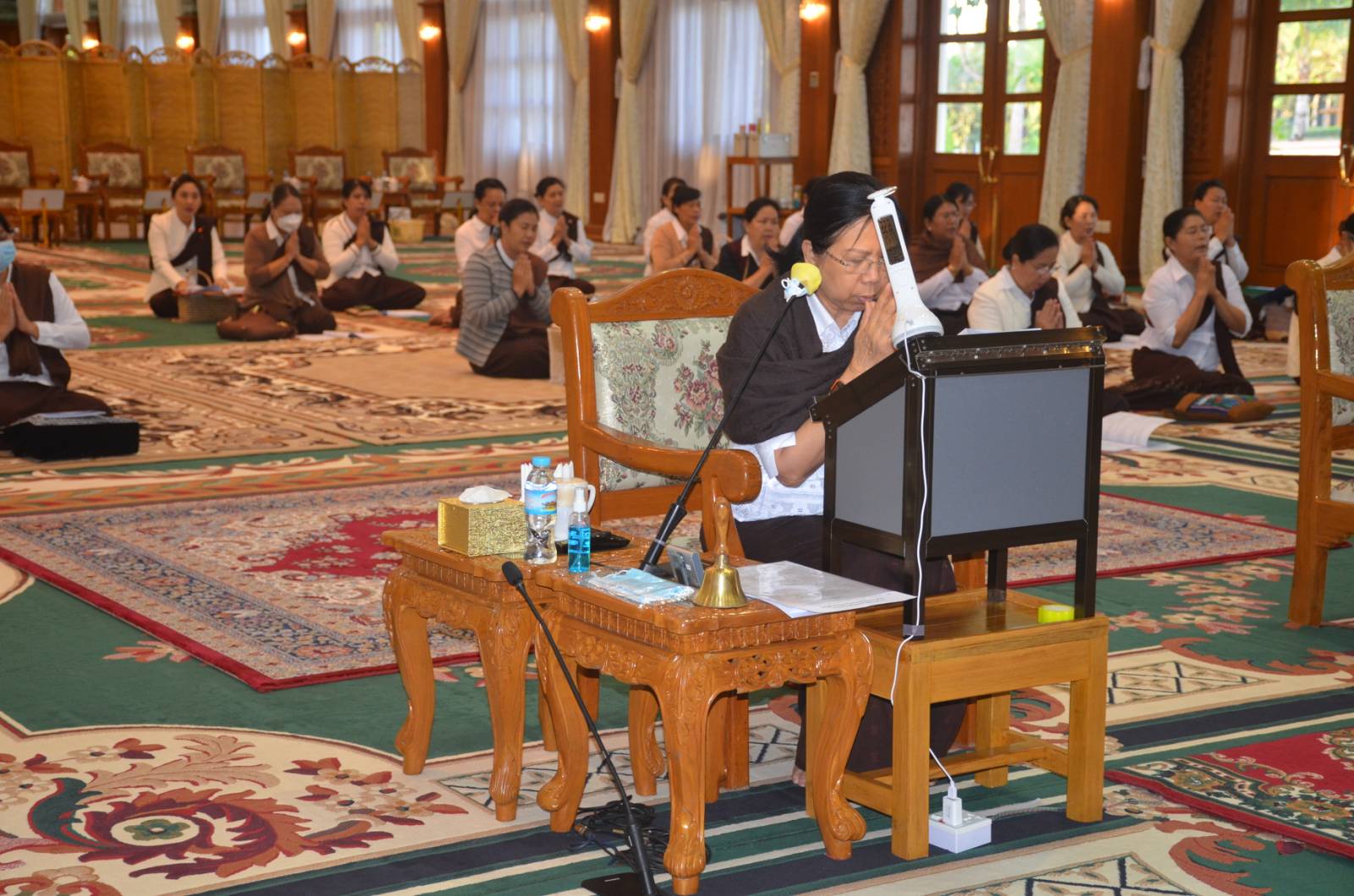 As if the stunning hypocrisy of such an event wasn't bad enough, Daw Kyu Kyu Hla was seated in a cushioned chair in the center of the hall while the wives of military personnel sat on the floor. A chair is commonly used as a metaphor for power in Myanmar politics, prompting many netizens to write comments on social media such as: "Not only the husband, but also Kyu Kyu Hla craves a chair." They also contrasted Kyu Kyu Hla with Daw Aung San Suu Kyi, who has never posed in such a way at a religious ceremony.
The Pahtan-reciting ceremony for a "peaceful Myanmar" was held from Nov. 19 to Nov. 29; during the period, thousands of civilians were forced from their homes in Sagaing Region due to airstrikes ordered by her husband.
It is unclear whether Kyu Kyu Hla is choosing to turn a blind eye to the fact that her husband has created an unprecedented catastrophe for the country, or is simply unaware of it. Normally, humanitarian crises are confined to a particular area. The Min Aung Hlaing-created catastrophe, however, is affecting all 54 million people across the country. Little wonder, then, that he and his wife have elicited such disgust from the people.
Not enough charges for Suu Kyi?      
The military regime on Nov. 30 postponed the announcement of a verdict in the incitement trial of deposed civilian leader Daw Aung San Suu Kyi, and instead filed a new corruption charge against her and former President U Win Myint.
The new charge relates to the purchase and rental of a rescue helicopter under the anti-corruption law, violations of which are punishable by up to 15 years in prison. The announcement follows the junta's filing of a corruption charge against former Social Welfare Minister Dr. Win Myat Aye some three months ago in connection with the same helicopter.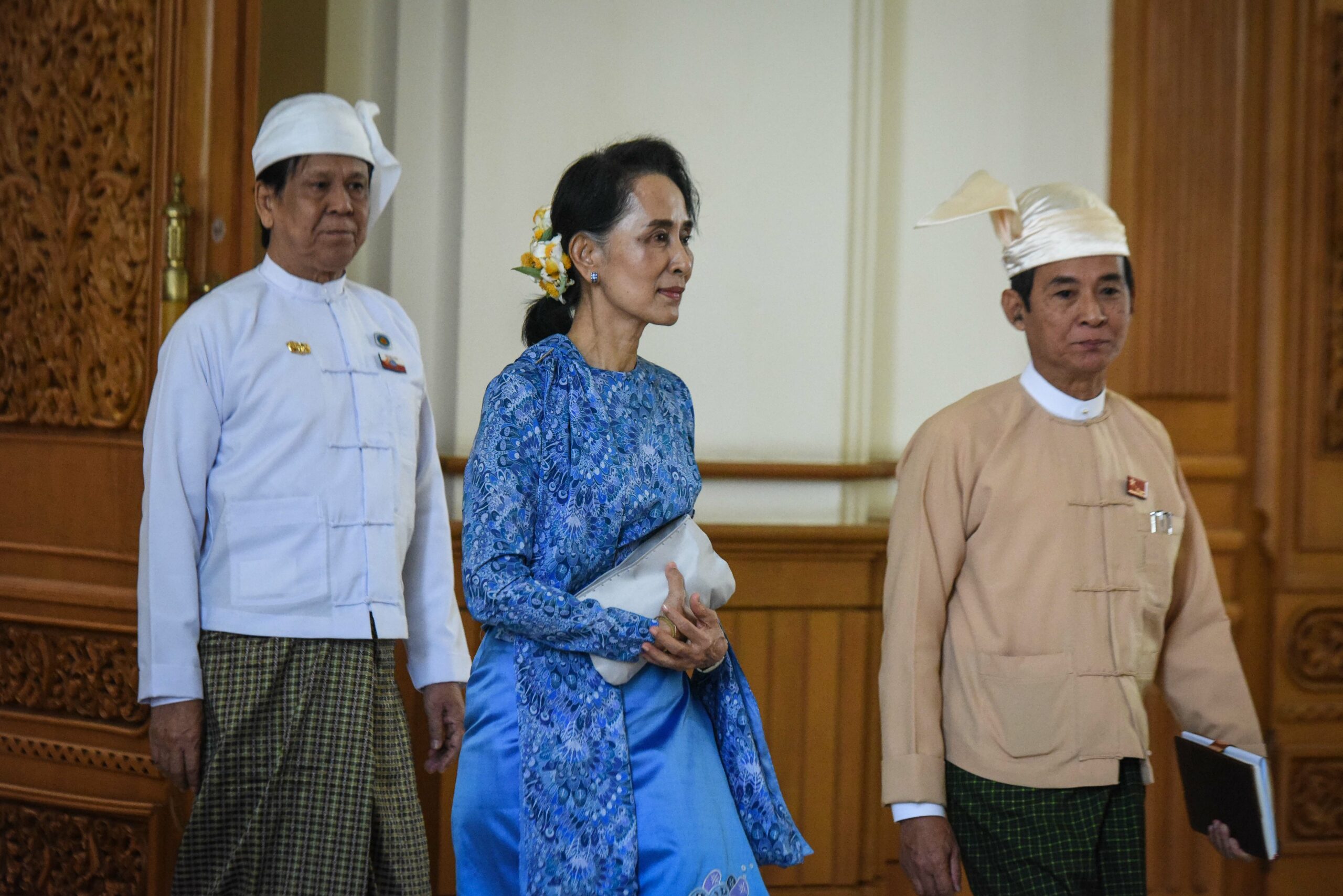 It is the 12th charge to be filed against Myanmar's most popular leader, who faces up to 120 years in prison if convicted on all counts. Legal experts say the regime's intention in bringing so many charges against her is to push her out of Myanmar's politics once and for all.
Bloody hands promote Buddhism
On Dec. 1, coup leader Min Aung Hlaing conferred titles on people who made significant donations in support of the practice of Buddhism. Min Aung Hlaing considers himself to be the leading layman or the sole promoter of Buddhism in Myanmar, and said at the event that his regime blessed those who supported Buddhism.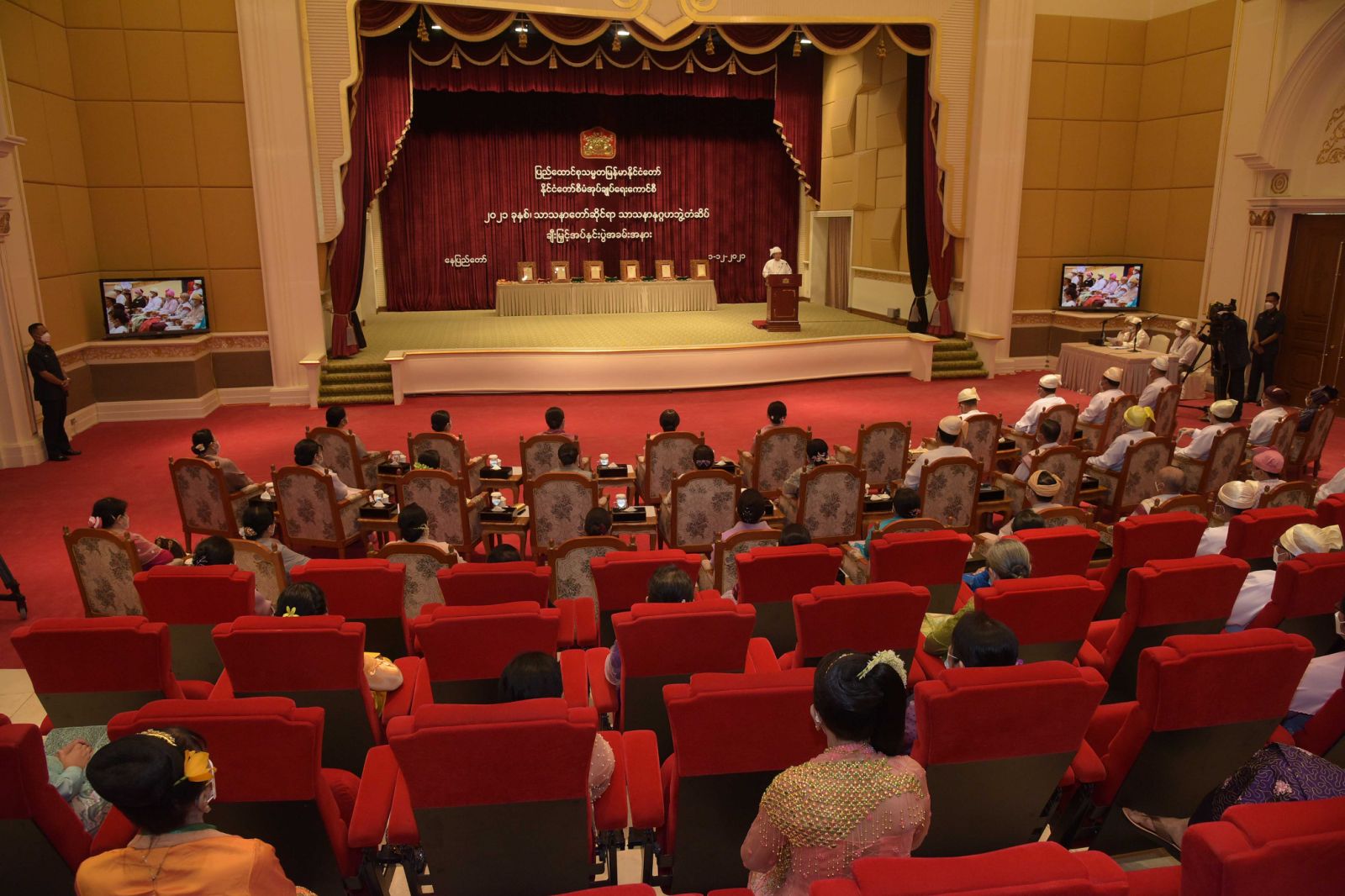 He also oversees a regime that has killed more than 1,000 people who opposed his coup. To abstain from killing living beings is the first commandment in Buddhism, and no religion in the world supports a human killing another person. Thus, his activities to promote Buddhism are pure hypocrisy.

You may also like these stories:

Myanmar Regime to Charge 2020 Election Local Officials
Myanmar Junta Killed Around 100 Children Since Coup: NUG
Ousted Lawmaker Accuses Myanmar Junta of Defaming the NLD