More than 760 junta soldiers and police plan to join the Civil Disobedience Movement (CDM) defying military rule since the declaration of a "people's war" against the regime by the civilian National Unity Government (NUG) on Sept. 7.
In his speech on Sept. 7, the NUG's acting president, Duwa Lashi La, urged anyone serving the regime, including soldiers and police, to leave their jobs, while calling on all citizens to revolt against military rule.
The NUG's defense ministry said between Sept. 7 and Oct. 7, 429 regime soldiers and 334 police contacted People's Embrace, a group formed by defectors helping personnel to abandon their posts, to join the CDM. But the ministry did not reveal how many have defected so far.
Former army captain Nyi Thuta of the People's Soldier group, which helps military personnel to defect, recently told The Irrawaddy that large numbers of soldiers would defect in the face of determined resistance from the People Defense Forces (PDF).
Many soldiers and police are defecting each day by contacting the PDFs in their area.
Since Sept. 7, 21 police officers and nine soldiers in Chin State have joined the CDM through the Chinland Defense Force, according to the group.
A total of 350 police and 21 soldiers have now gone on strike against military rule in Chin State since the Feb. 1 coup.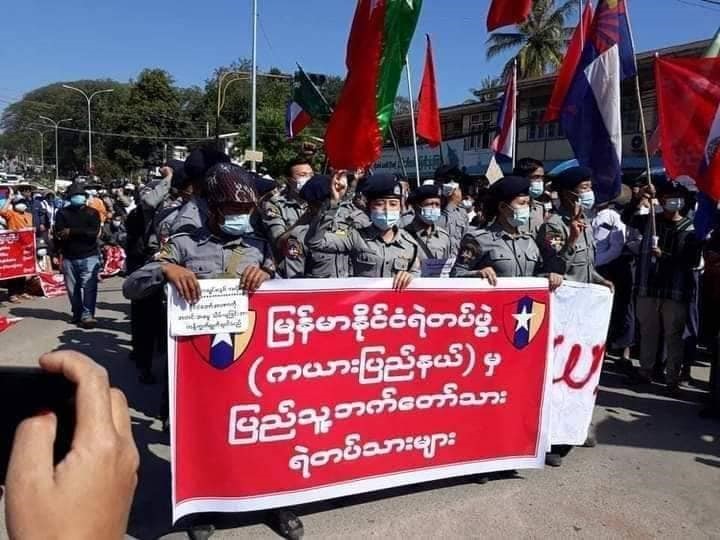 High numbers of defections are also reported in Sagaing Region and Chin and Kayah states.
Around 320 police officers who defected from the junta's Ministry of Home Affairs after the coup have formed a militia working with anti-regime groups in Kayah State.
Between February to August, around 2,000 soldiers and police officers have joined the CDM, said People's Embrace.
Police Captain Khun Aung Ko Ko, who defected after the coup and has been helping other officers defect, recently told Radio Free Asia that around 6,000 police have defected since February.

You may also like these stories:
Honest, Brave, Hardworking: Myanmar's Detained President Has Always Put Country First
Myanmar Junta Burn Church and Homes During Operations in Chin State
50 Myanmar Regime Soldiers Reported Killed in Clashes