Yangon — The general secretary of the ultranationalist Yeomanry Development Party (YDP), who had been in hiding after being charged with sedition, has been arrested.
Michael Kyaw Myint was preparing to erect an obelisk in support of the Tatmadaw (military) while condemning the Union Election Commission for alleged fraud in the Nov. 8 general election.
The four-meter-tall and 60cm-wide obelisk was inscribed with the military's three duties: to protect the union from disintegration, to preserve national solidarity and to defend Myanmar's sovereignty, expressing the political ideology introduced under military rule. It also included a base depicting the military-drafted 2008 Constitution.
The obelisk, according to Michael Kyaw Myint, is intended to be given as a present to the "patriotic" Tatmadaw, asking it to protect the country and Constitution. It was planned to be handed to the military in Naypyitaw on Friday.
But the police seized the obelisk from where it was manufactured near the Yuzana Garden housing project in Yangon's South Dagon Township on Tuesday.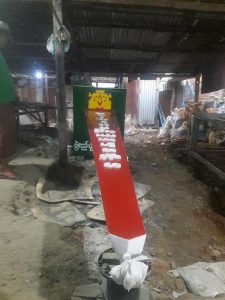 "He was remanded in custody and sent to Insein Prison. The next court hearing is set for Feb. 10. He said he would challenge the lawsuit," said Daw Aye Aye Thin, Michael Kyaw Myint's wife.
In October, he was charged with defamation under Article 505(b) of the Penal Code while campaigning in Khin-U Township, Sagaing Region. He was also charged in Yangon under Article 19 of the Peaceful Assembly and Procession Law for staging an unauthorized protest.
The ultranationalist has also served a one-year sentence for leading an anti-Muslim mob that harassed residents of Yangon's South Dagon Township in May 2019.
Before his arrest, he live-streamed on Facebook to say the hand-over ceremony was being postponed.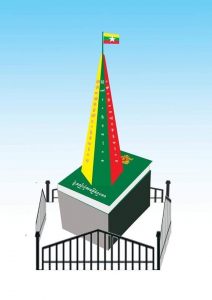 He was arrested after military spokesman Major General Zaw Min Tun on Tuesday denied sponsoring the obelisk.
Police have also arrested three suspects, including a central executive committee member of the YDP under Article 33 Electronic Transactions Law for incitement on social media concerning the obelisk.
The provision criminalizes any act deemed detrimental to national security.
If convicted, they face seven to 15 years in prison.
Translated from Burmese by Thet Ko Ko
You may also like these stories:
Myanmar Military Chief Warns Constitution Should Be Revoked If Laws Not Followed
Myanmar Military Refuses to Rule Out Coup as It Presses Claim of Fraud in Nov. Election
Chinese Firm Opens Assessment Tender for Strategic Deep-Sea Port in Western Myanmar