Drinks businesses owned by the family of the late junta crony Thein Tun and their foreign partners Heineken, Carlsberg, and ThaiBev are paying huge sums in tax to the military junta for operating in Myanmar, according to filings released by whistleblower website Distributed Denial of Secrets.
Distributed Denial of Secrets estimates that ThaiBev, Heineken and Carlsberg subsidiaries in Myanmar could be paying as much as 250 billion kyats or US$155 million per year in taxes to the junta.
An analysis of available tax filings from October to December 2021 reveals that Heineken, Carlsberg and ThaiBev paid 49.9 billion kyats in Specific Goods Tax (SGT) alone to the junta, equivalent to US$27.6 million based on average exchange rates from the junta-controlled Central Bank of Myanmar.
Grand Royal Group, a Myanmar subsidiary of ThaiBev, is the biggest taxpayer among them, paying 25.9 billion kyats in SGT alone to the junta in the fourth quarter of 2021, equivalent to over US$14 million, according to the analysis by Distributed Denial of Secrets.
In the same period, Heineken in Myanmar paid the junta 16.8 billion kyats (US$9.3 million) in SGT, while Carlsberg's subsidiary in Myanmar paid 7.1 billion kyats (US$3.9 million).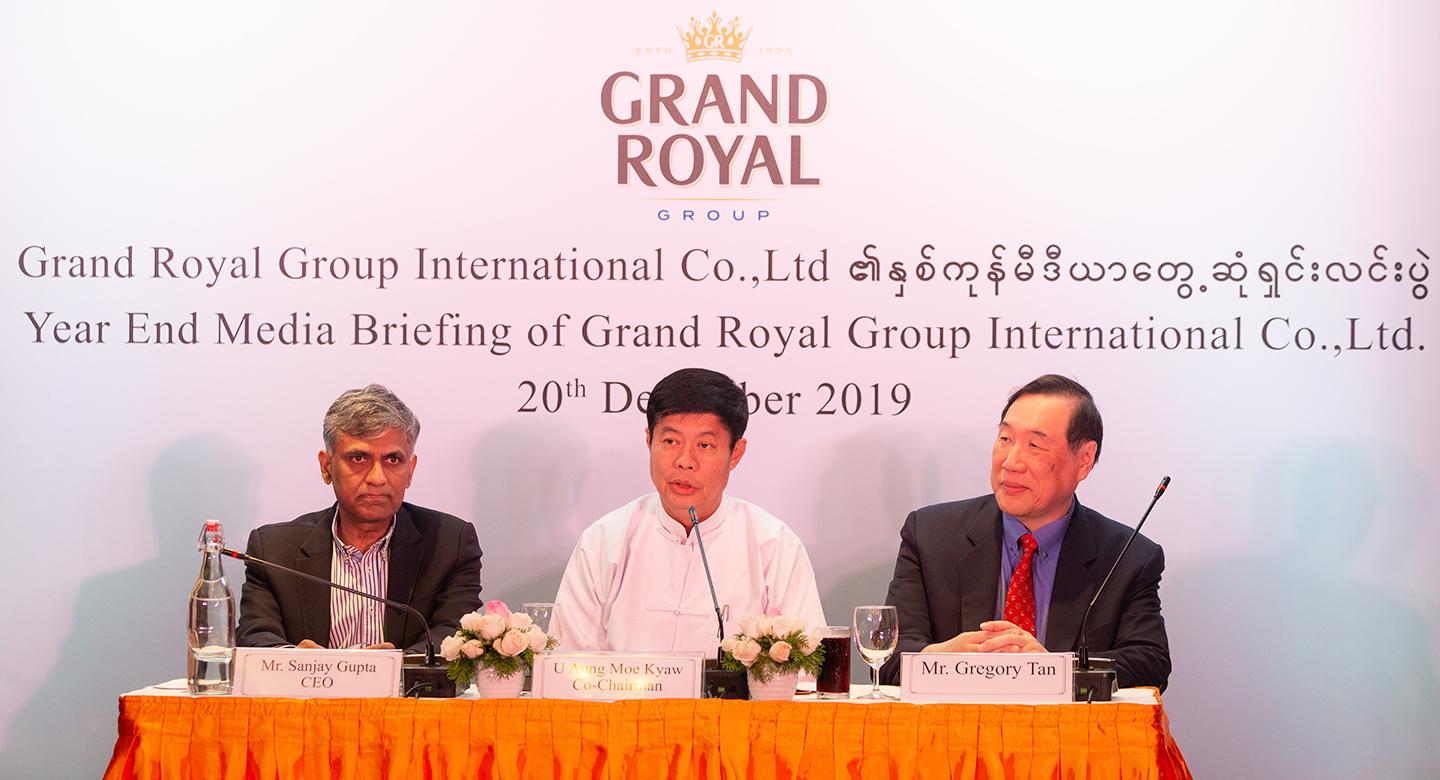 Apart from SGT, ThaiBev, Heineken and Carlsberg companies also pay commercial tax and income tax to the junta, which totalled 12.6 billion kyats in the same period, equivalent to US$7 million.
Grand Royal Group International was founded in 1995 under the name Myanmar Distillery Company Limited by Aung Moe Kyaw, Thein Tun's son-in-law. In 2017, Thai Beverage Public Company Limited (ThaiBev) acquired a 75-percent stake in Grand Royal Group International.
Thein Tun's Myanma Golden Star Group, which he controlled with his son Thant Zin Tun and daughter Mar Mar Tun until his death in 2022, is the Myanmar partner of Carlsberg. Carlsberg in Myanmar additionally produces Tuborg, Yoma and Black Eagle beer.
Thai nationals have made up the majority of the Board of Directors of Grand Royal Group International Company Limited since it became a foreign company in 2017, but U Aung Moe Kyaw and Daw Mya Pwint Phyu, who is also a director of Myanma Golden Star, still sit on the board.
Activist group Justice For Myanmar (JFM) notes that these substantial tax payments aid the junta as it wages a campaign of terror against the people of Myanmar, increasingly relying on its air force to carry out indiscriminate attacks.
"Large tax payments from the drink giants help the junta buy arms, fuel, and equipment and pay soldiers, supporting ongoing war crimes and crimes against humanity," JFM said in their statement released on April 19.
Grand Royal Group International was also among 163 companies and individuals who donated 1.13 billion kyats (around US$400,000) towards the junta's Armed Forces Day celebration in March this year, according to sources at the Quartermaster General's Office in Naypyitaw.
Best known as the man who brought Pepsi to Myanmar in the early 1990s, distributing the soft drink through his Myanmar Golden Star Company, Thein Tun died in April 2022 at the age of 85. He was also the founder of Tun Foundation and Tun Commercial Bank and owned the now-defunct Myanmar Times newspaper. His son Thant Zin Tun is the president of Mandalay Novotel Hotel and LP Holding Group, while his other son, Oo Tun, is the managing director of Myanmar Golden Star (MGS) Beverages.
MGS is also the domestic partner of LOTTE Chilsung Beverage, a subsidiary of South Korean corporation LOTTE Corporation, which manufactures soft drinks Pepsi, 7UP, Mirinda, Sting, Star, Quench and Crusher, and Pop Aqua bottled water.
Daw Mar Mar Tun and U Aung Moe Kyaw are the local partners of Heineken and ThaiBev. Heineken in Myanmar also produces Tiger, ABC Extra Stout, Bawdar and Regal Seven beer, while the ThaiBev-controlled Grand Royal Group produces Grand Royal whiskies, Royal Special gin and vodka, and bottles MacArthur's, a blend of whiskies imported into Myanmar from Scotland.
While 2021 records for LOTTE MGS Beverage were not available, 2022 filings for the first quarter show the company paid 1.3 billion kyat in commercial and income tax, equivalent to over US$600,000 on revenues of 18.3 billion kyat (around US$8.7 million). LOTTE MGS Beverage products are not subject to SGT.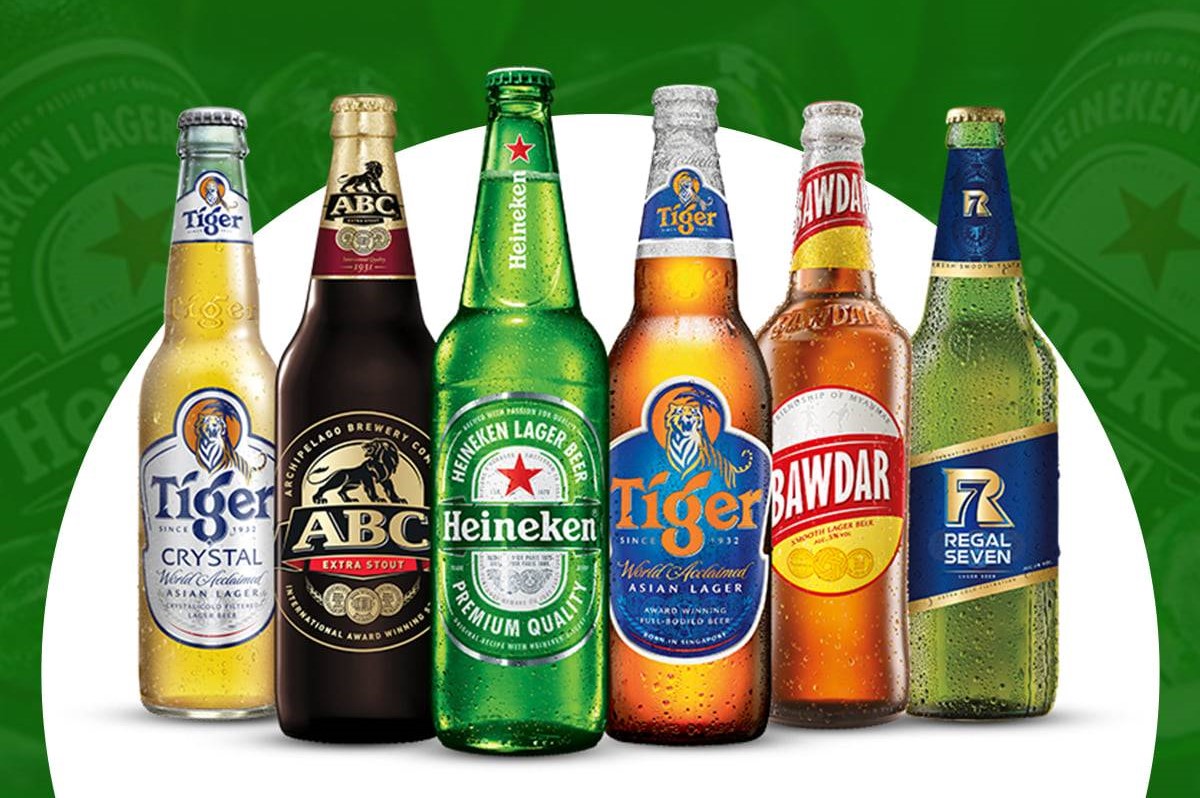 ThaiBev is responsible for further tax payments to the junta through its subsidiary Fraser & Neave, which produces Chang Beer through Emerald Brewery Myanmar Limited, a joint venture with another junta crony, Shwe Than Lwin group.
Justice For Myanmar has called on ThaiBev, Heineken, Carlsberg and LOTTE to follow the guidance of the National Unity Government and their international human rights responsibilities, and end payments to the military junta.
JFM said, "If the asset managers do not do so, the OECD Due Diligence Guidance for Responsible Business Conduct indicates that they risk deepening their relationship to and responsibility for the severe human rights violations the Myanmar junta is committing with revenue from the sale of drinks."
In 2013, Thein Tun and Thant Zin Tun entered into an agreement with the Myanmar Army's Office of the Quarter Master General to develop the Paramount Resort on Inle Lake under a build-operate-transfer contract, according to JFM, citing leaked investment commission data.
JFM points out that the Paramount Resort provides funds to the army through land lease fees as well as a lucrative futures asset that the army can use to generate revenue, showing deeper complicity of Carlsberg and LOTTE's partners in the Myanmar military's genocide, war crimes and crimes against humanity.
On April 11, the junta launched airstrikes against people gathered at an event in Pazi Gyi village, Sagaing, killing at least 168 people, weeks after the UN Human Rights Council passed a resolution that called on the Myanmar military to immediately cease all airstrikes.
Since its coup attempt, the Myanmar junta's military has launched indiscriminate airstrikes across Myanmar; in 2022 October, a junta airstrike against a concert in Kachin State killed over 80 people.