YANGON—Police seized more than 10 million methamphetamine tablets, commonly known by their street name, "yaba," in Rakhine State's Maungdaw Township and Magwe's Ngape Township on Saturday, reported the Central Committee for Drug Abuse and Control (CCDAC).
Police sized over 8.6 million WY-stamped tablets hidden under the floor of a vehicle parked by the road linking Maungdaw and Angumaw near Waithali Village in Maungdaw Township, and over 1.4 million from a vehicle in Ngape Township in Magwe Region heading to Rakhine State.
"We can't disclose information while we are looking for accomplices. We can't tell who is involved," said Police Col. Zaw Lin of the drugs squad.
In the case of Maungdaw, police arrested a man who attempted to run away after spotting the police as he approached the vehicle on his motorbike.
Police have opened a case against him under the Narcotics Drug and Psychotropic Substance Law, according to the report of the CCDAC.
Rakhine State lawmaker for Maungdaw Township U Tun Hla Sein said, "I heard [yaba pills] were being smuggled to Bangladesh. It is a common route to smuggle [drugs] to Bangladesh from Maungdaw. There is a long land border to the north of the town and some also use the sea route."
Methamphetamine tablets can be bought easily at betel nut vendors in Maungdaw and there have been reported cases of high school students being arrested with methamphetamine tablets, said the lawmaker.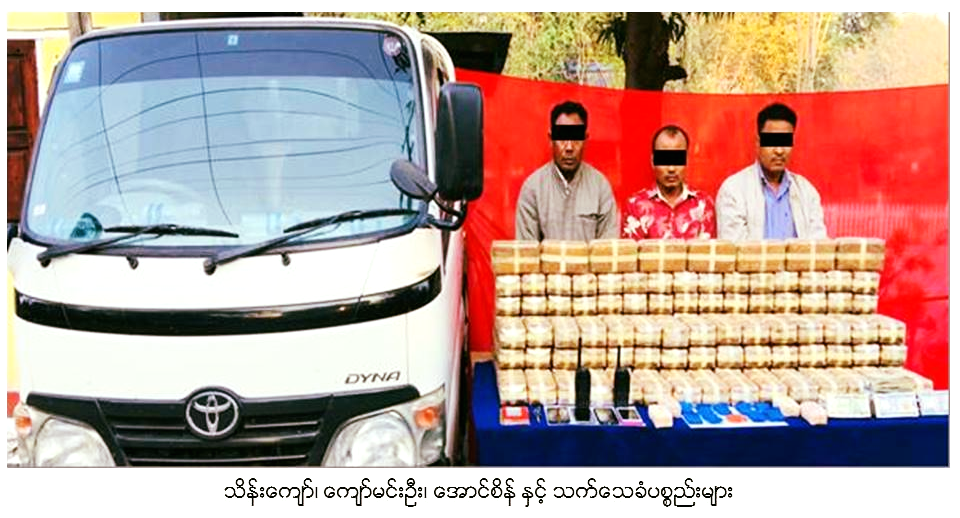 Drugs made in other parts of the country are smuggled through Rakhine State's Maungdaw into Bangladesh in cooperation with local drug gangs, he said.
"Drug barons also have arms to protect themselves. It is therefore dangerous for those who handle drug cases," he said.
According to the report by Magwe Region Police Force, the vehicle carrying methamphetamine tablets was stopped at an inspection gate on Saturday night.
The vehicle was en route from Yangon to Rakhine and police also detained three on board, including one person from Yangon and two from Maungdaw. The seizure is worth over 7 billion kyats ($4.6 million) on the market.
Police have opened a case against the three under the Narcotics Drug and Psychotropic Substance Law.
There have a number of massive drugs hauls in northern Rakhine State since 2017. Border Guard Bangladesh told the media in April 2017 that over one million WY-stamped tablets believed to be smuggled through northern Rakhine State were seized in Bangladesh.
In June last year, the Malaysian Police Force published a map of the routes used for drug smuggling inside Myanmar. According to Malaysian police, there are 37 factories that produce methamphetamine tablets in Myanmar, all of them located in Shan State in areas controlled by ethnic armed groups and people's militias overseen by Myanmar's military.