Almost 60 civilian resistance People Defense Force (PDF) fighters in Mingin were detained while they tried to attack a Sagaing Region village on Wednesday.
At about 5am on Wednesday, civilian resistance fighters attacked Pan Set and Taungbyu villages, which are strongholds of Pyu-Saw-Htee military allies who are armed with automatic rifles by the junta, according to the PDF.
According to residents, junta troops and Pyu-Saw-Htee raided have villages and attacked the resistance in the township over the past month.
A resistance fighter in Mingin told The Irrawaddy on Thursday they attacked villages on Wednesday to prevent junta attacks with the Phyu-Saw-Htee on villages in the south of the township.
During the firefight at Taungbyu village, the 57 resistance members were seized by the Pyu-Saw-Htee, according to the PDF.
"Our fighters were detained by a trap after entering the village as the Pyu-Saw-Htee said they would surrender," said a member of the PDF. Another 12 resistance fighters outside the village escaped.
The resistance fighters trying to save the detainees were forced to retreat by junta reinforcements. After the firefight, the military regime used a helicopter to supply ammunition, residents said.
"We have learned our members were detained at the Taungbyu village and some of them were slain," said the PDF member.
The Irrawaddy was unable to independently confirm the killing of PDF detainees.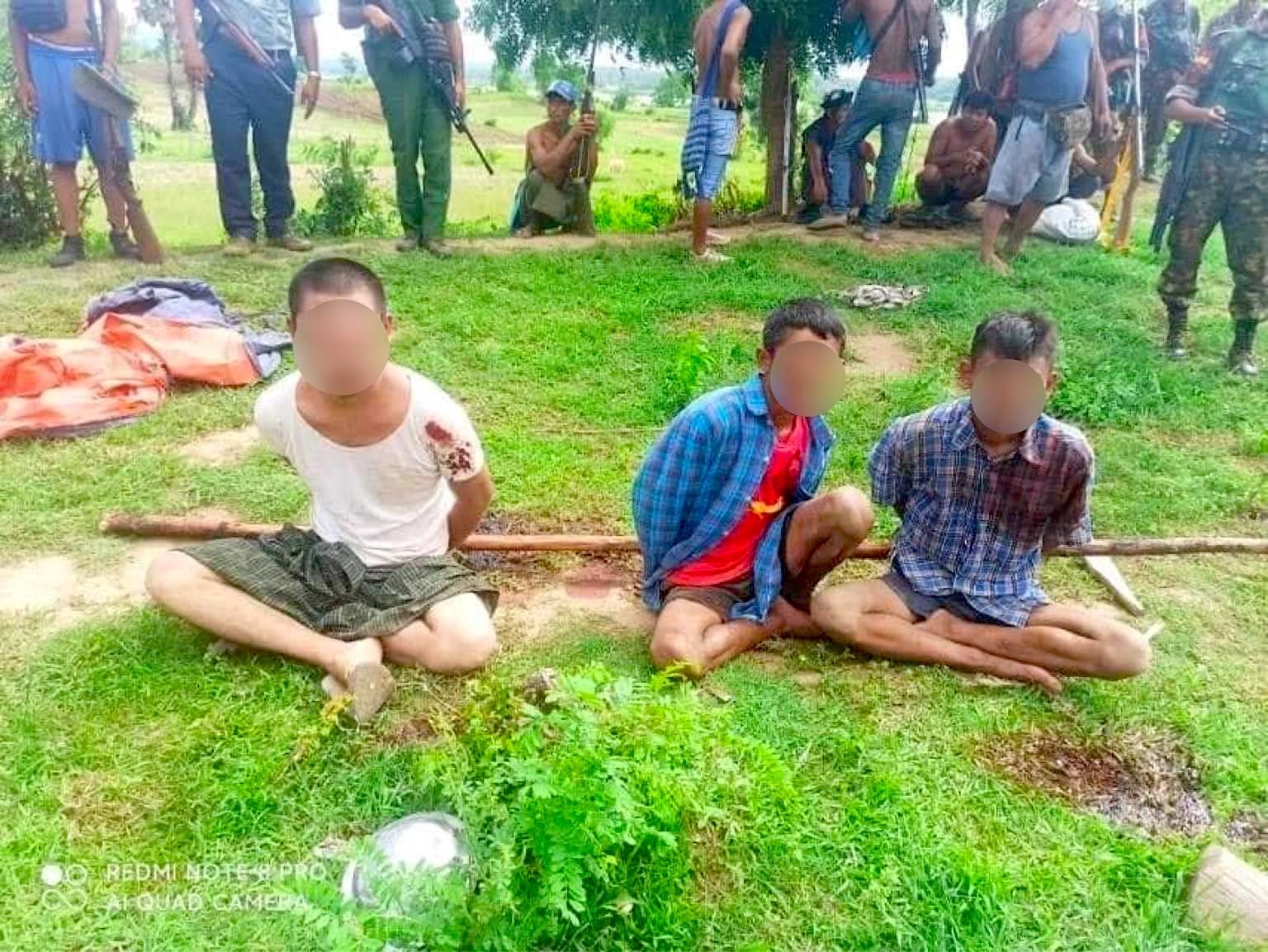 U Maung Myint, a former lawmaker for Mingin Township who is a central executive committee member of the military-backed Union Solidarity and Development Party (USDP), posted on Facebook on Wednesday that the PDF members were captured because of military tactics.
The former military officer said one villager was killed and three injured during fighting in Pan Set village.
During the firefight, five resistance fighters were injured, according to the PDF.
Also on Thursday, troops and Pyu-Saw-Htee members raided Konyin village and tortured villagers, a PDF member said.
Residents of three villages nearby have fled their homes to avoid junta raids.
Clashes between the resistance and junta in Mingin Township began in June.
More than 10,000 residents from Twin, Linponeyi and Zee Pin Twin villages in Kani Township, Sagaing Region, have fled their homes due to junta raids. The bodies of 12 villagers buried by junta troops on Monday were found near Zee Pin Twin on Tuesday, according to residents.

You may also like these stories:
Myanmar Junta Placing False Hopes in China's Vaccine Diplomacy
Ethnic Shan Party Slams Myanmar Junta for Scrapping 2020 Election
Some 10,000 Villagers Flee Fighting in Myanmar's Sagaing Region