RANGOON — A student leader currently standing trial for her involvement in nationwide protests against the National Education Law has expressed thanks for a letter of support penned by former US President George W. Bush.
Phyoe Phyoe Aung, the general-secretary of the All Burma Federation of Student Unions (ABFSU), was arrested on March 10 during the police crackdown on student demonstrators camped at a monastery in Letpadan, Pegu Division.
Alongside her husband Lin Htet Naing, also known as James, 27-year-old Phyoe Phyoe Aung is a member of the Liberty and Leadership Forum, a democracy training initiative run by the George W. Bush Institute. The pair was due to return to the US later this year to graduate from the program.
"You are in our thoughts and our prayers during this very difficult time," the letter read. "We admire your courage and your passion for bringing about a transparent and accountable education system in Burma. We stand with you and hope that you will soon be released."
A copy of the letter made its way into Phyoe Phyoe Aung's hands on Tuesday afternoon after her latest court appearance in Thayawady, relayed from Chiang Mai by fellow forum member Htar Htar Thet, along with medicines provided by the Bush Institute.
"She said it gave strength to her," Htar Htar Thet told The Irrawaddy. "She said she was doing the right thing, and she was very proud of his support."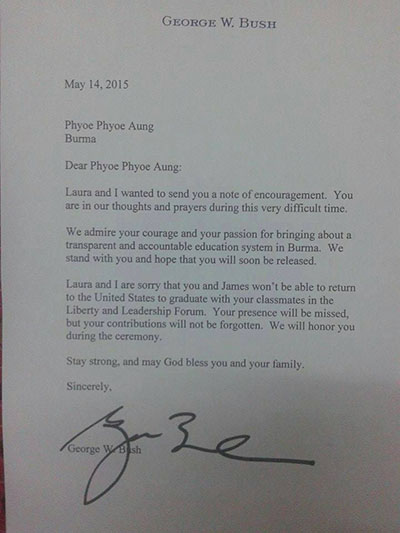 Phyoe Phyoe Aung has been slapped with five charges and faces a maximum sentence of 9.5 years for her participation in the Letpadan protest. She had earlier spent more than three years in prison for her efforts to reconvene the ABFSU during the 2007 Saffron Revolution protests.
More than 70 other demonstrators remain in Thayawady Prison on charges relating to the education protests. Phyoe Phyoe Aung's husband, a fellow student activist, is currently in hiding after the Kamayut Township Police Station issued a warrant for his arrest on four unlawful assembly charges.
When he spoke to The Irrawaddy by phone on Tuesday, Lin Htet Naing was grateful for the former US president's intervention.
"When he was president, he actively considered the political situation in Burma," he said. "We are thankful for his help and mentally it gives us a lot of support."
On March 12, in the aftermath of the Letpadan crackdown, Bush and his wife Laura issued a statement calling for the release of Phyoe Phyoe Aung and more than 120 others arrested two days earlier.
"Many of the demonstrators are students working to support Burma's transition by advocating for a transparent and accountable education system," the March statement read. "Education is vital to the political, economic, and social well-being of every nation and people. We hope that those arrested will soon be released."