Residents of major cities such as Yangon and Mandalay are facing a crime wave after being hit by a recent spate of armed robberies, muggings and other crimes triggered by the post-coup economic downturn and soaring food prices.
On March 7, at least three men robbed a clothing shop in broad daylight on one of the two main roads in Yangon's North Okkalapa Township. The saleswoman was bound, gagged and robbed at knifepoint. The robbers reportedly took cash and purses, as well as the saleswoman's phone.  
"I feel like we are in a horrible age," wrote the clothing shop owner on Facebook. 
Thefts of bicycles and motorbikes are rampant in many parts of Yangon, while muggings are on the increase. A rising number of break-ins and robberies have also been reported.
But some crimes are unprecedented in the commercial capital. Yangon residents were really shocked after they learned about an armed robbery on a bus, when a group of men robbed the bus driver and passengers of their phones and money.
In what might be the worst case so far, a foreign garment factory owner was killed and robbed of 300 million kyats (US$167,110). The money was to pay the salaries of his workers. The crime is believed to have been committed by the factory owner's driver.
The Irrawaddy spoke to dozens of Yangon residents about recent reported robberies.
Ma Honey from Yangon's Shwepyithar Township told The Irrawaddy: "There have been increased reports of muggings by bikers in my township. And many people have had their motorbikes and bicycles stolen."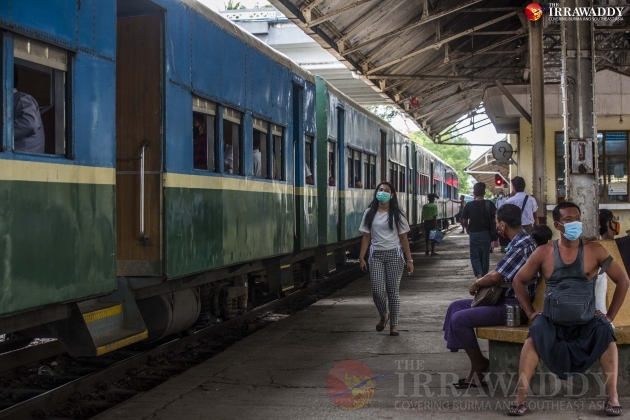 With a nighttime curfew still in place in Yangon, Ma Honey feels scared when she returns home late from work, as there are few people or cars on the streets after 7pm. Before the coup, the streets were busy until midnight.
"I feel like there are many problems in Yangon and that I can be killed by either COVID-19 or hunger or fighting. So I feel increasingly insecure," said Ma Honey. 
Ma Nyein Aye, who lives in Yangon's Tamwe Township, said that she doesn't dare use her phone on the bus as she fears she might be robbed.
Mandalay has also been hit by dozens of recent muggings, with groups of men armed with batons and knives attacking people and stealing their motorbikes. In some cases, the victims were seriously injured. The muggings are most prevalent in Chanayethazan, Pyigyitagon and Chanmyathazi townships.
Legal experts said the significant increase in crime is being triggered by a number of factors such as a shortage of jobs resulting from the post-coup economic downturn, surging food prices and political turmoil.  
Compounding the problem is the fact that junta leader Senior General Min Aung Hlaing pardoned a combined total of more than 40,000 prisoners in February and April last year. Most of the prisoners released had been serving time for robberies and drug-related offenses. 
"It is normal that more crimes happen when community peace and tranquility has been disturbed and the rule of law is deteriorating. Under such circumstances, criminals take advantage," one lawyer told The Irrawaddy.
"The Myanmar Police Force is primarily tasked with promoting rule of law and regional peace and stability. But now they are being kept busy assisting the Myanmar military to contain the resistance. So they can't perform their duties as well," added the lawyer.   
Despite the rise in crime, people no longer bother to report non-fatal thefts and muggings as the police barely do anything in response.
"Even if we report crimes to the police, we don't get our possessions back. So people feel like it is useless to file complaints with the police, and so they don't report thefts of their motorbikes or bicycles," one charity worker from North Okkalapa Township told The Irrawaddy. 
Police inactivity has further encouraged criminals, with some even threatening lives, he added. 
Even in the past when Myanmar enjoyed periods of political stability, rule of law was weak as the police were understaffed. 
Myanmar's police force is thought to have close on 100,000 personnel before the coup. The ratio of police to citizens was thus one officer for every 1,300 citizens. 
Before last year's coup, there were only 7,700 police in Yangon, which has a population of over seven million people according to the 2014 census. It is thought that at least 6,000 police are on strike in protest at military rule, while hundreds more are believed to have been killed or wounded in attacks by resistance groups.
One Mandalay police lieutenant colonel who asked for anonymity said that police have not been able to carry out crime prevention measures and night patrols as usual because of a lack of officers and increased threats to their security.
"We can't conduct regular patrols now. Police on patrol have occasionally been attacked, so we dare not conduct patrols with just one or two officers like we did before. So these things [crimes] have happened as a result of that," he said. 
At least 12 policemen at every police station were involved in patrols previously, but police are too understaffed to do that now, he added. Even if a dozen policemen from every police station were able to patrol, it will be impossible to go back to pre-coup levels of crime, he said. 
"These crimes are driven by financial hardship. The overall political situation has paved the way for opportunist criminals. And financial hardship forces them to forget their morals," said the police lieutenant colonel. 
You may also like these stories:

Funding Revolution Important for the Victory: Prominent Myanmar Activist
Regime Artillery Strikes Kill Children and Senior Citizens in Upper Myanmar
Yangon Suffers Water Shortages Amid Rolling Blackouts in Myanmar