Myanmar's citizens have witnessed surging crime in their neighborhoods since the military coup last year, as law enforcement deteriorates and the regime is unable to run the country properly. The country's business hub, Yangon, is no exception.
U Myint Wai, a 78-year-old retired physics lecturer from Yangon University, was killed along with his wife in their apartment in Mingalar Taung Nyunt Township last week. He was known for his books explaining relativity, quantum theory and other complex scientific concepts to general readers in Myanmar. He had been bedridden for years after fracturing his thigh bone.
He and his wife, also a retired teacher in her 70s, were found dead with knife wounds on Sunday. Money and valuables in the house were stolen by the murderers, according to neighbors.
The elderly couple's vicious murder was yet another example of how the criminal element has been unleashed as the city's rule of law crumbles in the wake of last year's military takeover.
On Tuesday, a building material shop in downtown Pabedan Township was robbed by three men. CCTV footage of the scene shows the men stabbing the shop owner several times with knives before stealing 15 million kyats (over US$7,000), two mobile phones and a car.
Last week, Ko Ye Lin was paralyzed with fear as he watched an armed gang rob a victim on the city's YBS bus line.
He had been taking a nap on the bus when he was woken by the sounds of a commotion. In front of him, a male passenger was being held by the neck by one assailant as another beat him with nunchuks. The passenger screamed for help, but no one in the bus dared move because the gang of some seven men were brandishing knives and other weapons.
The gang snatched the phones and wallets from the victim and his female friend before the bus driver hit the brakes, allowing the passengers to flee.
"I had read about the spate of robberies on the YBS social media group but I was shocked when it happened to me, and didn't know what to do," Ko Ye Lin said.
Lives robbed of security
Yangon residents lived in relative security before the coup in February 2021, but conditions are very different now.
They have witnessed a surge in crimes like murder, robbery and looting amid soaring inflation and a lack of job opportunities following the military takeover.
Residents also blamed the police for focusing on arresting anti-junta activists and resistance forces, rather than performing their basic duty to enforce the rule of law.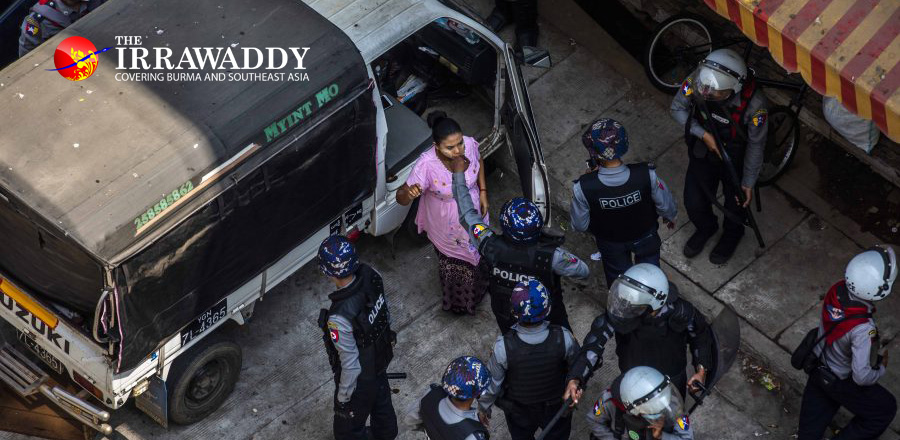 Their argument is justified given Myanmar jails are now teeming with political prisoners rather than criminals. In its latest report, Assistance Association for Political Prisoners (Burma) said a total of 16,016 civilians and pro-democracy activists have been arrested since the military seized power, with 12,806 in detention as of October 31.
"Before 2021, we didn't need to worry about our security wherever we went as there was rule of law. But there have been a lot of crimes since then, and we no longer feel secure even when walking downtown during the day," Ma Chaw Su told The Irrawaddy.
After frequent reports of crimes on social media, she is always wary on the walk to her office.
"I don't dare to talk on the phone while walking because I'm afraid my phone will be stolen by someone," she said.
City residents who use public transport are also scared to take the buses because of daily robberies reported by YBS.
A total of 13 robberies on buses in Yangon were reported over just five days in the last week of October, according to the YBS information-sharing group.
"The thieves operate in gangs, so no one dares to fight back. They are also armed with weapons," robbery witness Ko Ye Lin told The Irrawaddy.
The crime wave has also spread to people's homes. Thieves are targeting car accessories, water pumps, motorcycles, bicycles, and even electric cables during blackouts, said Ko Kyaw Myint, who lives in Yangon's suburban South Dagon Township.
At least 10 water pumps were stolen from his apartment block last month, he added.
In Thingangyun Township recently, thieves stripped rear-view mirrors from at least 20 cars in one night alone, according to residents.
Residents no longer feel safe in their houses or on the streets, Ko Kyaw Myint told The Irrawaddy.
"Now only the public are in trouble, [not the criminals]," he said.
Rule of law disintegrating
A former police lieutenant who served for 23 years before joining the Civil Disobedience Movement strike in May last year said current security conditions in Yangon are the worst since 1988.
Exact figures for crime since the coup are not available, as the police force doesn't release the statistics. But people are aware of the surging crime wave from incidents reported by victims or witnesses on Facebook and other social media.
"They no longer focus on criminals," said the CDM defector of his former police colleagues. "Their main duty is to arrest anti-junta protesters, activists and underground revolutionary forces."
When a victim reports a crime, police log the complaint, he explained.
"But the case is stalled as there is no further investigation. So, people no longer bother to file cases with the police," he said.
The other factor sapping police effectiveness, he said, is that many personnel have either joined the CDM or deserted following the coup. As of December last year, more than 6,000 police officers had joined the CDM, according to defector groups.
An officer still serving in Yangon admitted that rather than protecting people, police are now struggling to avoid being killed by resistance hit-and-run attacks.
The popular armed uprising that erupted in mid-2021 made police a target along with regime soldiers.
In Yangon, a stronghold of anti-regime urban guerrillas, police are frequently shot at while manning the city's checkpoints.
"Whenever we set foot outside the station, we worry about being attacked. How can we focus on other things," the police officer asked, requesting anonymity over safety concerns.
It is little wonder then that people don't see police patrolling the Yangon streets despite the surging crime rate. Meanwhile, police stations are now fortified with sandbags and bunkers.
"They don't even dare to come out of the police station themselves. How can we rely on them," Ma Chaw Su asked.
Protection from criminals?
Since police can no longer be relied upon to protect the public, crime will inevitably rise further in future, warned the CDM defector.
He urged people to be vigilant to protect themselves from crime, adding that people can legally defend themselves if they are violently attacked by a criminal.
"Therefore, you have the right to self-defense according to Article 100 [of the penal code]. People can also carry defensive tools like a mini-stun gun, flashlight stun gun or chili spray," he suggested.