YANGON – More than one thousand pagodas, temples and stupas are experiencing dozens of vibrations as a result of the firing of howitzer artillery by Police Regiment No. 31 and military troops located on hills in the ancient heritage zone, northern Rakhine State's popular tourist destination of Mrauk-U.
Shelling has been ongoing since March 19 during fierce fighting between the Arakan Army (AA) and troops of the Myanmar military, or Tatmadaw, in the mountain ranges situated in neighboring Min Byar Township. The army used airstrikes against the AA over three days on March 19, 20 and 21.
Mrauk-U Heritage Trust's chairperson Daw Khin Thein explained to this reporter during a recent visit to Mrauk-U, that military troops deployed mostly in the eastern and western hills fire between 30 and 60 times in a day—280 times within seven days.
She explained that the Arakanese king Min Saw Mon established Mrauk-U as fortress town A.D. 1430 in order to prevent invasion from neighboring kingdoms. As the stone structures and centuries-old pagodas from Mrauk-U were built so long ago, they could be damaged by vibrations if shootings continue, said Daw Khin Thein.
Mrauk-U is a hilly region and several creeks flow across the township. The downtown Mrauk-U is surrounded by layers of hills.
The hills in the eastern part of Mrauk-U Township are where military troops are currently deployed to fight against the AA. Despite no skirmishes between the two sides taking place within 16 kilometers of downtown Mrauk-U, an artillery unit based at the No.31 Police Regiment situated about 500 meters from popular ancient pagoda Koe Thaung Pagoda regularly fires dozens of shells onto the mountain range where Pan Myaung Village is located.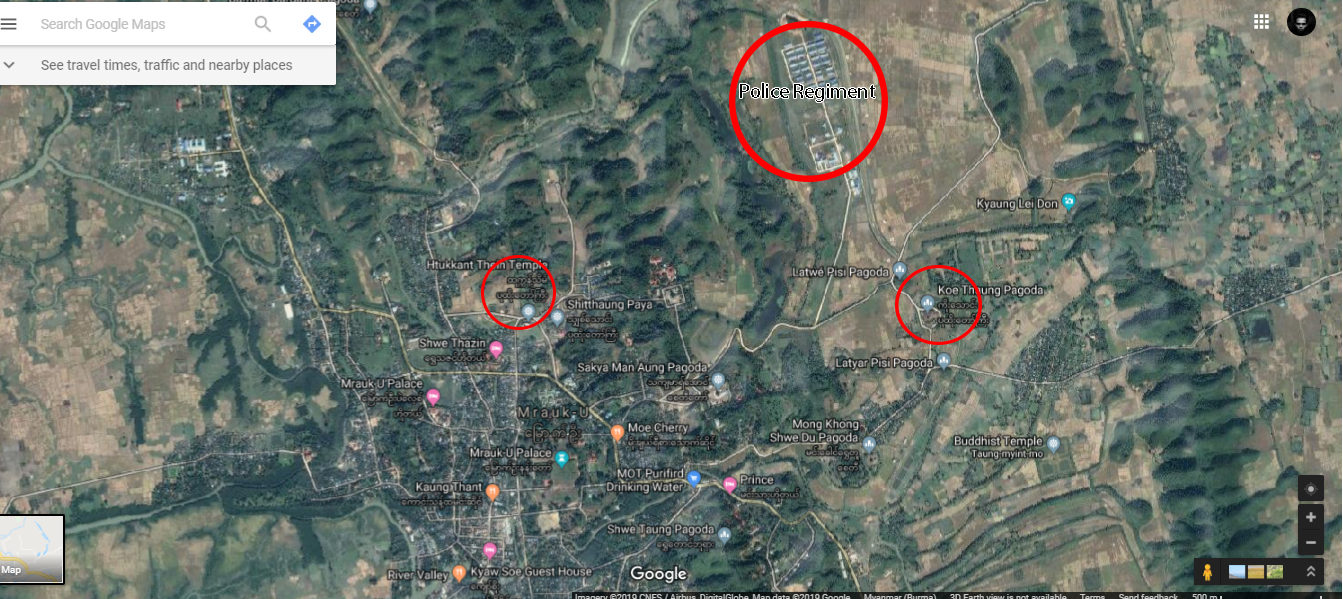 "We would like to urge the Union government to declare Mrauk-U heritage site a war-free zone," said Daw Khin Thein.
She said that her organization and other civil society groups are preparing to send a letter to the National League for Democracy- (NLD-)appointed president U Win Myint this week in which they will explain the possible damage pagodas are facing due to artillery shelling vibrations.
"Artilleries are mostly fired from the police regiment and the inner structure of the nearest pagoda, Koe Thaung Pagoda, could be damaged, I guess, because even I could feel the vibration at home."
Daw Khin Thein lives in downtown Mrauk-U which is 2.2 kilometers from the location of the police regiment.
Director of the Mrauk-U Department of Archaeology and Cultural Heritage Conservation U Than Htike acknowledges that he is also aware of the military deployment in the designated heritage site zone. According to him, almost every single hill in the surrounding area has a pagoda or stupa and they have physically already identified 200 stupas as potential candidates for UNESCO World Heritage listing.
However, none of the archaeology department officials or archeologists are able to precisely identify how many hills are under the control of army troops as they are afraid of potential risks of going there. U Than Htike said that progress of preparations and future plans for nomination of Mrauk-U as a World Heritage site has been delayed since conflict erupted in the region.
Director U Than Htike said, "All hills are no longer under the supervision of the department of archaeology."
As Mrauk-U is not yet listed as a World Heritage site, the Myanmar government fully governs the ancient town of Mrauk-U. But once it is officially declared a World Heritage Site, then perpetrators who damage the site could be sued under international laws, said U Than Htike.
The Myanmar Archeology Association (MAA) urged both parties to respect the 1954 Hague Convention for the protection of cultural property after the artillery shells landed near the downtown heritage temple Htukanthein and West Myede Pagoda in Mrauk-U on March 18. The Irrawaddy visited the two pagodas and saw the tail of a 40 millimeter mortar shell which had damaged West Myede Pagoda. This is a type of mortar often used by government troops.
Regarding MAA's statement, the AA has pointed out that they never carry out attacks in urban areas, and accused the military troops of creating a fake battle without any provocation in downtown. Despite the ancient city of Mrauk-U being under a huge threat as a result of the armed violence, the National League for Democracy (NLD) and its appointee, Rakhine State Chief Minister U Nyi Pu, have declined to speak out about the issue.
Chief Minister U Nyi Pu is also the chairperson of the Mrauk-U region management committee, but after having been targeted by a landmine attack early this year, he has not shown up in Mrauk-U since tensions have intensified between the AA and military troops in northern Rakhine. So far, about 20,000 people have been displaced in Rakhine over a period of three months.
Until early 1783, the Arakan kingdom was a sovereign nation and ruled by Maha Thamada Razar. It was conquered by the Burmese Konbaung Dynasty in 1784. Since then, Rakhine, as well as other states and divisions, were colonized by the British again in 1824. As the country gained independence from British in 1948, different ethnic groups agreed to sign the Panglong Agreement made by General Aung San and the Union of Myanmar was created.