YANGON — Headlines with prominent references to "genocide" and "ethnic cleansing' in Myanmar make veteran journalist Daw Aye Aye Win uneasy, as she explains she feels international media coverage about what is happening in northern Rakhine State fails to tell the whole story of the crisis.
Currently, the region is reeling from Arakan Rohingya Salvation Army (ARSA) attacks on 30 police outposts on Aug. 25 and subsequent violence affecting civilians. The Myanmar government declared the Muslim militant group a terrorist organization and has since begun "clearance operations" in the area, leading to Buddhist Rakhine, self-identifying Rohingya Muslims and other Rakhine sub-ethnicities to flee their homes.
Some of the nearly 400,000 Muslims fleeing to Bangladesh have accused the army and ethnic Arakanese of killings, rape and torching of their homes, while members of the 30,000 Arakanese and other ethnic groups internally displaced have claimed they sought refuge elsewhere for fear of attacks from Muslims, who are the majority in the area, but a minority in the country.
International pressure mounted on Myanmar this week, with the United States calling for the protection of civilians, Bangladesh urging safe zones so that fleeing refugees can return home, and the top UN human rights official denouncing a "cruel military operation."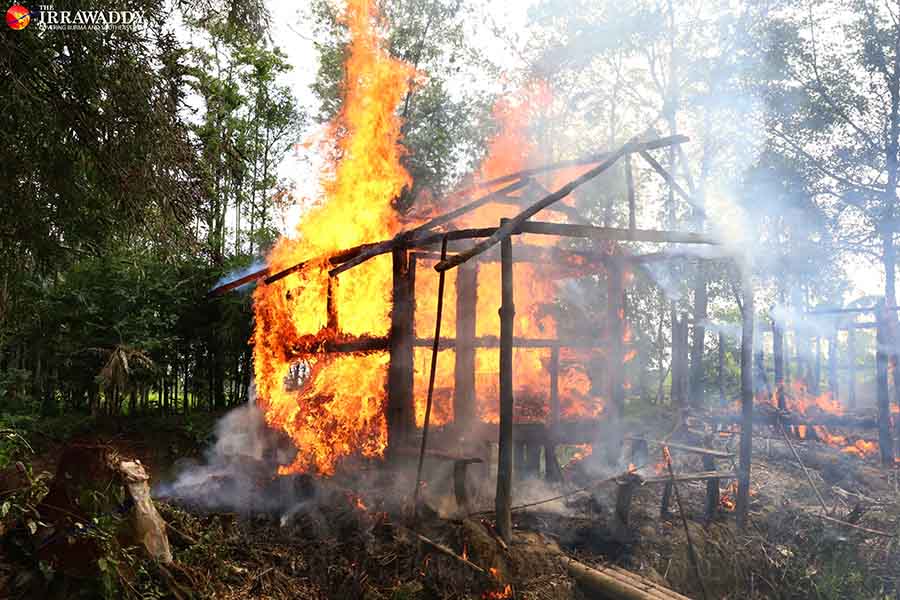 Since the outbreak of the ARSA attacks, international media has not been short of stories from the area, mainly focusing on the self-identifying Rohingya. Much of the coverage has been perceived by Myanmar people of different walks of life as not being balanced and fair, with accusations that the coverage has failed to give views from both sides and has neglected the experiences of ethnic Rakhine and others in favor of Muslims' accounts.
Daw Aye Aye Win, award-winning former resident correspondent for Associated Press (AP), said she considers much of the international reporting on the issue to be lacking.
"I feel really disappointed, including by some stories from AP. They are biased and disproportionate," alleged the 64-year old who worked for the US news agency for nearly 26 years.
The only living Myanmar female journalist to have won four international journalism awards, including one for her "life-long dedication to honest and courageous journalism, often at the risk of personal safety" wondered aloud why many of the stories on Rakhine State, including some from her former agency, only have voices from the self-identifying Rohingya while views from the Arakanese and others are nowhere to be seen.
"Have they forgotten about media ethics?" she asked.
She pointed to the death of six Mro (a sub-ethnic group of the Arakanese) in early August, presumably by Muslim militants in the area, as an example that deserved different coverage.
"[AP] has covered everything that has happened to Muslims there. But I didn't see anything about the Mros' deaths. It's unfair," she said.
Public Reaction
Daw Aye Aye Win is not the only person resentful of international coverage on Rakhine.
"I see no fairness in most of their reporting. The suffering of the Rakhine people is hardly seen in their stories," said U Thant Thaw Kaung, the Founder and CEO of Myanmar Book Centre, a leading book importer and distributor in Myanmar.
U Sein Win, the training director of the Myanmar Journalism Institute, noted that Myanmar people don't like the international media's recent Rakhine coverage because ARSA's attacks on civilians rarely made headlines, and news about Buddhists fleeing from these attacks appeared to be diminished in favor of devoting full media attention to Muslims fleeing to Bangladesh. Many stories, he said, lacked voices from non-Muslims.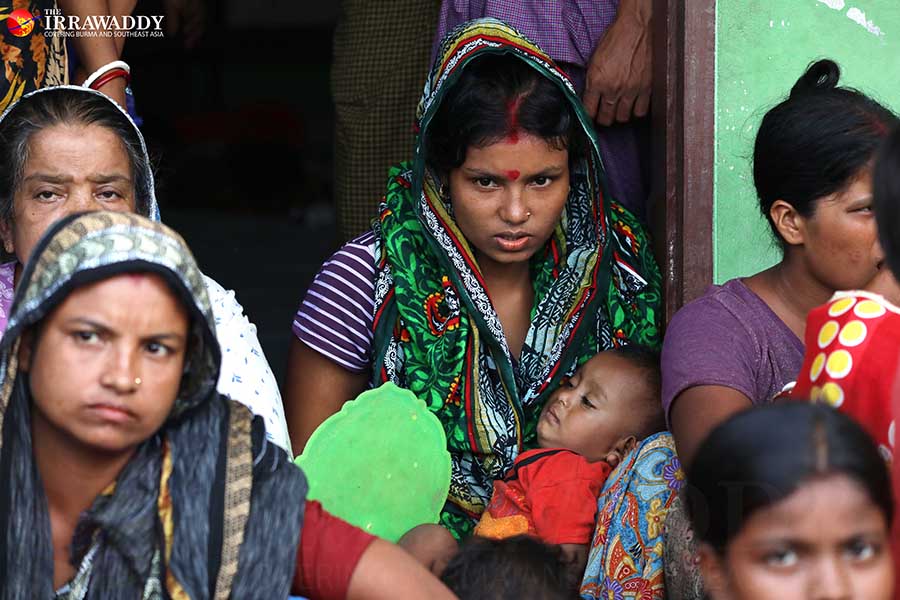 "This is what they have missed in their stories and everyone can see it," he said, adding: "There are also complaints about the use of the term 'Rohingya' and avoiding using 'terrorist.' These are separate controversies."
Another media organization attracting ire from local audiences was the BBC Burmese service. The broadcasting service was once embraced by local people for its coverage of democracy movements inside and outside Myanmar when the country was under military dictatorship.
But the audience reacted very differently this time, as they felt the Burmese service was taking sides with the Muslims in Rakhine State while ignoring the plight of Arakanese Buddhists, Hindus and sub-ethnicities of Rakhine who were also targeted by Arakan Rohingya Salvation Army and their followers. Angry readers posted "Shame on you BBC" and other rude comments on the BBC's Facebook page. The reaction was so intense that the broadcaster had to make an announcement asking netizens to refrain from posting such statements.
'Sensational and Commercialized' Coverage
U Aung Hla Tun, a former resident correspondent from Reuters and the vice president of the Myanmar Press Council, told The Irrawaddy that he feels when it comes to Rakhine, members of the international media have been sensationalizing issues surrounding the self-identifying Rohingya.
A veteran reporter who won Journalist of the Year in 2007 from Reuters said that he thinks phrases like "genocide" and "ethnic cleansing" are used by international media to generate sympathy.
On Tuesday, UN High Commissioner for Human Rights Zeid Ra'ad Al Hussein denounced Myanmar Army security operations in Rakhine State as "brutal" and "clearly disproportionate" and said "the situation seems a textbook example of ethnic cleansing."  The term was rejected by Myanmar's ambassador to the UN on Wednesday, saying it carries very serious connotations.
"They treat the stories like commercial products, aiming for what readers would like to read more about. If you take sides with the Muslims on the Rakhine issue, you will of course have more subscribers from the Middle East," he suggested.
As a result, he continued, international journalists covering the Rakhine issue have betrayed bias in descriptions of the self-identifying Rohingya as "the most persecuted people" while Arakanese Buddhists are typically portrayed as hostile to Muslims, rather than as also being victimized.
When six Buddhists were killed, presumably by Muslim militants, in an Aug. 4 story Reuters included the fact that the victims may be linked to methamphetamine trafficking, which was perceived by some as a move to downplay their deaths.
"They added that they couldn't confirm it," U Aung Hla Tun said. "If you can't verify it, drop it."
Both Reuters and AP declined to comment on accusations of bias in their stories.
Agenda Setting?
No other subject in Myanmar has gotten the same international attention as the persecution of the self-identifying Rohingya, who have been demanding to be recognized as an ethnicity of Myanmar. But the government, military and the majority of the country's people insist that they are "Bengali" and claim they are illegal migrants from neighboring Bangladesh brought to Rakhine State by the British in the early 1900s.
Muslims in Rakhine State gained worldwide attention when Myanmar was still under a military dictatorship in the late 1990s, due to the government's restrictions denying their basic rights, like freedom of movement, as they didn't have citizenship status.
Successive governments, including the current National League for Democracy (NLD) administration, said such rights would be granted only with citizenship, but most Muslims in the region refused to apply for it as the process did not acknowledge them ethnically as Rohingya. Military chief Snr-Gen Min Aung Hlaing warned that any international political intervention on the pretext of assisting refugees from this community would threaten Myanmar's sovereignty.
When the largest bouts of conflict in decades between Arakanese Buddhists and Muslims broke out in 2012, their plight attracted international media attention.
Since then, Daw Aye Aye Win said she has seen many more stories sympathetic to Muslims than to the Arakanese, who she added are frequently portrayed as violent thugs.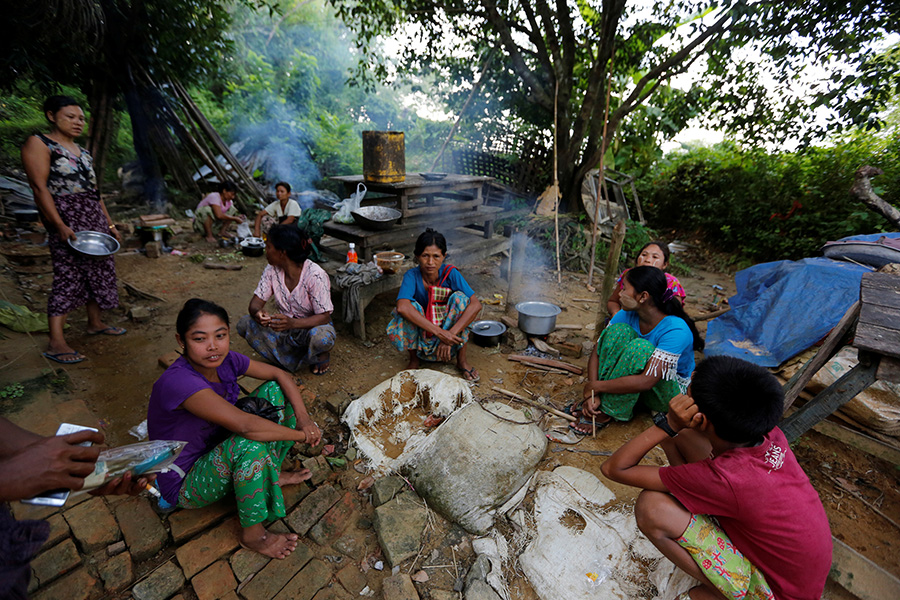 U Aung Hla Tun speculated that agenda setting by foreign governments and media may be to blame. The former Reuters correspondent referred to "Rohingya opportunists" outside the country who try to capitalize on "sensational" coverage.
"People believe what they see in the media," he said. "[Myanmar local and government media] have failed to counter [international media's] narrative properly. The country's image has now been badly damaged. When it comes to the Rohingya issue, we have lost on the international media front," he added.
Ignorance of Realities on the Ground
Bertil Lintner, one of the only foreign journalists to have covered Myanmar's conflicts and ethnic affairs for more than three decades, said that he feels international media is fueling the fire by describing the conflict as one where Buddhists are killing Muslims, disregarding the fact that there have been attacks on Buddhist and Hindu communities as well, carried out by militants.
"This kind of misrepresentation of the situation, and ignorance of realities on the ground, is very damaging to any attempt to widen the civilian space in Myanmar's current power structure," said the Swedish journalist, referring to the military's powerful role in the country's nascent civilian government led by Daw Aung San Suu Kyi.
Lintner said it was ridiculous to claim, as even some human rights organizations have done, that the Aug. 25 attacks were carried out by "desperate Rohingyas" who had been driven to violence by the brutality of the Myanmar Army.
"In reality, the group in question is led by militants who are not even based in Myanmar, but in Karachi, Pakistan, from where they maintain links with like-minded groups in the Arab world. They are not particularly 'desperate' but ideologically motivated, and they could not have carried out their attacks on Aug. 25 without taking into consideration what kind of backlash it would provoke, and how they could benefit from that backlash. It's a very cynical game the militants are playing," he said.
Daw Aye Aye Win pointed out that one of the problems with the international reporting on the issue was "oversimplification."
She said there were historical, political and social complexities behind the issue dating back to colonialism, and concerning migration, population shifts and ethnic identity.
"But most of the journalists just simplified it as a religious conflict between Muslims and Buddhists rather than explaining the underlying causes," she said
"As a consequence, their reporting has fueled the situation as most of the readers only see it as a religious conflict and feel very upset," the former AP correspondent added.
No Easy Fix
With fledgling private news outlets and government media sharing propaganda, U Aung Hla Tun said it is no wonder Myanmar has not been able to create a more balanced narrative than the one presented by international media.
"That's why we have reached this situation. Developing private media might be helpful in the long term, I think," he said.
Myanmar Journalism Institute's training director U Sein Win suggested that giving unrestricted media access to northern Rakhine State was the only way to counter unbalanced coverage as journalists complained that they were not allowed to go there.
"Just invite those who are famous for their balanced reporting. They will see if there are any atrocities by security forces as well as violence by militants, as some Muslims were killed for their cooperation with the government," he said.
Daw Aye Aye Win agreed with what U Sein Win said, adding that if journalists had access only to the Bangladeshi side of the border, they would only see the Muslims fleeing Rakhine, and not internally displaced Buddhists.
"Then they will take everything they have heard as pronouncements and write it as it is. No verification process follows," she said. That's why we see [unverified] stories like 'Rohingya Children Beheaded and Burn Alive,'" she said, adding that previous coverage in international media convinced her that journalists are no longer just "observers."
"As long as they have preconceived ideas like the Buddhists are oppressing Rohingya, we can't hope there will be fairness in their stories, despite the unrestricted media access."