At least 29 civilians and resistance fighters were killed in Myanmar junta raids from August 1 to 8 in Depayin, Myinmu and Monywa townships in Sagaing Region, according to local sources. 
Eight die in Depayin raid  
A Myanmar military Mi-35 helicopter gunship fired on Kaing Kan Village, Depayin Township around 10am on August 4, while two other helicopters airlifted junta troops to raid the village.  
Ko Hla Myo, a pseudonym for a Kaing Kan villager, and other residents were working on farms when the military regime helicopter suddenly appeared and opened fire. They fled for their lives, bolting and ducking in turn until they were three miles away from the village.
"I could only relax after they stopped firing at 1pm. We ran through fields, and I didn't even have time to put on my shoes. They [regime helicopter] fired continuously," said Ko Hla Myo.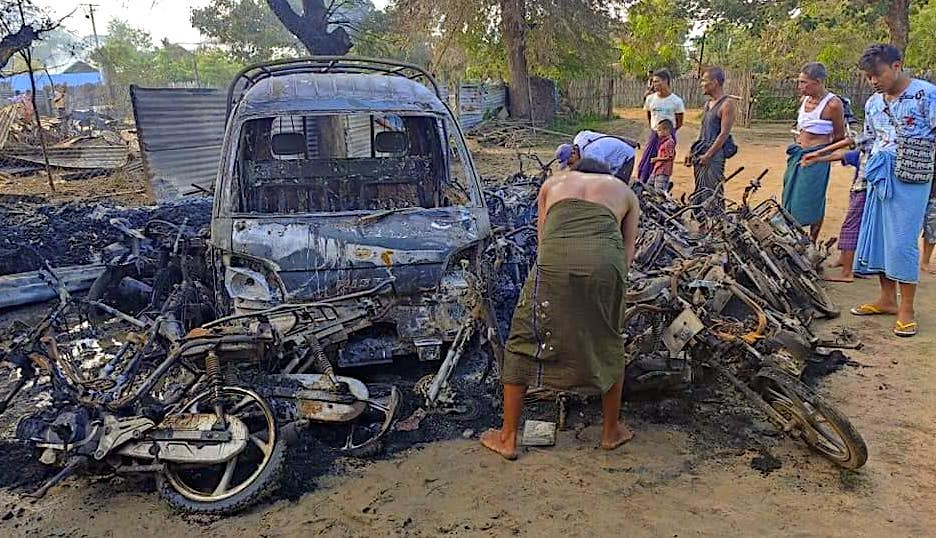 Around 80 junta troops were airlifted in to raid the village and stayed there until August 8. Locals said they were from Light Infantry Battalion 376, who are based in Kyauktaw in Rakhine State. 
On August 5, a corpse with a bruised face and puncture wounds in their ears was found floating in a ditch and buried by residents. A 60-year-old was also killed in nearby Shaw Phyu Village. 
When villagers returned to Kaing Kan after regime troops left they found four bodies inside a torched house. Their charred remains were beyond recognition. 
The bodies of two resistance fighters were also found near Kaing Kan, added locals.
Of more than 300 houses in Kaing Kan, 147 were razed and the homeless need food supplies, said villagers. 
One Kaing Kan resident said: "We have barely enough food to feed ourselves. Many of us have lost everything we have, even our shoes." 
After leaving Kaing Kan, regime forces abducted around 40 villagers from Shaw Phyu, In Pin, Yadin and Nagar Bo villages as potential human shields. 
Eighteen killed in Myinmu raids 
Eight civilians and 10 resistance fighters were killed in Myinmu Township when some 60 junta soldiers raided villages. 
Using five helicopters, regime forces raided Letpan Kyin Village on August 1, taking nearly 200 residents hostage, including elderly people, women and children.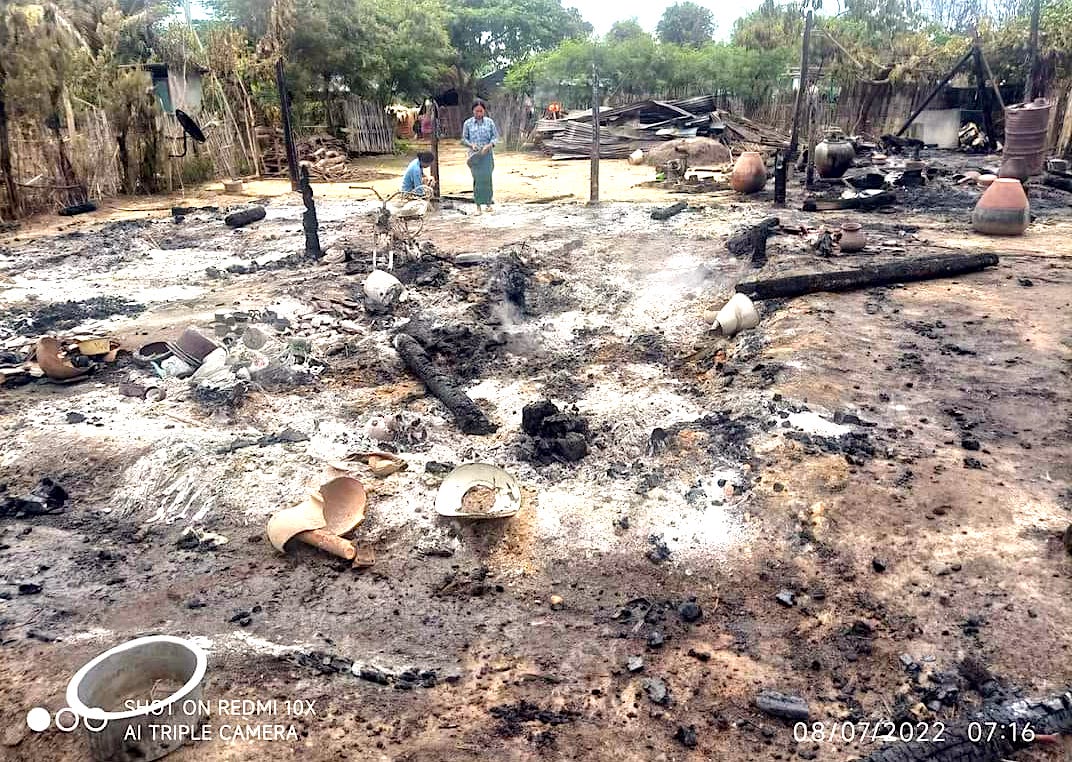 A 25-year-old woman was killed in an air raid, while U Kyaw Than, 60, was shot dead by junta soldiers after they landed in helicopters near his farm.
U Kyaw Hlwan, 30, was killed after being questioned by junta troops at the village school. He was tied up and taken behind the school where soldiers slit his throat. 
"A hostage was asked if there are People's Defense Forces (PDF) in the village. The hostage said he didn't know. The soldiers were angry with his answer and killed him at the back of the school," recounted a Letpan Kyin villager. 
Another man, U Hla Aye, 60, was spotted by junta soldiers as he watched hostages being interrogated from his house behind the school. He was shot dead and his body burned along with his house, said villagers. 
Regime forces also shot dead a paralyzed 70-year-old man and a 60-year-old man for no reason. They abducted two men, 40 and 43 respectively, as potential human shields. The two were later killed.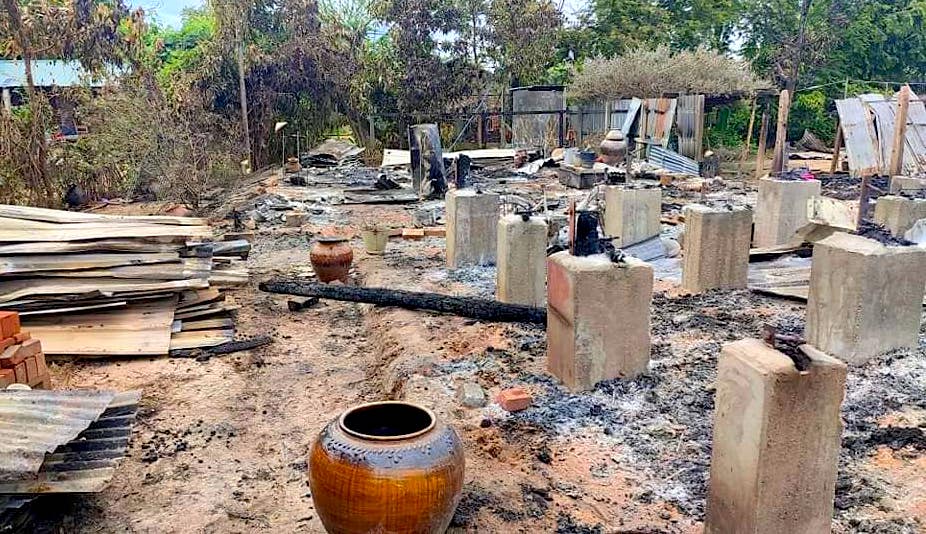 Clashes broke out between junta troops and PDFs on August 2. Resistance fighters struggled to attack the regime troops because they were holding civilians as human shields, said Ko Lu Lin from the Myinmu Lightning Guerilla Group. 
"We dare not attack them during their raids on villages as there are children, women and elderly people in the villages. And we can't attack with drones because of the hostages," he said.
Two resistance fighters were killed on August 2 when they attacked junta troops leaving Letpan Kyin Village. 
On August 4, eight resistance fighters from People Guerilla Commando-Myinmu came to assist their fellow fighters in rural Myinmu. Unfortunately, they encountered junta troops and all eight were shot dead.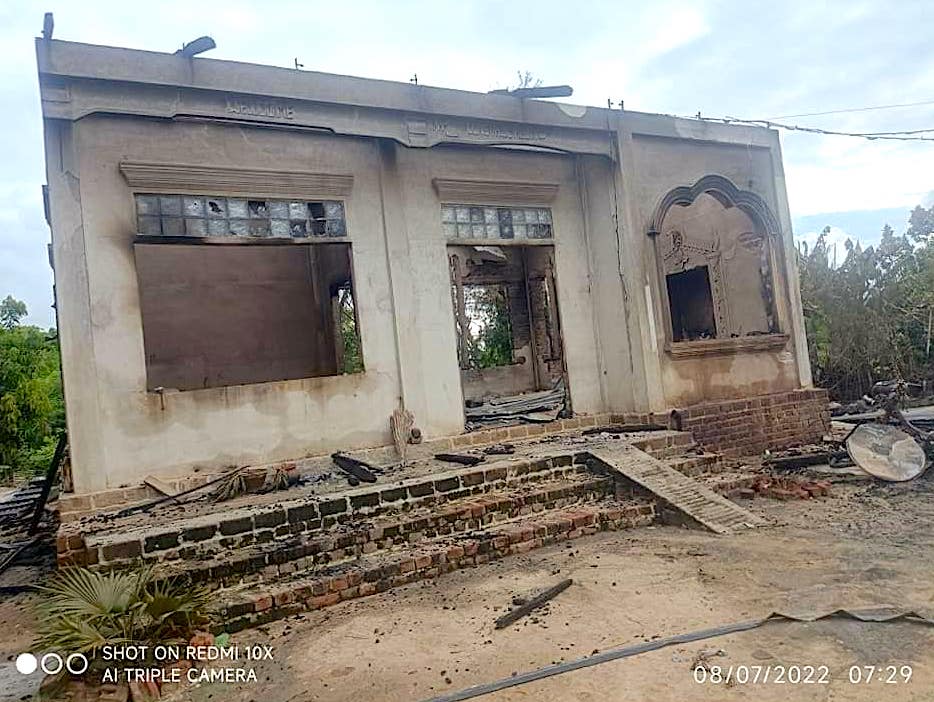 Villagers dare not return to Letpan Kyin as junta soldiers told their hostages that they would return to the village on August 9 or 10. 
Two Myanmar military divisions, 33 and 77, are active in Myinmu, which is some 40 miles from Monywa, the Sagaing Region capital and home to the military's Northwestern Command. The troops that carried out the Myinmu raids were from Division 77, said resistance fighters. 
"Junta administration has halted in Myinmu, Ayadaw, Sagaing and Myaing [in Magwe Region] townships. The regime only has control over towns now, with PDFs having a strong presence elsewhere. Junta troops suffer heavy casualties when they travel on foot. So now they are airlifted into areas to gain control," said Ko Lu Lin of Myinmu Lightning Guerilla Group. 
In Monywa, three fighters from the God of Snakes resistance group died when junta troops raided their base on August 8.