The Arakan Army (AA) chief has accused Myanmar's regime of using Mrauk-U, the historic Rakhine capital, as a hostage amid escalating violence.
"The SAC [State Administrative Council] is unleashing its dastardly playbook and modus operandi. Mrauk-U is being held hostage by the cowards who dare fight only against the unarmed civilians," Major General Tun Myat Naing tweeted on Sunday, using the regime's name for itself.
The AA commander-in-chief tweeted after six military trucks carrying junta soldiers entered Mrauk-U on Saturday morning, opening fire indiscriminately at the central market, and Battalions 377, 380 and 540 – which are based in the town – fired shells.
Junta troops take Mrauk-U civilians hostage at the order of the 55 Light Infantry Division commander, Maj-Gen Tun Myat Naing claimed.
No one was injured as the market was closed but it sparked a panic, said residents.
Junta soldiers detained Ko Kyaw Zan Wai, also known as Ko Yin Hsot, during the Mrauk-U raid. Troops are still deployed at the central market and ordered shops to close, saying there are mines to be cleared.
"They came with gasoline containers, saying they would clear mines in the market. We are concerned they might torch the market," a resident told The Irrawaddy on Monday.
The junta's attack on the central market came after the AA on August 30 detained a market trader for allegedly supplying food to junta troops.
The AA and junta clashed around Lekka village around 14km north of Mrauk-U on August 28. Light Infantry Battalion 377 then shelled Kin Seik village to the west of Mrauk-U town without giving an explanation. Three villagers, including a five-year-old, died and nine others were injured in the shelling. The AA and residents have called the shelling a deliberate attack on civilians.
Mrauk-U Cultural Heritage Conservation Association said it was shocked by the shelling in a heritage zone amid an ongoing bid for recognition of Mrauk-U as a World Heritage Site with the United Nations cultural agency, Unesco.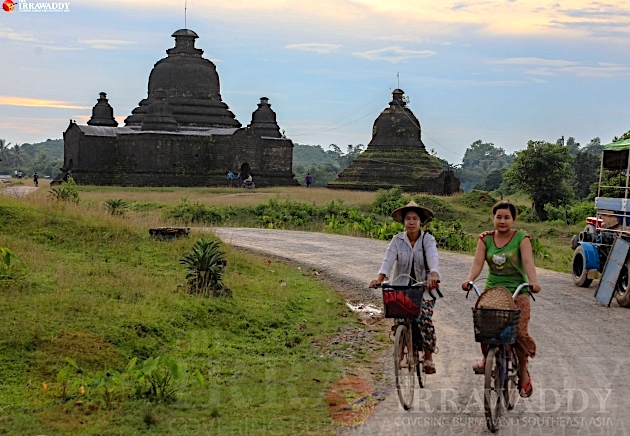 "They are enthusiastically working for Mrauk-U to be inscribed on the Unesco World Heritage List. But they are also shelling the town. I don't understand," a member of the association told The Irrawaddy.
Mrauk-U was the seat of Arakanese kings from the 15th century to the late 19th century. The empire covered large parts of eastern Bengal and what is now Rakhine State and Magwe Region. Many structures are well-preserved with around 380 temples scattered amid the lush hills.
The final Unesco proposal was submitted to the World Heritage Committee this year.
Mrauk-U has been designated as a site of national protection. Scholars are due to visit this month and next month but the attack could disrupt the Unesco application, the association said.
Some historic structures in Mrauk-U's old city were damaged during fighting with the AA between 2018 and 2020.