Red, White & Brews
Happy 'Murica Day! Before it was the crippled and dwindling Empire it is today, America was once a scrappy rebel upstart fighting for its freedom from British rule too. Today, they celebrate that ultimately victorious struggle—and so can you. The new Port Autonomy's Red, White & Brews party features $1 Bawdar drafts and two-fer-one burgers, which sounds like 'Murica to us. If you're just hearing about this now, you're late—the Port crew began celebrating at 11 a.m. You've got some catching up to do.
July 4 | 11 a.m. to 11 p.m. | Port Autonomy | 42 Strand Road, Botahtaung Township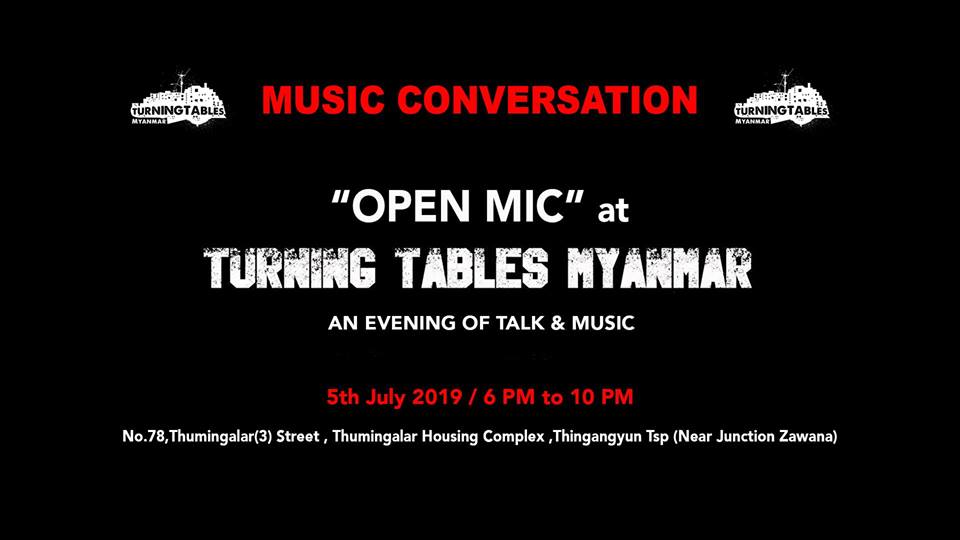 Music Conversation
Dubbed "an evening of talk & music," Turning Tables Myanmar (TTM) invites all with "the intentions and desires of living along with the art inside their heart" to attend this event. The "TGIF chill time" promises to be a laid-back but inspiring event for musicians, fans and conversationalists of all stripes. "It's a place where you can freely talk and argue on every topic," says TTM, and if you'd rather sing, there is an open mic as well. And, "If you don't want to talk [or] sing, you can still play some fun games or just sit and listen." Talk about inclusivity.
July 5 | 6 p.m. to 10 p.m. | Turning Tables Myanmar | No. 78 Thu Mingalar (3) Street, Thu Mingalar Housing Complex, Thingangyun Township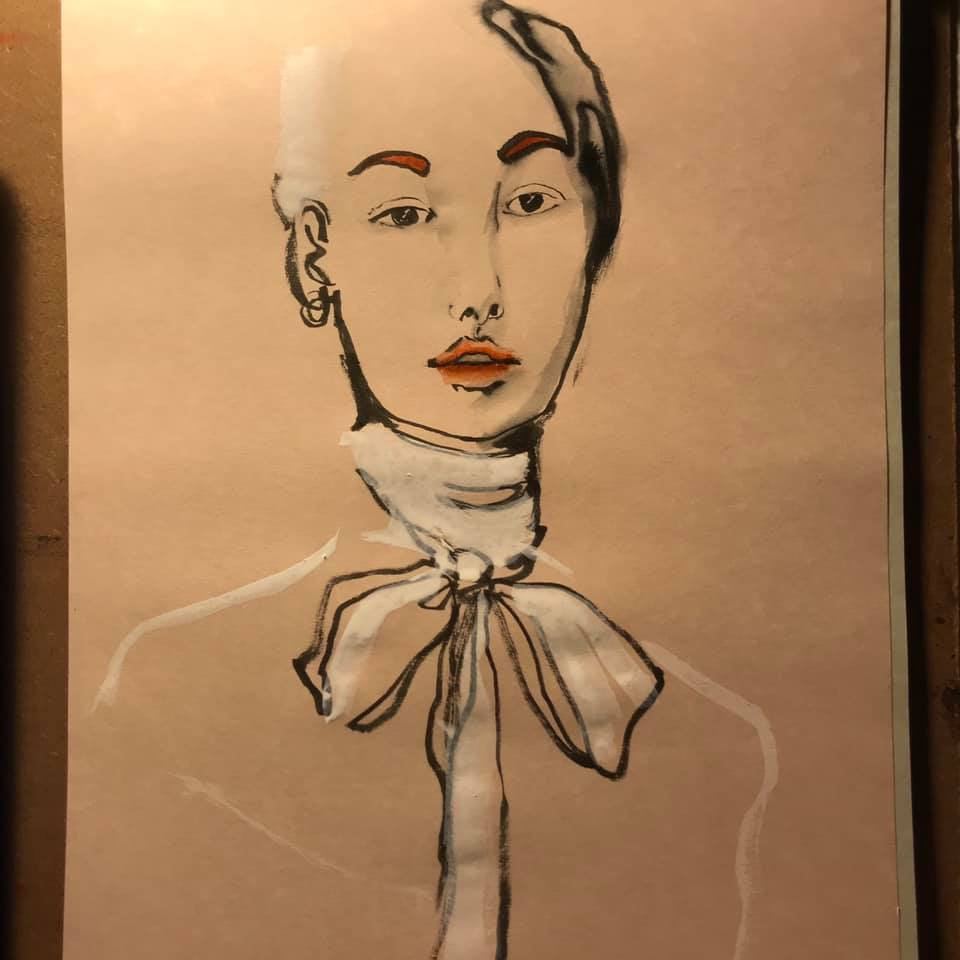 Drawing Fashion Portraits
Learn the skills and techniques needed to draw your own fashion portraits with water-based paints on paper using simple brush lines. Gain an introduction to contemporary Western fashion illustrators like Gladys Perint Palmer, David Downton and Stina Persson, then emulate their art. This pop-up workshop is led by the Singapore-based Indonesian artist and illustrator Susan Olij. Currently in the middle of a world tour that has her producing new travel sketchbooks, Olij—educated in the UK and the US—has taught illustration from her own studio and at the Lasalle College of the Arts Singapore. Check out her work on her website or her Instagram page.
July 5 | 6 p.m. to 8 p.m. | Myanm/art | G-42 48th Street, Urban Asia Centre, Botataung Township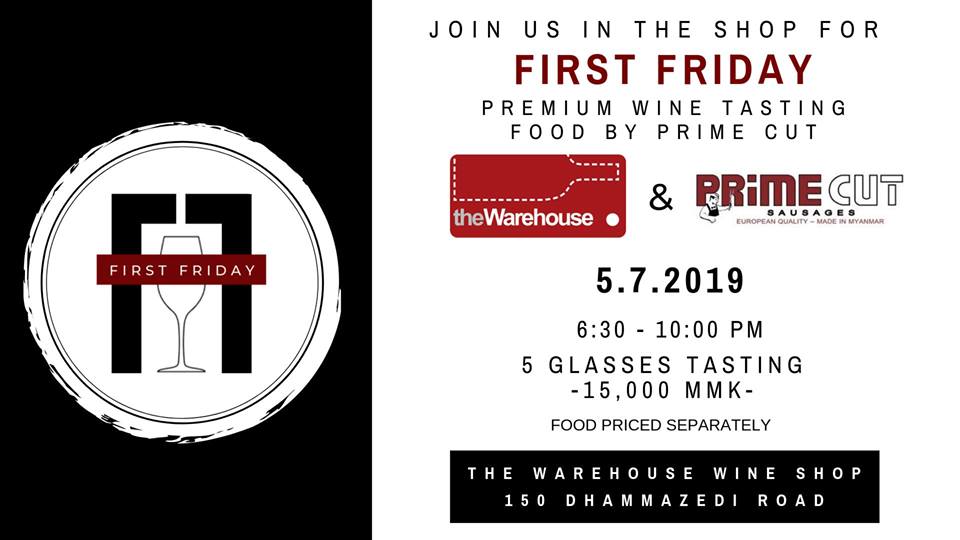 First Friday Edition #3
This First Friday event features five glasses of wine for 15,000 kyats and sizzling sausage bites from Yangon's favorite sausage maker, Prime Cut. Try your luck at a prize wheel with potential winnings that include 50 percent off purchases, or drop your business card off for a drawing that could net you a free bottle of wine. Next door from the wine shop, look out for their Mega Food, Wine and Cosmetics sales, with discounts of up to 50 percent off.
July 5 | 6:30 p.m. to 10:00 p.m. | The Warehouse Myanmar | 150 Dhammazedi Road, Bahan Township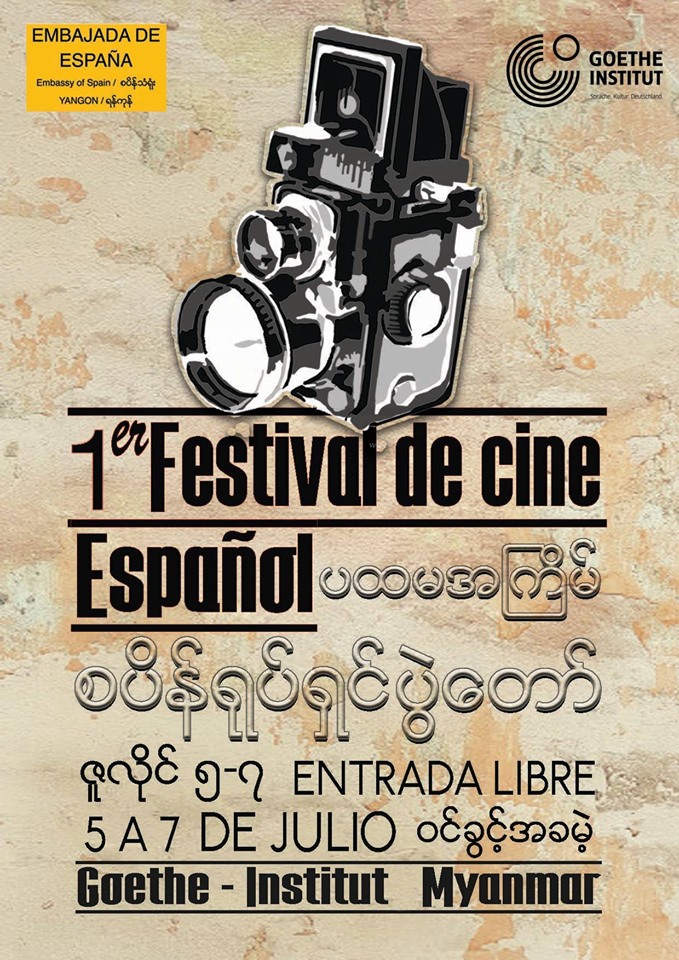 1st Spanish Film Festival Yangon
The first-ever Spanish Film Festival Yangon runs through the whole weekend and features five films that reflect defining moments in the European nation's recent history. Organized by the Embassy of Spain and held at the German Goethe-Institut Myanmar, festival producers call it a response to growing interest in Spanish language and culture in Myanmar. The official opening takes place at 6 p.m. Friday night and is followed by a screening of the film "Chico y Rita". The last film, "Bienvenido Mister Marshall," screens at 6:30 p.m. Sunday night.
July 5 to 7 | Screenings at 6 p.m. Friday and 3 p.m. and 6:30 p.m. Saturday and Sunday | Goethe-Institut Myanmar | Corner of Kabar Aye Pagoda Road and Nat Mauk Street, Bahan Township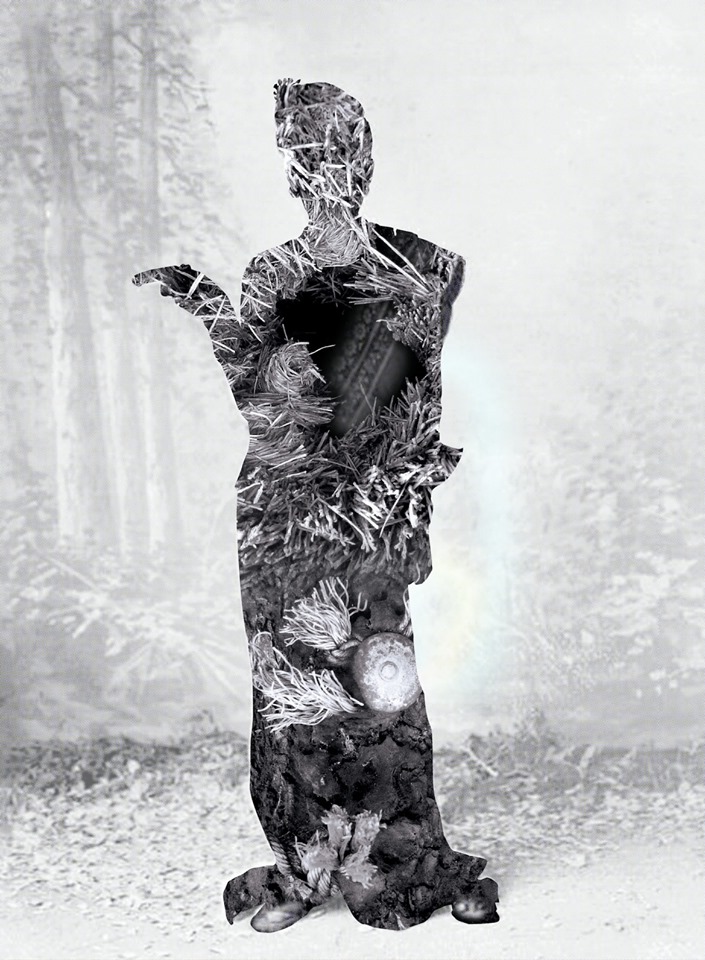 Aung Myat Htay: Consciousness of Realities
This solo exhibition of Aung Myat Htay's, running through July, uses visual hybridity to consider the roots of local communities through their psychosocial characteristics. The Yangon-based, multimodal artist was born in Mandalay in 1973 and received his BFA from the University of Art and Culture Yangon in 1998. Often expressing social messages, his paintings and sculptures combine the traditional and the contemporary. In addition to his visual art, Aung Myat Htay is an esteemed writer and curator. His work has been presented in Thailand, India, Japan, Indonesia and the Philippines. The exhibition opening takes place Saturday, July 6 at 6 p.m.
July 6 to 28 | Myanm/art | G-42 48th Street, Urban Asia Centre, Botataung Township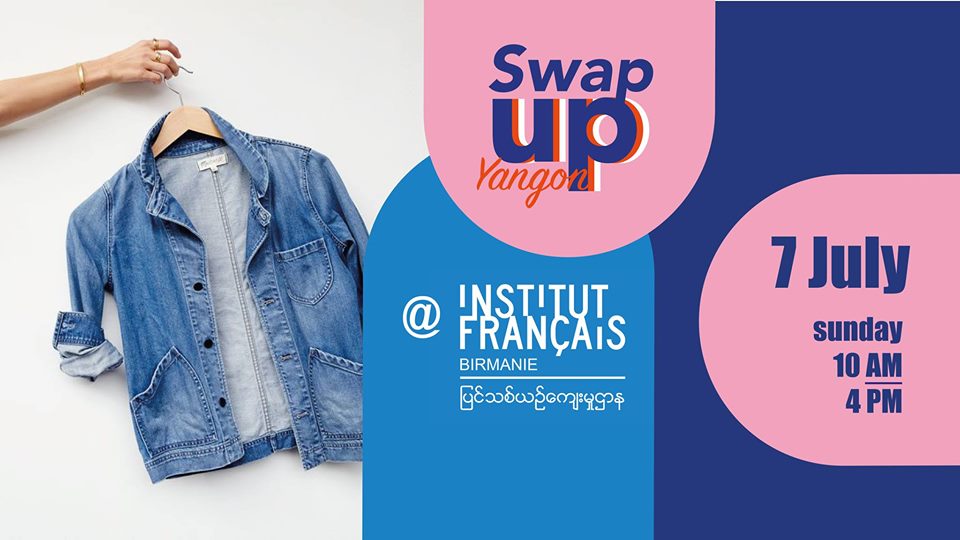 Swap UP @ French Institute
While the monsoon season has called for a pause of the Makers Market, the Swap UP event continues under the shelter of Parasol, the Institut Français de Birmanie's newest tenant. Organizers will bring a range of men's and women's denim—jeans, jackets, shirts, skirts, waistcoats—for shopping and swapping from 10 a.m. to 4 p.m. As organizers point out, it is a great opportunity to try out Parasol's new farm-to-table food and drink menu.
July 7 | 10 a.m. to 4 p.m. | Institut Français de Birmanie | 340, Pyay Road, Sanchaung Township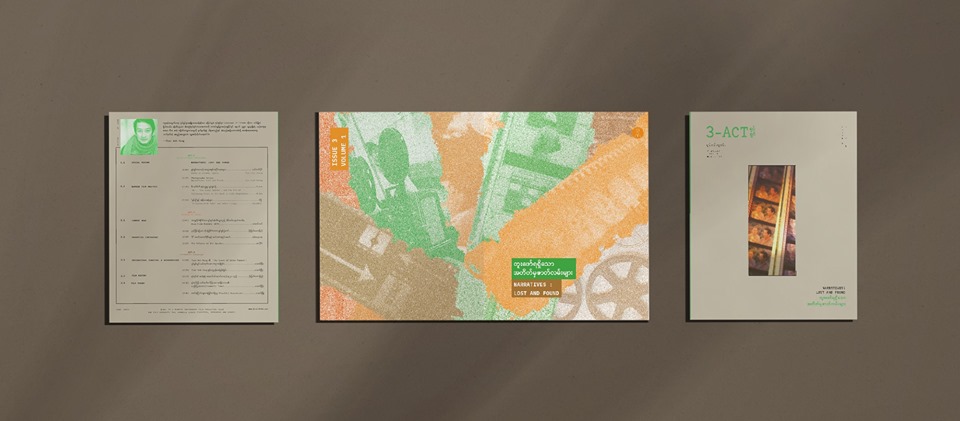 3-ACT Magazine Issue 3 (Narratives: Lost And Found) Launch Event
The Launch of the latest 3-Act Cinema Magazine issue includes a screening of Tran Anh Hung's award-wining (Caméra d'Or at Cannes, César Award for Best Debut, among others) and Oscar-nominated 1993 film "The Scent of Green Papaya," followed by a film discussion led by Dr. Aung Min. 3-ACT Magazine, the magazine for "filmmakers, cinephiles, artists and art activists," focuses on local cinema, eschewing tabloid coverage of common movies in favor of "film as art that provokes," inspiring a reassessment of the current standing of Myanmar cinema.
July 7 | 12:30 p.m. to 5 p.m. | Film Development Centre-FDC | No. 50 Golden Valley Road, Bahan Township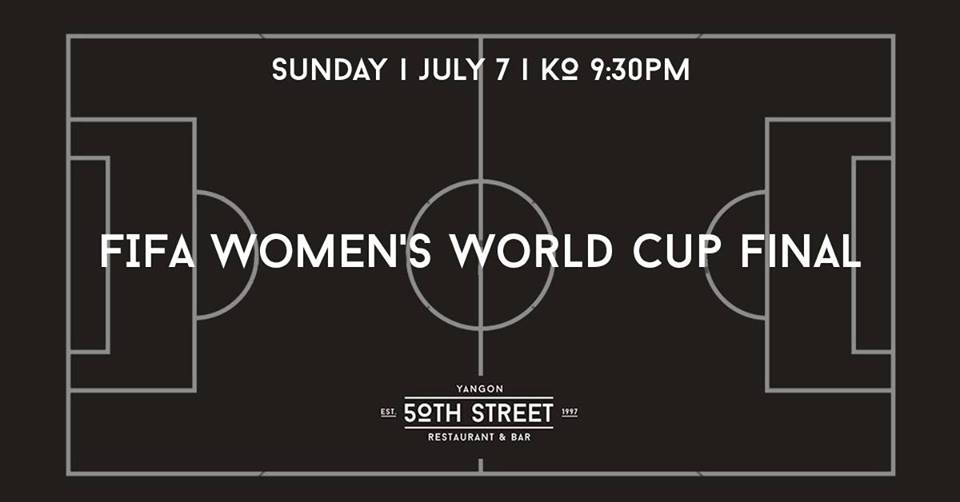 Women's World Cup Final at 50th Street Bar
It doesn't matter who you're rooting for—or if you're rooting at all. Come watch some of the world's most talented athletes battle for their sport's ultimate prize. Just before going to press—er, web—the Netherlands beat out Sweden to clinch their first final appearance ever, against title-holders the United States. Get to 50th Street Bar by the 9:30 p.m. kickoff to secure a seat in front of their big screen upstairs.
July 7 | 9:30 p.m. | 50th Street Restaurant & Bar | 9/13 50th Street (Lower Block), Botahtaung Township