Jose Abadi: Words, Lines and Threads
This is a solo exhibition by the artist and curator Jose Abadi who has called Myanmar home for five years and is soon to journey home. Using Burmese script as an influence, the artist is focusing on his dyslexia as a creative form rather than a disability. Exhibition opening reception is on Thursday March 14 at 6 p.m.
March 14 to 27 | Myanm/art | 3FL, 98 Bogalayzay Street, Botahtaung Township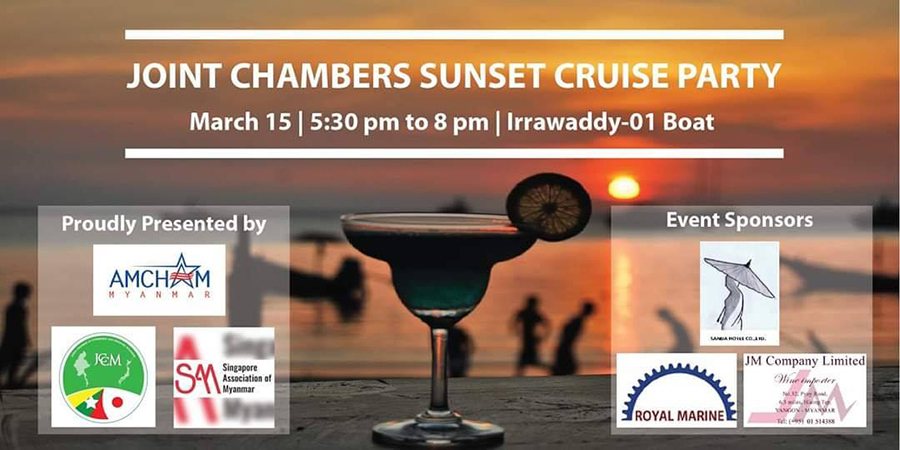 Joint Chambers Sunset Cruise Party
Organized by the American and Japanese chambers of commerce with the Singapore Association of Myanmar, this event will allow attendees to take in Yangon's city skyline from the unique vantage point of the Yangon River around sunset. It is also an opportunity to enjoy drinks and canapes while you network and make connections with like-minded folk from a number of industries.
March 15 | 5:30 p.m. to 8 p.m. | Irrawaddy Boat 01 | Botahtaung Jetty, Strand Road, Botahtaung Township
Farmers Market
A growing community of farmers and producers come together weekly to sell fresh, local, healthy products including bread, veggies, eggs, plants, honey, coffee, tea, juice, salad and more. This is a plastic-free market and market goers are requested to bring along reusable bags or baskets.
March 16 | 8 a.m. to 12 p.m. | Karaweik Compound | Kandawgyi Gardens, Mingalar Taung Nyunt Township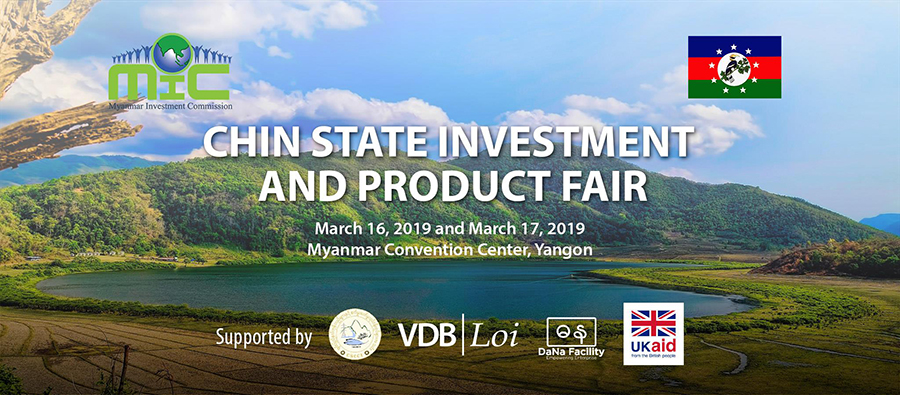 Chin State Investment and Product Fair
This two-day investment fair is organized by the Myanmar government in connection with UKAid and a number of businesses, with the aim of stirring up foreign investment interest in one of the least developed parts of the country. The event will include panel discussions and will focus on potential projects in the tourism and infrastructure sectors of Chin State.
March 16 and 17 | Myanmar Convention Center | Mindama Road, Mayangone Township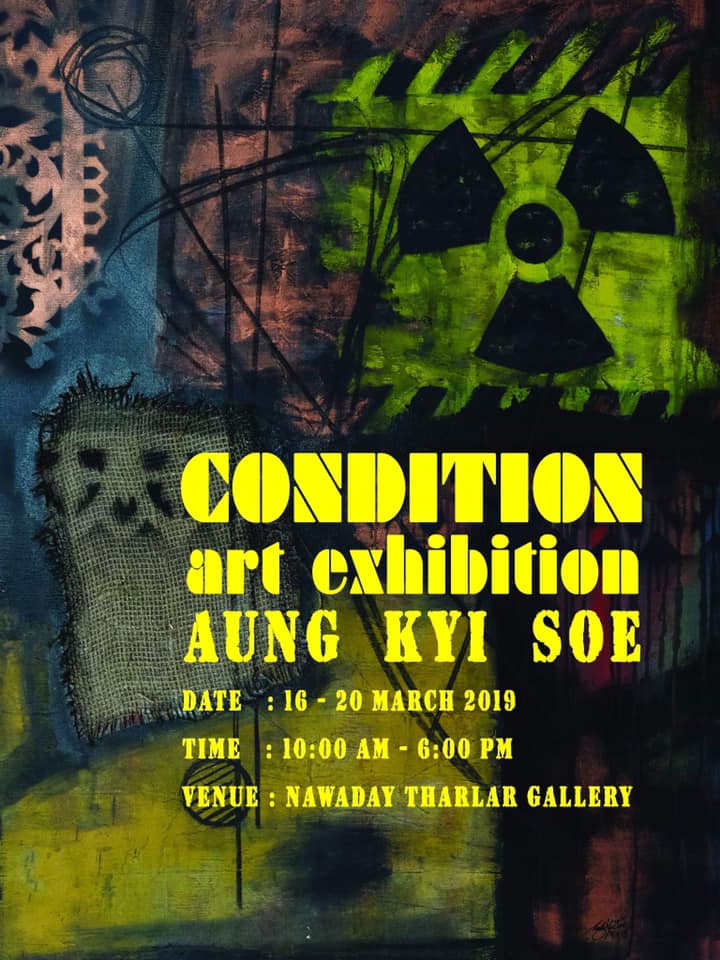 Condition by Aung Kyi Soe
This is five-day solo art exhibition by artist Aung Kyi Soe who has exhibited in Taiwan, Singapore and Hong Kong and elsewhere. Aung Kyi Soe's work usually focuses on political issues and has been the subject of strict censorship, even in recent years. The exhibition opening reception takes place from 10 a.m. to 6 p.m. on Saturday.
March 16 to 20 | Nawaday Tharlar Gallery | Room 304, 20/B, Yaw Min Gyi Street, Dagon Township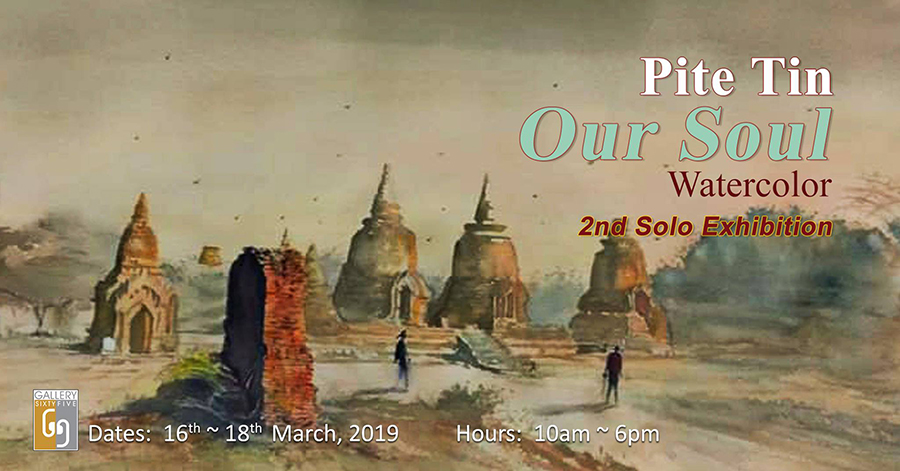 Our Soul Art Exhibition
This is the second solo exhibition by watercolor painter Pite Tin. Landscapes and scenes of everyday life in rural Myanmar and Bagan are the inspiration for his exhibition of 30 color-filled paintings.
March 16 to 18 | Gallery 65 | No. 65, Yaw Min Gyi Road, Dagon Township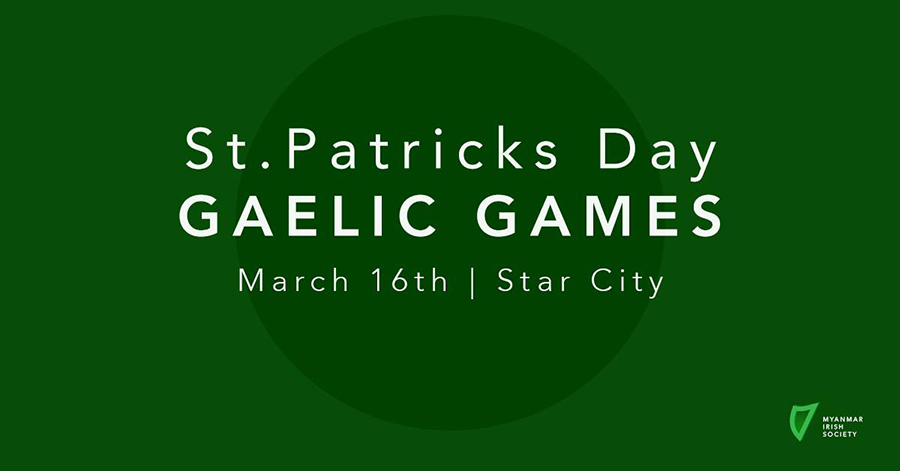 St. Patrick's Day Gaelic Games
The Myanmar Irish Society, representing a small but strong Irish community in Myanmar, is hosting an introduction to Gaelic football—one of the national sports of Ireland—as part of its St. Patrick's Day events this Saturday. This is an opportunity to learn some new skills—or to show off what you've already got. Everyone is invited whether you'd like to get active and involved or to watch and enjoy some drinks and food on the sidelines at Dulwich College in Star City. A bus has been organized to depart 50th Street Bar & Restaurant at 2 p.m. returning at 6 p.m. but preregistration is required.
March 16 | 2 p.m. to 6 p.m. | Dulwich College Yangon (Star City Campus) | Thanlyin
Fete de la Francophonie
Organized by the French Institute, this is a day-long family-friendly event celebrating Fracophone cultures and languages. In the morning there will be a small market with food, handicrafts and books. The afternoon will see a dance performance followed by a singing competition. Games tournaments, including chess, words games and other board game classics, will take place throughout the day. French language skills are not required.
March 16 | 10 a.m. to 7 p.m. | Institut Français de Birmanie | 340, Pyay Road, Sanchaung Township
Thingyan Boat Party
By the same organizers of the very popular Sunset Boat Party events, the Thingyan Boat Party is set to be your first of many, many Thingyan water festival events this summer. As with all good Thingyan events, there will be lots of water spraying and water guns and the beat-synchronized hydro-pump sprinkler system dubbed the Shwe Shower too. Music-wise, you can expect everything from hip-hop to house to electronic played by select DJs.
March 16 | 4:30 p.m. to 8 p.m. | Botahtaung Jetty 2 | Strand Road, Botahtaung Township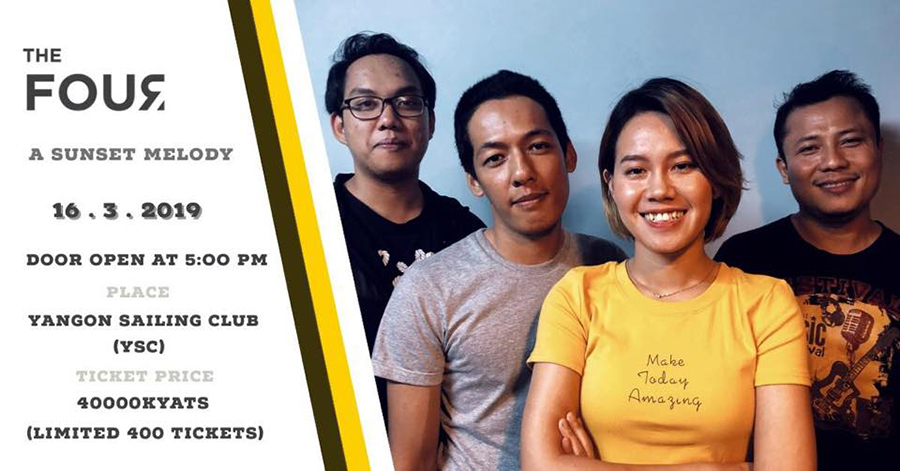 A Sunset Melody
One of Myanmar's long-time favorite bands, The Four, will perform at a special sunset event this weekend at the Yangon Sailing Club. Enjoy a picnic vibe in this special outdoor venue as the sun goes down over Inya Lake. Tickets are 40,000 kyats and include a one free drink.
March 16 | 5 p.m. | Yangon Sailing Club | 132, Inya Road, Kamayut Township
Paddy's Day @ 50th Street
From 8 p.m. onwards, 50th Street Bar and Restaurant will become the center of Irish culture in Myanmar in honor of the international St. Patrick's Day celebrations. Enjoy Yangon's only authentic traditional Irish band, the Drunken Irish Barstools, performing all your favorite Irish classic songs for toe-tapping, singalongs and dancing. Ireland's national brew, Guinness, and traditional Irish stew will be on the menu for this weekend only. Upstairs, the Six Nations rugby final will be screened on the large screen.
March 16 | 8 p.m. | 50th Street Restaurant & Bar | 9/13 50th Street (Lower Block), Botahtaung Township
Taste of France
In celebration of French cuisine, 11 top restaurants across Myanmar are offering special French menus which, this year, will focus on more responsible cuisine featuring reduced sugar, fat and salt. Over 150 countries worldwide take part in this food event each year and here in Myanmar, as well as eight top restaurants in Yangon, French menus will also be served at Inle Lake (Novotel Inle Lake Myat Min), Bagan (The Black Bamboo) and Naypyitaw (The M Gallery by Sofitel).
March 21 to 24 | Countrywide