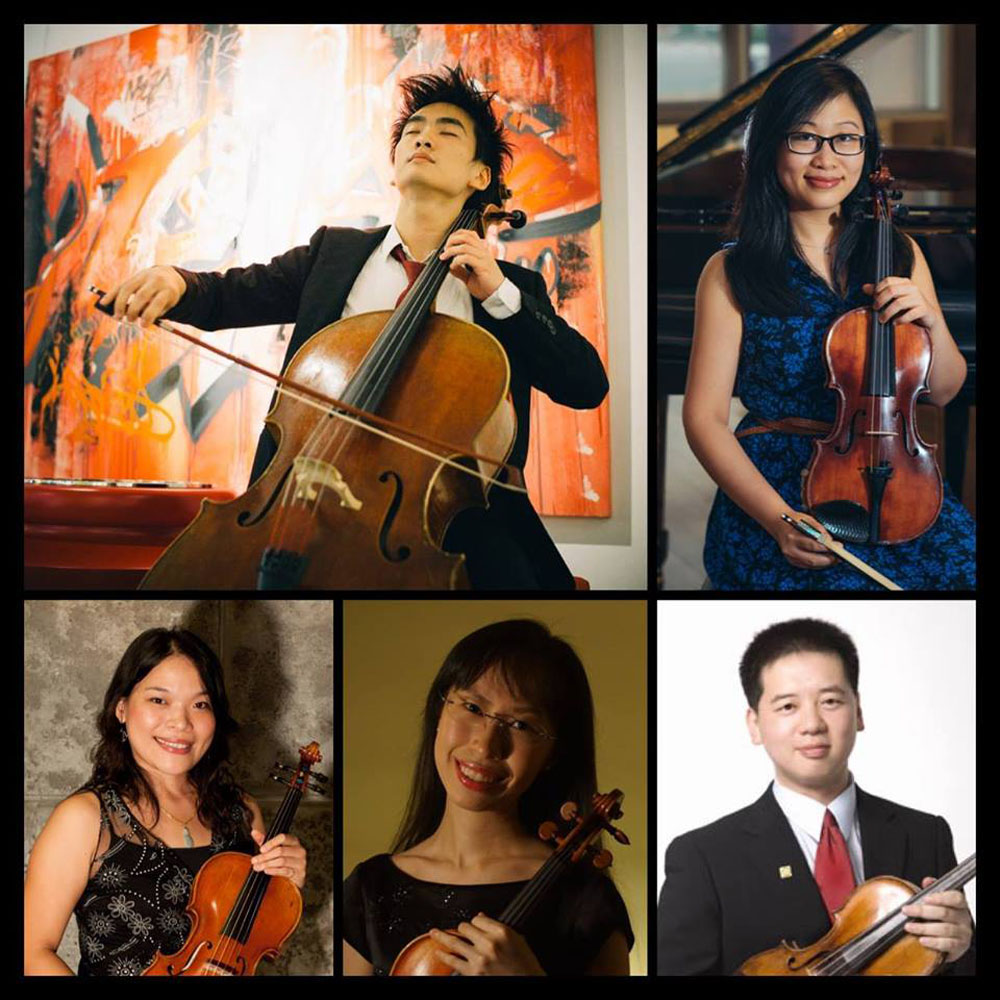 Orchestra for Myanmar and the New Children's Choir | November 18
The Children's Choir—formed of youngsters from orphanages and schools in Rangoon—made their debut in March this year. They will be joined on stage by the Orchestra for Myanmar and five soloists from Malaysia and Taiwan. Get there early—it's first come, first served.
Nov. 18, 6.30pm. Sule Shangri-La, 223 Sule Pagoda Road, Yangon. Free Admission.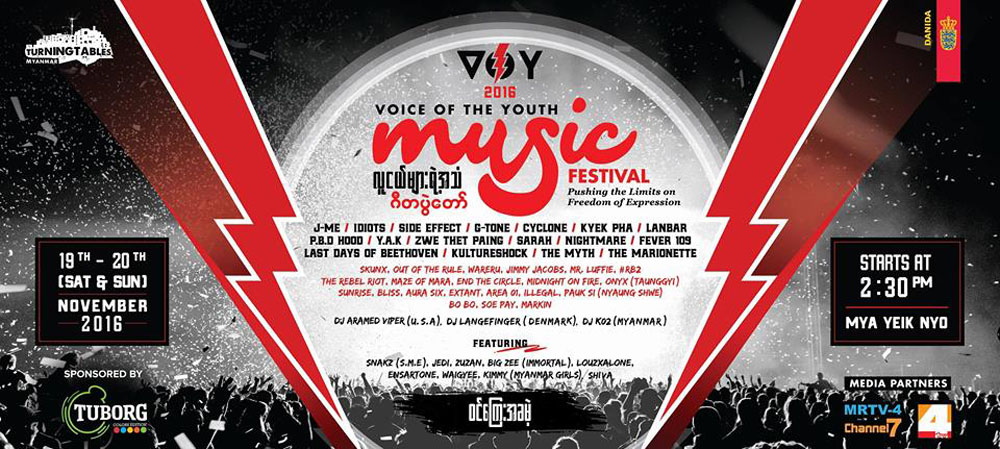 Voice of the Youth Festival | November 19-20
Don't worry—it's not just for kids. The Voice of the Youth festival returns for a second year to bring a weekend of hardcore metal, hip hop and punk to Rangoon. The lineup features musicians from both home and abroad and headline acts include DJ Aramed Viper from the United States and ONYX from Shan State's Taunggyi.
Nov. 19-20, 2pm-11pm. Mya Yeik Nyo Hotel, 20 Pale Road, Bahan Tsp. Admission Free.
Mya Kyun Nyo Nyo Music Show | November 19
Head to Rangoon's National Theater for a night of some of the country's best known vocalists and performance artists.
Nov. 19. National Theater, Myoma Kyaung Street, Dagon Tsp. Tickets 5,000-20,000 kyats.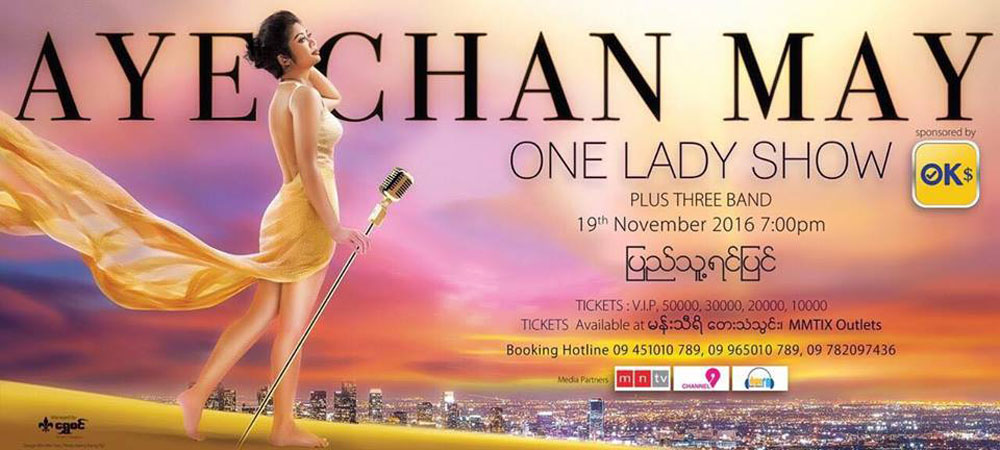 Aye Chan May's One Lady Show | November 19
Popular local singer Aye Chan May will take to the stage for one night only this weekend—don't miss out.
Nov. 19, 7pm-11pm. People's Square, Pyay Road, Sanchaung Tsp. 09 782097436. Tickets 10,000-50,000 kyats.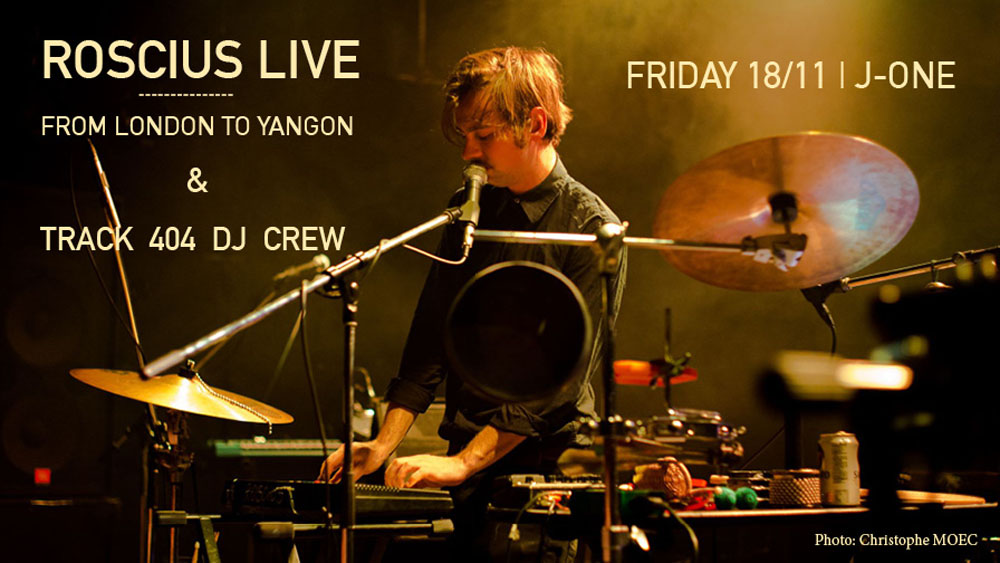 Roscius DJ Set | November 18
London-based French DJ Roscius is famous for his unpredictable live sets that see him looping his own voice and mixing in recorded samples and electronic beats in a style he describes as 'world minimal disco.'
Nov. 18, 10pm-3am. J-One Music Bar, Bo Cho Street, Tamwe Tsp. Tickets 8,000 kyats including one drink.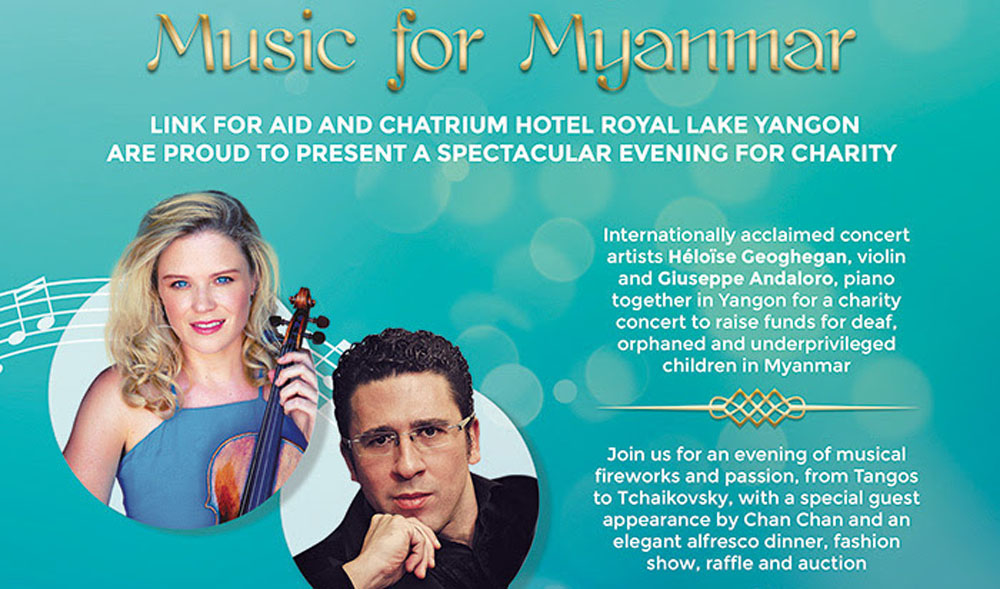 Music for Myanmar | November 22
Head to the Chatrium Hotel's pool garden for a night out for a good cause. Music for Myanmar is an evening of dining, music, fashion, raffles and 'a few surprises' all to raise funds for Link for Aid which helps vulnerable children in Burma. Irish violinist Héloïse Geoghegan and Italian pianist Giuseppe Andaloro will be performing.
Nov. 22, 6.30pm. Chatrium Hotel, 40 Nat Mauk Street, Yangon, +951 544500. Tickets US$65 including free flow drinks.

Min Thurein Exhibition | November 18-23
Local artist Min Thurein will show 200 pieces of his work including sculptures at Ahla Thit Art Gallery.
Nov. 18-23. Ahla Thit Gallery, Ahla Thit Art Gallery, 17 University Avenue Road, Bahan Tsp. Admission Free.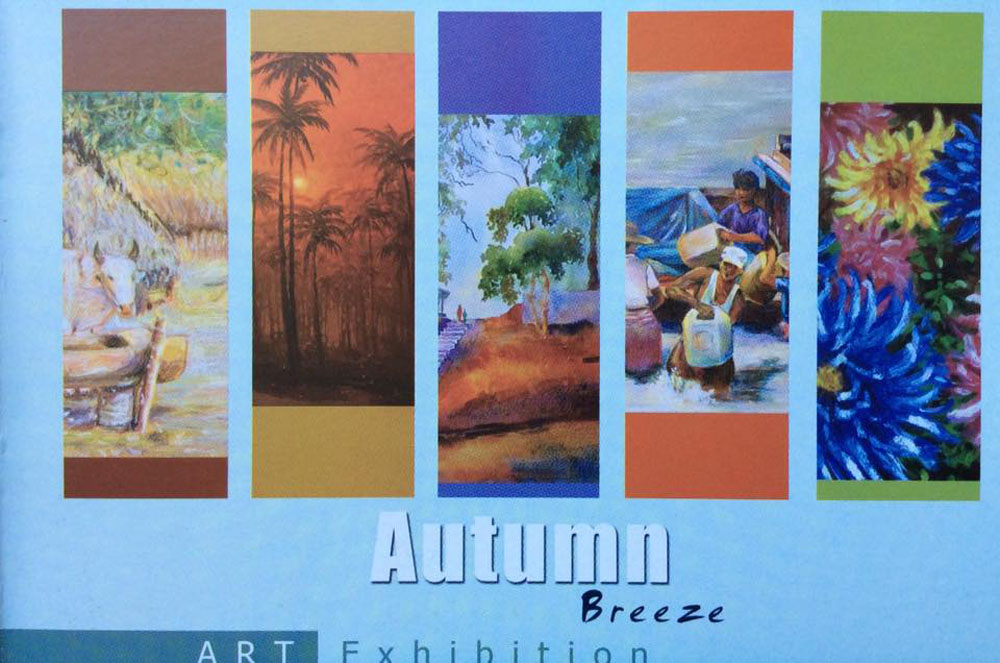 Autumn Breeze Exhibition | Until November 19
An exhibition of 29 paintings by five local artists shares the theme of autumn.
Nov. 15-19. Lokanat Galleries, 1/F, 62 Pansodan Street, First Floor, Kyauktada Tsp. Free Admission.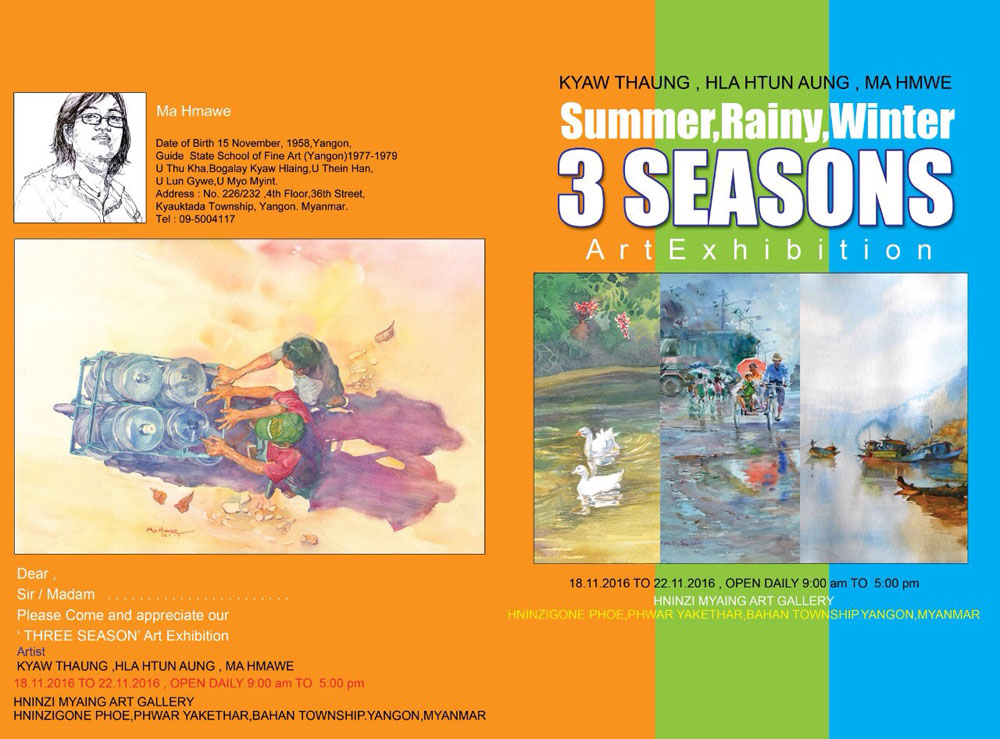 Three Seasons Exhibition | November 18-22
Local artists Kyaw Thaung, Hla Tun Aung and Ma Hmwe will show a total of 90 paintings representing each of Rangoon's three seasons.
Nov. 18-22. Hnin Si Myaing Art Gallery,21 Kaba Aye Pagoda Road, Bahan Tsp. Admission Free.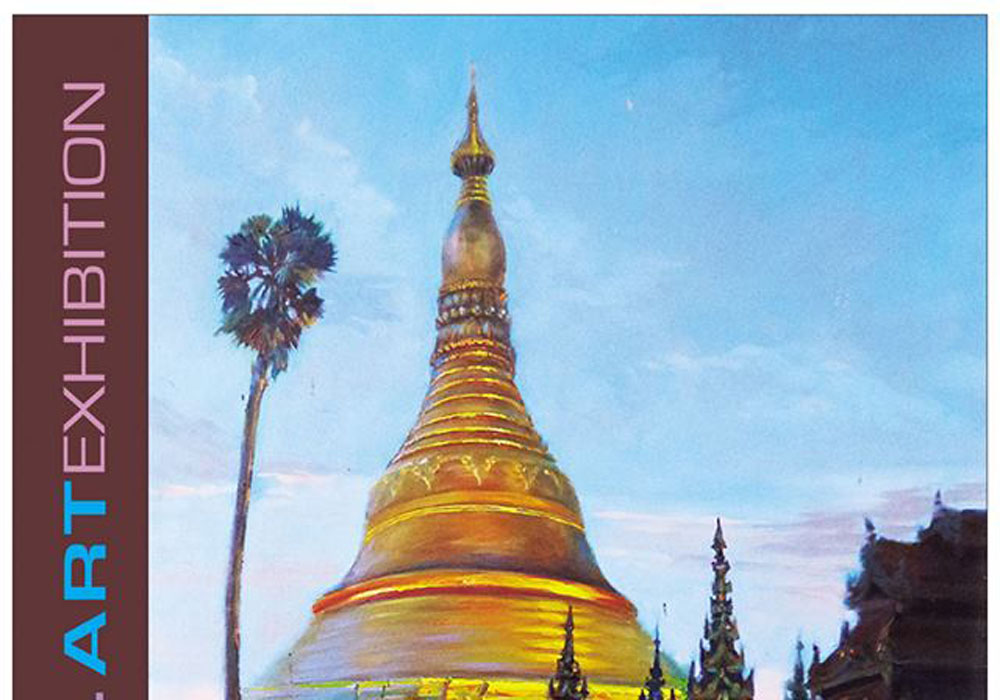 Maung Aye Memorial Exhibition | November 18-20
Celebrate the 65th birthday of the late great Burmese artist Maung Aye who passed away in February this year.
Nov. 18-22. Gallery 65, 65 Yaw Min Gyi St, Dagon Tsp.