Vietnamese food hasn't quite caught on in Myanmar the way Chinese or Japanese food has. There are still relatively few Vietnamese restaurants in Yangon, and most locals are more comfortable with western and some other limited Asian foods.
But that's been changing in recent years, with Yangonites becoming increasingly aware of the famous traditional Vietnamese beef noodle soup pho.
Enter The Lantern, an elegant, modern Vietnamese fine dining restaurant located on the first floor of the Melia Hotel Yangon.
The Lantern offers authentic Vietnamese delicacies from both the south and north of the country in a modern and creative menu made by their in-house Vietnamese chef.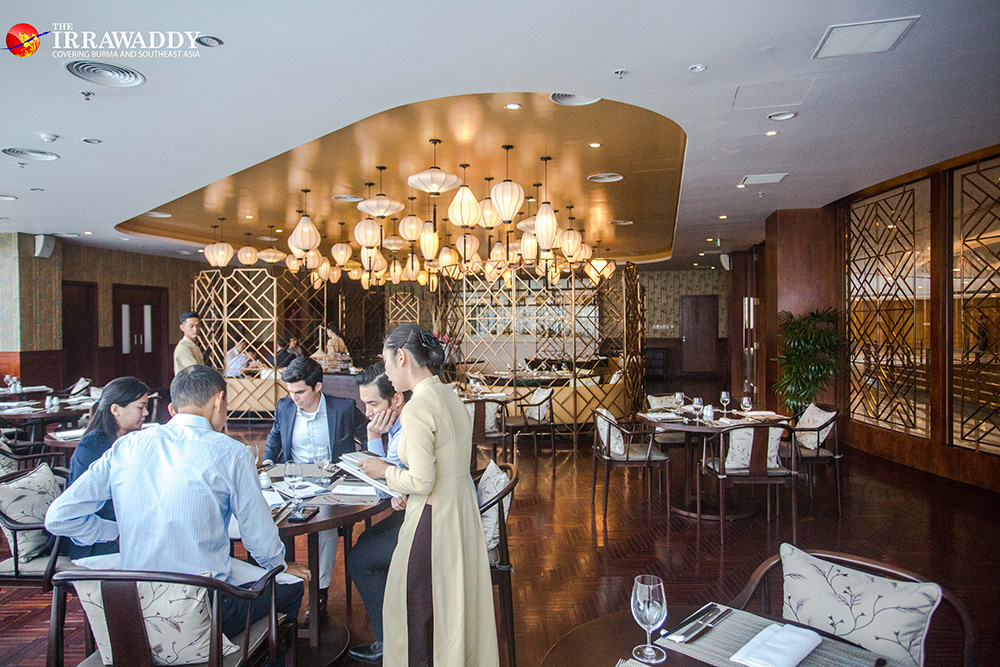 Upon entering The Lantern one is greeted by—well, lanterns. They're everywhere. The decor matches the name. It is simple but elegant, providing a fittingly up-scale but relaxed fine-dining vibe. Three private dining rooms with large round tables and a separate seating area provide for a variety of options, plus a show kitchen viewed through a glass wall. It's really cool.
They have a large menu to choose from, including a new lunch menu set. Two courses ran $11 (16,750 kyats) per person and three courses $14 (21,330 kyats).
I began my Vietnamese food tour with 'Hoanh Thanh Tom Hum,' a crispy-fried lobster with mushroom ravioli—one of the restaurant's more popular appetizers. It was served with a green apple salad.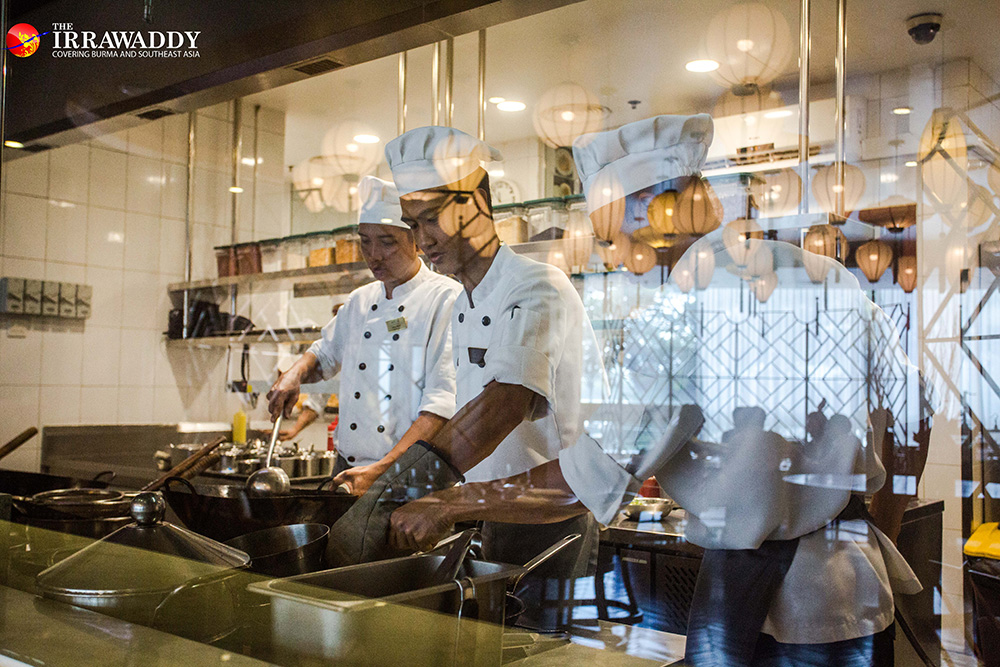 Golden and crispy, the flavor combination of lobster and mushrooms was wonderful. It whet the appetite from first bite to last.
Next was the famous 'Goi Cuon,' a fresh rice paper roll stuffed with shrimp, pork, rice noodles and fresh herbs alongside a chili dipping sauce. The ingredients were fresh and, seen through the rice paper before each bite, visually appealing. They left a natural and fresh flavor in the mouth.
An equally mouthwatering appetizer was the 'Nom Buoi Voi Tom,' a pomelo salad with poached shrimp and flavored by onion, coriander, mint and a lemongrass dressing. It's sour but not too sour. Who'd have thought poached shrimp would pair so well with pomelo?
'Tom Bao Mia,' a deep fried prawn and pork sugarcane, is also another must-try appetizer, served with homemade chili garlic fish sauce. They chop and beat the fresh shrimp and pork into a paste then wrap it in sugar cane branches before pan frying them. It's crispy, fresh, tender and sweet, and perfect dipped in the accompanying fish sauce.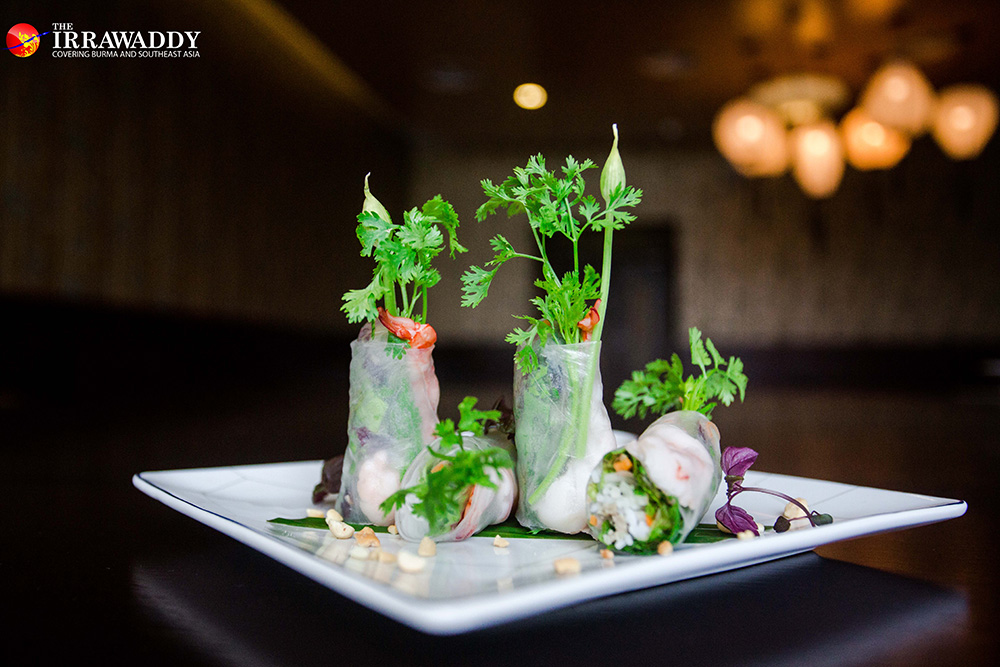 Next of course came the classic 'pho,' Vietnam's most famous culinary export. Their take on the beef and noodle soup features a cinnamon broth, soft rice noodles and tender chunks of tenderloin beef, accented by coriander, mint leaves and other seasonings and herbs. An accompanying plate of bean sprouts, chilis, limes and additional herbs and flavorings can be added to each eater's taste. Delicious.
The 'Bun Cha Hanoi' is a Hanoi-style, char-grilled pork duo of belly and tenderloin kofta—also amazing. It comes with rice vermicelli and fresh herbs, but the highlight of this dish is its dipping sauce. The grilled slices of meat need to be dipped in the sauce for a while to get both the sweet and the sour. Staff instructed us to put some rice vermicelli into the sauce and mixed it together—very tasty.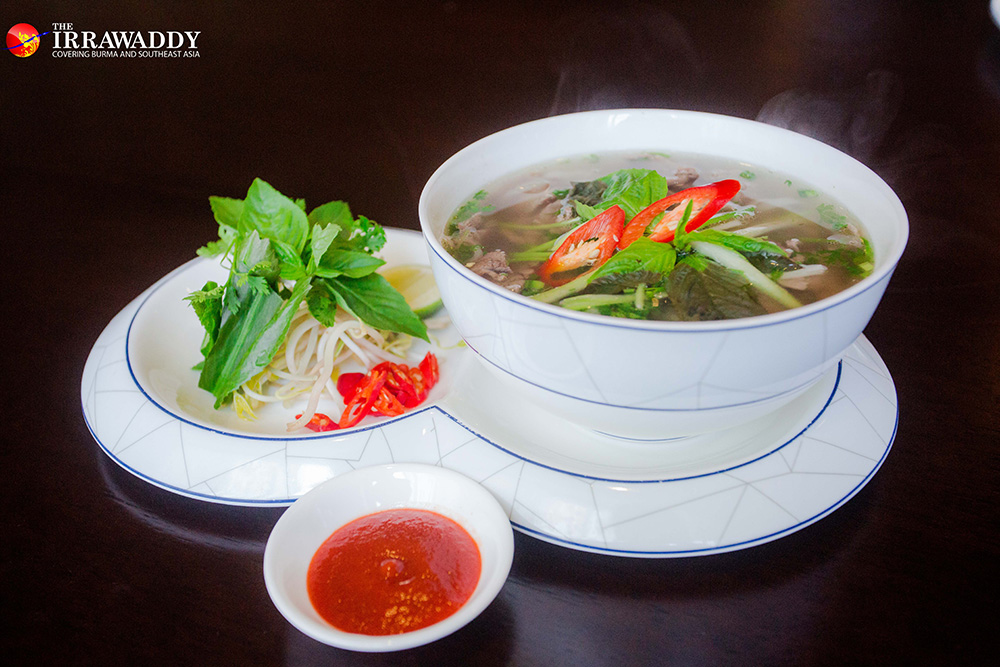 Even with stomachs full, we couldn't resist ending our food tour with the famous Vietnamese dessert of Deep Fried Banana Cake, served with coconut ice cream. The name says cake, but this isn't cake. A peeled banana is dipped in wheat flour then deep fried in oil until golden. It appears crispy but is actually smooth and silky in the mouth—smoother than its similar Myanmar counterpart. The coconut ice cream is an excellent accompaniment.
Everything we had at The Lantern tasted great and came at a reasonable price, and with no complaints here on the service or atmosphere, what more can one ask for?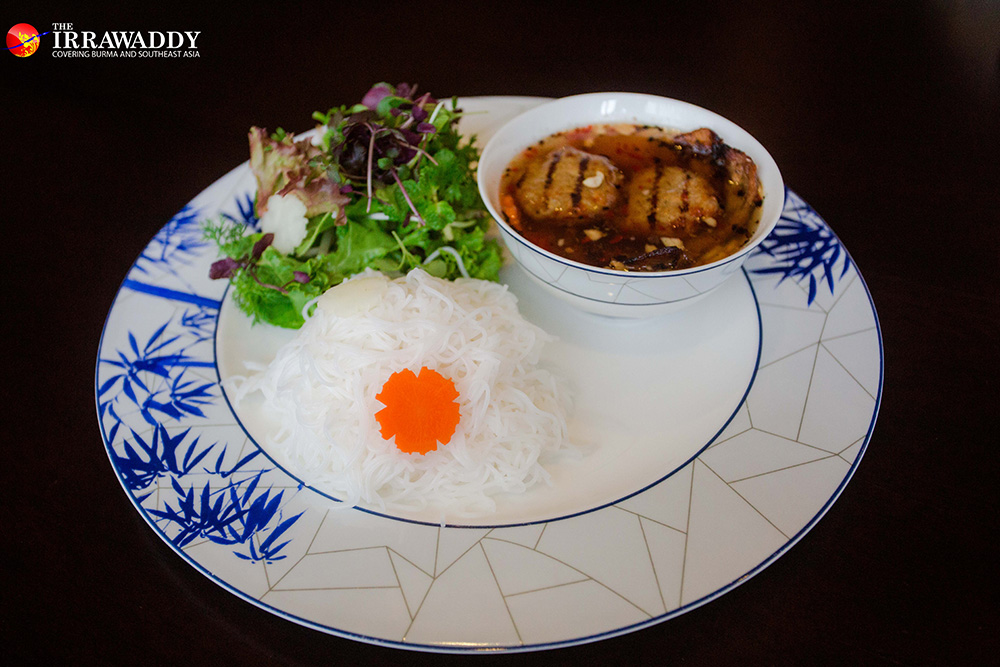 The restaurant serves lunch and dinner only, the former from 11 a.m. to 2 p.m. and the latter from 6 p.m. to 10 p.m. It's located on the first floor of the Melia Hotel Yangon.
I will definitely be coming back to The Lantern for further Vietnamese food explorations.
You may also like these stories:
Sedona Hotel Brings Taste of China to Myanmar
Getting Serious About Food Safety in Myanmar