It has only been in the last five or six years that Yangon has had many decent places to go after 10 p.m. But the nightlife scene in Myanmar's commercial capital has grown rapidly in recent years; nowadays, there are a variety of options available and new bars and clubs seem to open daily.
Pubs, bars, clubs, and karaoke businesses are proliferating in Yangon and owners are trying hard to establish their own identity. To help readers navigate this crowded scene, The Irrawaddy has compiled a list of recommended new and trendy bars and restaurants.
Below you can find information on some of our favorite nightspots in Yangon.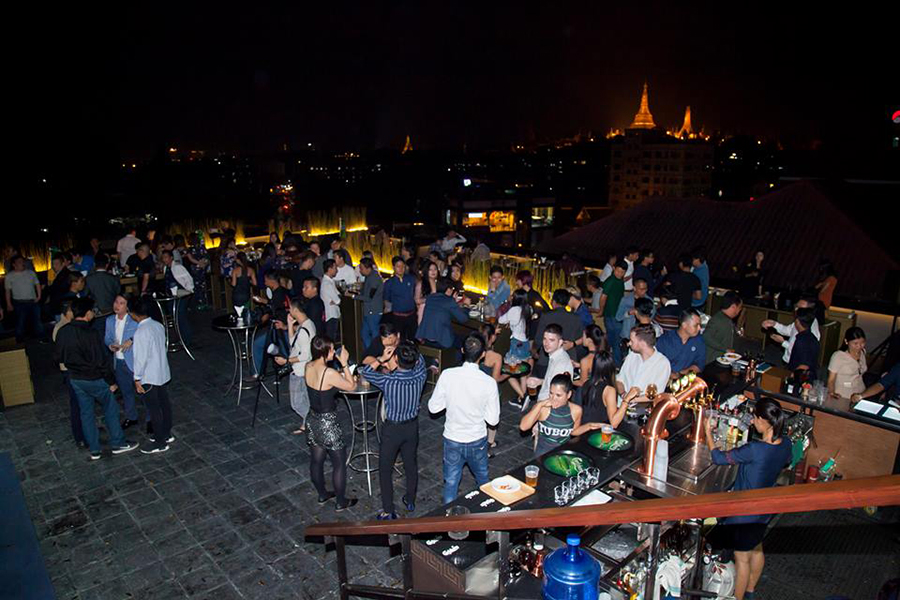 NYX Rooftop Bar and Club
NYX is named after a Greek goddess, which serves as its logo. This rooftop bar and nightclub on the top floor of The One Entertainment building is found in Yangon's Shwegondine neighborhood.
Opened last December, NYX is a popular EDM venue, with well-known regional and international DJs spinning tracks at its weekly and monthly events. The club offers trance, trap, and deep house grooves.
Its rooftop bar is an open space with a cool atmosphere. The view takes in Shwedagon Pagoda and other features of Yangon's nightscape.
The bar's extensive menu includes draft beer, classic cocktails, Western food and snacks.
Drinks start at 2,000 kyats and food starts at around 4,000 kyats a dish.
Neither the bar nor the club charges an entrance fee; you can walk in and order what you want, but if you want a table in the club you need to open a bottle (starting from 80,000 kyats).
Open 5pm to 4am.
After 8: Your Guilty Pleasure
After 8 Shot and Cocktail Bar opened last November and has quickly become popular with celebrities and Yangon's youth thanks to its fashionable, fabulous cocktails and shots.
This open-air bar is located on the 4th Floor of Myanmar Plaza.
The cocktails and shots at After 8 are designed by "Cocktail Professor" Jarl de Vries from Amsterdam.
The bar's creative drinks menu runs to 48 shots, cocktails and other guilty pleasures. A shot will set you back 3,000 or 4,000 kyats; cocktails run 7,000 to 8,000 kyats.
The food menu includes snacks, salads, soups, mains and desserts at prices from 3,500 to 30,000 kyats.
Open 5 p.m.-2 a.m.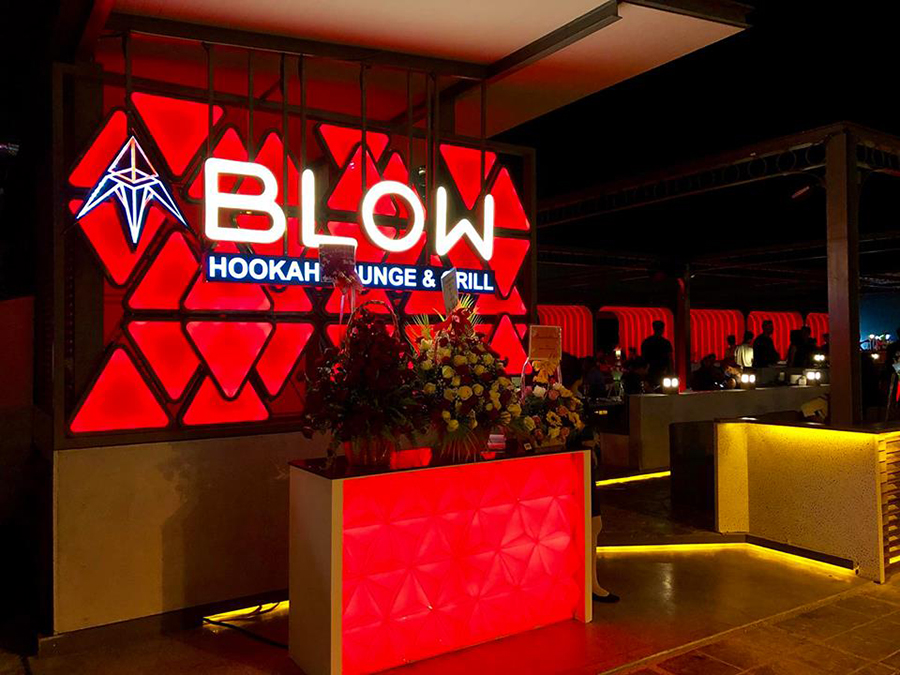 Blow Bar and Grill
Yangon's first luxury shisha lounge, Blow Bar and Grill, opened last January next door to After 8 on the 4th Floor of Myanmar Plaza.
The bar has styles of hookah offered at various prices; there is also an open-air bar.
High-end hookahs cost 45,000-50,000 kyats each for one-and-a-half hours.
Small hookahs are offered at prices ranging from 25,000 kyats to 30,000 kyats.
This is a shisha specialist bar, but they also serve classic cocktails, wine and beer.
The impressive food menu includes grilled king prawn, grilled whole fish, steak and Thai food. Prices start at 5,000 kyats.
Open 5 p.m. to 2 a.m.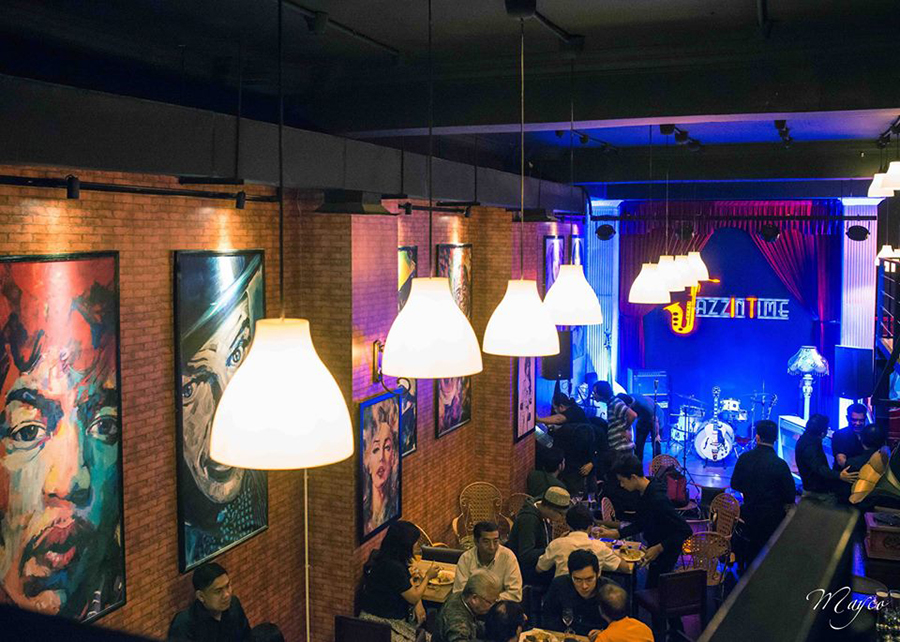 Jazz in Time Music Bar
Jazz in Time Music Bar is Yangon's oldest jazz bar, having opened its doors back in August 2018.
You'll find it at the Bo Myat Tun Tower on Bo Myat Tun Street in Botahtaung Township.
This two-story venue presents Jazz Night every Wednesday and Thursday; the band plays blues every Friday and Saturday night with a free welcome drink.
Beer, wine, gin and cocktails are available at reasonable prices; Happy Hour is 5 p.m.-8 p.m. (all drinks 50 percent off).
International, Asian and Western food served.
Open 5 p.m. to 11 p.m.