Yangon has added another restaurant to its growing list of authentic ethnic eateries: This time it's Mon cuisine being served up by a restaurant that's hidden away near the Shwedagon Pagoda. But don't worry, it's listed on the Grab app and Google maps, making it easy to find.
The restaurant is not large but has comfortable seating. Located on Nandawoun Street in Bahan Township, you'll recognize the entrance by the bamboo décor and small signboard. It's a cozy little space with a peaceful atmosphere.
"Jana" means "food" in the Mon language, so the place is aptly named.
We arrived there at around 11 a.m., just ahead of the lunch crowd, so it wasn't too busy yet. Restaurant staff could be heard chatting in Mon between themselves as they peeled onions.
A boy wearing a Mon longyi—a traditional garment—handed us the simple, two-sided menu. Most dishes can be customized upon request, with a choice of meat (fish, pork, chicken or prawns) and small or large portions. We ordered a small portion of sapalin htoung (lemongrass patties) with chicken for 2,500 kyats (USD1.70), kyaw sone (vegetables fritters with Mon dipping sauce) for 2,000 kyats, Mon moat ti (Mon-style noodle soup) for 4,000 kyats, a small Mon home-style soup with prawns for 2,000 kyats, and the prawn roselle rice with fish lemongrass patties for 3,000 kyats.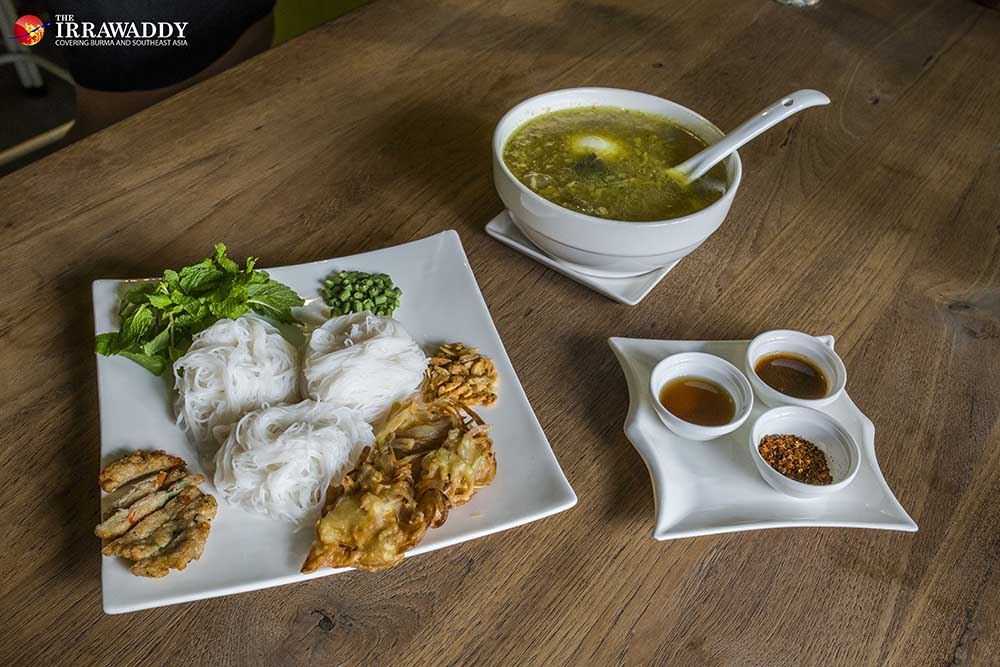 All dishes are cooked to order, so the food takes a little while to arrive, but it's well worth the wait. As we waited for ours, the restaurant started to fill up with guests, most of them foreigners.
Troubled by the lack of Mon cuisine in Yangon—which is home to a number of eateries purveying other ethnic cuisines including Shan, Kachin and Chin—owner Ma Shan Mu opened the restaurant in 2016 to address the problem.
"I came here [to Yangon] to work and study. I was just a regular office employee at a construction company. I found out that Yangon didn't have an authentic Mon restaurant, even though we have our own style of food. We cooked Mon dishes at home and my mom is a great chef. I learned so many things from her," Ma Shan Mu said.
She added, "Sometime we didn't want to cook at home, and we didn't know where to go for Mon cuisine. So, for Mon people like us, I opened Jana Mon. I chose this area because there're so many Mon people living around here."
Initially her target customers were her fellow Mon people, but the restaurant has grown popular among Myanmar people and foreigners alike during its first year thanks to its authentic dishes and friendly service.
After 30 or 45 minutes, our orders arrived one by one. Before they appeared, the fresh aroma arrived ahead of them, leaving our mouths watering.
Mon moat ti is similar to Burmese traditional moat hin khar, but cooked in a different style with alternative ingredients, giving it a distinct taste.
"We use fish and put in a lot of banana stems, which are the main ingredient in the Mon style; we don't use chickpeas," she said.
The Mon moat ti serving was generous and sufficient for two; it came with vegetable fritters and fried fishcakes. The soup didn't smell too fishy, and was choc full of fish and banana steams. The flavor was light and fresh and the broth wasn't too oily. It's a tasty dish.
The chicken sapalin htoung is a fried dish and a bit dry; it's a mix of pounded sapalin with chicken and came with its own sauce. It was absolutely delicious. This crispy dish is more like a starter, but Ma Shan Mu said, "We eat it with rice, but sometimes as a lunchtime snack."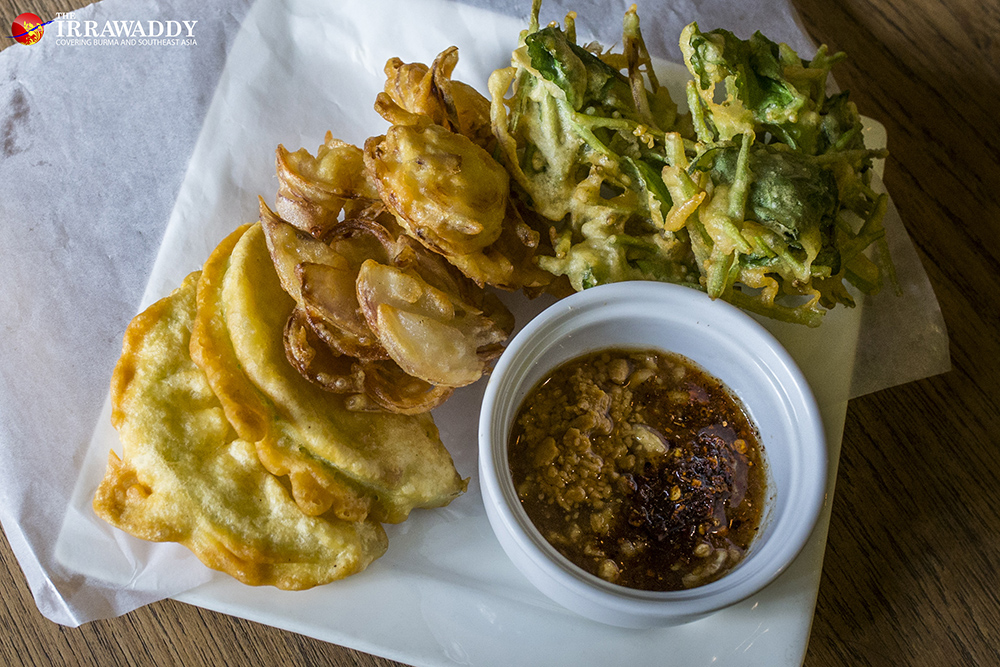 Another highlight was the kyaw sone. The vegetable fritters are deep fried but not oily, and the Mon-style sauce complements it perfectly. The dipping sauce is really the key to this dish—the homemade condiment includes pounded garlic, chickpeas and chili powder.
The Mon homemade soup with prawns was filled with seasonal vegetables. It had a sour taste, and was just spicy enough. The owner said the chefs go easy on the spice for Yangon diners.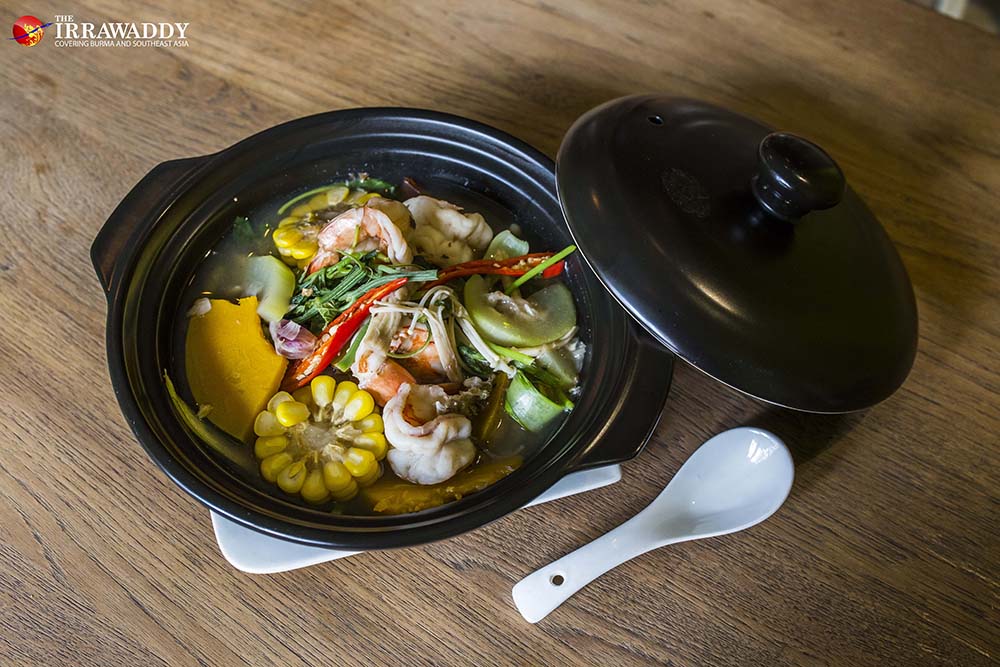 "An important ingredient in Mon cuisine is dried gandaria fruit, which is used in many dishes," Ma Shan Mu explained. "We source it from Mon [State]. Mon-style homemade soup is easy to cook for us [Mon people]. We add many vegetables that are available near us and cook it with meat or prawns."
The prawn roselle rice with fish lemongrass patties is another sour dish. The rice is mixed with fried prawn and roselle leaves and served with the patties. It's slightly sour but really good.
All the food was amazing. The restaurant is clean, quiet and very affordable. The staff was friendly and the service attentive.
Mon cuisine is distinct from Myanmar's other ethnic fare, mainly due to the freshness of its taste and its lack of oiliness. Jana Mon's dishes have a genuine home-cooked appeal. Ma Shan Mu is planning to open a second branch on Kone Myint Yeik Thar Road in Yangon's Mayangone Township.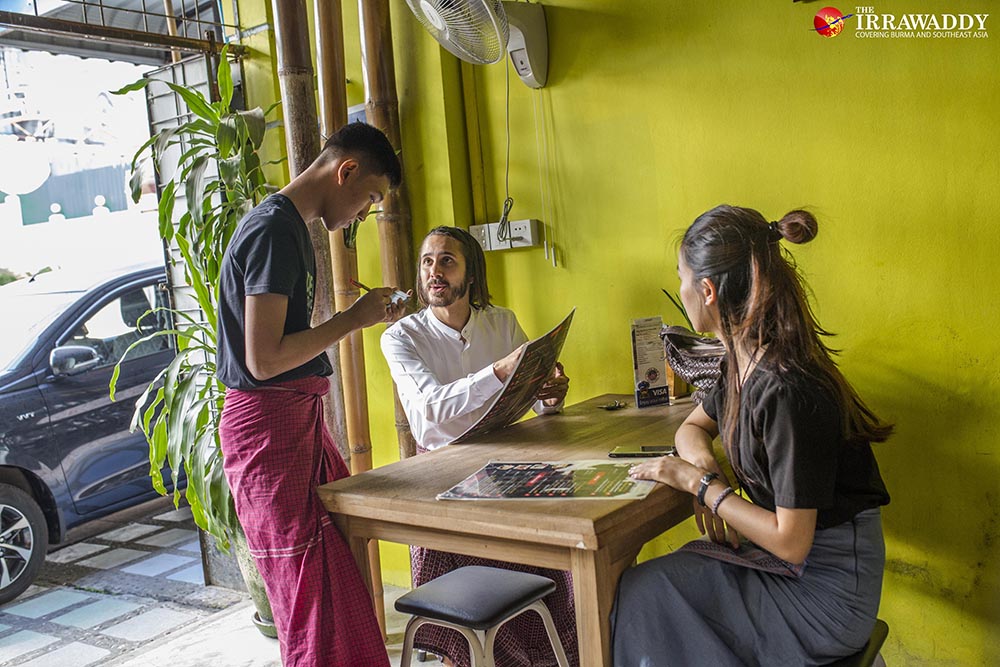 Jana Mon makes for a great lunch spot, and for foodies this place is not to be missed. The restaurant is open from 10 a.m. to 9 p.m. daily.
You may also like these stories:
Mozzarella and Ribs: A Match Made in Heaven at James Cheese Myanmar
Mediterranean in Myanmar: Olea Restaurant Adds New Spanish Delights to Its Menu
Try Buthee For a Village-Style Burmese Lunch