YANGON—In Yangon, the number of new restaurants, bars and coffee shops is increasing daily, and their owners are trying to distinguish themselves with their own themes. One new spot, Quick and Easy, is doing this by offering a fun mix of food and books.
The shop is located on Shan Kone Street in the city's Sanchaung Township. It's easy to find; just look for the large "Q&E" sign out front.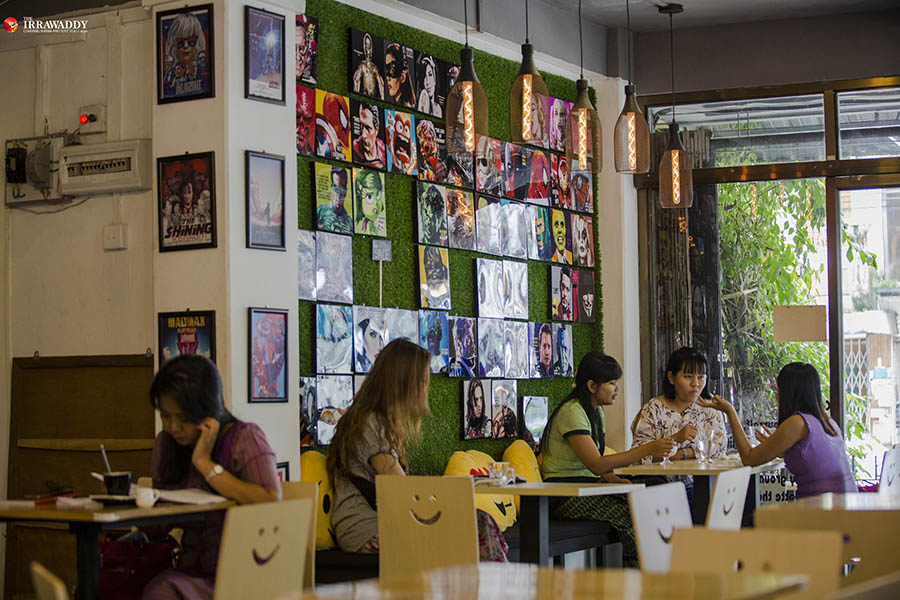 Last week, I visited the shop during the afternoon and a few guests were there. The shop's entrance is decorated with some plants and a few digital art versions of famous movie posters. But what really grabbed my attention were the three big bookshelves.
Q&E was opened by three young men looking to create a place where people can come to discuss books, movies, art and food, said co-founder Nay Thar, a doctor and former program presenter at MRTV-4.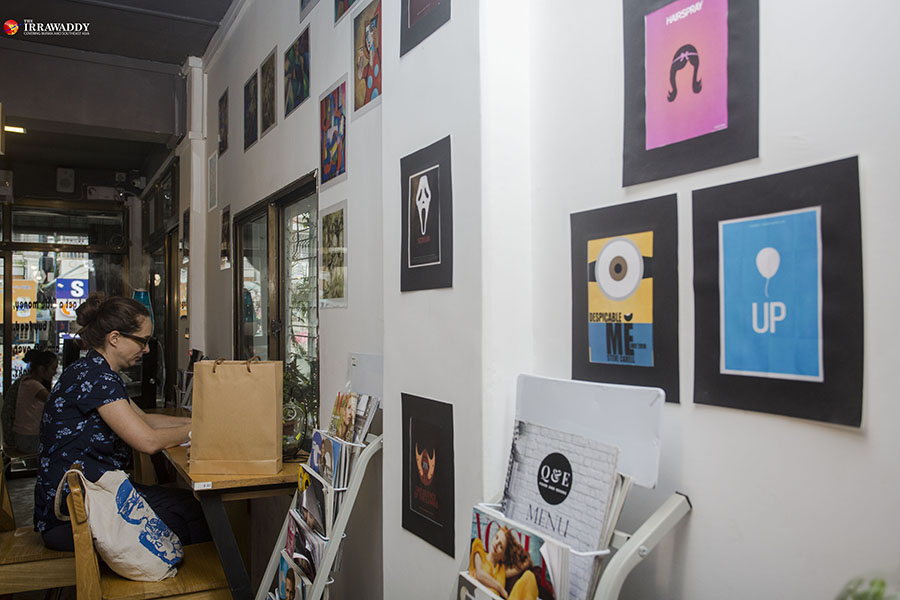 "The shop was opened three months ago. We created it as a place to chill for foodies, bookworms and art lovers, but the main focus is food and books," he said.
He added, "Whether spending time with friends or alone, we hope customers will find great conversation or something else to enjoy while visiting our shop. We have excellent Wi-Fi; some foreigners are constantly searching for shops with decent Wi-Fi for work or just to browse online. We just hope our customers get something worthwhile from visiting."
The décor is a mix of books, art, movie posters and other decorative items and is an Instagram-friendly place to take photos, catering to the popular youth trend.
"Social media is one of the main ways we market ourselves. Some customers visit the shop, take a photo and upload it onto social media. So, word of mouth has spread quickly and the shop has become popular during the past three months," Nay Thar said.
"So, I thank all of our customers."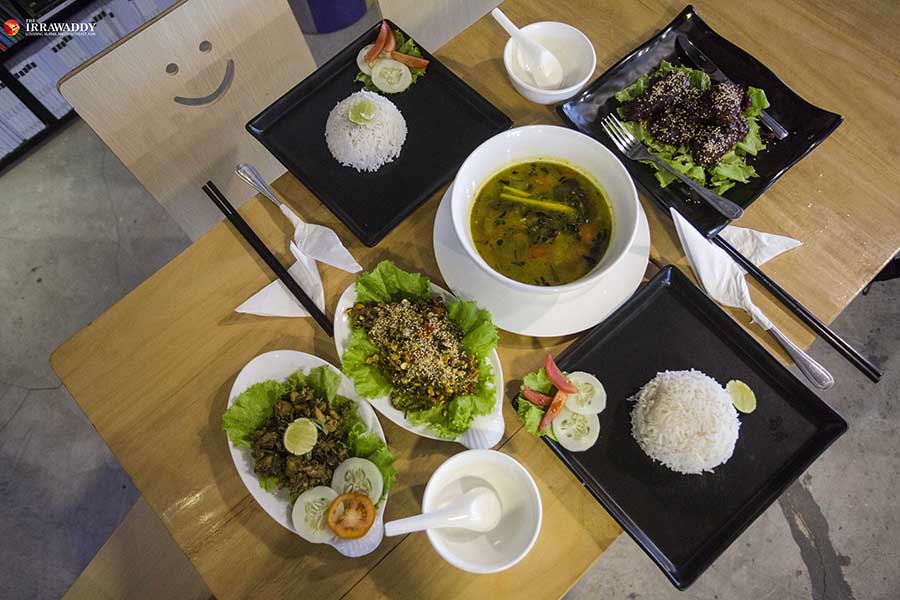 The shop has many quality books both in Myanmar and English, some of them translated, including fiction titles, comic series, books on famous movies and many others. You can also buy the books.
"I want to create a library but I need more books before I can call it that. So, I will collect them first, then I will loan the books out to our regular customers using membership cards or something like that," Nay Thar said.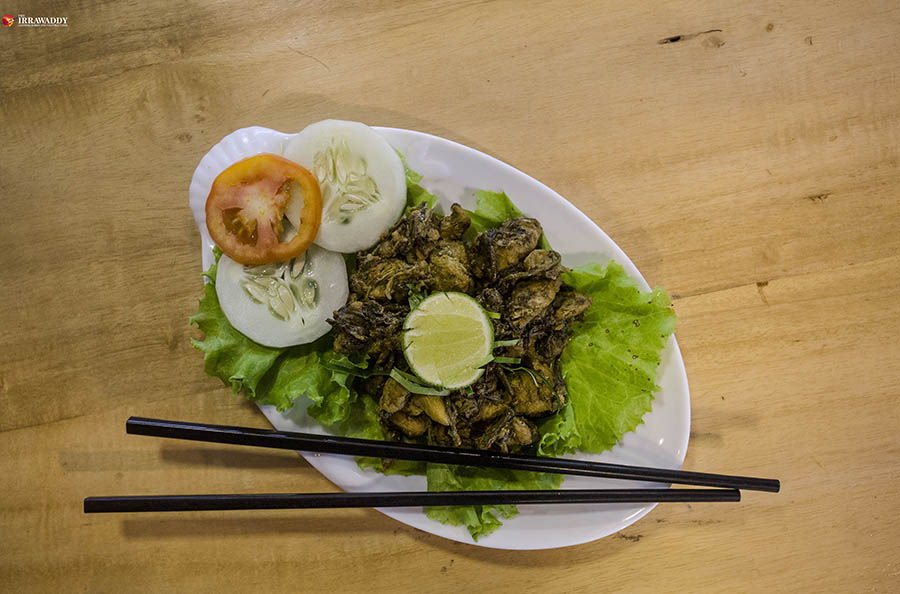 Bookstores have only begun to spring up in Yangon in the past few years, and book rental outlets are few and far between. So the culture of reading is still unfamiliar to many youth, he added.
"Young people love to read; the problem is that bookstores are scarce and no one wants to travel a long way to buy a book. People want something nearby. Our long-term plan is to open branches in different townships," Nay Thar said.
The shop has an extensive food menu including Thai, Chinese and Korean dishes.
"Actually, our initial plan was to offer a few light dishes, in line with our name, but I'm a foodie, so I couldn't help adding more items, including some more elaborate dishes," Nay Thar said.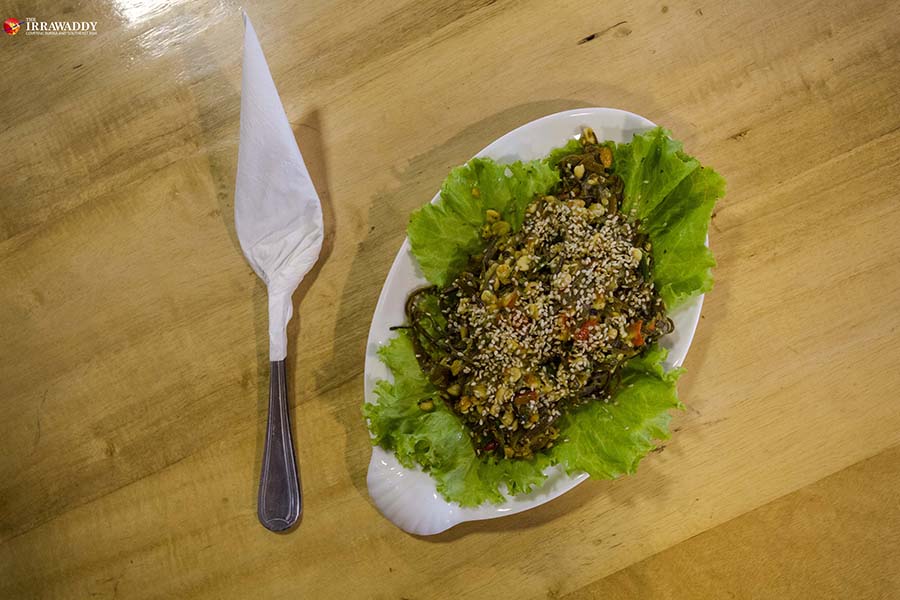 The shop has a Rakhine chef and offers a few dishes from the region. Some of the ingredients are specially ordered from Rakhine State, he said.
The Tea Leaf Chicken Curry (4,500 kyats) features traditional flavors prepared in a new-wave style. The bitter taste of the tea leaves nicely complements the tender, sweet chicken. I loved it and it goes perfectly with rice.
The Arakan-Style Vegetable Salad (2,000 kyats) is a spicy salad with dried trumpet flowers and glass noodles. I can't eat spicy food but this one was really tasty. If you have a taste for hot dishes, I recommend it.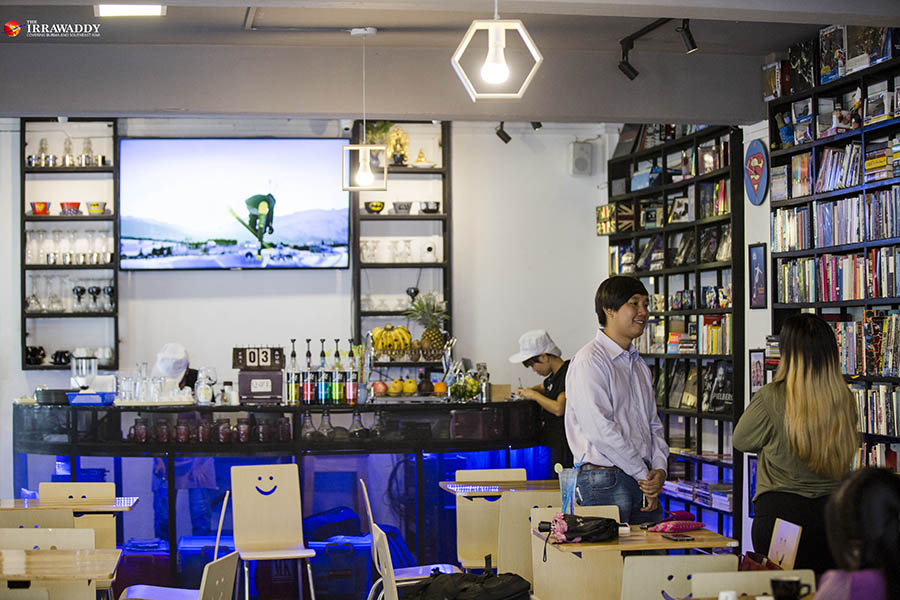 I tried a new item on Q&E's menu that was trending on social media, the Korea Yangnyeom Spicy Chicken (4,500 kyats). It features chicken pieces dipped in tempura powder and cooked with yangnyeom sauce. Despite the name, it's not that spicy, and the flavor is sweet. This one was fine but I would have preferred less yangnyeom sauce.
Dishes cost between 2,000 and 4,500 kyats. Given the great flavors, excellent service and pleasant vibe on offer at Q&E, these are very reasonable prices. They also have inexpensive coffee and soft drinks, so Quick and Easy is a great place to spend some quality time with good food and books.
Nay Thar said the shop reflects his favorite things and hobbies. He tries to communicate with customers in a very personal way and he believes that like-minded people will love it. He said he is still working on creating a place that's chock full of books, movie memorabilia, art, food and a great atmosphere.
"There are many new shops opening in Yangon with a similar theme, but I'm not trying to compete with them. I will focus on providing my customers with the best possible service."