District level Karen National Union (KNU) offices recently called on non-striking government employees working for the regime in KNU-controlled areas to resign.  
The Papun District KNU, in the area where Battalion 5 of the organization's armed wing, the Karen National Liberation Army (KNLA), is based, was the first to issue the notice, followed by Thaton District KNU, where Brigade 1 is based, and Dupalaya District KNU, where Brigade 6 is based. 
Padoh Saw Taw Nee, the KNU's head of foreign affairs, recently talked to The Irrawaddy about why the KNU is asking government employees to resign and what consequences they will face if they refuse to do so. 
The Dupalaya District KNU released a notice on March 17 asking regime employees to resign. Why did the KNU release such a notice? 
It was issued by the Kawkareik Township KNU on March 17. We are pushing to overthrow the military dictatorship, and we can't rely on only one measure. Militarily, we have been fighting them every day. But we also have to target its administrative mechanism. It is collapsing, but it is important to get rid of the entire administrative mechanism if we are to topple the military dictatorship.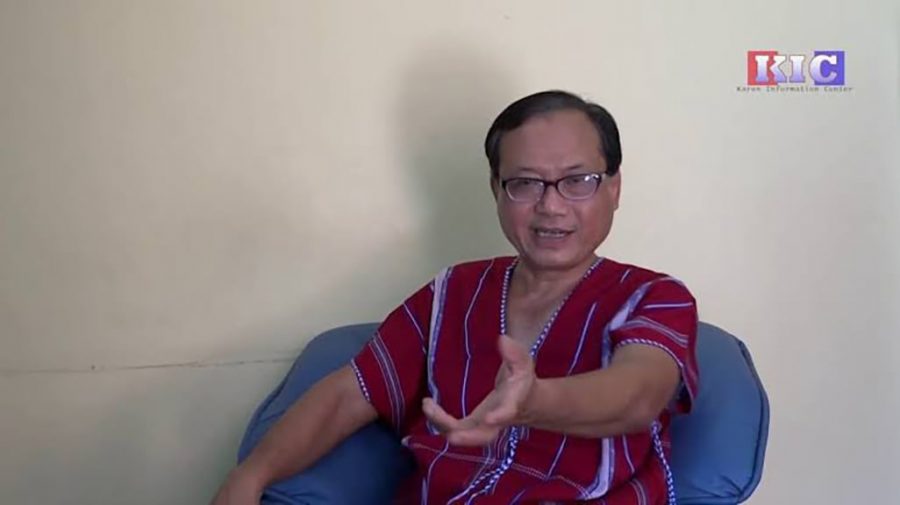 So, the township and district [KNU branches] are taking their own initiative to implement our policy. This is happening in many places [under the KNU's control]. In some places [local KNU offices] may not release notices, but they are also working in a similar way. 
The notice says government employees will face consequences if they fail to follow the order. What does that mean? Will they be targeted militarily?
We don't have plans to go that far. It is up to them; we just made public our policy. They are our brethren and we would like to urge them to do their fair share in ending the military dictatorship. Even if they can do nothing big, their resignation will be a boost to the people. This is the message I want to send to them.  
What impact do you think it will have on the ground? Will it really work?
We can see clearly that the administrative mechanism has been collapsing since the coup. The regime's administration is not functioning, especially in rural areas. And our three districts have officially issued notices, and we can say that it has had an impact. As far as I know, there are no government employees in Papun now. The administrative mechanism has collapsed there and only junta troops are left. Even the family members of junta troops have fled. What I can say is it is becoming clearer that its administrative mechanism is weakening in all our districts, including those that have not issued warnings to non-striking government employees.
What is the situation on the ground in terms of fighting? Do you think the statement of the Dupalaya District KNU will further intensify the fighting in the district? 
Compared to the military situation before the issuing of the notice on March 17, the fighting has not de-escalated in Kawkareik. On March 7, we issued a statement and asked the regime to withdraw their troops from Lay Kay Kaw so that local people could return home. They responded to our request by heavily reinforcing their presence. So, the fighting has continued. 
And the Kawkareik Township KNU asked the government employees to resign, 10 days later. Junta troops did not withdraw [from Lay Kay Kaw] but were looting houses there, and people dare not return to their homes. So, we asked them to withdraw. But they did the opposite and reinforced their presence. So, clashes are happening daily. 
How many people have been displaced by the fighting in Karen State, and what difficulties are they facing now? 
It is difficult to make an estimate because the situation is not stable. For example, in Lay Kay Kaw, we estimate that around 6,000 to 7,000 people have been displaced. The number could be higher. Some are taking shelter at the houses of their relatives, but some are staying in forests and they might have a hard time because of the rain. Nearly 70,000 have been newly displaced [in KNU-controlled areas] since the coup.  
Before the coup, we were a signatory to the ceasefire but there were sporadic clashes between us and the military. So, people could not return to their homes and we could not build infrastructure for them. The combined number of internally displaced people from before and after the coup will be more than 200,000 people in all the seven districts controlled by the KNU.  
The Karen State military regime has formed a negotiation team to prevent fighting in Karen State, and it has invited the KNU to join the team. What is the KNU's response? 
There have been many ceasefire agreements, [as well as a] bilateral and nationwide ceasefire. [The military] does not follow those agreements, which were signed before international dignitaries, and is doing as it pleases. So, my point is the regime is sending heavy reinforcements while talking about a ceasefire. This is why fighting is taking place. It is totally unacceptable. 
Far from a ceasefire, it does not even withdraw its troops. It has stopped none of its various forms of violence against the people, like killing innocent civilians and torching their homes. These things are happening across the country, and we are asking it to stop those things. But it has stopped none. 
Again, we can't just look out for ourselves. We live in the same country. We can't accept their bad habit of ceasing fire only here, and going on the rampage elsewhere in the country. If they want a ceasefire, they should express clearly how they will stop fighting. 
But they keep on sending reinforcements all the time while speaking of a ceasefire. It appears as if we have to keep our finger on the trigger whenever they talk about a ceasefire. The level of trust is that bad. 
My understanding is that we should not observe a ceasefire at this time, in this situation. Our objective is clear—to overthrow the military dictatorship. And we are undertaking all means toward that end. 
You may also like these stories:
Myanmar Junta Troops Kill Villagers; Hold Schoolkids Hostage
Myanmar Democracy Activists Hold Rallies in Support of Ukraine
Ukraine Vows 'No Capitulation' at Talks; Putin Orders Nuclear Alert