Political cartoons have existed in Myanmar since colonial times, but in the early days the artists were mostly British. In the decades immediately before and after independence, two pioneering local cartoonists—first U Ba Gale and later U Ba Gyan—introduced Myanmar newspaper readers to the art form, delighting them with parodies of British colonizers, heroic portrayals of independence figures and satirical critiques of opportunistic local politicians. To mark the 67th anniversary of U Ba Gyan's passing recently, The Irrawaddy revisits this article, first published in 2003, remembering the two artists and their legacy.World War II
During the popular struggle against the British and civil war, two cartoonists entertained and provoked Burmese audiences with their fiesty sketches. A newspaper without a cartoon is like curry without salt—U Hein Sunn, prominent Burmese cartoonist Few people today know that a monkey introduced editorial cartoons to Burma.
In 1912, the British publisher of the Rangoon Times ran a drawing deriding a Burmese woman who attended a party held by Westerners. Credit for the cartoon went to Myauk, which comprised half of the common moniker for Westerners, Myauk Phyu, or white monkey. Readers found out soon enough that the artist was not simian—not that they suspected as much—but a British official posted in Burma.
Not all the British who drew for the Rangoon Times felt the need to conceal their identity. Martin Jones, for instance, became renowned for his realistic depictions of Burmese figures.
When not creating cartoons he served as a high-ranking official in Burma's railway department. In 1918, Jones and several other Britons, including Professor Kenneth Martin Ward, formed the Burma Art Club (BAC) in Rangoon.
Talented young Burmese artists spent many hours at the BAC, learning to draw and paint from the British artists. The list of those schooled at the BAC features Ba Gyan, Hein Sunn, Saya Mya, Ba Zaw, and Ohn Lwin, who all became famous national artists.
The BAC's most famous alumnus is Ba Gale, also known as Shwetalay. He learned from the British in other ways as well. As a young man he subscribed to Punch, a British comic publication founded in 1841. Ba Gale's first published cartoon appeared in a Rangoon college magazine in 1915, when he was 22. Newspaper editors in Rangoon immediately recognized Ba Gale's talent.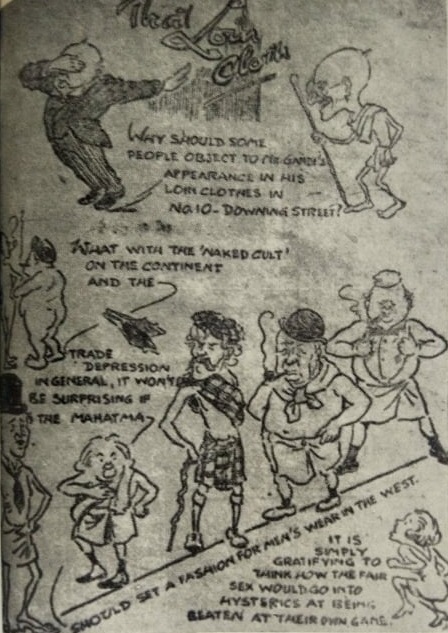 Later the same year, the Rangoon Times ran a Ba Gale piece, making it the first newspaper to publish a Burmese artist's cartoon. Earning 10 to 15 kyat per cartoon, Ba Gale set upon making his living as a cartoonist. In addition to the Rangoon Times, his drawings appeared in Thuriya (The Sun), a paper run by young nationalists.
Local Burmese newspaper owners also snapped up Ba Gale cartoons for their editorial pages. The Rangoon Times praised its contributor in print. "It is recognized by all hands that U Ba Gale's cartoons are excellent," wrote the editor. "Certainly there is nobody who compares with him in Burma today as a pictorial commentator on current events."
Before caricatures became popular among the population, it wasn't easy for Burmese cartoonists to convince conservative Burmese to accept the sketches. Many people unfamiliar with the genre thought the figures looked too much liked goblins, which further detracted from their appeal. To gain popular acceptance, Ba Gale's cartoons were often accompanied by long captions or described poetically by editors. During British rule, captions often appeared in English.
Respected Burmese literary figure Sayagyi Thakin Kodaw Hmaing edited The Sun and wrote many captions for Ba Gale, contributing to the public's appreciation of the cartoonist who is credited for helping introduce editorial cartoons to the Burmese. Ba Gale routinely parodied the British rulers of Burma, combining his artistic talent with wit and intelligence to challenge the colonial overlords.
One of his cartoons, "That Loin Cloth," was reprinted in London's World Review and afforded Ba Gale international exposure. Mahatama Gandhi's 1933 visit to London was the subject of the piece. Newspapers in London and Rangoon focused primarily on the Indian's loincloth when reporting on his trip to Downing Street. But Ba Gale saw the irony and extreme insincerity of the episode. In his cartoon, he ridiculed the double standards the "naked cult" practiced in Western countries.
Ba Gale lampooned Burmese politicians as well. Those he characterized as opportunists or "seat-grabbers" at Parliament were a favorite target. The cartoons illustrated Ba Gale's belief that independence, not personal gain, should be the goal. Native Burmese were not immune from Ba Gale's ridicule either.
When some protested the British habit of wearing shoes inside temples, Ba Gale sketched a parody of those who helped carry their British masters on their backs to and from the temple. Portraying the natives as sycophants of the imperialists, the cartoon became one of the masterworks of Burmese art history.
Critics say that in the early cartoon era, the objectives of many cartoonists were vague. Though their cartoons criticized the British for wearing shoes in the temple and jeered Indian businessmen for controlling the economy, rarely did the artists directly attack home rule or call for independence. But few doubted where Ba Gale's sympathy's lied. When "Galon" [Garuda bird of Hindu mythology] Saya San led a peasant uprising in 1930, Ba Gale portrayed him as a hero.
His famous Galon cartoon was published in Bandoola Journal in 1933, and drew the attention of the British officials who asked the magazine's editors not to publish similar cartoons. Ignoring the threat of censorship, Ba Gale drew a new Galon cartoon. This time he ridiculed a famous Burmese Sayadaw (abbot) who had urged Saya San to surrender to the British.
In the cartoon the British viceroy is depicted pulling strings attached to the abbot. The Sayadaw was upset by the cartoon, but many were amused.
The abbot immediately asked Ba Gale for an apology, but got none from the father of Burmese cartoonists. Soon thereafter, Saya San was apprehended and hanged by the British. Ludu Daw Amar, Burma's respected literature laureate, wrote that some people would be surprised at the freedom that Ba Gale and other cartoonists enjoyed under the British rule.
But, she added, officials always kept a suspicious eye on Ba Glae. Still, Ba Gale never spent time in jail for his drawings. Compared to the current military rulers in Burma, the British were quite lenient towards artists who challenged their authority.
Ba Gale died during World War II after earning fame as a cartoonist as well as a movie actor and director. His vacancy was filled by Ba Gyan, a colleague who also became a household name in Burma. Ba Gyan's artistic roots can be traced back to the BAC and Martin Jones. Jones was quick to spot Ba Gyan's talent, humor and desire to entertain.
In addition to a successful career as an editorial cartoonist, Ba Gyan illustrated many children's books, took photographs professionally and directed Burma's first animated film. Ba Gyan also influenced his more famous contemporary, according to critics.
They write that Ba Gale's hard-hitting cartoons challenging British rule softened a bit after Ba Gyan rose in popularity. While some critics think Ba Gyan was mild, others say he was tough as nails and quietly influential. Both government figures, such as Prime Minister U Nu, and insurgents, including communist leader Than Tun, felt the sting of Ba Gyan's biting sarcasm. Nontheless, when Burma faced civil war and political turmoil in the 1950s, U Nu asked Ba Gyan to come see him. Nu's Anti-Fascist People's Freedom League government was in crisis, controlling only the capital and a few outlying areas.
The PM recognized Ba Gyan's influence and wanted him to draw cartoons that exhibited peace and unity. Ba Gyan replied that he was too busy to make the meeting. Some cartoons expressing the themes U Nu desired, however, did materialize after the invitation.
After independence, both Ba Gyan and Ba Gale were given the highest honor for national artists. And though they passed away many decades ago, their names still live on, as they've gained universal recognition as the fathers of cartooning in Burma.
You may also like these stories:
The Forgotten General of Burma's Army
On Union Day, Views on Aung San