A local artist is offering her customers a taste of luxury by mixing traditional and contemporary production processes to create hand-woven cotton clothing designed with a unique artistic flair.
Amara Khit, which launched three years ago, is a local luxury cotton brand run by a woman named Shwe Thiri Khit that has become popular with women in the 35 to 40 age bracket.
"I'm a married woman and after delivering my first child I got depressed thinking my life would be spent doing sundry tasks related to raising the kid and taking care of the household. A couple of months later, I started trying to do something that would earn me my own income and I thought about every business that is based on creativity. Shortly after, I started doing Amara Khit," Shwe Thiri Khit recalls".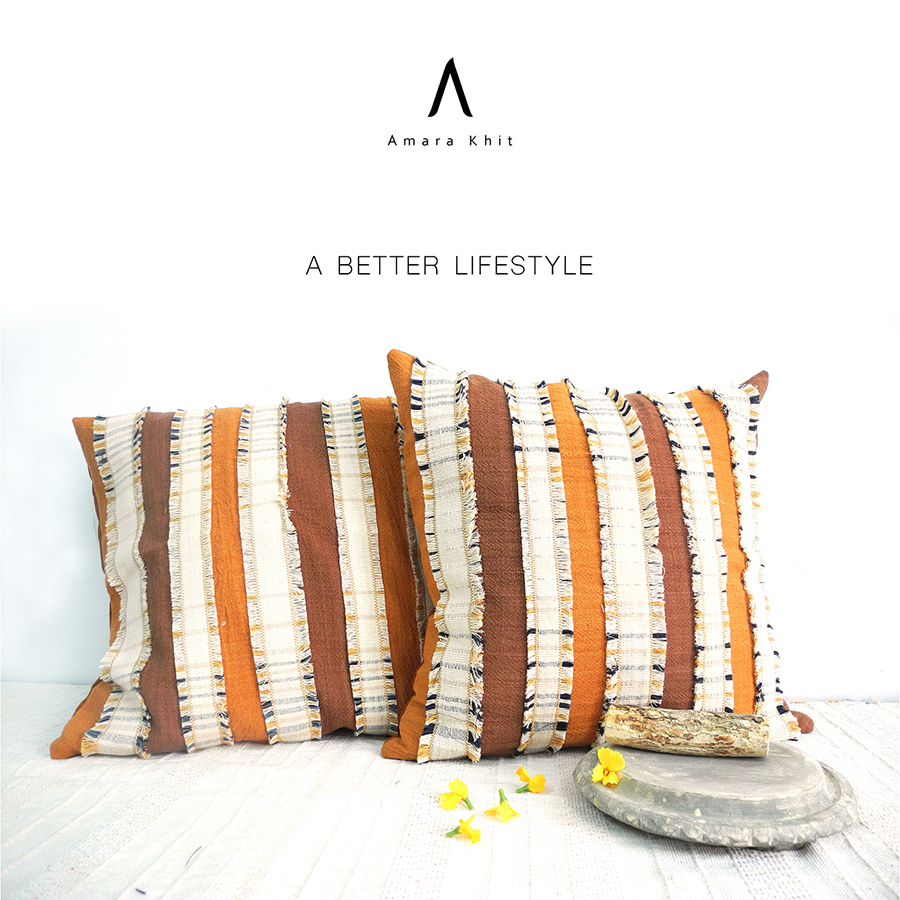 Since the beginning, she wanted the brand's distinguishing feature to be the mix of traditional and temporary designs infused with her keywords "timeless", "simplicity" and the "feel of luxury". At first she didn't start with cotton, but another fabric from Shan State.
"Then, I reached out to weavers in Amarapura and had a chance to learn the cotton hand-weaving process and its advantages and disadvantages. Then, I changed my brand to follow the concept of 'Luxury Cotton'," she said.
All of the clothing designed for Amara Khit is based on Shwe Thiri Khit's own drawings and creative ideas.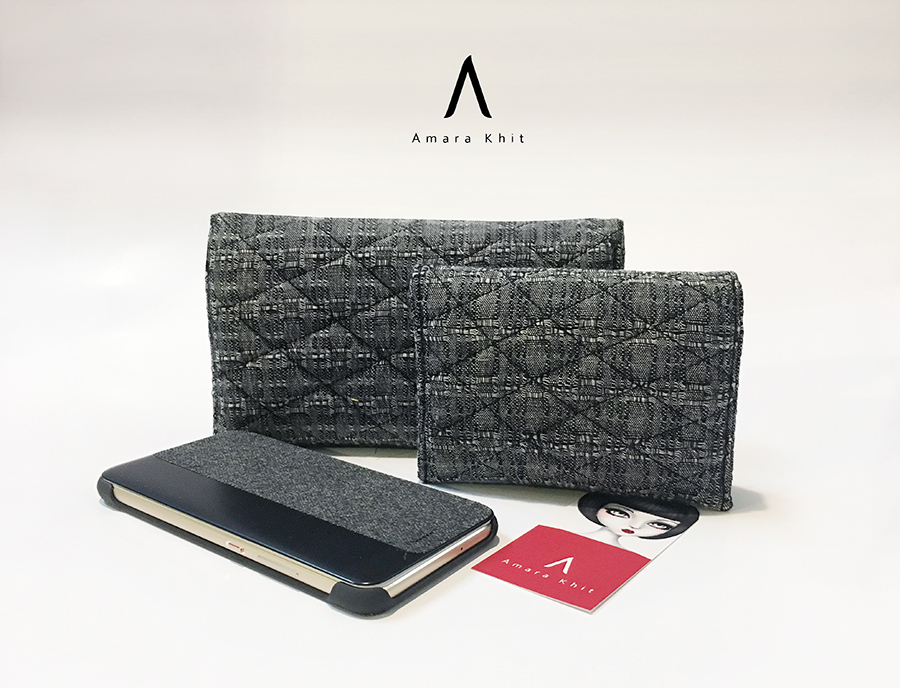 "Painting is my hobby and I have been drawing since I was young. That's why I like all things that include a creative element. I have my own characters and my hobby helps me a lot while doing Amara Khit," she said.
Shwe Thiri Khit said she changed to the 'Luxury Cotton' concept because of Myanmar's mostly hot weather. "Most of the days are sunny and people find it hard to choose what to wear; that's the one problem we all face in daily life. People want to wear clothes that are simple and really light but that are still stylish," she said.
Furthermore, she said, local people don't have a high opinion of cotton clothes because they think it isn't colorful, that it looks like old clothes, and yet is still expensive. "I want to explain that the cotton is expensive because it comes from hand-weaving and the colors are dyed with natural plants. Once they wear the cotton clothes, I hope they will change their minds about cotton."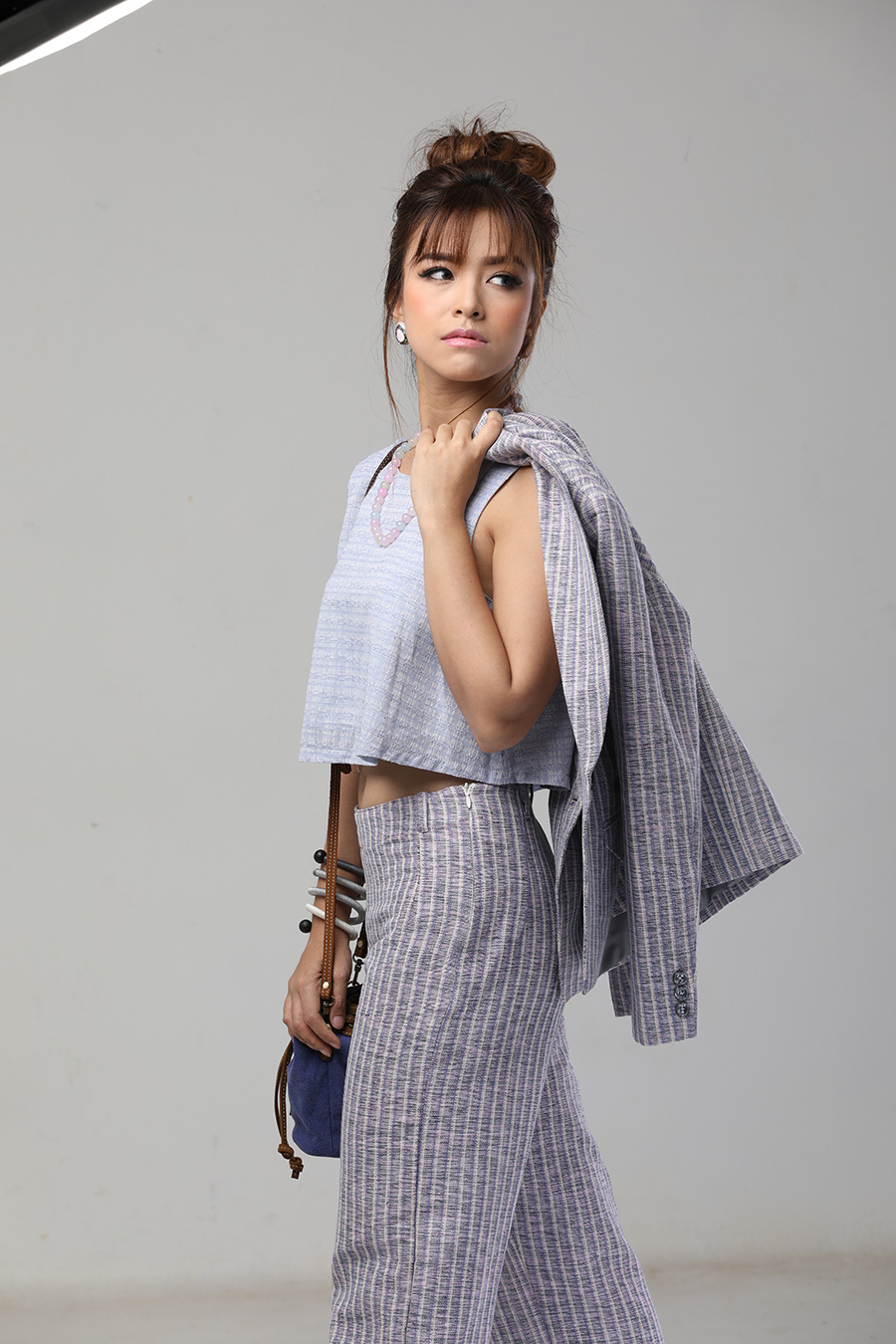 Shwe Thiri Khit herself likes to wear cotton blouses and dresses as her day-to-day fashion choice and she believes that cotton helps keep the skin healthy.
"Skin is a layer that also breathes. The nature of cotton is good for allowing air in and out. So, when you are wearing cotton clothes the skin will be able to breathe."
The cotton clothing concept actually started with home decorative items.
"It was because those small pillows used in furniture are easy to make and don't need to be washed frequently. The cotton is easy to shrink after washing. I was doing cotton furniture items about two years ago and trying to get familiar with cotton's nature. Then, I started making the dresses, blouses, purses, bags and scarves," Shwe Thiri Khit said.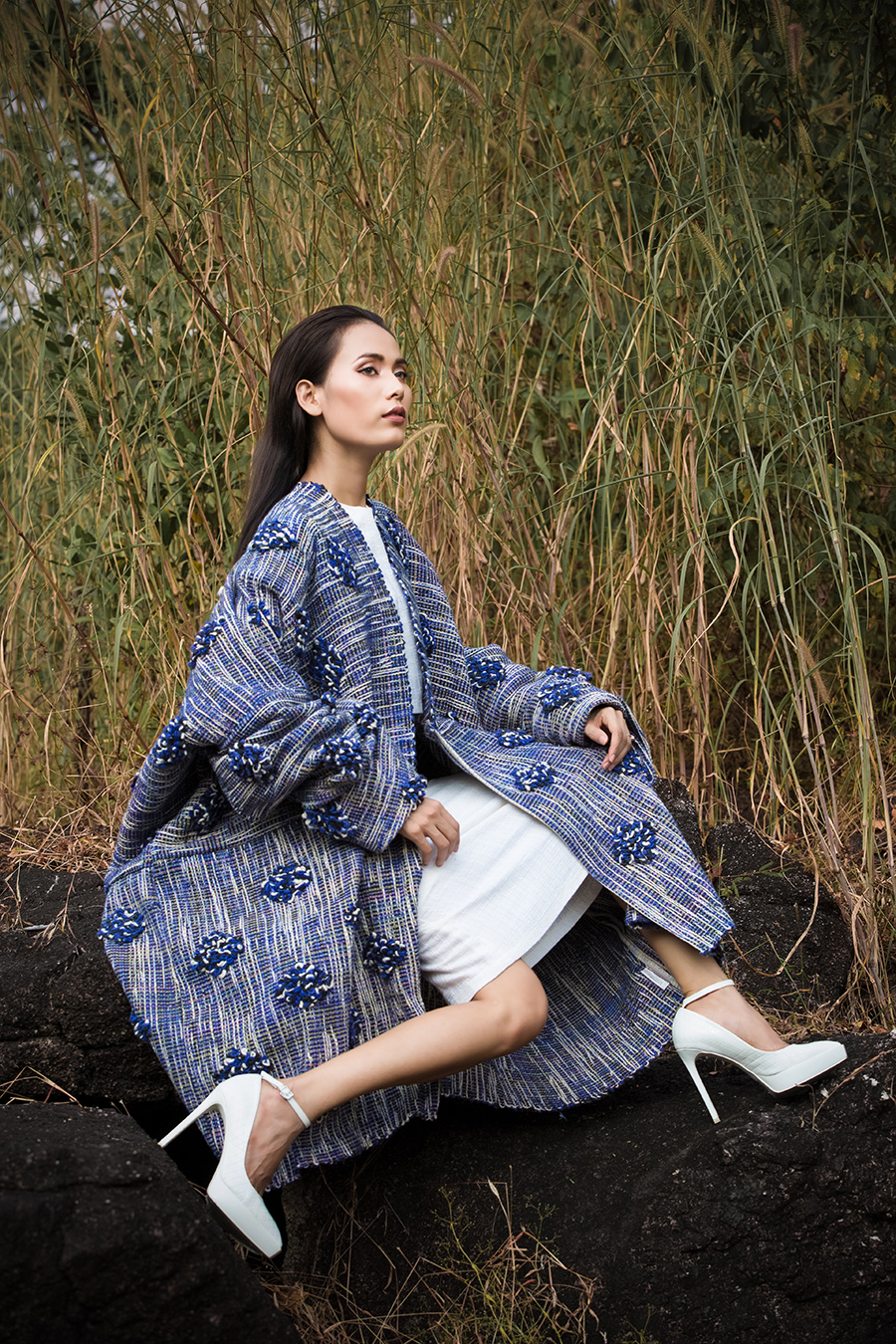 Amara Khit clothing can be worn at any time because the designs are simple, classic, elegant and suitable for any of the city's weather patterns. Shwe Thiri Khit promises that her customers will feel comfortable and luxurious when they are wearing it.
The brand uses both hand-woven and machine-spun cotton but most of the items are made with the hand-woven variety.
"The look between hand-woven and machine-produced cotton is different. We would also have to order a lot of cotton if we ordered it from the machine weavers, as they don't produce in small quantities. Hand weaving, however, can produce cotton in small quantities and there's only limited amounts of it. So, the hand-made products feel more special and unique. But the production system is in line with the customers' request and the prices are different for each item," she said.
She added that hand-weaving also allows her more opportunities to be creative in the designs of the products.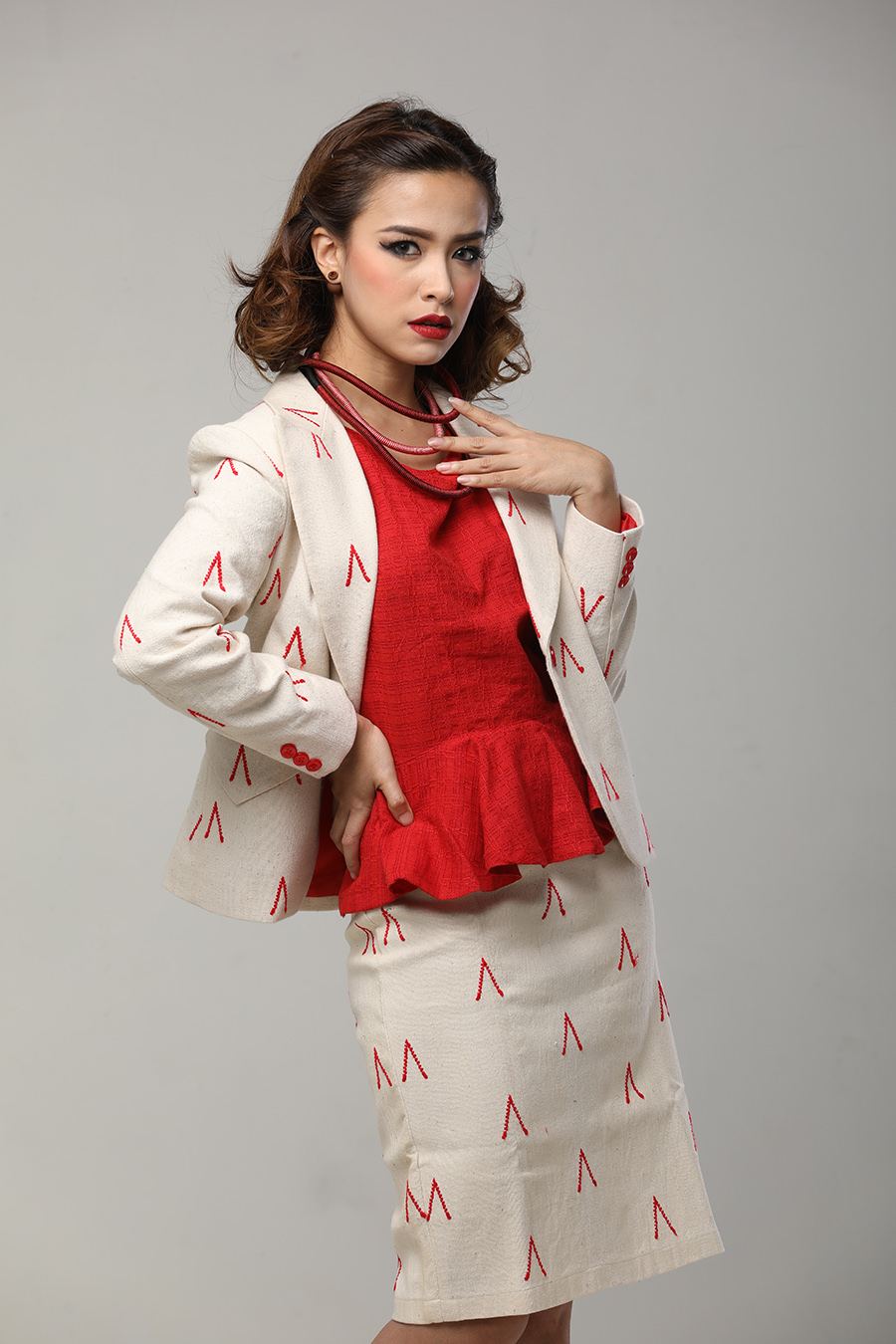 People go with the easy way and machine-weaving is more trendy than hand-weaving, she says. But she is determined to see the local hand-weaving tradition survive and wants to help those businesses by using their goods.
Most of the cotton suppliers for the Amara Khit brand are based in Amarapura near Mandalay and she collects the fabric from a range of suppliers.
"Sometimes, I order what I want and sometimes we produce a new fabric design together. The problem we always face is when we launch a new design that people love and that collection sells out and we can't produce the same item again. Once we finish the weaving on the loom, it's all gone and we have to start from the beginning. So, it can't be the same as before and we can't produce great quantities for one design, it's limited," she said.
As a result, when she launches a new collection or design, the quantity is limited and expensive. That fact makes her brand unique and a luxury item.
In the beginning, Shwe Thiri Khit had a plan to open showrooms in shopping malls but she changed her mind and decided to focus more on production.
"I just want to use the money on the production process and want to do more product development. That's why Amara Khit is still an online clothing brand (on Facebook) and why I have fitting rooms. If customers want to see the products, they can come to my fitting room and they can choose whatever they like," she said, referring to her business space at Bahosi Housing in Yangon's Lanmadaw Township.
Once every three months, Amara Khit organizes a sales event at a local gallery with her own customers. Later, she is planning to launch different collections based on the seasons, such as summer and winter collection.