RANGOON — As he waits impatiently for his time in custody to end, the first thing 16-year-old Zaw Thein Htike does every morning is count the days.
There are almost four hundred of them left.
"Aug. 1, 2018—that's my release date," he says, his words tumbling out all in a rush; there is no danger that he will forget the date fourteen months from now when he is due to leave the Hnget Aw San Youth Rehabilitation Center in Rangoon's Kawhmu Township, commonly known as the "children's prison."
One impulsive mistake less than a year ago changed the boy's life forever.
It was around 2 a.m. when his cousin came calling and asked him to come out. As the pair rambled the streets, the older boy revealed a plan to steal a motorbike. The pair would split the cash. "I was swayed by the idea of the pocket money he promised to share," said Zaw Thein Htike.
The boys soon found a bike to take, but the police were quick too. As they approached, the older boy got away while Zaw Thein Htike was caught.
A court sentenced him to two years in a center that's officially meant to equip him with the tools he needs to start a new life when he leaves.
But that's going to be a challenge.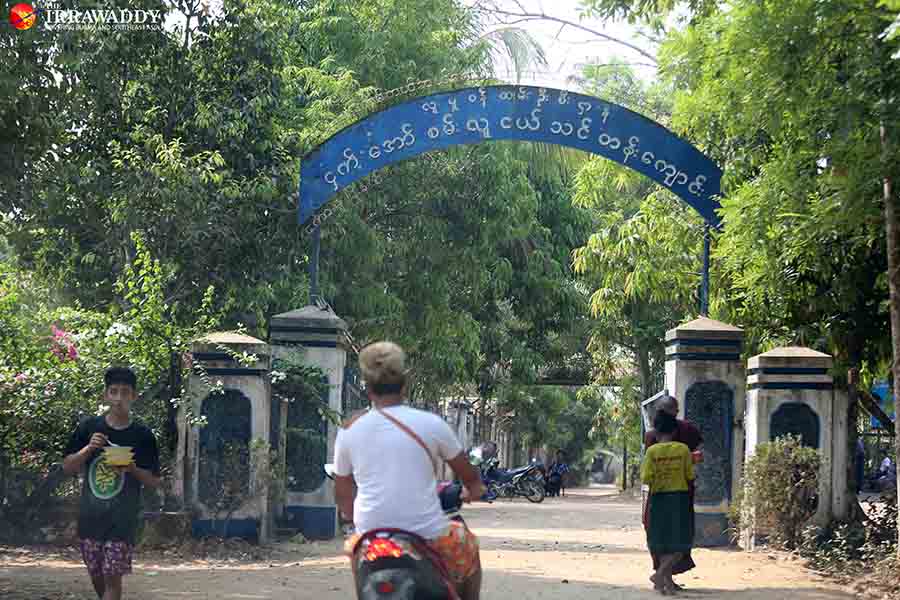 Children at Risk
Burma's 1993 Child Law states that children under the age of 16 at the time of a conviction and those under 18 years old who need protection (including drug addicts, orphans, and those living on the streets) should be sent to one of 10 youth rehabilitation centers run by the Ministry of Social Welfare, Relief and Resettlement.
Three centers are for girls, four are for youths who need protection, and only the remaining three accept young males convicted of crimes.
Hnget Aw San is the largest with around 460 juveniles, while a center in Mandalay has fewer than 300 young people and the smallest in Moulmein (Mawlamyine) has around 100, according to the Kawhmu center's governor U Kyaw Oo, who is also assistant director at the department of social welfare under the Ministry of Social Welfare, Relief and Resettlement
Around 360 youths at Hnget Aw San have been convicted of a crime, while the others are former street children.
All the youths are subject to the same stated broad goals.
"We educate the boys in morals, and we aim to train them to be ready for when they go back into the community," said U Kyaw Oo.
Most of the young offenders were charged with theft, he said.  Others were convicted of violent behavior, while just a few were sentenced under murder or drug charges.
Snatching or pick-pocketing mobile phones on city streets accounted for the sentences of more than 100 boys, he said.
"At age 14 or 15, they want to own a phone. Their parents are poor and can't afford one. So the boys steal.''
Phone theft convictions typically result in sentences of between two months and two years.
"They just don't have knowledge," said U Kyaw Oo. "It's clear when you look at the case load. Children who arrive here come from poor families, they've dropped out of school, and they've fallen into bad company."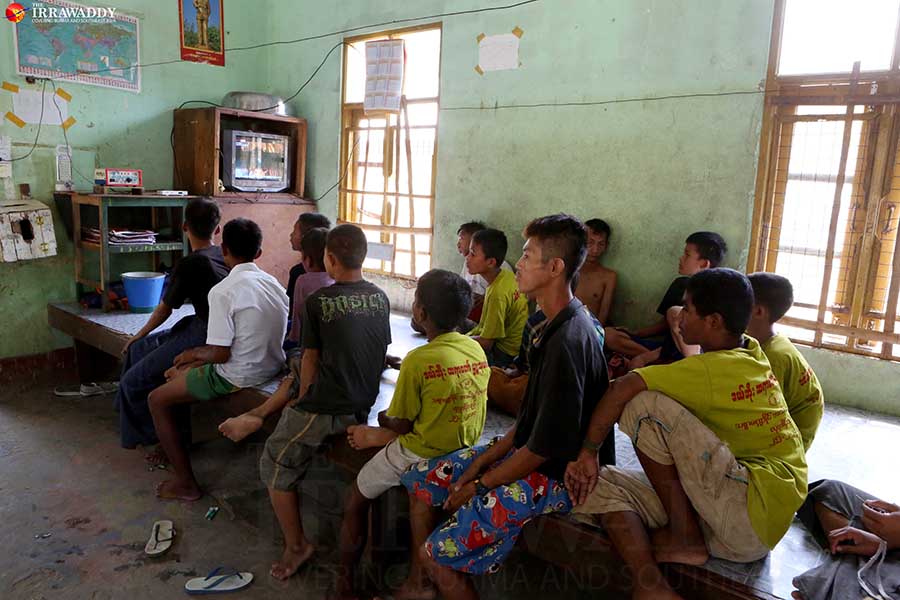 Life in an Institution
Juvenile centers were first opened in 1973 under the Ministry of Social Welfare, Relief and Resettlement.
Prior to this, youth offenders were sent to prison-like correctional facilities under the Ministry of Home Affairs, where conditions were reportedly very harsh.
Conditions were once very tough at the Kawhmu center, too, according to Ko Chit Ko Linn, the supervisor of a mental health support program run by the Assistance Association for Political Prisoners (AAPP). Hnget Aw San was "notorious" for pushing children into hard labor and for beatings, he said.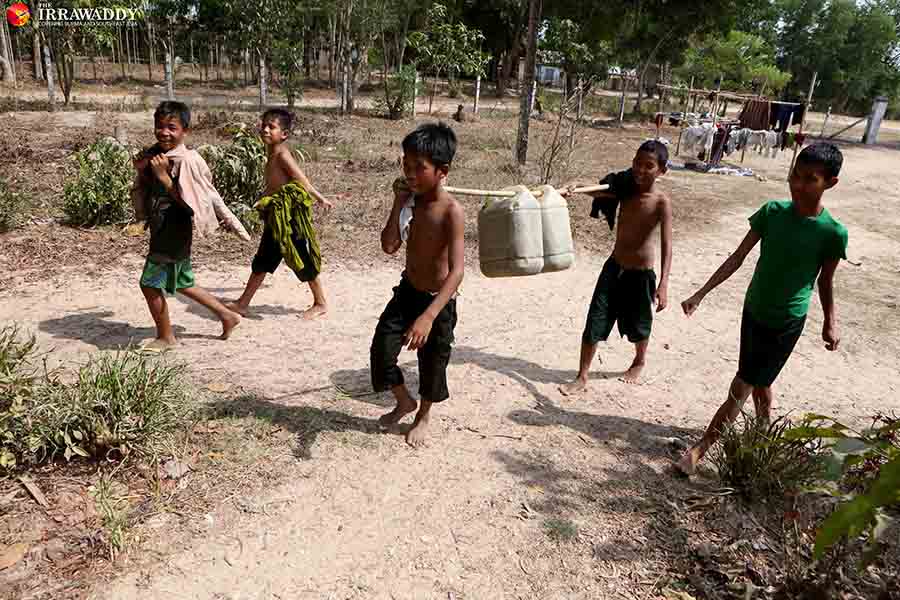 These days, the gates are open at the 36-acre complex. There are no high fences surrounding the dormitories that each house some 80-100 boys.
The boys are not permitted to leave, by law, but they are not under lock and key.
Until recently, the youths usually had fried rice for breakfast, dhal and fish paste for lunch, and some sort of meat for dinner.
In April, the official daily food allowance for each youth increased from 432 kyats to 1000 kyats as a result of a government increase, and the boys now eat meat twice a day.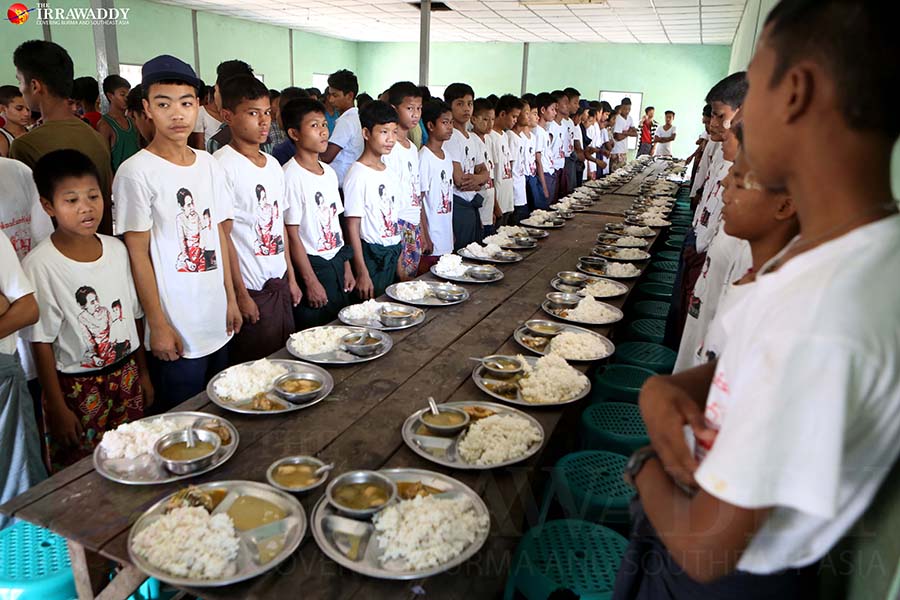 It's an improvement, but the more ambitious goal of achieving effective rehabilitation and a smooth reintegration into society for the young people is still some distance off.
Most of the boys suffer from anxiety about what the future will hold, said Ko Chit Ko Linn.
"They worry about how the outside world will view them after they are released. How will they be treated? Will their families love them as before?"
The AAPP started a counseling program for 12 boys aged around 18 years in March, aimed at helping the boys achieve emotional stability and a positive outlook.
Burma's youth rehabilitation centers are also meant to provide youth who were previously attending school with the option of continuing their educations.
Providing vocational training is the stated main priority for the centers. At the Kawhmu center, vocational training classes in carpentry, masonry, tailoring, electronics, and hair dressing are meant to be on the menu.
But lately only about two vocational training programs out of a hoped-for 10 have been running, as some have stalled due to a lack of resources for equipment, training tools and trainers, U Kyaw Oo admitted.
"We are still weak in vocational training. We can't offer it all the time," he said.
The current offerings are just not sufficient to meet the boys' needs, Ko Chit Ko Linn said.
"I really want them to learn more solid skills, so they're not forced to reoffend when they leave."
Similar concerns were expressed by Ko Zaw Zaw, a socially-conscious librarian who has opened free community libraries in Rangoon, Mandalay and Irrawaddy divisions and who visited the center last year to give the boys a motivational talk.
Reoffending is still an issue, he said. The boys are taught moral principles but what they really need are strong training programs that gave them solid skills to pursue a decent occupation.
That's been difficult as a result of the decades-long chronic funding shortages.
Hnget Aw San has just 31 social workers while 47 are needed to take care of the almost 500 juveniles, U Kyaw Oo said. The social workers have also had to pitch in and try and do some of the vocational training, he added.
Despite the challenges, the center gave about 200 children some training last year, according to U Kyaw Oo.
Plans are in motion now for better provision through collaborations with the ministries of education and health and sports as well as other government and non-governmental institutions, the governor said.
Mobile teams supported by the education and industry ministries and others will teach the boys skills in carpentry, masonry, machine working and other trades this year, he said.
The promise was echoed by U Win Myat Aye, minister of Social Welfare, Relief and Resettlement on a visit to the center last Saturday.
Uncertain Futures
The new options can't come too soon for Zaw Thein Htike.
He told The Irrawaddy that he had learnt a little bricklaying and motor cycle maintenance over his eight months at the center.
But the trainings so far didn't seem to have made much of an impression.
"I think I will just become a motorcycle taxi driver after I'm released," he said.
"I don't dream of becoming a shop owner or a doctor—all that became impossible after I dropped out of school."
But boys at the center can turn their lives around, U Kyaw Oo is keen to say. He tells the story of former center resident Thein Soe, who went on to become a traditional Burmese boxing champion and a member of the "White New Blood" Burmese boxing club.
Thein Soe visits the center every now and again to encourage the boys.
"We only know about the children who had close relationships with us, unfortunately. It is difficult to contact them after they are released as we don't have follow-up monitoring programs. It would be great if we did," he said.
Boys who return to troubled families and tough surroundings are more likely to return to a life of crime, he said. One possibly good thing, he added—only a very few boys have returned to the center after their release.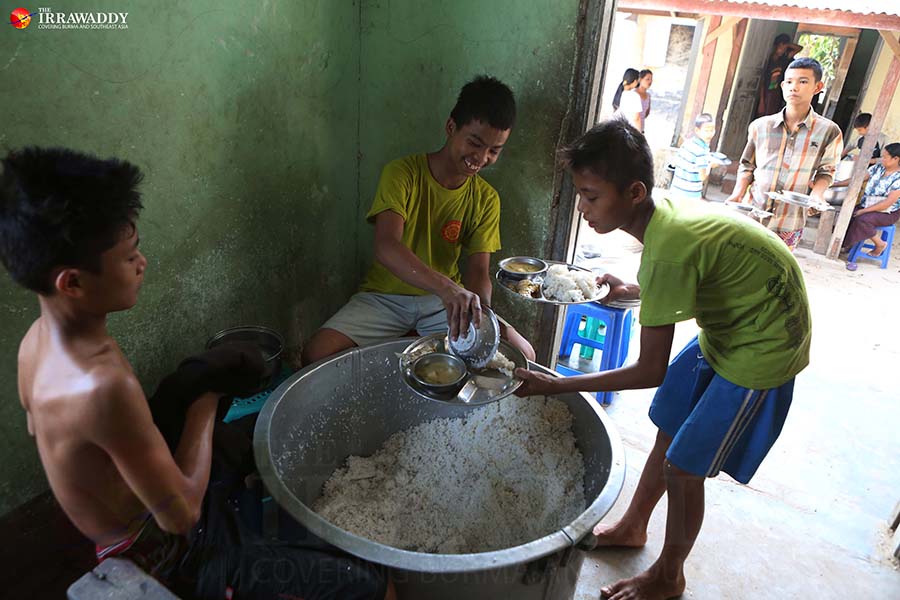 The issue of juveniles who lose their way is one that concerns everyone, says well-known writer and philanthropist Daw Than Myint Aung who also serves as a member of Yangon City Development Committee.
If children grow up in a good environment—in stable families, with good education and health care services and in a society with the rule of law—they won't find themselves in contact with the juvenile justice system, she said.
"We need a society which will embrace these kids. If we neglect them, they will fall back into crime."