Monday was just another busy day for most of us, but for a group of youths excitedly clutching their smartphones, with earphones jammed into their ears, it was a special day as they waited to see "Micro", the second solo exhibition of works by local visual artist and punk rocker Kyar Pauk.
The exhibition started July 1 and runs through July 7 at the We Creation gallery on the fifth floor of the Yangon Book Plaza.
"Micro means 'very small'. But how small is small? How big is too big? Although the exhibition title is 'Micro', the paintings were painted on large canvases—but they are still small from another point of view. People are always scaling things up or down according to their priorities and viewpoints. That's what I wanted to say [through the paintings]," Kyar Pauk told The Irrawaddy on the first day of the exhibition.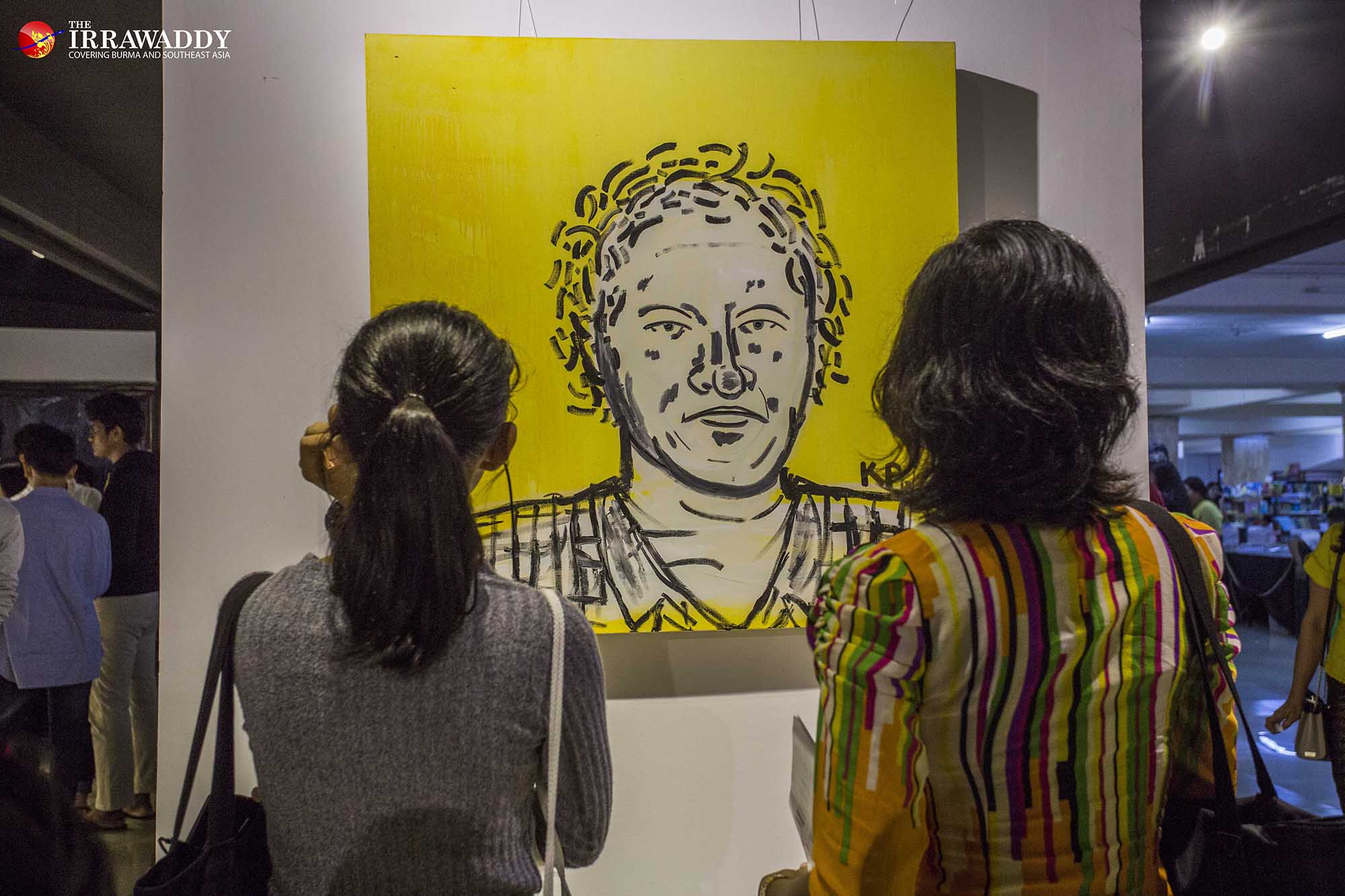 But the artworks on display are more than just paintings. Each has its own QR code that links to a specific musical track—hence the earphones and the fact that visitors could be seen standing in front of the paintings with smartphone in hand. Next to each painting was a description by the artist.
"I didn't start painting with the intention of combining these two forms of art—music and painting. After choosing to paint on big canvases, I decided that since the paintings are so big, people need more time to enjoy them. Then, I thought they might appreciate them better if they were listening to background music," Kyar Pauk said. "If they want to listen to other music tracks, that's OK. I just want to share the feelings I was experiencing when I made all these paintings. All of the songs influenced me at that time."
Kyar Pauk says he's undecided on whether the combination of two art forms works. But either way, he believes the exhibition delivers a new experience to his fans and gallery visitors.
The exhibition of 10 acrylic paintings comes more than a year after Kyar Pauk's first solo exhibition, "Outelligence", which was held in March 2018.
Eight of the 10 paintings that comprise "Micro" are accompanied by instrumental (or largely instrumental) tracks by artists including Pink Floyd, Skrillex, The Prodigy, Radiohead, Lanks and others.
"Instrumental music can communicate with people. It has a message, but it's an abstract form of expression. Paintings and other art works can't explicitly state a certain message or tell a person what to feel. Everyone has the right to feel freely," Kyar Pauk said.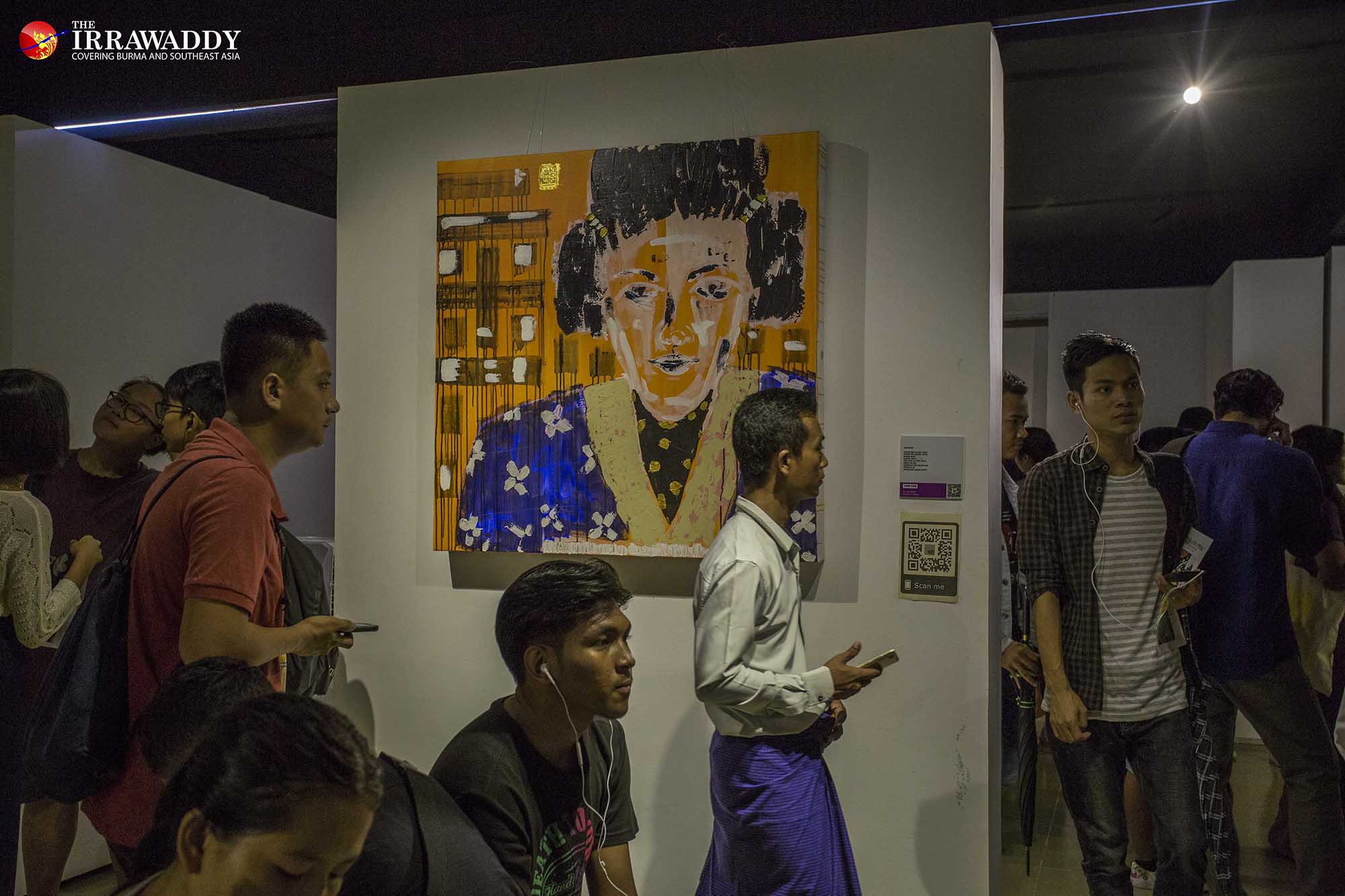 One of my favorite combinations was the painting "Red", backed with the song "Stronger Than" by Lanks. The painting resembles a maze and the underrated melodic track by Lanks took me to a place somewhere in that maze—that's what I felt while looking at the painting and listening to the track.
Despite the title, the painting was rendered in a blue color. The artist's accompanying description reads: "Things aren't always what they seem. Some things are totally different from whatever we think we see. Sometimes it's red. Other times it's not. Sometimes it's Babyspice from the '90s. Sometimes it's just your grandma. I mean, who knows? I was born on a Friday and this painting is red."
Another standout work was "Cold". The painting depicts a stern Japanese warrior, but the background track made me smile: It was "Harajuku Girls" by Gwen Stefani—a choice that I'm sure will surprise many visitors familiar with the punk rock star's own musical output.
"With that one I was just being sarcastic. If you consider the 10 [background] tracks as an album, the other tracks by Pink Floyd and Radiohead etc. have a heavy feel. So this one by Gwen was like a fun track," Kyar Pauk said.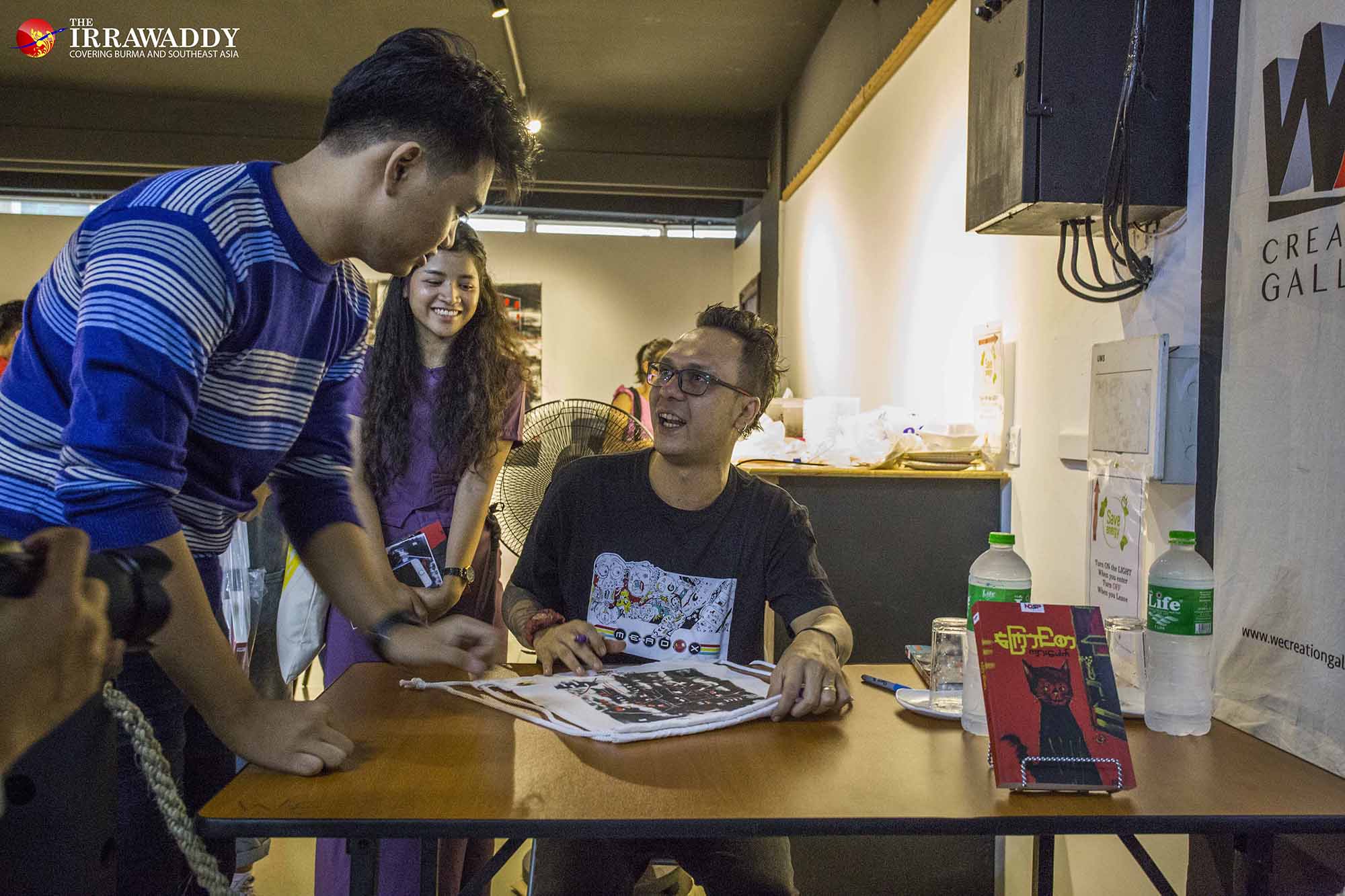 Most of the background songs are lo-fi, hypnotic tracks. Though Kyar Pauk himself is known for making punk music, the tracks featured in the exhibition spanned many genres including indie, pop, rock, hard trap and electronic dance music.
The style and concept of "Micro" represent a total departure from the artist's previous exhibition.
"Never repeat yourself. The things that influence me are always changing. So my moods are always changing and my art does the same," the artist said.
On an earlier occasion, Kyar Pauk once said he liked painting because it offers an escape from reality—and this feeling hasn't changed. "You can see through my paintings whether I am escaping from reality or not. For me, the enjoyment is still in the act of painting. I like the feeling of being able to freely create something new; of doing whatever I want. And I love to watch people enjoying and being curious about the things that I do," he said.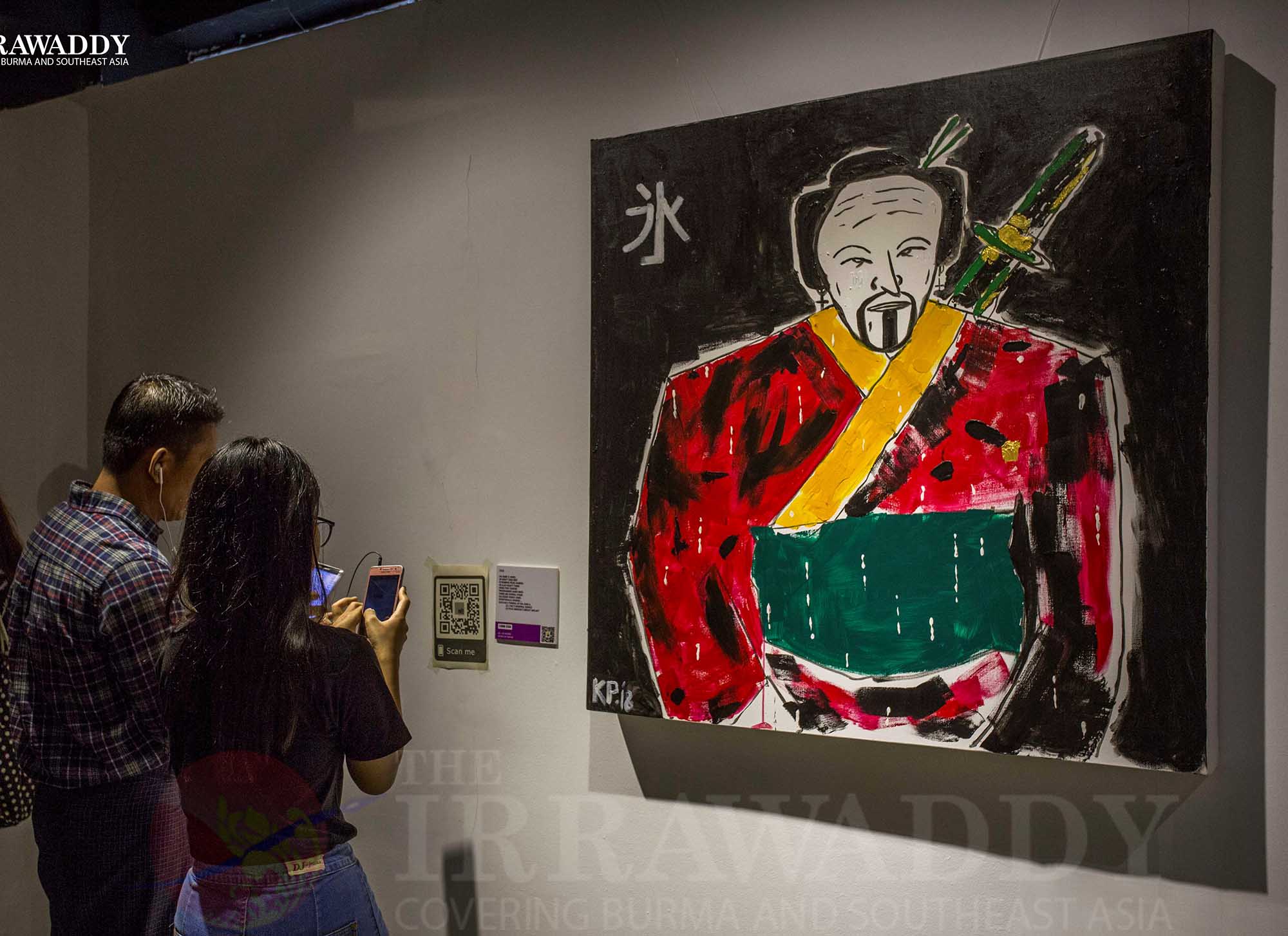 All the paintings are for sale for US$1,000 (1.52 million kyats) each. Along with the exhibition, We Creation gallery has published a book of short stories by Kyar Pauk, "Kyaung Sar" (Cat Food), which is available for 4,000 kyats.
Kyar Pauk, also known as Han Htue Lwin, is a record producer and the lead singer and guitarist of the band Big Bag and its side-project, Blood Sugar Politik. Big Bag has released nine albums. Their latest, "Anger Management", was released in May 2017. The band played a successful unplugged concert, "Starry Night", in July last year. He is also an author and songwriter.
You may also like these stories:
Artist Paints Portraits of Lost Inspiration
Re-Imagining the Beauty of Mandalay