Photographers highlighted humanity, peace, human rights and other pressing issues at the awards ceremony of the 12th Yangon Photo Festival (YPF) at the French Institute with eight awards going to professionals and emerging photographers.
The four-week festival featured free exhibitions, activities, screenings and parties at Maha Bandoola Park, the Goethe Institut, Institut Français, Yangon Central Railway Station, the Rosewood Hotel, Dala Ferries, Junction City, Myanmar Deitta and the Ahla Thit art gallery.
Organizers displayed the work of 16 nominees which highlighted peace, conflict, human rights, child labor and poverty.
This year the festival received about 129 photo story submissions from beginners and professionals. The competition has two categories: emerging and professional. The emerging category had four winners from 11 nominated photo essays and the professional entries included three awards and one special prize from five entrants.
In the professional category, photographer Hkun Li won the first prize with his photo essay, "The Beauty Queen", about Kachin women forced into Chinese marriages.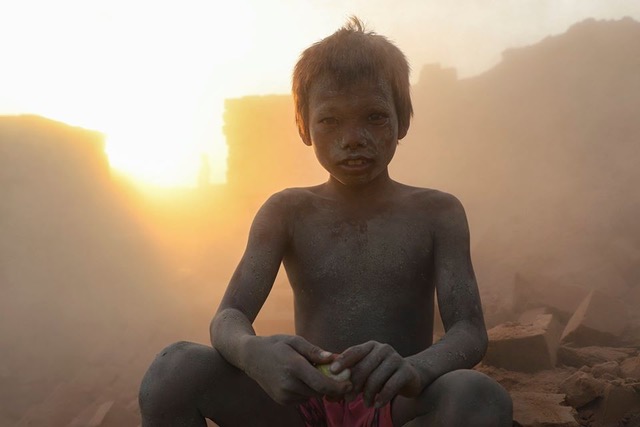 "It happened among Kachin IDPs [internally displaced people] because they are poor and displaced, so they want to leave the camps. Some go willingly and some are tricked and trafficked," said Hkun Li.
Some of the marriages were arranged by their families and some by village leaders, he said.
"This essay was made in 2019 and I will follow their lives in China after marriage. So this photo essay is not finished yet but I had to stop the project because the Covid-19 outbreak meant travel to China was impossible," said Hkun Li.
He won YPF awards in 2013 and 2016 and now wins a chance to attend the World Press Photo Awards in Amsterdam.
"It will be my first visit to the World Press Photo Awards. It's so exciting. It is a place to study photography. I am so happy to see work by the world's best photographers," he added.
A story about an eight-year-old who carries mud baskets at a brickyard, called "Wahso Moe Aka Weirdo" by Ye Naing and Yan Moe Naing was the runner-up. It has gone viral on social media.
The boy walks around 18 km each day carrying nearly 3 tons of mud from 6 am to 4 pm for 3,500 kyats (US$2.4) per day. He is the youngest employee at the site.
In 2019, he was hit by a motorbike and received 18 stitches in his head. At first, he could not remember his friends and received the nickname "Weirdo".
Thuya Zaw came third with "Tears of Blood" and Elizabeth Jangma received the Franck Seguin special award "For My People", about female Arakan Army troops.
In the emerging category, Kyaw Swar Tun won with "If Dad Came Home". The second prize went to Mizumi and Zaw Ma Ta with "Mizumi's Friends". The third prize went to Htein Htein Lynn with "A Pill to Heal Cherry" and Ei Ei Phyo Lwin came fourth with "Nowhere To Go".
Mizumi's Friends is a story about a 14-year-old Lisu girl from Kachin State who was born with Down's syndrome. It shows how supportive her parents are and how much fun Mizumi has.
The United Nations refugee agency, the UNHCR, and the YPF are training IDPs living with disabilities to produce photo stories about their lives, using photography is an effective language and therapy.
The winners received Canon cameras and a trip to the opening of the World Press Photo Awards ceremony in Amsterdam.
The public can view the winning photo essays and work from the YPF training sessions at the Myanmar Stories Facebook page.
The exhibitions run until March 21. Visit the YPF Facebook page for more details.
You may also like these stories:
Photos Reveal Impact of Illegal Banana Plantations on Workers, Land in Myanmar's Kachin State
Yangon Photo Festival Spotlights Some of Myanmar's Pressing Issues