Arts
Veteran Cubist Adds Street Scenes, Abstracts to His Palette
A painting by Tin Maung Oo from his new solo exhibition at the Ok gallery in Yangon. / The Irrawaddy
By Wei Yan Aung 5 October 2018
YANGON — Artist Tin Maung Oo has presented Myanmar with a world of beauty. It is a world of fluttering cubism glittering with colors and cubes. He has made his name as a cubist depicting Myanmar culture and tradition.
His cubist portrayals of rural and traditional subjects such as monasteries, monks, moorings, stilt house, lion statues, rinceau and traditional dancers have won the applause of art lovers and fellow painters alike.
Now, for his 11th solo exhibition, at the OK gallery at Yangon's Aung San Stadium, the artist has added abstract and urban scenes to his oeuvre.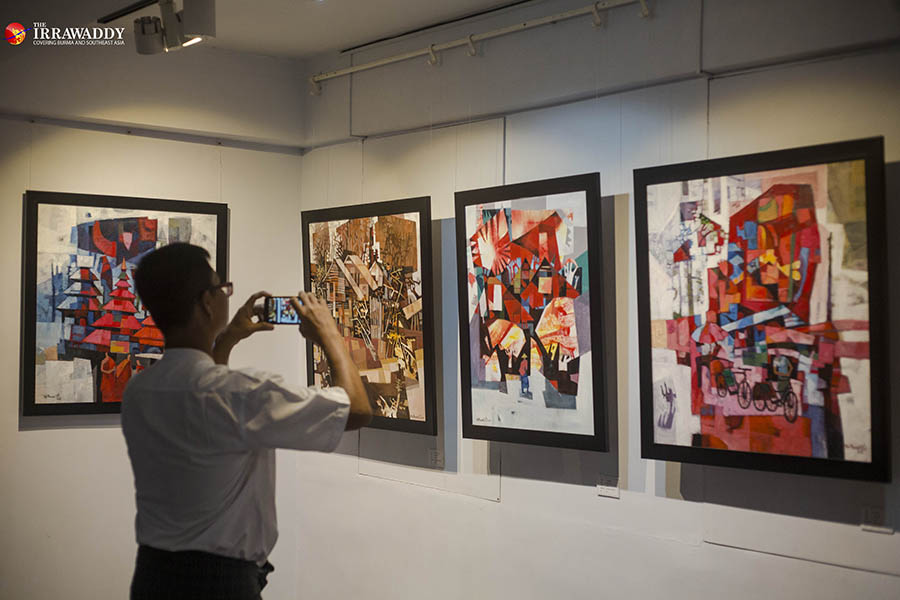 "Primarily I illustrate rural customs, pagodas, monasteries and markets. But this exhibition features a few urban scenes, for example roadside stalls beneath trees. Those stalls will not exist in the future," said Tin Maung Oo.
He has also added paintings that focus on color rather than subject. The titles he has given those works are quite simple — "Homage to Pink," "Homage to Blue," and so on.
"Sometimes I don't want to draw subjects only. There are abstract paintings focusing on colors and patterns in this exhibition," he said.
The show will run through Tuesday and features more than 30 paintings priced between 1 million kyats and 3.5 million kyats.
Tin Maung Oo studied under the likes of Ko Shwe Aung Thein, Paw Oo Thet and Bo Kyi, all regarded as pioneers of Myanmar modernism. He has devoted himself to cubism for more than 30 years and has held dozens of exhibitions at home and abroad.
"His style is similar to those of Kin Maung [Bank] and Paw Oo Thet but different from them in the way that his paintings include features like romance and abstraction like Western cubist painter Fernand Léger," said veteran artist Aung Myint.
Translated from Burmese by Thet Ko Ko.