Arts
Re-Imagining the Beauty of Mandalay
Some of the paintings on display at Kyaw Naing's solo exhibition at OK Art Gallery in Yangon.   / Supplied
By Wei Yan Aung 9 November 2018
YANGON—Kyaw Naing has re-defined the beauty of Mandalay, the old royal capital, from his cubist perspective.
In one of his paintings, Kyaw Naing skillfully blends views of several Mandalay landmarks—Mandalay Hill, Zaycho Market, Thudhamma Hall, Phayagyi Pagoda—with a horse-cart in the foreground.
"I have created this so that viewers can see Mandalay's landmarks afresh," Kyaw Naing said.
Besides Mandalay's historic sites, the works on display at Kyaw Naing's first solo exhibition at OK Art Gallery in Aung San Stadium (North) depict traditional festivals and other scenes.
The artist's subjects are not new—they include the Mingun Bell, Mandalay's city wall and moat, a cane-ball game, an elephant dance festival and traditional musical instrument players—but his innovative use of color and pattern catch the eye.
Kyaw Naing's use of grey square shapes to depict Yankin Hill foregrounded by toddy palms gives viewers a fresh perspective on the landmark.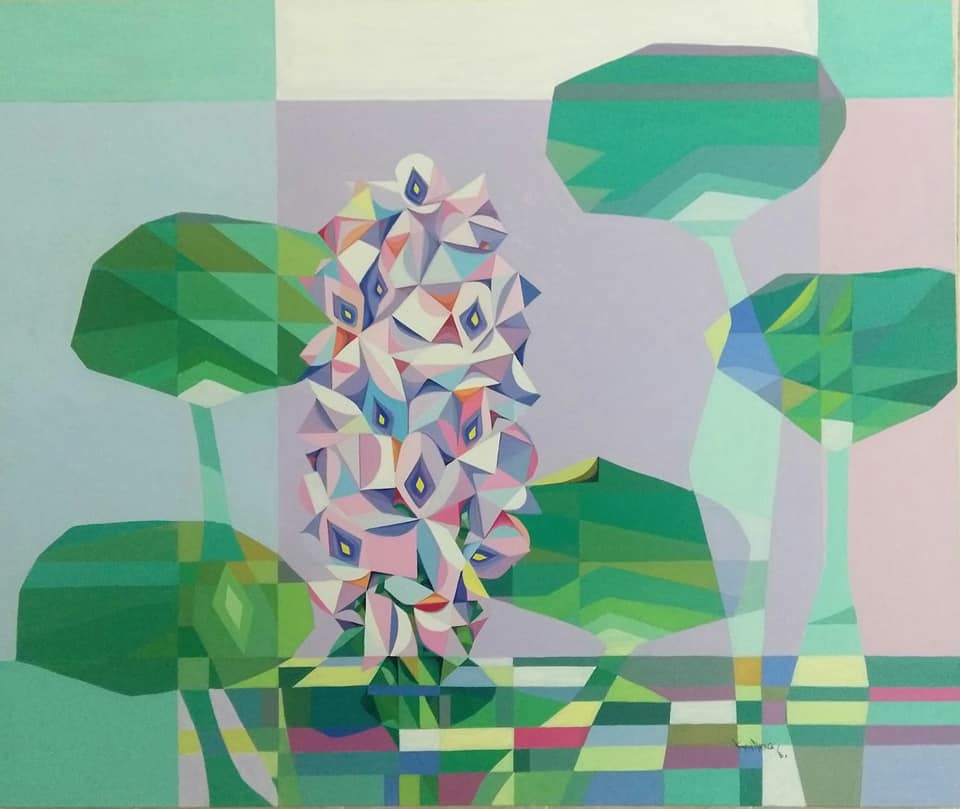 "The Sabbath Day at Phayagyi" instills peace of mind, rendering the best view of Mandalay's most famous place of worship in straight and curved lines, colored in yellow, green, blue and white.
The Mandalay Moat comes alive in dark blue, with red, green, yellow and brown cubes reflected in the water of the moat creating pleasing abstractions.
"Yankin Hill is usually depicted in a lush green. But I have used grey and yellow colors to give viewers a new taste," said the 50-year-old artist. "As the city wall is stationary, I drew clouds in patterns to create a sense of movement," he said.
"Phayagyi is a beauty of peacefulness and purity," he added, referring to the Maha Myat Muni Buddha image by its local name.
The exhibition will run from Nov. 10-14. Kyaw Naing learned his beloved modernism from Mandalay-based painters. He has participated in group art exhibitions in Myanmar, Korea and Taiwan.