YANGON—Freelance documentary photographer Ko Myo fell in love with elephants when he started photographing the beautiful story of a mahout and his best friend, an elephant called Pho Khwar, and this love has motivated him to spend several years photographing the gentle giants.
"When I got to know more about elephants—their behavior, their nature—I came to love them more and more and wanted to protect them from cruel poachers," said Ko Myo.
Back in 2015, Ko Myo was searching for a topic for his photo essay. His mother told him that people in Bagan still use elephants for traditional ceremonies.
"I started questioning why elephants are going among crowds, why they are working under the bright sunlight. I went to Bagan to see them but they had already left," Ko Myo said.
Luckily, he managed to get the details of the group providing elephant services for the traditional event he had just missed. He traveled to Yinmabin in Sagaing Region.
"I didn't know anything about elephants; I didn't even know what story I could get, so I asked the elephant owner everything," he said, recalling the beginning of his long journey.
Here, he heard the touching story of the elephant Pho Khwar and his best friend, the mahout, and started to capture their story.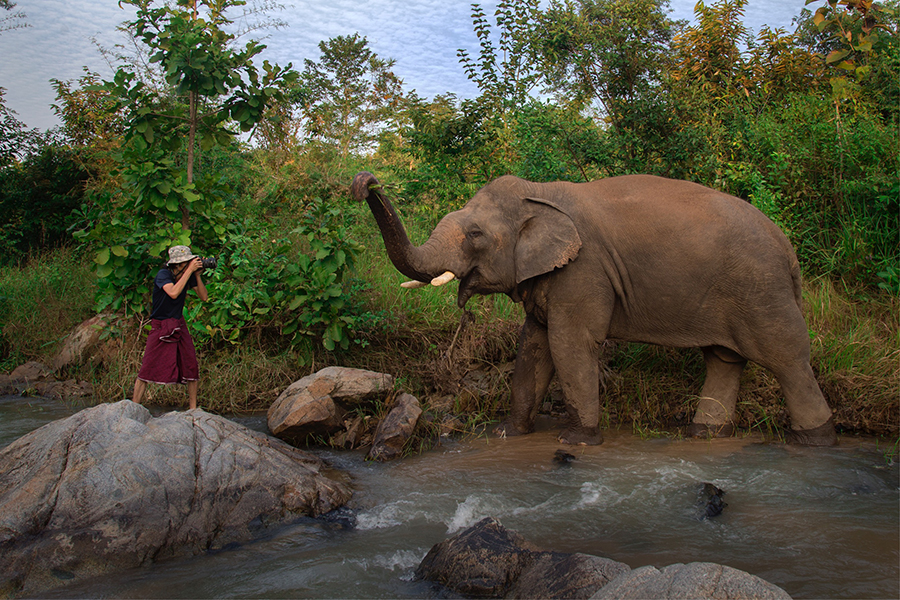 Both the mahout and elephant are 18 years old. They grew up in different elephant camps but after they met, they became best friends—now they play together, eat together and sleep close to one another.
"They are like brothers," said Ko Myo.
The photo essay he created about them, "Brothers," won fourth prize at the 2015 Yangon Photo Festival.
But the story of the elephant in Myanmar is not usually a happy one.
He recalls witnessing a tragic moment of violence between a group of wild elephants and villagers in Kyaukpadaung, Mandalay Region.
"It was in 2015. Six wild elephants from the Bago [mountain range] had wandered into Kyaukpadaung Township. They passed through many villages and so many people came together and used some tame elephants to urge them to change their direction and to go back to their habitat in the Bago mountains. I followed them," Ko Myo recalled.
"At one place, there was a gorge and the elephants were in the middle. The people were scaring them from both sides. One man went very close to the wild elephants and he was telling me to come to take photos but I refused because it was too dangerous. I even called him to come back but he didn't and a big elephant crushed him."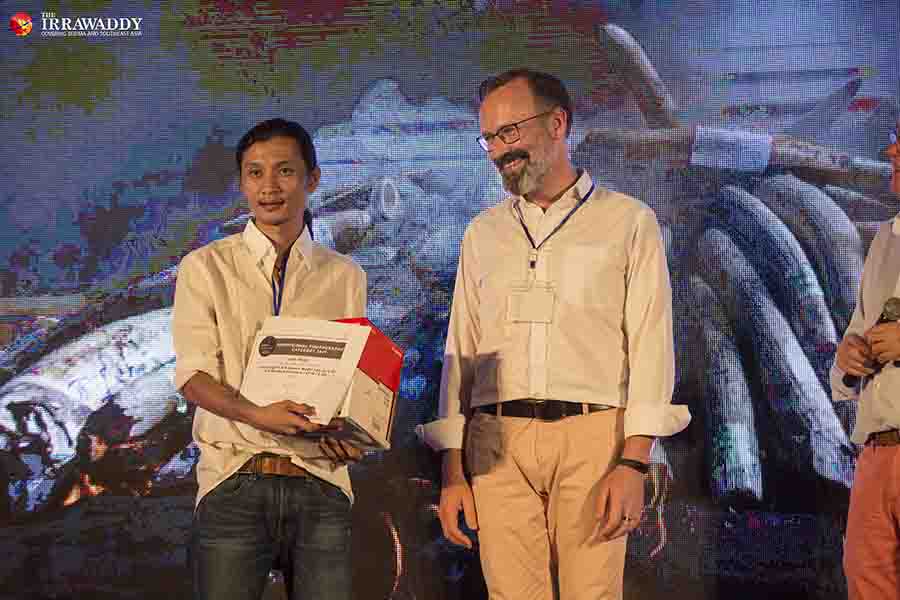 "It looked like a balloon burst. He died right there and I was so confused, scared and sorry for him. I got some pictures of the moment but deleted them later because I don't want to use those sad images for my project even though they are really good," Ko Myo said.
For his second prize-winning photo essay "Beautiful Girl" he followed the story of a newborn elephant calf named Mi Chaw. She was taken away from her mother and saved by an elephant doctor at Wingabaw elephant camp. However, the doctor found it impossible to source the milk she needed and milk powder was expensive. The doctor used Facebook to reach out to others for donations but help came too late.
"We moved her to a nearby elephant camp to save her. If she got milk from elephants, she could survive but she didn't know how to deal with other elephants. She thought the doctor was her father. Her health condition got worse and Mi Chaw died at 23 days old," said Ko Myo.
But their efforts were not in vain. Soon after Mi Chaw died another orphaned calf, Marry, was brought to the elephant camp.
"We sent her to Wingabaw and were able to support her with the things donated for Mi Chaw. Now, Wingabaw elephant camp has other motherless calves and they have everything they need. It's all because of Mi Chaw," said Ko Myo.
He continued to spend many years studying the lives of elephants, staying in the jungle with other villagers. He got a lot of contacts and a deep understanding of elephants. He even learned an elephant lullaby only known by old mahouts. In more recent years, he began to look into the wild elephant trade.
"When someone contacted me to say that an elephant was killed, I went to that place immediately. Most of the time I don't get permission to take a photo. Sometimes they allow it but it's really risky," said Ko Myo.
He spoke of the risks he takes to photograph the illicit trade—sometimes poachers would try to attack him, but he pushes on with his drive to document it regardless.
"If I don't photograph those moments, the public can't know these terrible things and more elephants will die and poachers will cut more skins and tusks and kill them."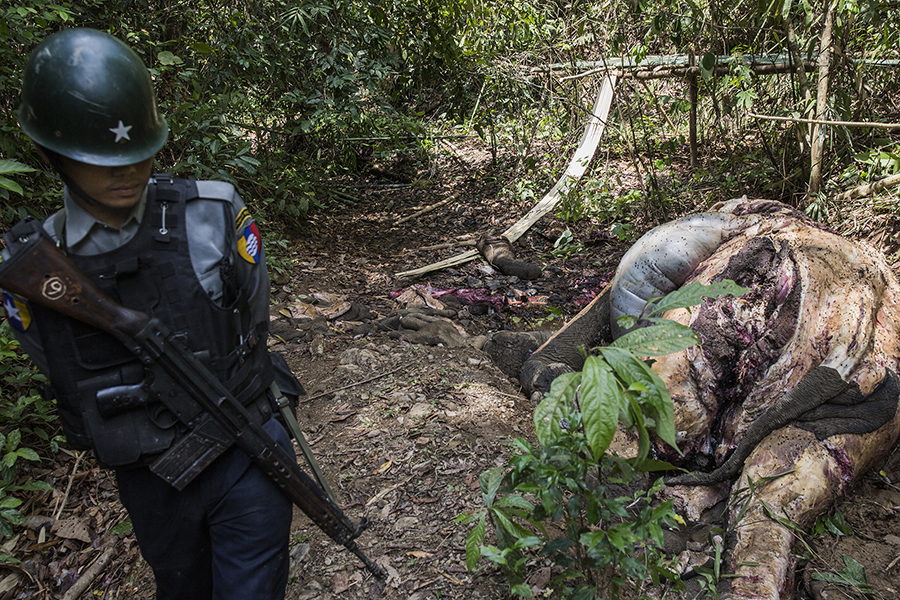 He urges other photographers to document wildlife trading too and to give awareness to the public.
"It's not only elephants, other animals are also suffering from illegal wildlife trading. The animals are living in nature—they never intentionally hurt people, they just defend themselves when people come too close to them," said Ko Myo.
As well as "Beautiful Girl" which won him an award in the 2017 Yangon Photo Festival, his most recent photo essay about the illegal wild elephant trade "Hunting the Poachers" won third prize in the professional photo category at this year's festival.
"It doesn't matter whether I win a prize or not but I'm happy to accept the prize too. I just want people to become aware of this issue, that's more important," said Ko Myo.
Ko Myo said most elephant poaching happens in the Bago mountain range and in Irrawaddy Region. In 2017, about 59 wild elephants were killed by poachers but this number dropped to 18 in 2018. Currently, there are about 2,000 wild elephants left in Myanmar and if they keep losing their habitat, there will be more conflict with humans and illegal trading. Wild elephants might disappear from Myanmar altogether.
"Through Ko Myo's photos, people can know more about elephants: that they are lovely and worth protecting; that we should value them and they don't deserve to be killed. His projects help to raise awareness of the illegal wild elephant trade. That's a good impact," said Ko Ye Min Thwin, Senior Communications Officer at WWF Myanmar.
Ko Myo said, "The solution is to raise awareness to encourage people to stop using products made of animal [parts]. All poaching and trading is motivated by the greed of humans, so humans should stop using all animal-made products."