YANGON—Under the current administration, Myanmar has faced a chronic economic slowdown and a significant decline in foreign investment for nearly three years due to a weakening currency, high inflation, armed conflict, unstable policies, the Rakhine crisis and the slow pace of reform. High hopes that the economy would take wing after more than five decades of isolation under military rule have turned to despair.
However, the government began paying more attention to the economic decline last year and has taken several quick steps towards reform that have made Myanmar a more favorable, friendly and predictable business environment, creating a fair and level playing field for both local and foreign investors.
As the country has started to see rewards from these reforms, 2019 was a year filled with big events, foreign guests and some good news for both Naypyitaw and the business communities. The Irrawaddy has compiled stories of the year's 10 biggest issues and events for the country's economic reform and progress.
The country's first investment forum 
Myanmar kicked off its first-ever international investment summit in late January in Naypyitaw. The two-day event showcased 120 projects worth US$3 billion (4.5 trillion kyats) in 10 states and regions and aimed to attract major investment from East Asian countries, including economic zones, industrial parks, power plants, city development, mines, upgrades to airports and eco-tourism.
In 2019, the government focused on the Myanmar Investment Promotion Plan (MIPP), a plan launched last October to attract more than $200 billion in investment over 20 years.
The summit was part of the government's effort to counteract a significant decline in foreign direct investment. Under the government's "Look East" policy, it was also part of the attempt to raise investment from East Asian countries.
State Counselor Daw Aung San Suu Kyi reassured investors of the government's commitment to continue reform and to build an investment-friendly environment, saying that Myanmar is "Southeast Asia's final frontier market. At the summit, Union Minister for Investment and Foreign Economic Relations U Thaung Tun pushed investors to invest in Rakhine instead of blaming and shaming the country.
It was the first time more than 1,600 local and foreign delegates from 17 countries gathered at one place since 2017—when the country's image was badly tarnished by the Rohingya crisis.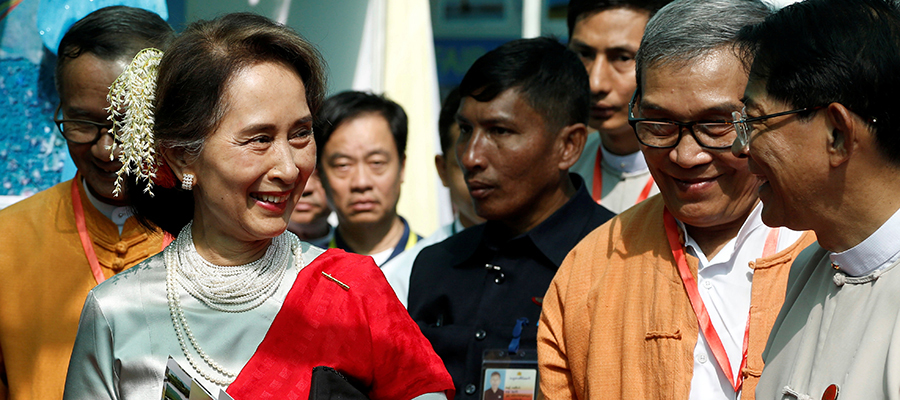 Rakhine is open for business to the world
Amid the international outrage over the government's handling of the crisis in Rakhine State, the government was desperately seeking more FDI for Rakhine in hopes of achieving peace through economic development.
Two weeks after the Naypyitaw summit, the Rakhine State Investment Fair was held, focusing on developing three major sectors: tourism; SMEs; and agriculture, livestock and fisheries.
At the summit, Daw Aung San Suu Kyi reassured investors from home and abroad that Myanmar's government was doing all it could to meet the area's security and humanitarian needs, in line with the recommendations of the Advisory Commission on Rakhine State led by the late UN Secretary-General Kofi Annan.
While doing so, she stressed, "we have to address economic issues in Rakhine, that we may achieve the progress and development needed to sustain stability and prosperity."
A few days before the fair took place, the South Korean ambassador and the Japanese ambassador to Myanmar showed their support for Rakhine investment, revealing their governments' plans to boost economic development in Myanmar's most troubled and impoverished state.
During the fair, investors submitted Expressions of Interest (EOIs) for 28 investments worth nearly $5 billion in Rakhine State.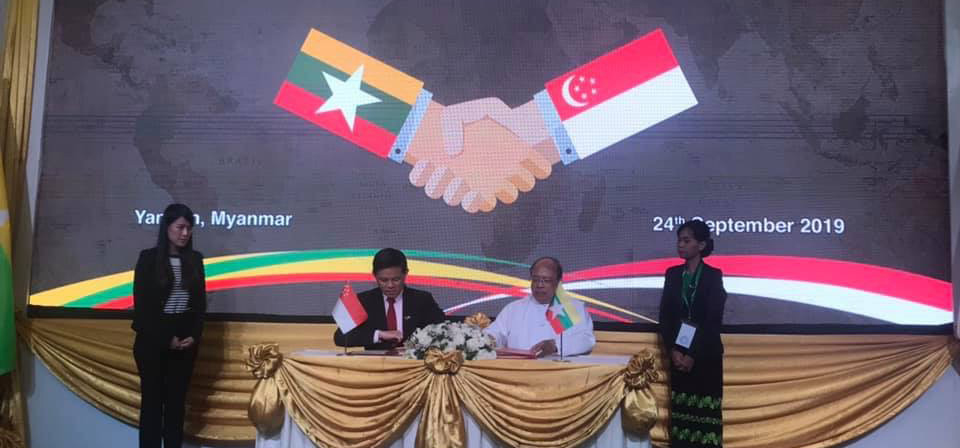 Investment promotion and protection deal with Singapore
The EU suspended trade negotiations at the final stage over the crisis in Rakhine State, but Myanmar inked an Investment Promotion and Protection Deal with Singapore in September, nearly three years after it was initiated.
It was a major win for the National League for Democracy (NLD) government, paving the way to boost trade relations with Myanmar's largest investor. Singapore became Myanmar's largest foreign investor in February.
The World Bank's top-20 list for improvement in doing business 
The World Bank listed Myanmar among its top-20 most-improved countries for its business environment in late September, alongside China, Bangladesh and India.
The list noted that Myanmar implemented five initiatives that enhanced its business environment, including an online company registration platform. The country has also made property registration faster by streamlining deed registration and appraisal.
The bank said a new company law is also strengthening minority investor protection by mandating greater disclosure of transactions, increasing director liability and requiring greater corporate transparency. Additionally, Myanmar's courts have started publishing performance measurement reports.
The Yangon authorities have strengthened construction quality control by imposing stricter qualification requirements for architects and engineers, and have boosted investment in water and sanitation infrastructure, according to the bank.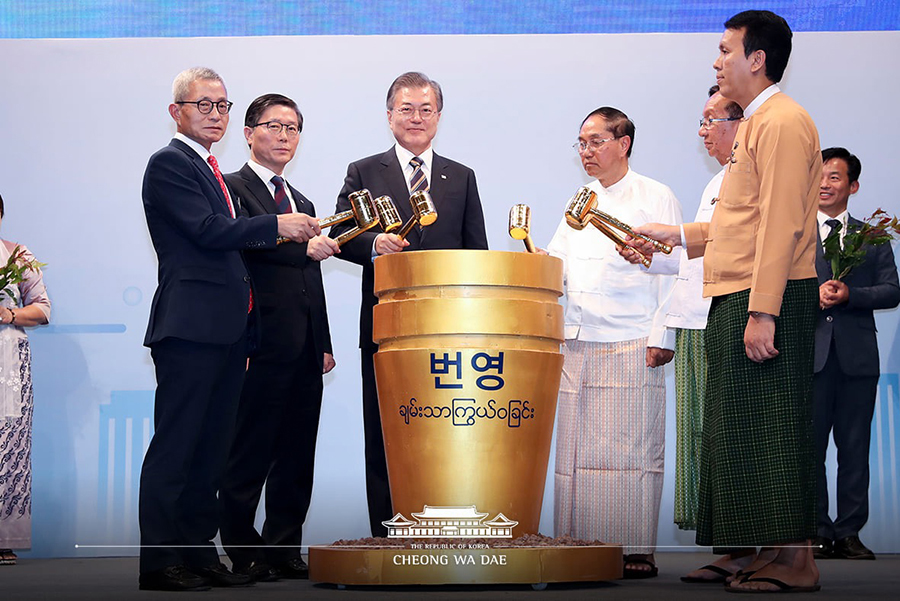 Enhancing bilateral economic ties with South Korea 
Myanmar and South Korea signed a total of 10 memoranda of understanding (MoUs) and a framework agreement during a visit by Korean President Moon Jae-in to Myanmar in September. These included government-to-government, government-to-business and business-to-business collaborations.
Moon's visit aimed to promote his government's New Southern Policy, which prioritizes boosting trade and investment in the region.
Moon Jae-in's stop in Myanmar was the first time a president of an Asian economic powerhouse looking to benefit from Myanmar's economic potential has visited the country. MoUs between the two countries covered cooperation around shipping, shipyard upgrades, logistics and port development, science and technological cooperation, startups and innovation and a framework agreement concerning loans from the Economic Development Cooperation Fund (EDCF) from 2018 through 2022, with Korea offering $100 million to support the economic development of Myanmar. An MoU also covered the establishment of the Korea Desk in Myanmar—a one-stop service center to aid Korean investors with administrative issues.
At the Myanmar-Korea Business Forum in Yangon, the regional government signed agreements with two of Korea's largest banks on financial cooperation to construct affordable housing and to conduct a preliminary survey for the Dala New City Project, located in an undeveloped township in Yangon.
The forum also saw the launch of the Korea Myanmar Industrial Complex (KMIC) project, a joint industrial complex in Hlegu, north of Yangon. Around 200 Korean companies are expected to invest in the production facilities, which will generate a projected $10 million in taxes annually.
During the trip, Moon offered his assurances that Korea will support Myanmar's continued economic development, saying that together, Myanmar and Korea will be able to look beyond Asia to the global market.
Myanmar climbs in World Bank's 'ease of doing business ranking'
Myanmar moved up six places to 165th on the World Bank's 2020 ease of doing business ranking published in October. The World Bank said Myanmar introduced substantial improvements in five areas of doing business—starting a business, dealing with construction permits, registering property, protecting minority investors and enforcing contracts.
In the 2019 ease of doing business index, Myanmar had retained the rank of 171st that it held in 2018, making it the least favorable ASEAN member in which to conduct business. The Myanmar government has set an ambitious goal of reaching the top 100 of the index in 2020.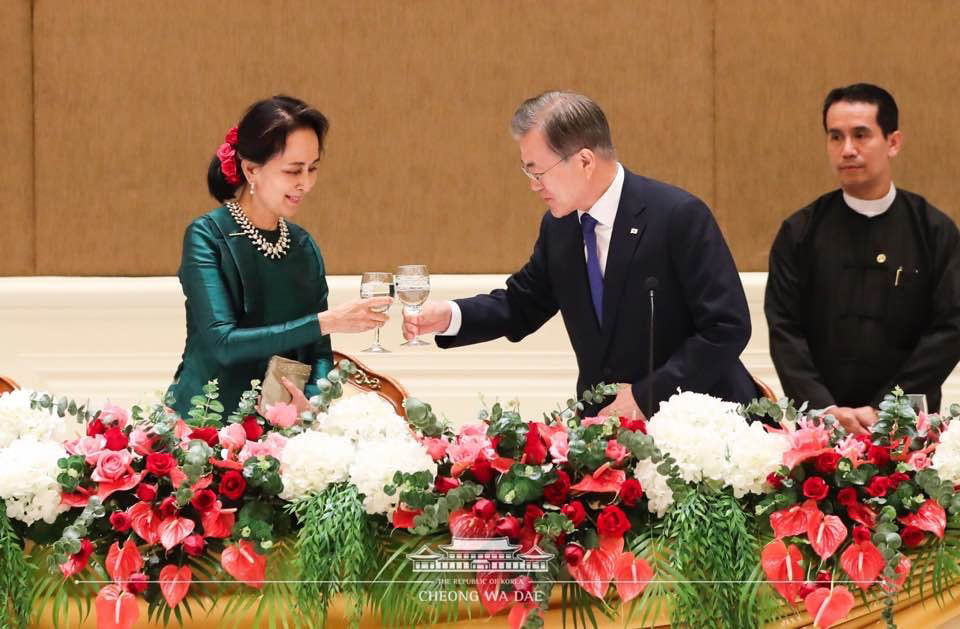 Opening up the insurance sector 
In November, the financial regulatory department awarded licenses to five foreign companies and six joint-venture companies for insurance services. It was the first time the government has licensed fully foreign-owned life insurers. The Ministry of Planning and Finance (MOPF) announced in January that it would grant permission to foreign companies wishing to operate businesses offering life and non-life insurance in Myanmar.
The liberalization of the insurance sector is recognized as a flagship reform under the NLD government. In the past, only companies offering non-life insurance could operate, and only if their representative offices in Myanmar partnered with local insurance companies. No fully foreign-owned non-life insurers were granted permission to operate in Myanmar.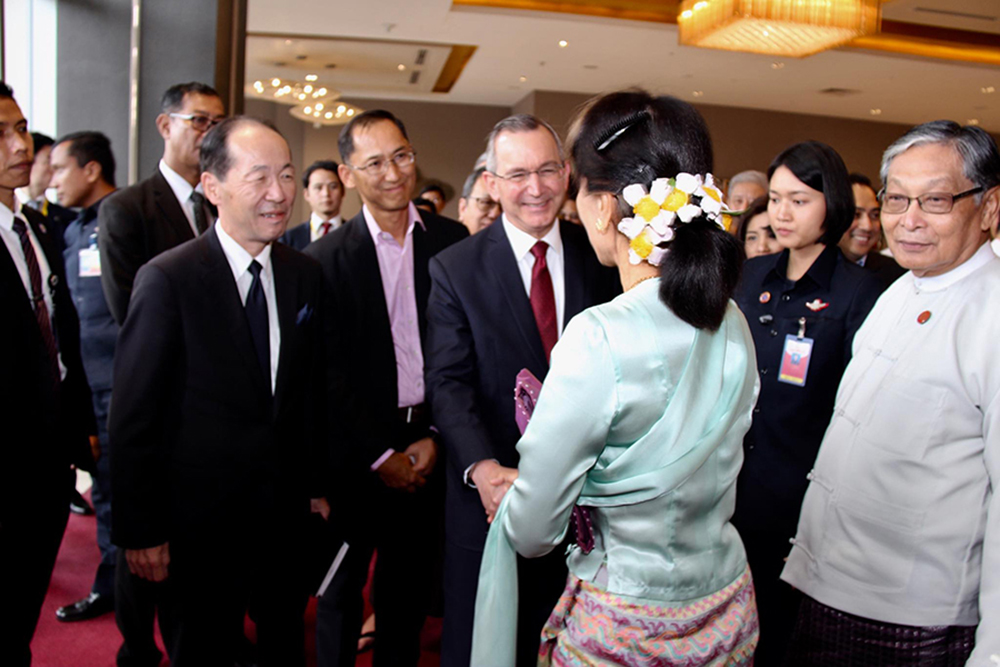 US, Japan vow to back investment  
Japan and the US jointly announced that they would stand with Myanmar to promote responsible, quality and ethical investment for economic development in late August at the forum on fostering responsible investment in Myanmar.
It was the first ever Myanmar-Japan-US forum of the kind in the country. Some 250 participants representing the governments and business communities of Myanmar, Japan and the US attended the forum.
Speaking at the event, US Ambassador Scot Marciel noted that the Thilawa Special Economic Zone (SEZ) is attractive to American businesses and said US investors are responding to Myanmar's reforms.
During this year, the US government's development finance institution, the Overseas Private Investment Corporation (OPIC), greenlighted an $8-million investment in Proximity Finance to increase lending to entrepreneurs and smallholder farmers, many of whom are women.
In October, led by the US-Asean Business Council, representatives from Amazon, Google, Coca-Cola, Chevron, Chubb, Diageo, Ford, Jhpiego, MasterCard, Visa, Abbott and BowerGroupAsia met with key economic key figures in Myanmar.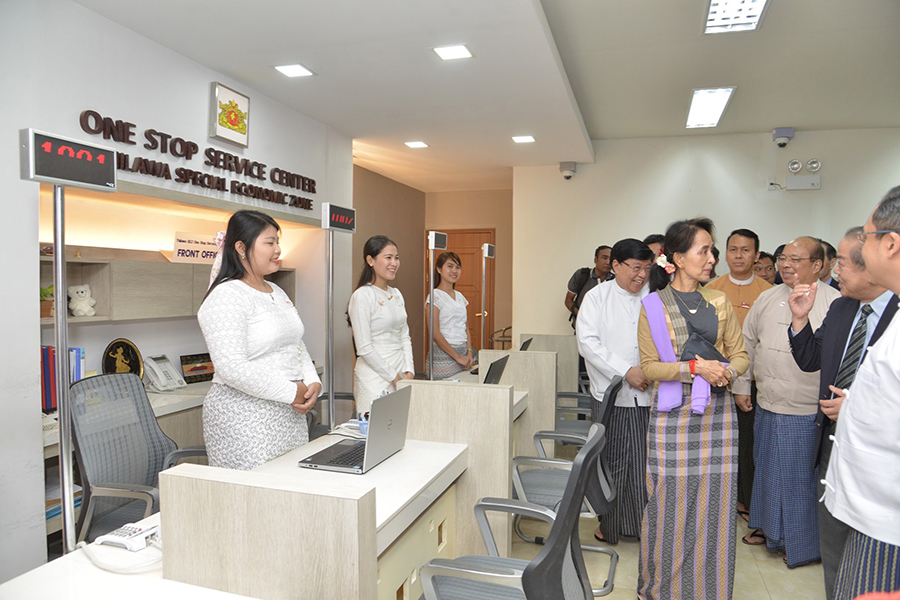 Crowning success in Thilawa 
The plan for Myanmar's first SEZ, the Japanese-backed Thilawa project, has expanded as more than $1.6 billion had flowed into it as of April. As investments are expected to increase, Myanmar Thilawa SEZ Holdings Public Ltd (MTSH) is planning to implement the next portion of the project, known as the third phase of Zone B.
The SEZ is part of Japan's plan for an East-West Economic Corridor, a cross-border transport infrastructure project under Tokyo's Greater Mekong Region economic integration scheme. The plan aims to improve connectivity between Bangkok and Yangon over land. The corridor will help businesses based in Bangkok extend their supply chains to Yangon, via the Thilawa SEZ. The SEZ is located about 20 kilometers from Yangon.
According to Dr. Than Myint, Union Minister for Commerce and Chair of the Central Committee for Myanmar Special Economic Zones, a total of 108 companies from 19 countries had invested in the Thilawa SEZ as of June. Among them are companies dealing in construction, agriculture, pharmaceuticals, logistics, packing and containers, garments and clothing, food and beverages, cars and vehicles, and electricity and energy.
Dr. Than Myint said that over half of the companies are Japanese, while the rest are investments from East Asian nations. There are 14 Thai companies, six Korean, five Taiwanese, three Singaporean and three Malaysian. The US, Switzerland, Sweden, Germany, Australia, the Netherlands, China, Hong Kong, Vietnam, Indonesia and India have all also invested in the SEZ.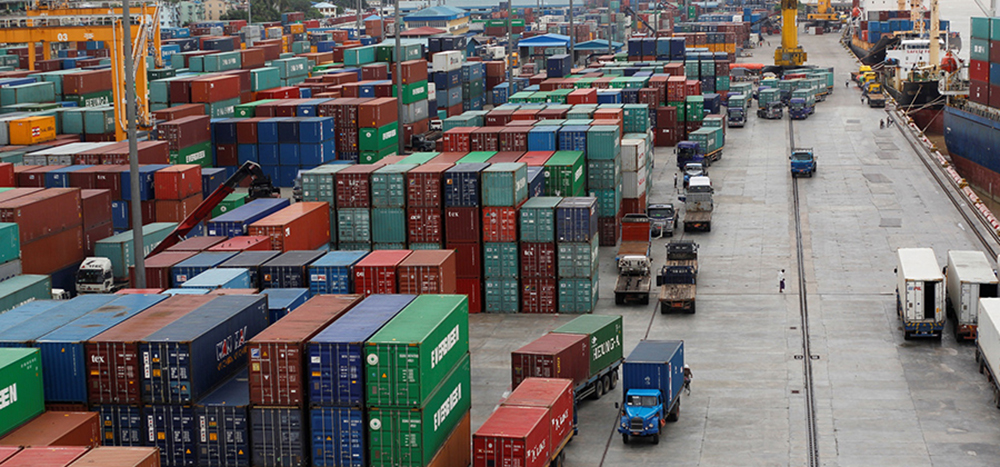 Positive outlooks
During this year, both the World Bank and Asian Development Bank (ADB) predicted Myanmar would see more positive results in both growth and the economy due to accelerated economic reforms.
The ADB Outlook 2019 published in April said that Myanmar's economy will likely resume growth this year and continue to expand in the next, thanks to foreign investment and a positive response to the government's economic and policy reforms.
The ADB forecast that the country's economy would grow by 6.6 percent in 2019 and by 6.8 percent in 2020. Last year, Myanmar's growth slowed to 6.2 percent, down from 6.8 percent in 2017.
A World Bank report in June also projected a positive outlook for Myanmar's economy due to accelerated reform implementation, investment, infrastructure spending and the liberalization of sectors such as wholesale, retail, insurance and banking.
The bank said Myanmar's economic growth was expected to rise to 6.5 percent in the 2018-19 fiscal year. Industrial activities are expected to see a revival, supported by strong performance in the garment and construction sectors. Services will likely remain the key driver of growth, with momentum building in the wholesale and retail sectors.
The report also projects that economic growth will accelerate to 6.7 percent by the 2020-21 fiscal year.
Both reports said that risk would increase if the European Union withdraws Myanmar's privileges under the Generalized System of Preferences, a trade system that cuts tariffs on 10 percent of exports from Myanmar.
Both reports also identified risks to future growth, including internal and external factors such as lackluster progress on economic reform, natural disasters, the Rakhine crisis, communal tensions in conflict-affected areas, global trade policy uncertainty and the economic slowdown in China.
You may also like these stories:
Megaprojects a Double-Edged Sword for Myanmar
Myanmar Opens Major Investment Summit in Naypyitaw
Private Equity Fund to Boost Myanmar Companies with up to $100M